Baked Salmon in Chili Lime Marinade
This post may include affiliate links that earn us a small commission.
This perfectly baked salmon recipe is a light and flavorful meal you can make in 20 minutes. The salmon is tender and flaky, and the lime marinade is refreshing and tangy with heat from the chili powder.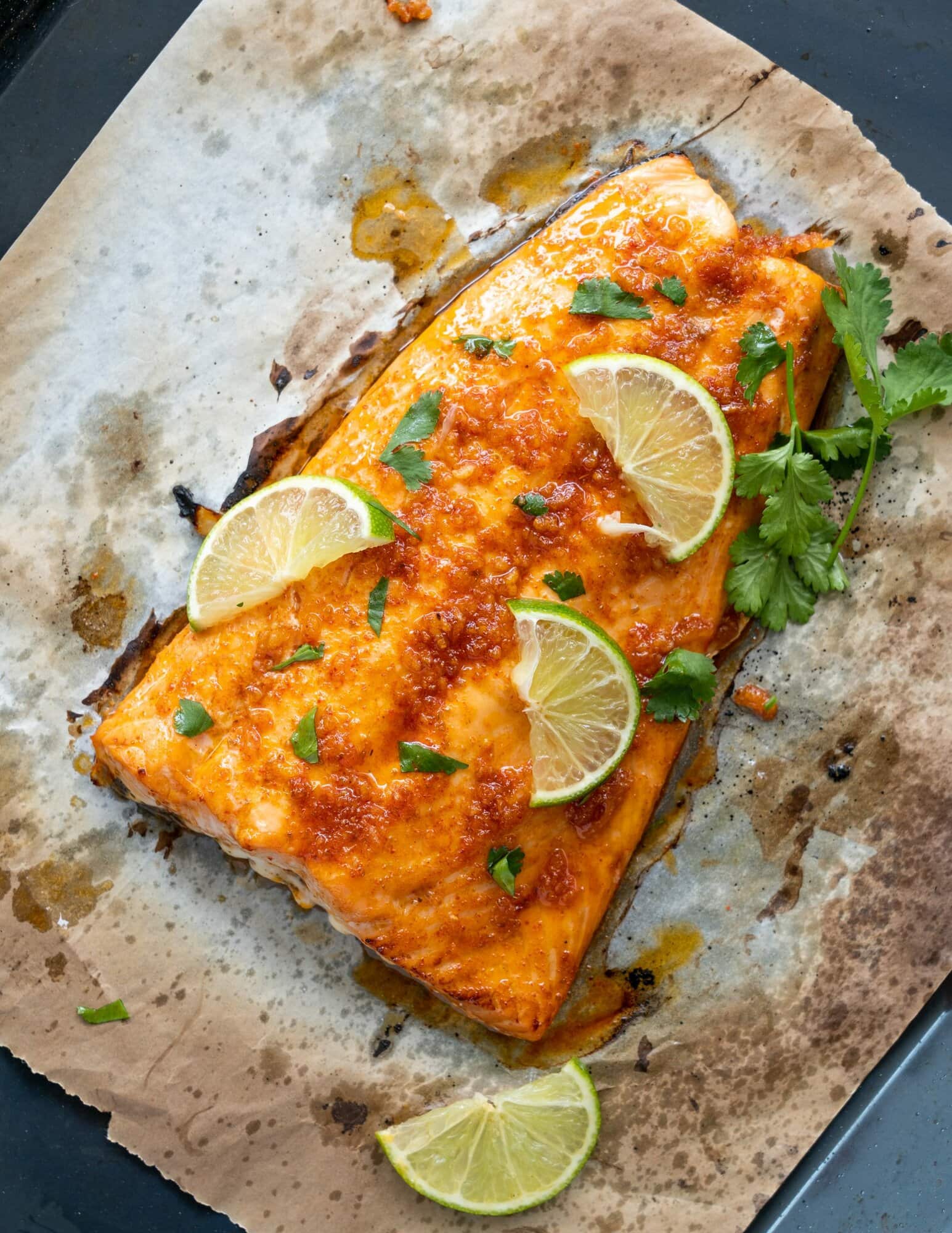 Salmon has a special place, among fish, for me. I love the beautiful orange color, the shiny silver skin, and the texture of the salmon. The texture is just right for you to bake, fry, or make in various ways. You can have this fish in many flavors.
I have tried various salmon recipes and have posted a few on this site. Along with the Air Fryer Salmon, which is highly popular among readers, this recipe will surely rank as one of the best-baked salmon recipes. The refreshing flavors of this easy-baked salmon recipe will make you want to cook this again.
Flavours In Your Inbox
Subscribe for recipes straight to your inbox
The marinade is super easy to make. It has that refreshing citrusy and tangy flavor from lime juice. There is heat from the chili powder that complements the sourness of lime. Add cumin, garlic, and the sweetness of honey; you have the perfect savory taste profile.
Fresh lemon juice helps tenderize the salmon, so you don't have to cook salmon for longer. When the salmon comes out, a soft pinch with a fork shows the meat as tender and flaky as you want. From taking the salmon out of the refrigerator to serving it on the table, you will be done in less than half an hour.
Apart from being tasty, salmon is a very healthy fish known for being rich in Omega-3 fatty acids. Its nutrition profile shines with low cholesterol and carbohydrates and is high in proteins. Salmon is also high in vitamins like vitamin B and minerals like calcium and potassium.
Sprinkle chopped fresh herbs like celery and lemon slices on top and have an appetizing-looking dish.
Ingredients
Salmon Fillet – Buy fresh or frozen salmon fillets or blocks based on availability. Check the FAQs for tips on buying good fresh salmon. I have used salmon skin which increases the health benefits. I have baked a big block that you can slice and serve. Since this recipe does not make crispy skin, you may choose not to have the skin.
Fresh Lime Juice – gives the salmon a fresh citrusy flavor and taste. You can substitute it with lemon juice.
Honey – to add some sweetness to compensate for the sourness of lime and heat from the chili.
Minced garlic – universal aromatics used in the marinade and baked with the salmon to give it an aroma.
Ground cumin – is used to enhance the savory flavor.
Chilli powder – adds a bit of heat and complexity to the marinade.
Smoked paprika – that smoky flavor raises the level of the dish.
Olive oil – our source of fat to bake the fish.
Lime wedges and fresh cilantro – used for garnish and aroma while serving the fish.
Salt and pepper – used in the marinade; use as per taste and tolerance. You can be light with the pepper since we are already using chili.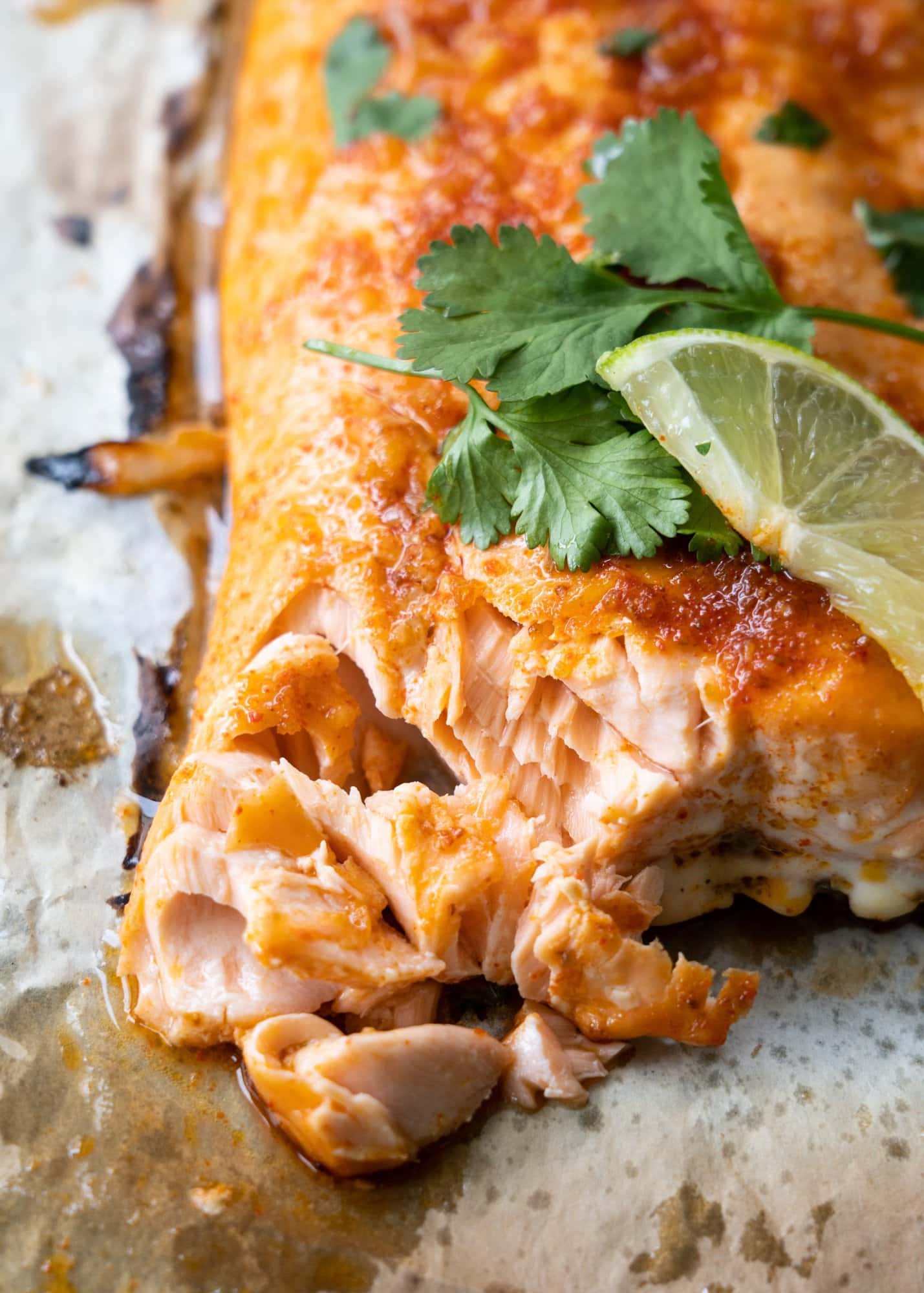 How to bake salmon
Prep the Salmon – Double-line a baking tray with a baking sheet. Pat, the salmon filets dry with kitchen or paper towels. Place the fish on the baking sheet a few inches apart. Make sure that the thickest part of the salmon is not more than one inch and a half.
The first step is to make the marinade super easy. Gather the ingredients – lime juice, honey, garlic, cumin, chili powder, and paprika, and mix them in a bowl.
We will use the marinade partly to coat the fillet and keep some to apply later after baking. With a spoon, pour some of the marinades over the fillet and spread evenly with the back of the spoon. Flip the fillet and apply the marinade similarly on the other side.
Bake & broil – Place the tray in the oven and bake for 8 minutes. Next, move the tray and place it in the upper rack and broil for another 2 minutes.
Meanwhile, while the salmon baking in the oven, added two tablespoons of water to the remaining marinade. In a hot saucepan, cook the marinade for 3 minutes to reduce it by half.
Serve – Take the salmon block from the oven and serve on a plate. Spoon the remaining reduced marinade over it. Serve with lime wedges and chopped cilantro.
Frequently Asked Questions
How to buy good salmon
Look for salmon pieces or blocks with a consistent orange color. The skin should look shiny and silver. There should not be any cuts or dark spots on the skin. The meat of the salmon fish should not have any brown spots either. That would mean that the fish has gone stale.

Fresh salmon will not be dry and will be moist to the touch. You may choose frozen salmon too, which might be better than fresh ones in some cases. Salmon frozen instantly will have its flavor and freshness preserved; that might not be the case with fresh salmon, which has to travel quickly from catch to market.
How to store baked salmon?
You can store baked salmon in the refrigerator for 4 days. Store it in an air-tight container and refrigerate.
To reheat cooked salmon, you can bake it in the oven for a couple of minutes. You may also do that in the microwave for a minute, ready to serve. You can also reheat it in a pan or skillet.
Should you bake salmon with skin?
Baking or cooking salmon with skin has few advantages. One, the skin becomes crisp and tastes better. Two, the skin traps the moisture underneath it, keeping the salmon tender as you cook it and preventing it from becoming dry quickly. Third, the skin adds to the nutritional benefits of the fish since it contains many vitamins.
What to do with leftover salmon?
With a few leftover filets of salmon, you can make salmon patties next time. Mix it with other spices and cook it in a pan to make patties for sandwiches. You may also refer to some of my other salmon recipes to make other delicious dishes.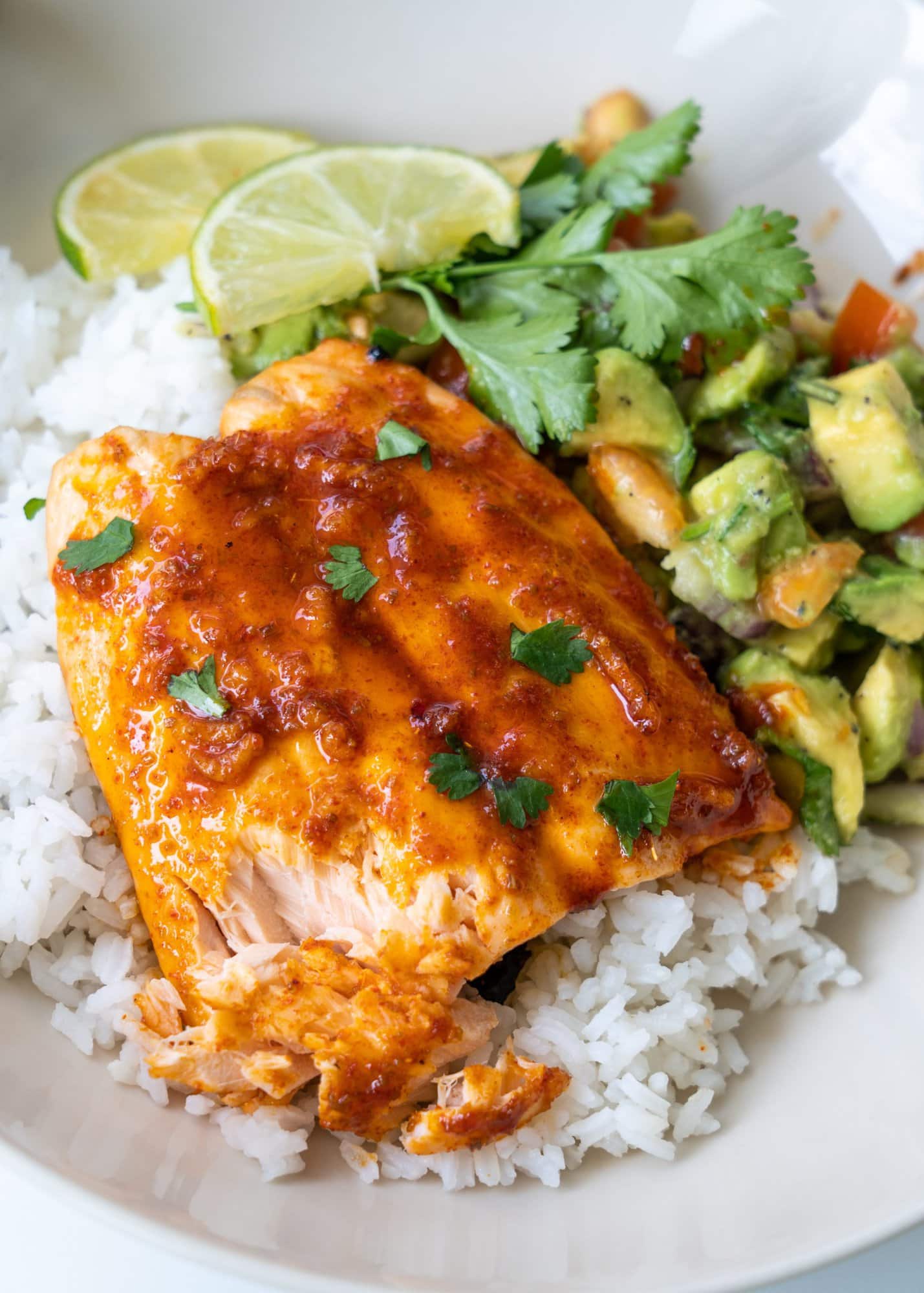 Serve with
Serve this baked salmon with a bowl of plain or jasmine rice. You may also serve this with side dishes like roasted veggies – asparagus, broccoli, or green beans. Look at these sides for inspiration – Airfryer Roasted Broccoli, Roasted Lemon Pepper Zucchini.
A light and refreshing salad like an avocado salad will also go well with this salmon dish. Check out other salad options to serve with this – Cucumber Strawberry Salad, Lemon Dill Potato Salad( No Mayo).
More Fish Recipes
Salmon Pasta in Creamy Lemon Sauce
Baked Tilapia In Lemon Garlic Sauce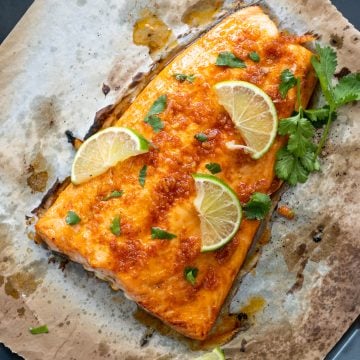 Baked Salmon Recipe
This perfectly baked salmon recipe is a light and flavorful meal you can make in 20 minutes. The salmon is tender and flaky, and the lime marinade is refreshing and tangy with heat from the chili powder.
Ingredients
1 lb Salmon Fillet
2 tabelspoon Fresh Lime Juice
¼ cup Honey
½ tablespoon minced Garlic
½ teaspoon roasted ground cumin
½ teaspoon Chilli powder
½ teaspoon Smoked Paprika
2 teaspoon Olive oil
lime wedges and fresh cilantro to serve
Instructions
In a bowl mix all the ingredients.

Pre-heat the oven to 400 F . Double line a baking sheet with foil.

Pat dry salmon fillet with a kitchen towel and place it on the prepared sheet.

Spoon over a couple of tablespoon of the prepared marinade and spread evenly.

Bake for 8 minutes. Then broil in the upper rack for another 2 minutes.

While the salmon is baking, add 2 tablespoons of water to the remaining marinade and add it to a saucepan. Cook it for 2-3 inutes until it has reduced to almost half.

Once the salmon is done, spoon over the reduced marinade. Serve with lime wedges and fresh chopped cilantro.