This post may include affiliate links that earn us a small commission.
These salmon patties are crispy on the outside while moist and flavourful on the inside. With tender flakey salmon bites, these patties ( or salmon cakes) can be made both with fresh and canned salmons.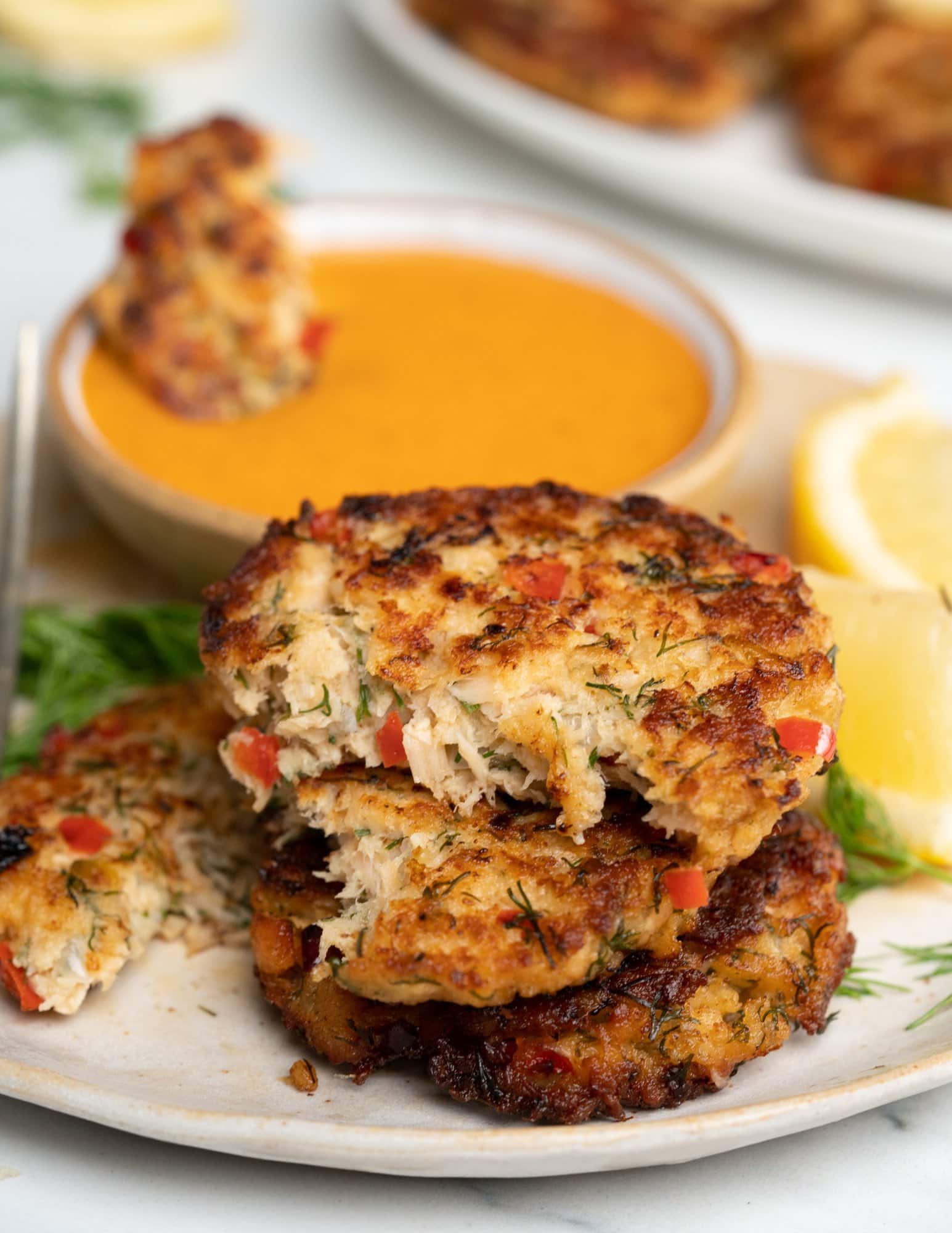 Salmon Patties/ Salmon Cakes
Salmon patties (also known as salmon cakes) are a huge hit every time I make them. These are perfectly seasoned, are crispy on the outside, and have a melt-in-the-mouth texture. These are incredibly easy and quick.
Flavours In Your Inbox
Subscribe for recipes straight to your inbox
For someone who hates fish or is worried about using canned salmon, the use of fresh dill, dijon mustard, garlic, onion, and parmesan cheese mellows down the fish smell. They are going to devour these salmon cakes and might ask for a second or third serving.
Fresh vs Canned Salmon
It works both ways. My vote goes for canned salmon because it's readily available, cheaper, and already cooked. If you have canned salmon, it is easy to throw together the dinner in no time. Canned salmon tastes equally good as fresh salmon and is nutritious.
Look for wild-caught Alaskan canned salmon. Canned salmon comes without bone and skin or along with bone and skin. Salmon bones are really soft and can be used as it is in the cakes. It is up to the availability and preference.
When you have access to fresh salmon or want to use leftover baked salmons, you can use it. If using fresh salmon, lightly season it with salt and pepper. Either cook it in a pan or bake it in a preheated oven (425˚F) for about 15 minutes.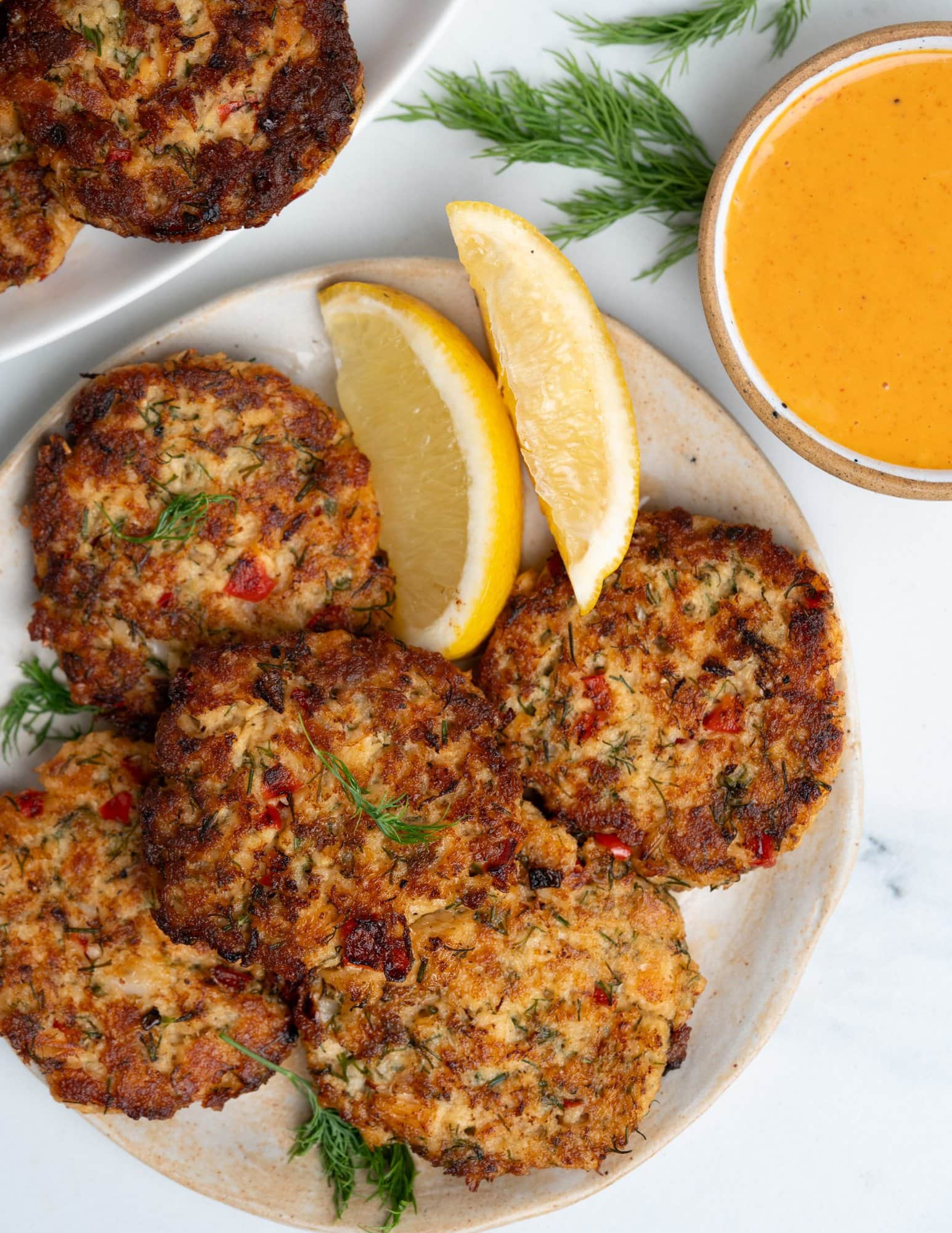 Ingredients for Salmon patties
Salmon– fresh or canned salmon.
Egg – for binding
Panko breadcrumbs – help to bind the mixture and also make the outside crispy once fried.
Parmesan – This not only adds flavor, also makes the crust extra crispy.
Onion– finely minced onion
Red pepper – finely chopped red pepper.
Dijon mustard
Minced garlic
Dill leaves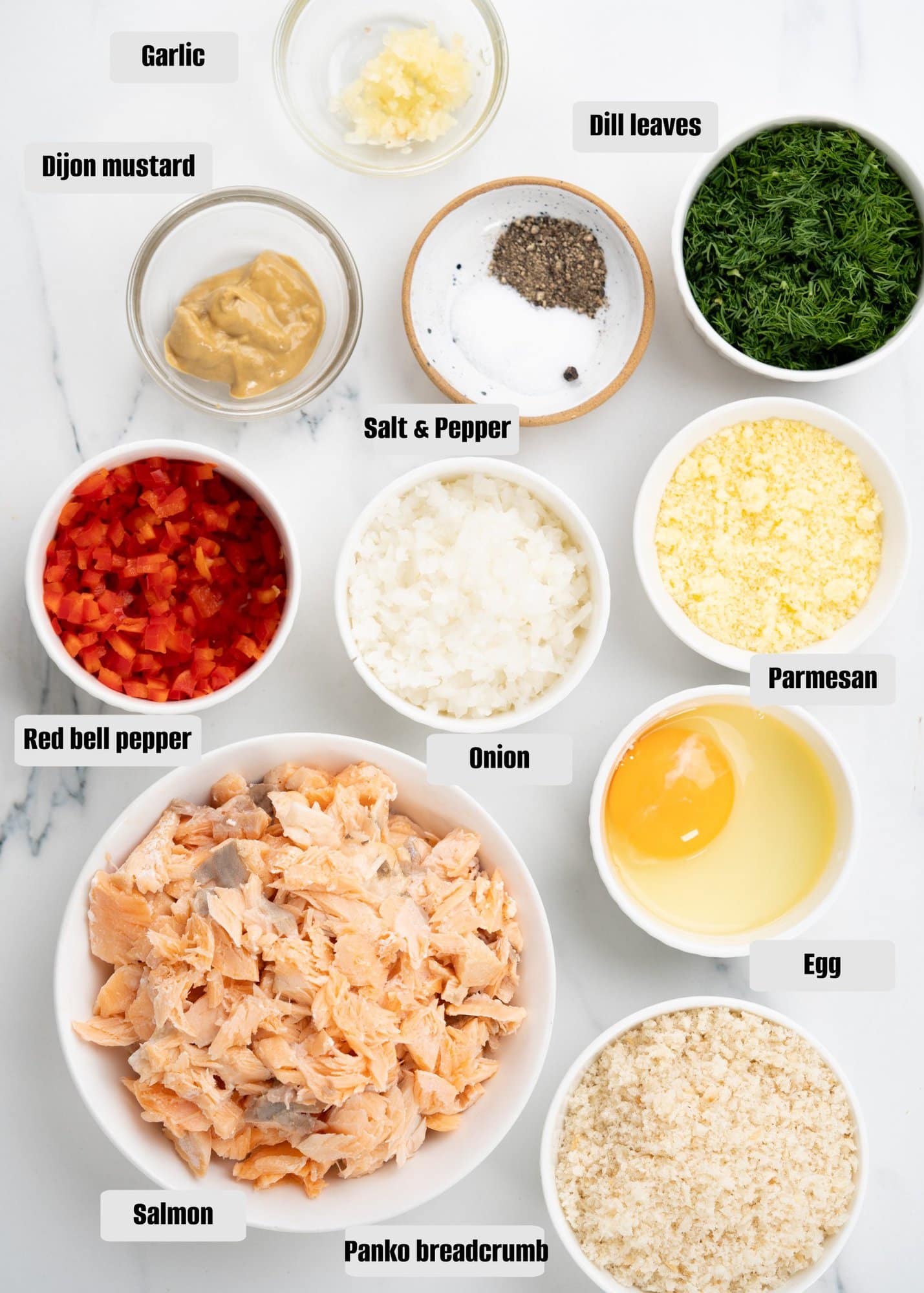 How to make salmon patties
If you are using fresh salmon, season it lightly with salt and pepper and cook it on a skillet or bake it until done. Once cooled down break it into small pieces. Drain any juice that has come out of the cooked salmon. If using canned salmon, drain it really well and it is ready to use.
Make sure you chop the onion and red pepper really fine. You can run the veggies in a vegetable chopper to cut it fine.
Beat the egg. In a mixing bowl add all the ingredients except olive oil. Using your hands or a fork mix it well until the mixture comes together and you should easily be able to shape the mixture without falling it apart.
Use a 1/3 measurement cup or a large ice cream scoop and shape it into small patties. Here is a hack I do, I shape and arrange all the patties on a tray. As cooking the patties takes very little time, keeping them shaped saves a lot of time. Then pan fry them.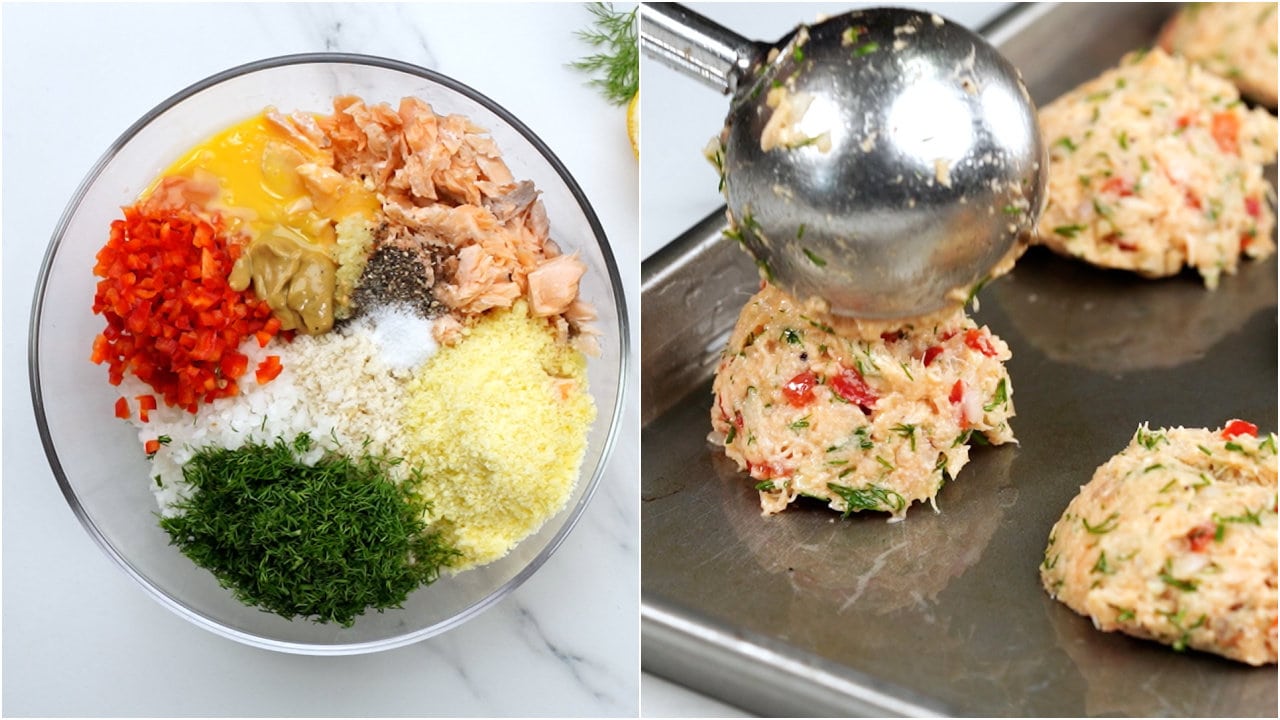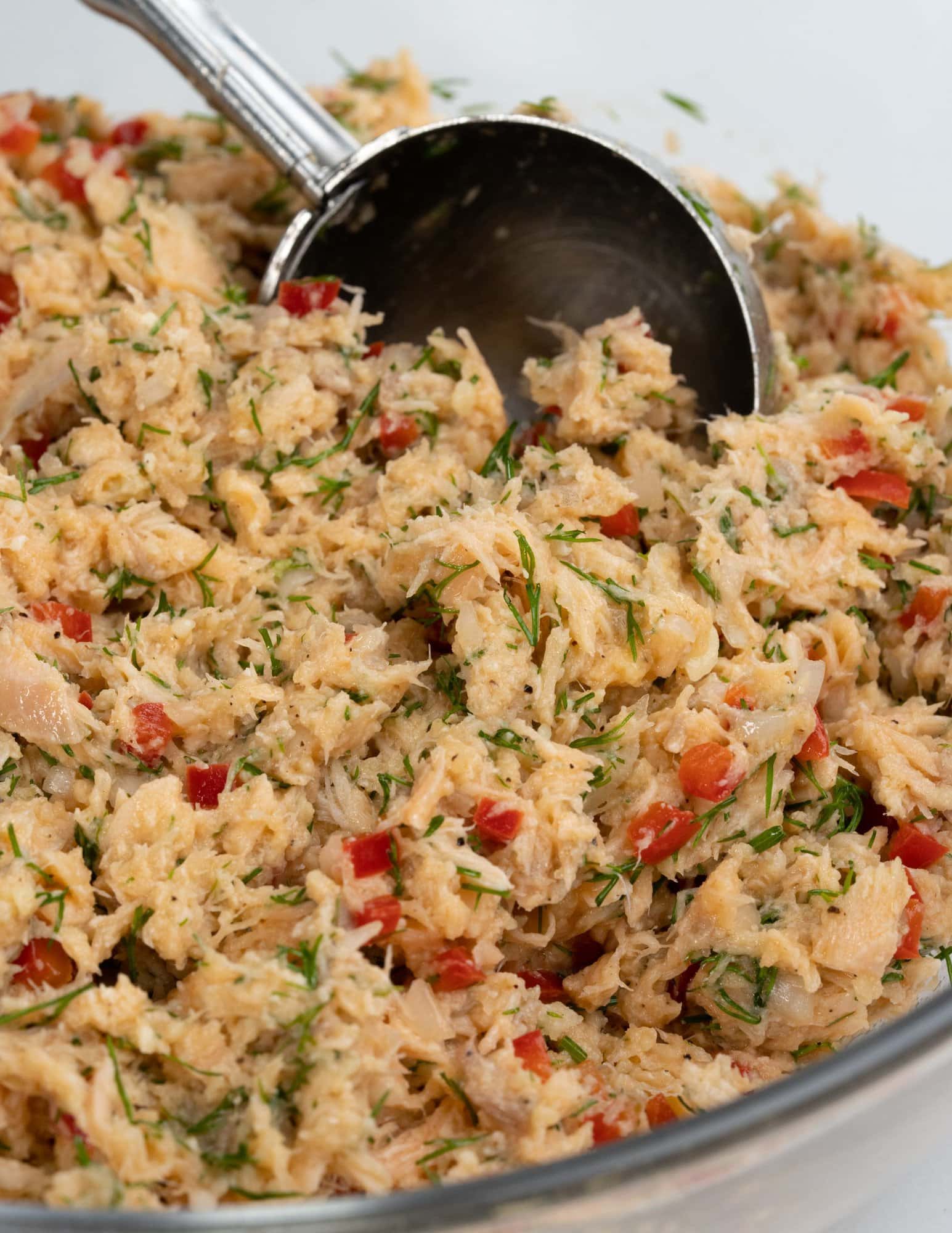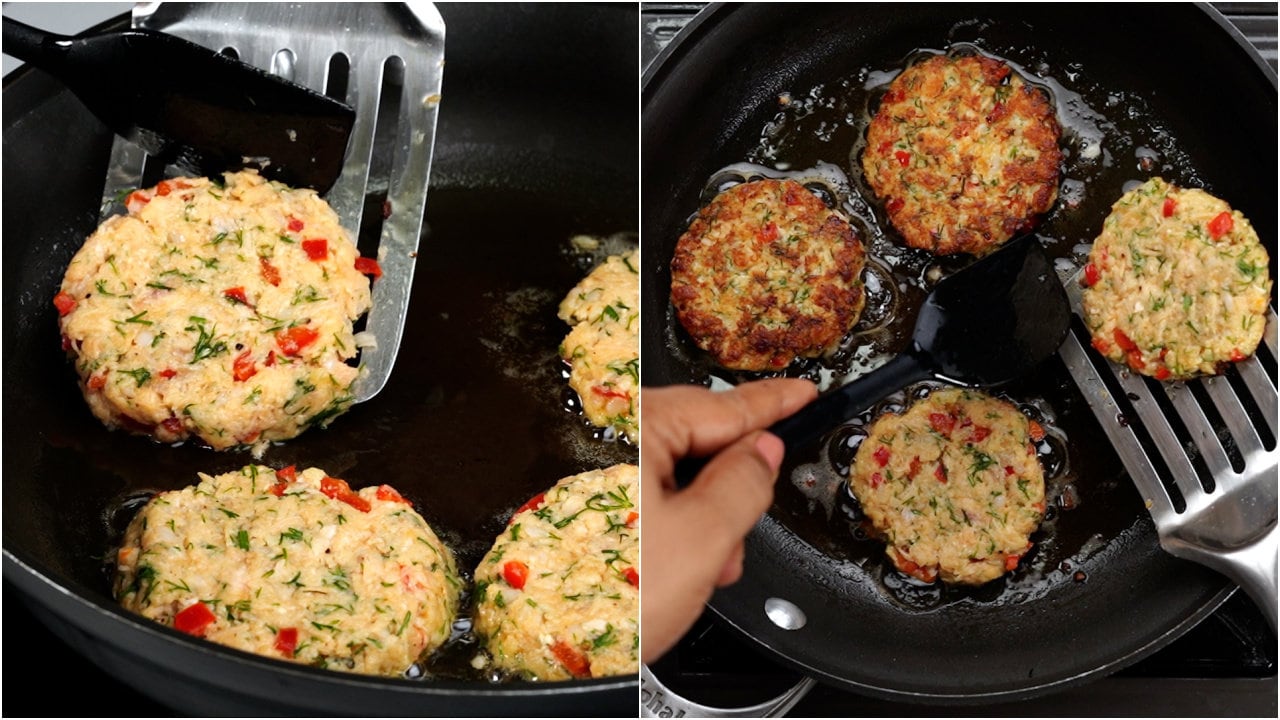 Can you bake or Air fry Salmon Patties
Baking or air frying the patties yields equally delicious patties.
For baking- Preheat the oven to 220C/430F. Place shaped patties on a greased baking tray. Spray/brush the top with olive oil. Bake for 10 minutes, flip and bake again for 5-6 minutes.
To Air fry- Spray or brush both sides of each patty with olive oil. Grease the air-fryer basket really well. Air fry at 400°F for about 10-12 minutes.
Freezing and storing salmon patties
Salmon patties are delicious while still hot. Once cold, they lose the crispness to some extent. But the leftover patties can be stored up to 2 days in an air-tight container
Storing mixture – Once the mixture is ready, the veggies (onion and red pepper) tend to lose water, which in turn will make the mixture watery. In that case, add a couple of tablespoons of breadcrumbs to thicken the mixture. Or in case you are planning to make the mixture ahead of time, then add salt just before cooking.
Freezing Salmon patties – Freezing pre-shaped patties is a great idea, you can always have them handy and cook it whenever required. To freeze, shape the patties and freeze them on a lined cookie tray individually. Once frozen put them in a zip-lock bag.
Cooking Frozen Salmon patties– Thaw the patties for 30 minutes. Then cook on a greased non-stick skillet on very low heat for about 8 minutes, flip, and cook for another 5-6 minutes or until done. You can also bake or air fry them.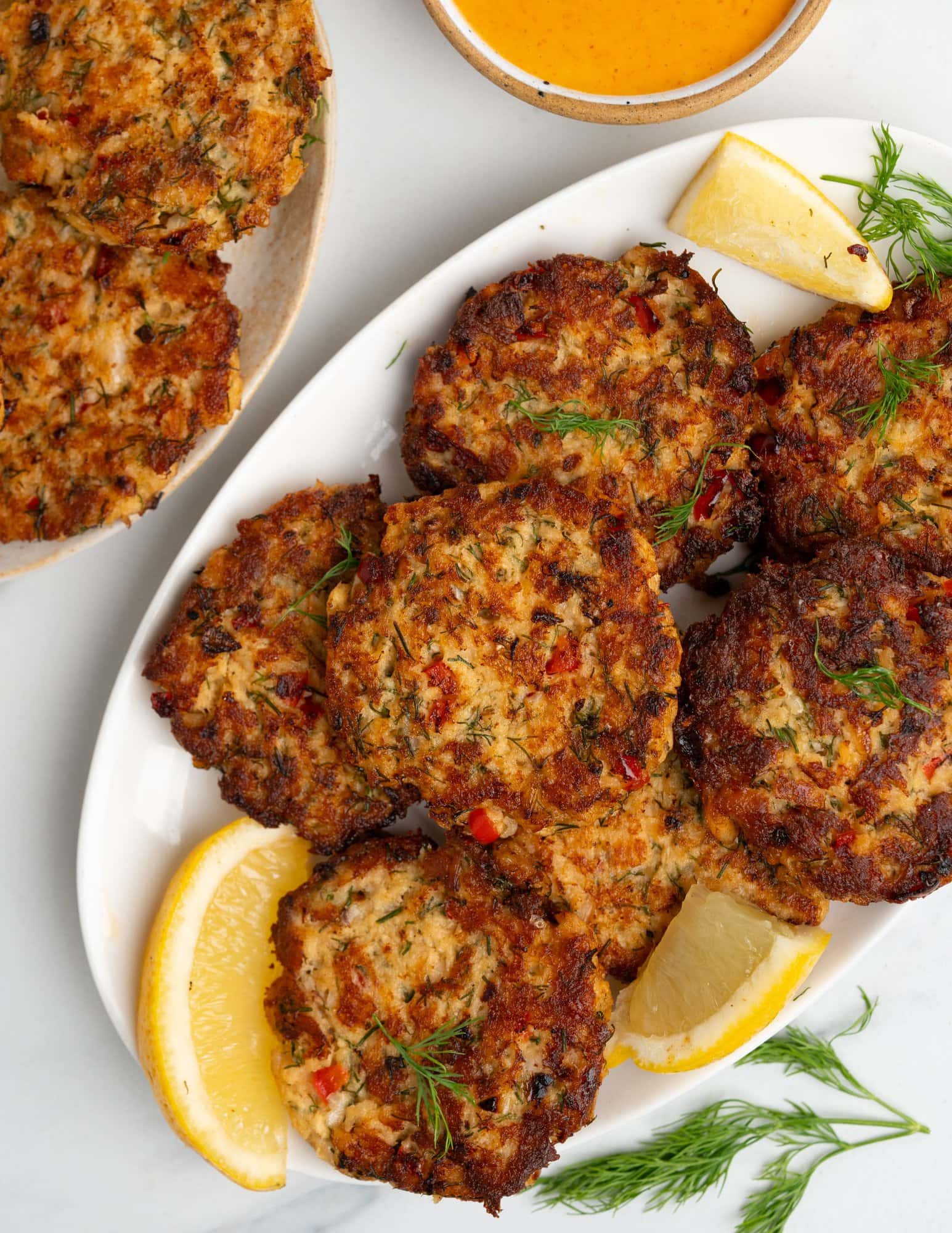 Serving Salmon Patties
Serve it as an appetizer with tzatziki sauce/Tartar sauce. I have made a quick spicy Mayo dip made with mayo, sriracha, tomato ketchup, garlic, and Worcestershire sauce.
Pair with seasoned rice like Herbed garlic butter rice or Mushroom rice and make a meal out of it.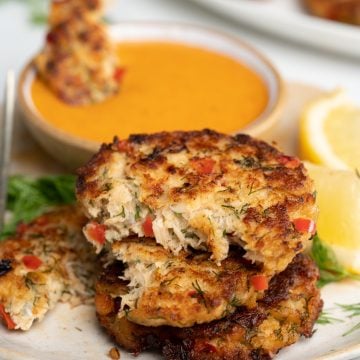 Salmon patties
Ingredients
500 grams salmon
1 cup Panko breadcrumbs
1 small onion finely minced
½ tablespoon garlic clove minced
⅓ cup finely chopped red bell pepper
1 large eggs
⅓ cup parmesan finely grated
1 tablespoon dijon mustard
½ teaspoon salt
¼ teaspoon pepper
⅓ cup fresh dil chopped