Yaki Udon Noodles Stir Fry
This post may include affiliate links that earn us a small commission.
When it comes to easy Japanese cooking, it doesn't get more simple and more fun than this Yaki Udon noodles stir-fry recipe. The flavorful sauce compliments the thick, chewy udon noodles and minced pork cooked with savory aromatics, making this a popular street food dish.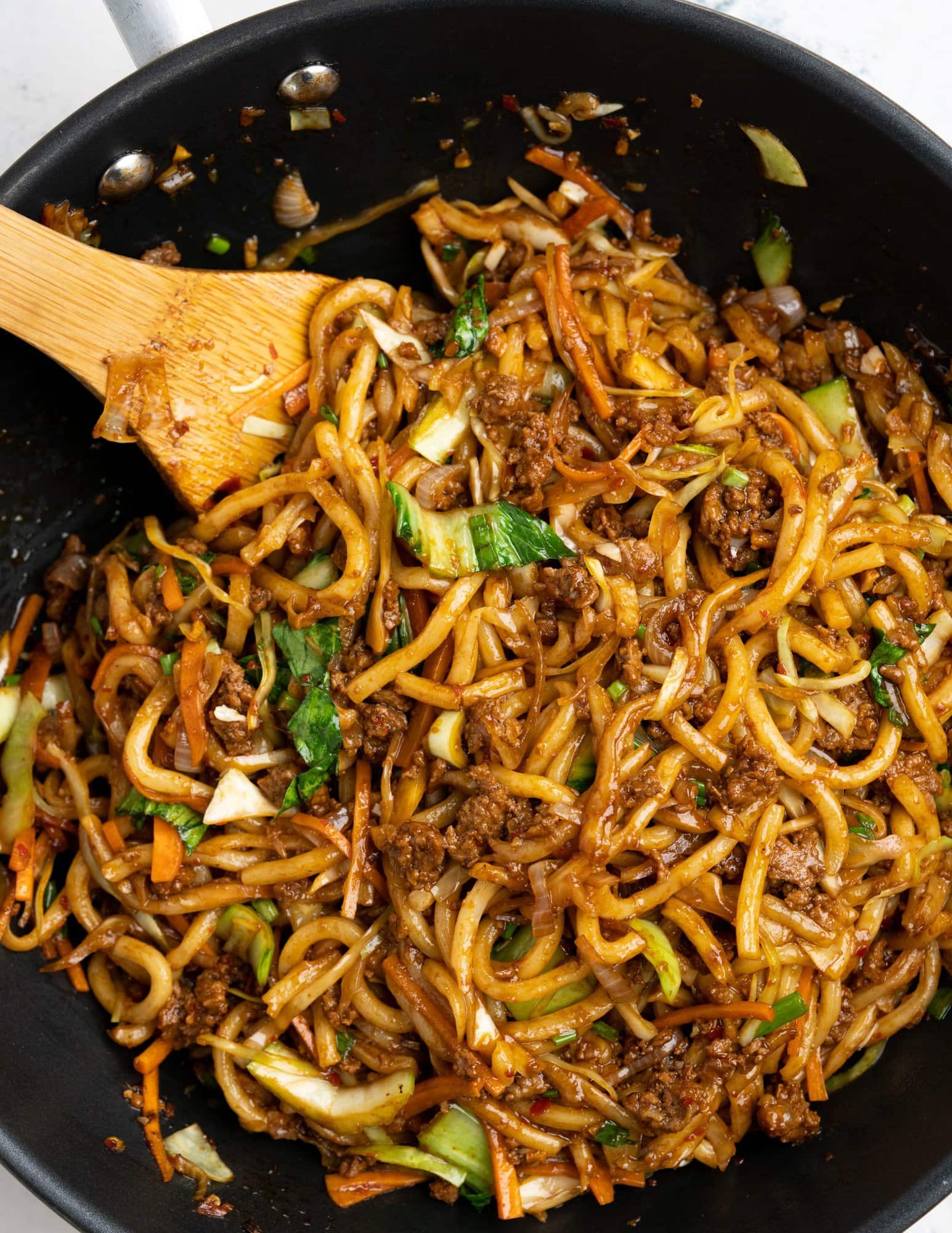 Yaki udon is a healthy, flavorful stir-fried udon noodle dish that can be cooked within 30 minutes. It satisfies enough for a meal but easy enough for a weeknight dinner and simple enough for every family member!
For such a flavorful and fulfilling meal, the udon noodle recipe can be made with everyday Asian ingredients that you might have in your pantry or find in nearby Asian grocery stores.
Flavours In Your Inbox
Subscribe for recipes straight to your inbox
I have wanted to make and share more Japanese recipes, and finally, I could put this up. It has been quite a while since some great sushi places have turned up in town, and we have fallen head over heels for sushi and other Japanese delicacies.
One word to describe and relive our experiences is – umami, and this udon noodles recipe has loads of that. A lot of that comes from the soy sauce-based sauce used here, and I feel this is quite versatile too. I can easily substitute the noodles, protein, and veggies, yet anything else would taste equally good with this sauce.
Ground pork is commonly used in yaki udon, giving it a savory flavor and sweet taste. The sauce enhances its flavor, and ground/minced pork mixes well with the noodles, distributing evenly. We can also use chicken or beef instead but in ground/minced form.
For other ground meat recipes, check out – Spicy Pork Ramen – which is a ramen delicacy made with ground pork; Ground Beef Bowl – a comforting bowl of savory ground beef served with rice; and Healthy Ground Beef Vegetable Skillet – another stir fry recipe with ground beef and versatile choice of vegetables.
If you want to serve pork dishes, look at two favorite ways to cook pork chops – Pork Chops in Creamy Mushroom Sauce and Skillet Pork Chops With Sour Cream. Both can be done in the skillet and have a yummy sauce.
For a more tender cut from the animal – pork tenderloin, you can bake it in the oven with a spicy rub and a flavorful BBQ glaze, all in 30 minutes – Baked BBQ Pork Tenderloin.
Yaki Udon
This stir-fried dish with udon noodles is known as 'Yaki udon' – yaki means fried, so it is fried udon. Udon noodles are white, thick noodles made from wheat flour. It is a Japanese stir-fried dish with noodles stir-fried in a soy-based sauce and with pork and fresh shredded veggies.
This popular street food originated after the Second World War when udon noodles were used in the noodle stir fry recipe since the regular thin Chinese noodles became scarce. 
The chewy and neutral taste of the udon noodles carries the flavors of the sauce and meats while delivering a bite and helped establish this variation as a popular dish. Other popular udon recipes are the yakisoba or soup.
From a health point of view, udon noodles offer a balanced meal as the meat offers protein, and the veggies have fiber in higher proportions than the carbohydrates from the noodles.
The noodles made with wheat make it a much healthier choice than white flour-based noodles like ramen or regular Chinese noodles. Considering that both these Japanese dishes with ramen and udon have great flavor, udon is a healthier option than ramen.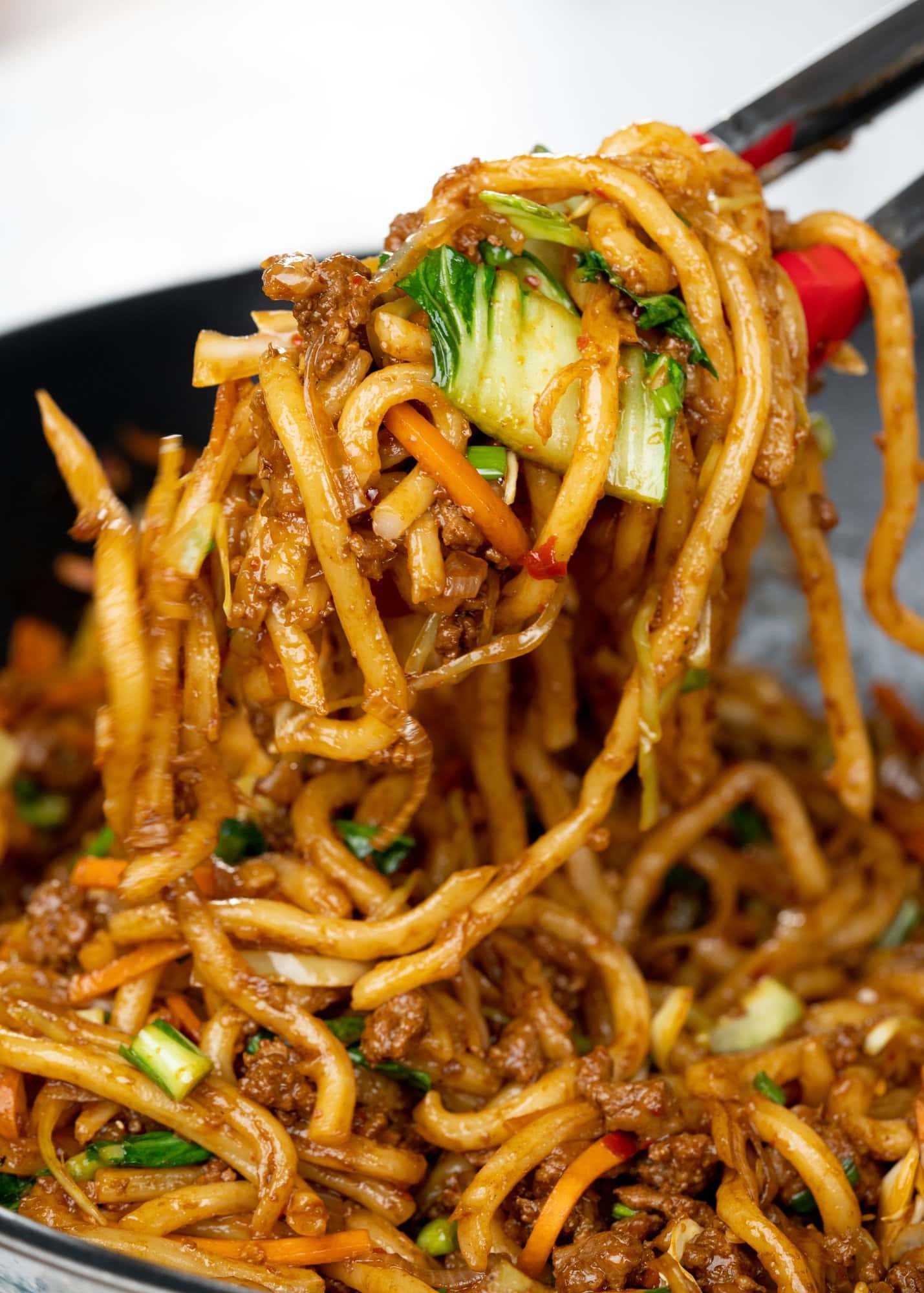 Stir fry sauce
Soy-based sauces are to Japanese cuisine what butter would be to Western cuisine. It is the basic building block of flavor with its salty and umami flavor that lifts many a dish with noodles or rice.
Soy sauce, made from fermented soybeans, is the integral ingredient of this sauce. Dark soy sauce, or "koikuchi shoyu" as it is called in Japan, is widely available. It has a slightly sweeter flavor profile than light or Chinese soy sauce. For more premium quality, get the organic varieties.
Soy sauce is salty enough to bring out all the other flavors. This stir-fry sauce also has oyster sauce, mirin, rice wine vinegar, and sugar to increase the depth of flavor.
The oyster sauce makes the sauce taste savory, while mirin and rice wine vinegar add sweetness and a tangy taste. We use brown sugar here to add a complex flavor while adding sweetness.
While these basic ingredients give a complex depth of flavor, this sauce recipe is flexible, and you can add aromatics like ginger, garlic, or chili paste. They improve the aroma and flavor and add some heat to the sauce.
For its umami flavor, soya sauce is widely used in Asian dishes. I have great recipes with lots of umami from similar sauces – Honey Soy Baked Chicken Drumsticks, Chicken Broccoli Stir Fry, and Honey Garlic Chicken Thighs.
Ingredients
For udon noodles stir-fry
Peanut oil/ neutral cooking oil – With a stir-fry done on high heat, we need an oil with a high smoking point, like peanut oil. Peanut oil adds a nutty taste to the stir fry. You can substitute it with any neutral cooking oil or canola oil.
Udon noodles – the chewy texture and neutral taste of these noodles help in having a bite and carry the flavors of other ingredients well.
Ground pork(see note 1) – Easy to mix and adds a savory and slightly sweet taste to the yaki udon noodles.
Sliced onion – slice onion, adds texture, and bite to each mouthful. The caramelization of these onion slices on high heat adds sweetness.
Garlic – is my favorite aromatic that adds depth and complexity to any savory dish. Minced garlic distributes evenly when stirred.
Cabbage – fresh chopped cabbage adds texture and is commonly used in Asian stir-fries.
Carrot – add some vegetable fiber and color to the stir-fried noodles.
Baby bok choy – adds freshness, crunch, and color to the dish without having a strong taste.
Stir fry Sauce
Soy sauce – the essential sauce for Asian stir-fries that adds a salty and umami flavor.
Oyster sauce – added to provide a slightly sweet and savory flavor.
Mirin – the sweetness of this rice wine also adds a depth of flavor.
Brown sugar – balances everything else with its subtle sweetness.
Rice wine Vinegar – adds a tangy taste and depth to the sauce.
Gochugaru (Korean chili flakes) – These chili flakes are made from bell pepper and add a touch of heat.
Optional & additions
Add veggies like sliced bell peppers (to add to the gochugaru), zucchini, or mushrooms for the stir fry. Mushrooms add a lovely earthy depth of flavor.
Sliced green onions and toasted sesame seeds make for a fresh and crunchy garnish.
Yaki udon can also be made with other meat options like ground or bite-sized chicken, lamb, shrimp, or beef. Eggs are also an option.
To make it vegetarian, use tofu.
How to make
Prep veggies and noodles
Cook the udon noodles as per the packet instructions. Drain the water and keep the cooked noodles aside.
If you are using udon cakes, pour boiling water on the cakes and then leave it for 10 minutes. The noodles would be cooked. Next, you will have to separate the noodles. Do so with a light touch so as not to break the noodles.
For the veggies, chop them into juliennes which means cut into short, thin strips. Juliene-sized veggies mix well and can be easily picked up with the noodles.
Make the sauce
In a medium-sized bowl, add all the ingredients and shake the contents well or stir them gently.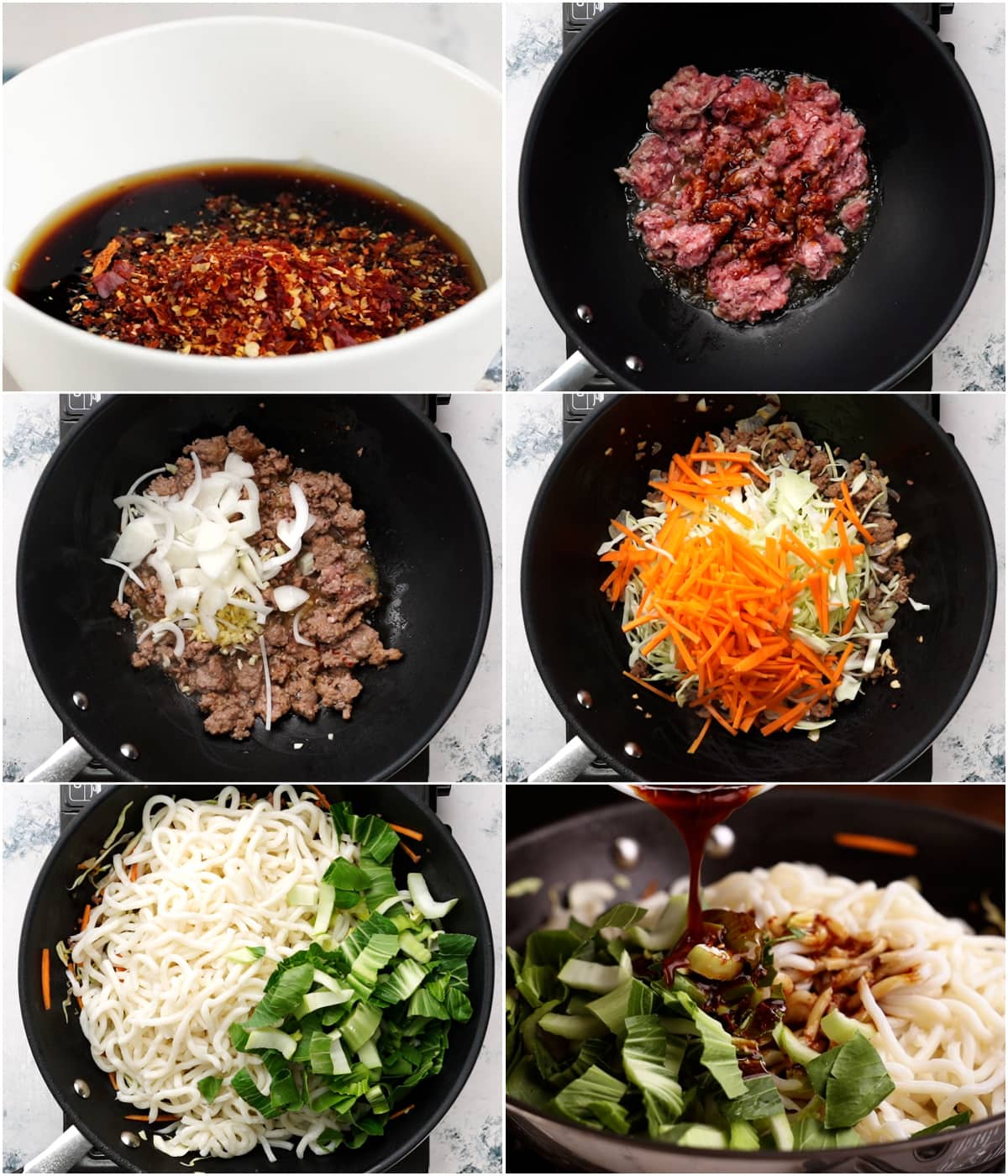 Cook the pork
On a hot wok or large skillet, heat oil. When the oil is hot, add ground pork and a couple of tablespoons of the stir-fry sauce. Mix them well and cook for 5 minutes on medium-high heat. Use a wooden spatula to break the lumps, if any.
Add minced garlic and sliced onion and cook for another minute or two until the garlic turns aromatic.
Stir-fry the noodles and veggies
Time to toss and stir-fry the rest of the ingredients. Add chopped veggies toss them and cook for 3 minutes. You will need to toss them around a few times during this. We want to let the veggies become tender yet still retain a crunch. Do not overcook them by leaving them for longer on high heat.
Add the cooked udon noodles, bok-choy, and the rest of the sauce to the wok. Toss everything well for 2-3 minutes until the noodles get hot and are coated with the sauce and meat base.
Switch off the flame. While serving, garnish with chopped green onions and toasted sesame seeds.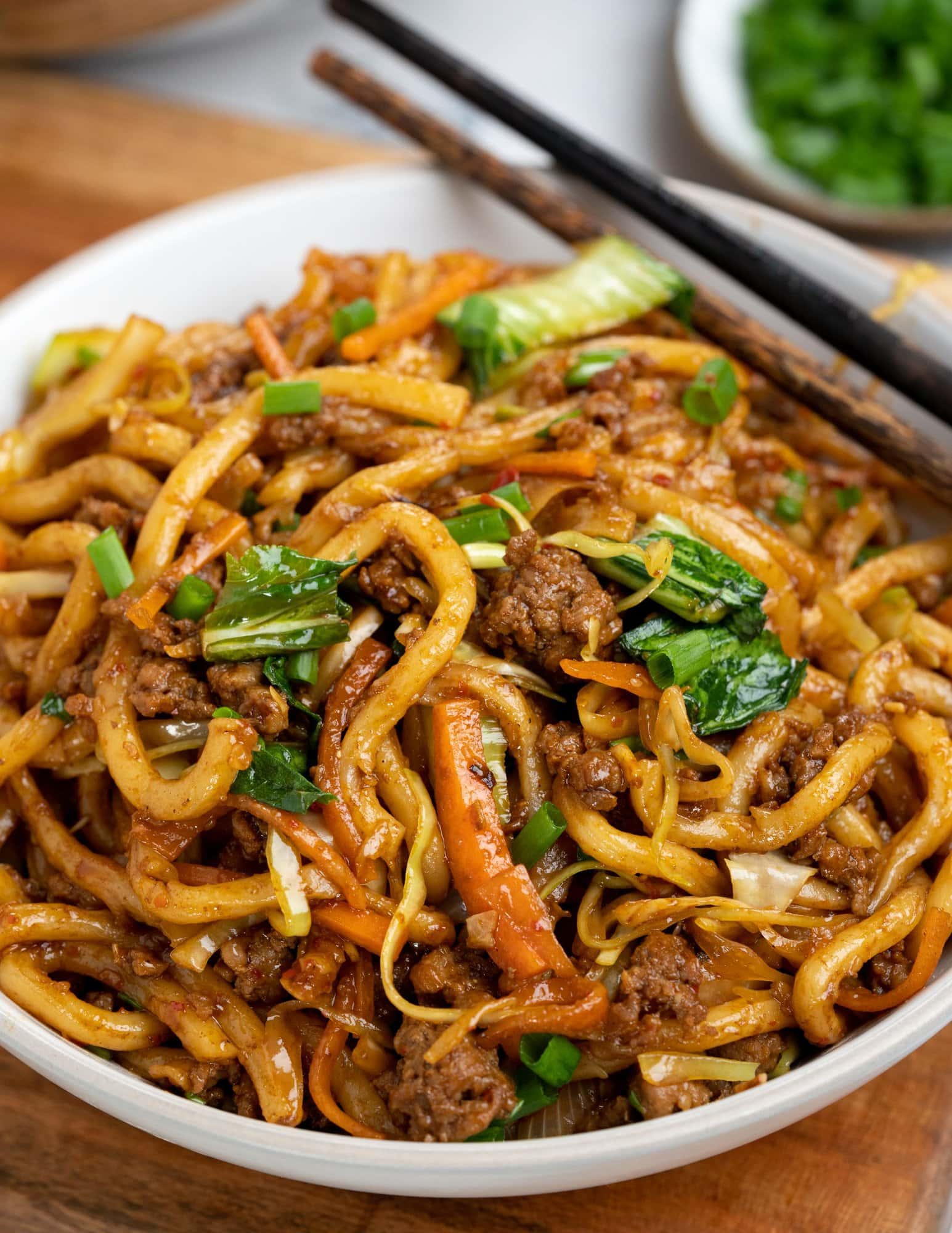 Tips to get the best stir-fried noodles
While stir-frying might seem like a lot of things happening quickly, one after another, it is quite a simple and versatile technique, so you can substitute an ingredient or two and come up with interesting variations.
Make a note of these points to have fuss-free stir-fry:
Stir-frying is always done on high heat. It might start with medium-high heat to cook the meat, but the other stuff, like noodles and veggies, must be tossed around frequently in high heat for a few minutes. That is because the noodles are already cooked earlier, and veggies need to get tender but retain crunch.
Use a large wok or skillet; We will toss all the ingredients, including noodles, veggies, and meat. That will add up to some volume. So use a large wok which will have enough space left that you can safely toss things around.
As things happen fast in a stir-fry, you will hardly get time to do other stuff parallelly. Ensure you have the noodles cooked, the veggies chopped, and the sauce prepped before you start the stir-fry.
If you notice, there is no salt or pepper used. We have used generous amounts of soy sauce-based sauce containing soya and oyster sauce. These sauces are quite salty enough to bring out the flavor of ground pork and veggies. Taste after cooking the pork and add more salt if you want more.
Keep stirring the contents in the wok. Leaving it on longer will result in noodles steaming and sticking to each other. We are giving each portion of the noodles and veggies a quick fry.
Store
Leftovers of Yaki udon noodles can be enjoyed later too. You can refrigerate it in an airtight container for up to 4 days. You may also freeze it for three months in a freezer-safe container. Thaw them overnight in the refrigerator before you reheat them.
You can reheat them in the microwave or, better still, heat a little oil and give a quick stir fry.
Serve with
Stir-fried Udon noodles can be enjoyed as a complete meal by themselves when it is made with meat, various vegetables, and crunchy fresh leaves like bok choy.
You can also serve it as a side dish to dishes like Sushi, Miso soup, or teriyaki. Pickled vegetables add a refreshing and tangy flavor and cleanse the palate.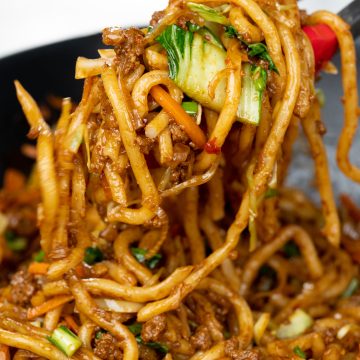 Udon noodles Stir fry
This umami-packed Udon noodle stir fry has the most incredible sauce. Chewy Udon noodles soak up all the flavour. Tons of veggies and ground meat make this noodle stir fry a complete meal.
Ingredients
2 tbsp Peanut oil/ neutral cooking oil
2 serving udon noodles (500g)
250 grams ground pork (see note 1)
½ medium onion sliced
2 cloves garlic minced
2 cup cabbage
1 carrot
2-3 baby bokchoy
Stir fry Sauce
3 tablespoon soy sauce
2 tbsp oyster sauce
1 tbsp mirin
1.5 tbsp brown sugar
1.5 teaspoon Rice wine Vinegar
1 tsp Gochugaru Korean chili flakes or red pepper flakes, optional
Instructions
Make the stir fry sauce
In a bowl or glass jar with a lid add all the ingredients for the sauce. Shake it well and keep it aside.
For Udon noodles stir fry
Cut veggies into juliennes. Roughly chop the firm part of bokchoy and the leaves.

If using packed udon noodles cakes, pour hot water on the cakes and let it rest for about 10 minutes. The noodles can be separated easily. They tend to break easily, so be careful and gentle while separating.

In a large wok or skillet heat oil. Add ground pork and 2 tablespoons of the prepared sauce. Mix and cook pork for 4-5 minutes on medium-high heat, breaking any big lump of meat.

Add minced garlic and sliced onion. Cook further for about one minute.

Add cabbage and carrots. Toss on high heat for 2-3 minutes. The veggies need to be tender yet have a crunch to them.

Add drained Udon noodles and bok choy to the wok. Pour over all the stir-fry sauce. Toss everything on high heat to coat the noodles well with the sauce.

Sprinkle more green onion on top while serving.
Nutrition
Serving: 1serving | Calories: 333kcal | Carbohydrates: 21g | Protein: 19g | Fat: 21g | Saturated Fat: 6g | Polyunsaturated Fat: 4g | Monounsaturated Fat: 9g | Cholesterol: 45mg | Sodium: 1370mg | Potassium: 1372mg | Fiber: 5g | Sugar: 12g | Vitamin A: 21483IU | Vitamin C: 197mg | Calcium: 476mg | Iron: 5mg