This post may include affiliate links that earn us a small commission.
Honey Sriracha Chicken has Juicy chicken thighs in an incredibly delicious sticky, sweet and spicy Honey Sriracha sauce. You need less than 20 minutes to make this recipe with basic pantry ingredients.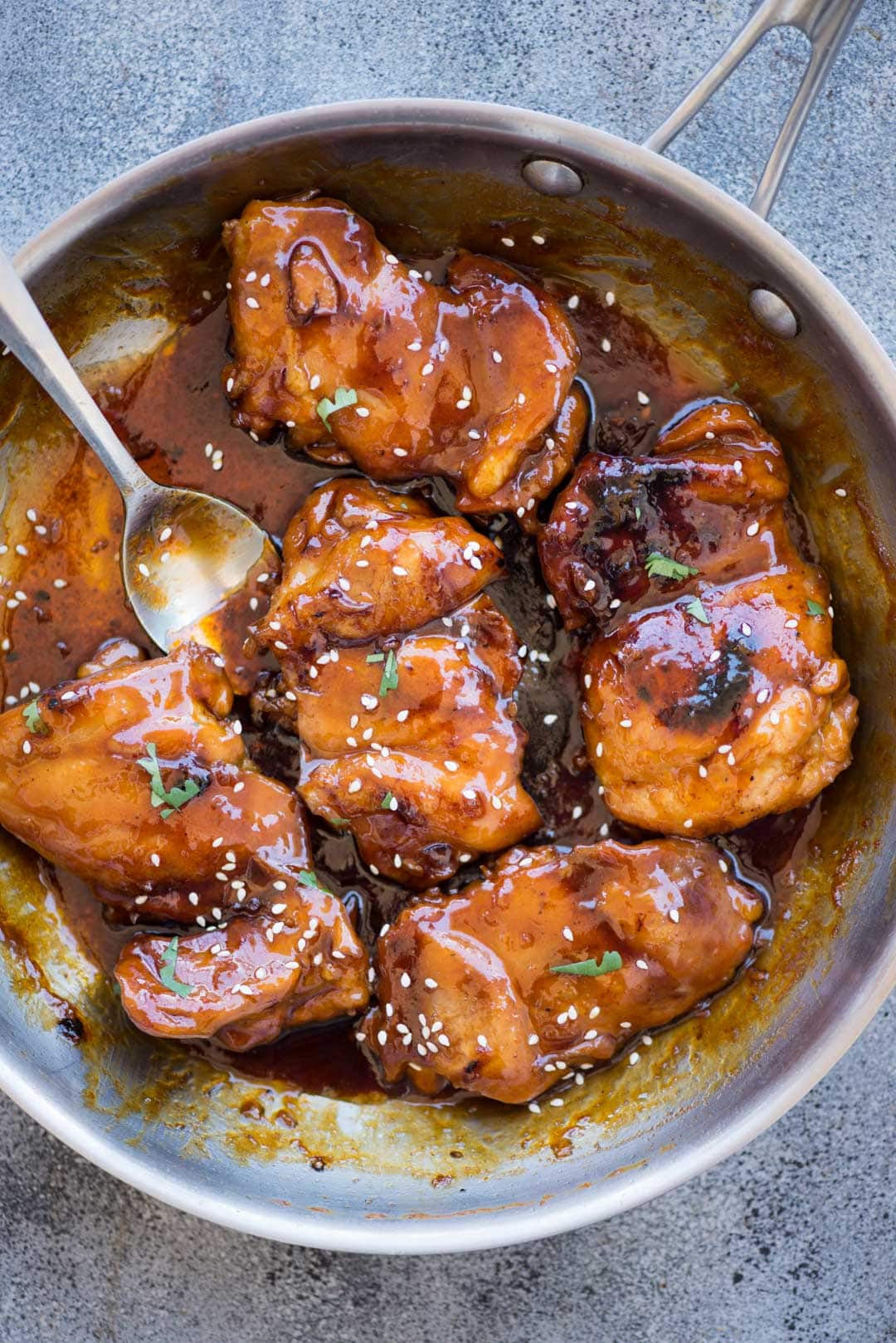 Flavours In Your Inbox
Subscribe for recipes straight to your inbox
Sweet & Spicy Honey Sriracha Boneless Chicken Thighs
There are three very good reasons you should try this Honey boneless skinless chicken thigh recipe.
First, everybody loves chicken with a sticky sauce. Period. I have not met anyone who doesn't. And sticky sauces tasting hot and sweet are just as appetizing as they can get.
Second, Sriracha sauce has become so popular these days around the world. Coming from a small coastal town in Thailand, this sauce is bottled and available in most supermarkets in any place. But how do you use it? Honey is the answer. Its sweetness complements the heat from the sriracha so well.
Third, this recipe has become one of my reader's favorites on Pinterest. A lot of them liked it and shared it.
I had previously shared Sweet chili pineapple sauce, one of my favorite hot and sweet sauces. Had tried various sauce-based dishes like Crispy tofu in a garlic sauce, Baked Tilapia In Lemon Garlic Sauce, and Chicken meatball in plum sauce.
This recipe makes a delicious sticky chicken diner in just about 20 minutes on the stovetop. Busy days dinner can't be easier and quicker than this.
The Asian-inspired sauce has just five ingredients, mostly pantry staple. It comes together really quickly and pairs really well with rice.
This spicy honey skinless boneless chicken recipe gets its heat from the sriracha sauce and sweetness from the honey.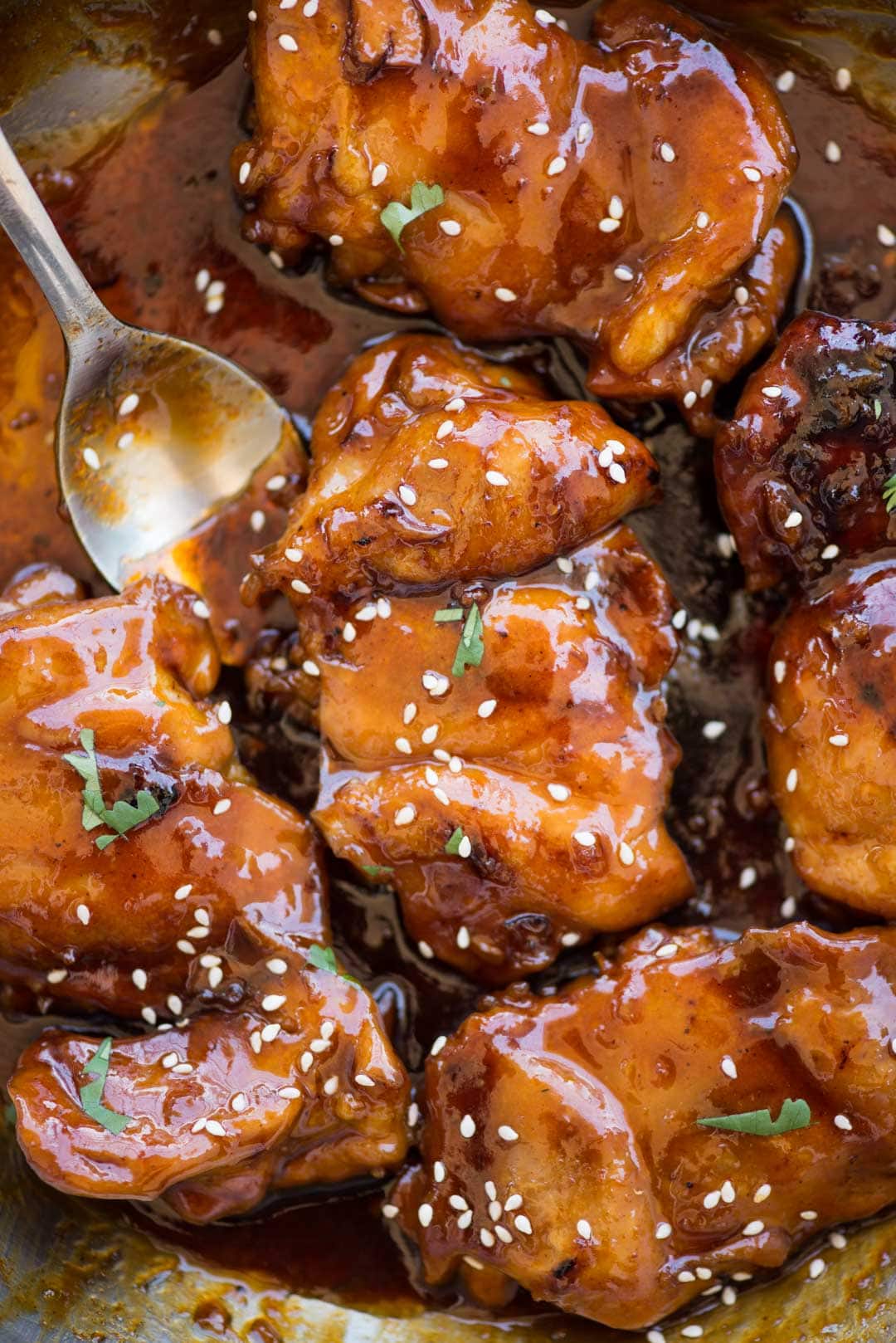 Ingredients
Honey Sriracha Sauce
The main part of the honey Sriracha Chicken is the sauce. 5 ingredients, that's all you need. If you have cooked Asian dishes a few times at least, you will probably have most of them in your pantry.
Honey – provides sweetness to the sauce.
Sriracha – Get something like Huy Fong hot chili sauce or other brands available close to you.
Soy Sauce
Rice Vinegar
Water – to add volume to the sauce.
The sauce is sweet with just a hint of spice from the sriracha. There is Soy sauce for Umami and Rice vinegar to balance it in all.
There is no thickening agent like cornstarch or flour. The sauce once cooked thickens and makes a sticky sauce. You can adjust the sauce depending on how sweet or spicy you prefer.
Rest of the dish
The rest of the dish needs common everyday ingredients with chicken being the main one.
Boneless skinless Chicken Thighs / Chicken Breasts – I have added instructions to cook it with either thighs or breast. I always prefer chicken thighs though breasts have fewer calories, a little more protein and all. I would always go for flavour.
Butter – Makes the sauce rich in flavor and thickness.
Oil – To prevent the butter from burning
Garlic – Minced garlic. Most of my savory recipes have garlic. The most common ingredient to get flavor into a savory dish.
Salt
Pepper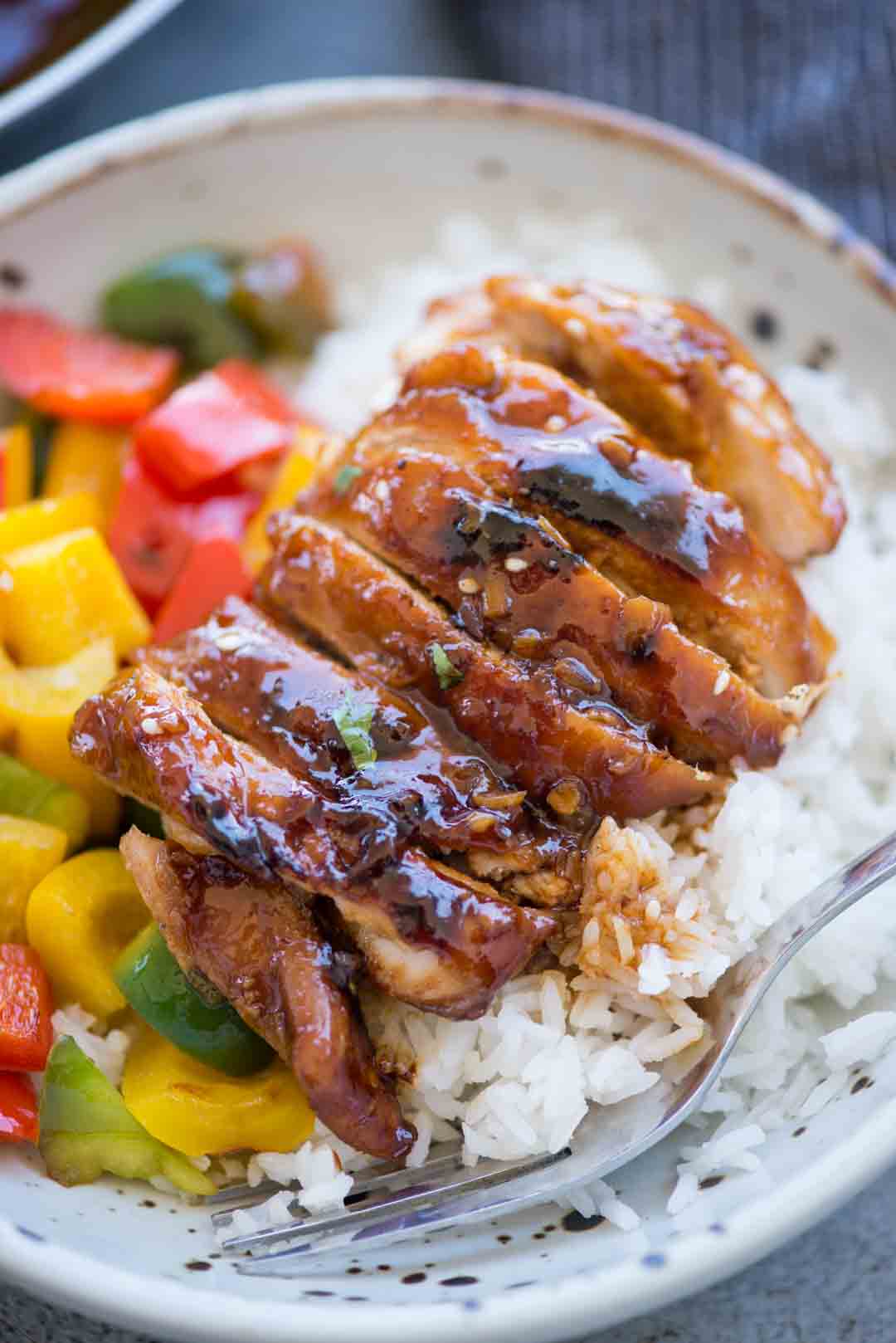 How to make
Making Sriracha sauce – Making sriracha sauce is super easy. Gather all the ingredients needed and mix them well. Bingo, the sauce is ready.
While cooking with the chicken, you will need to let the sauce thicken until it appears sticky as desired.
Cooking Chicken – We are using boneless Skinless Chicken Thighs here. The idea here is to just crisp up the Chicken thighs first and then Slowly cook in the sauce until the chicken is cooked through and the sauce has thickened.
Use butter and oil. Butter makes the sauce rich and smooth. Oil is to prevent the butter from burning.
Add minced garlic, because garlic makes everything better.
While browning chicken season it with little salt and pepper.
Once the chicken has browned, add sauce to the pan.
Cooking in low-medium heat helps thicken the sauce, cook chicken, and also the chicken soaks up the sauce.
Use Chicken Breast Instead?
I will not lie Chicken breast is always a bit tricky to cook. But you can certainly use chicken breast instead. Because Chicken Breast cooks faster, you need to cook it for less time.
First of all the chicken should be of uniform thickness. Cut chicken into cutlets and use a meat mallet to flatten the thickest part.
Brown Chicken breast for not more than 1 minute on each side. Then add sauce and cook for another 3-4. Remove the chicken from the pan and reduce the sauce further until it thickens. Then add back the chicken.
More Easy Chicken Recipes…
Sweet and Spicy Boneless Chicken Thighs
BBQ Chicken in Oven (in 3 easy steps)
Tandoori Chicken – Oven and Stove top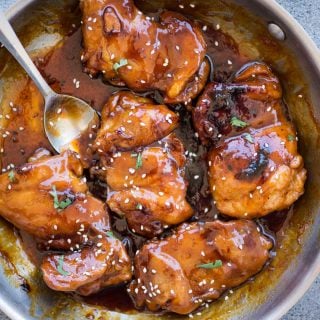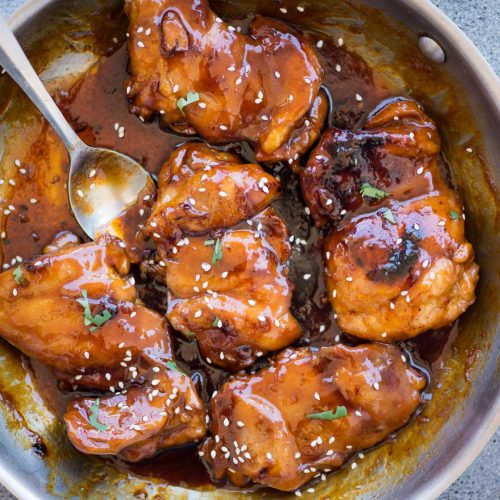 Honey Sriracha Chicken
Chicken thighs cooked in an easy 5 ingredients honey garlic sauce. The sticky sweet and spicy sauce clings to the chicken and trust me it is delicious.
Ingredients
500 grams Boneless Chicken Thighs
1 tablespoon Butter
1 teaspoon Oil
1 tablespoon Garlic Minced
¼ teaspoon Salt
¼ teaspoon Pepper
Honey Sriracha Sauce
¼ Cup Honey
3 tablespoon Sriracha Sauce (reduce it to 2 tablespoon for less spicy version)
1.5 tablespoon Soy Sauce
1 tablespoon Rice Vinegar
1 tablespoon Water
Instructions
Mix well all the Sauce ingredients in a bowl and keep aside.

Heat butter and oil in a pan. Add garlic and saute for 30 seconds until fragrant.

Add chicken to the pan skin side(top side) down. Cook it undisturbed on medium-high heat for about 2-3 minutes.

Flip the chicken and add sauce to the pan. Cook on low-medium heat for 5 minutes.

Flip the chicken again and cook until the sauce thickens and clings to the chicken.
Nutrition
Serving: 1serving | Calories: 381kcal | Carbohydrates: 19g | Protein: 21g | Fat: 25g | Saturated Fat: 7g | Cholesterol: 130mg | Sodium: 903mg | Potassium: 296mg | Sugar: 18g | Vitamin A: 201IU | Vitamin C: 8mg | Calcium: 14mg | Iron: 1mg