Crispy Tofu in Chinese Garlic Sauce
This post may include affiliate links that earn us a small commission.
This Crispy Tofu In Chinese Garlic Sauce is delicious with tons of flavor. Make this stir fry in just 20 minutes.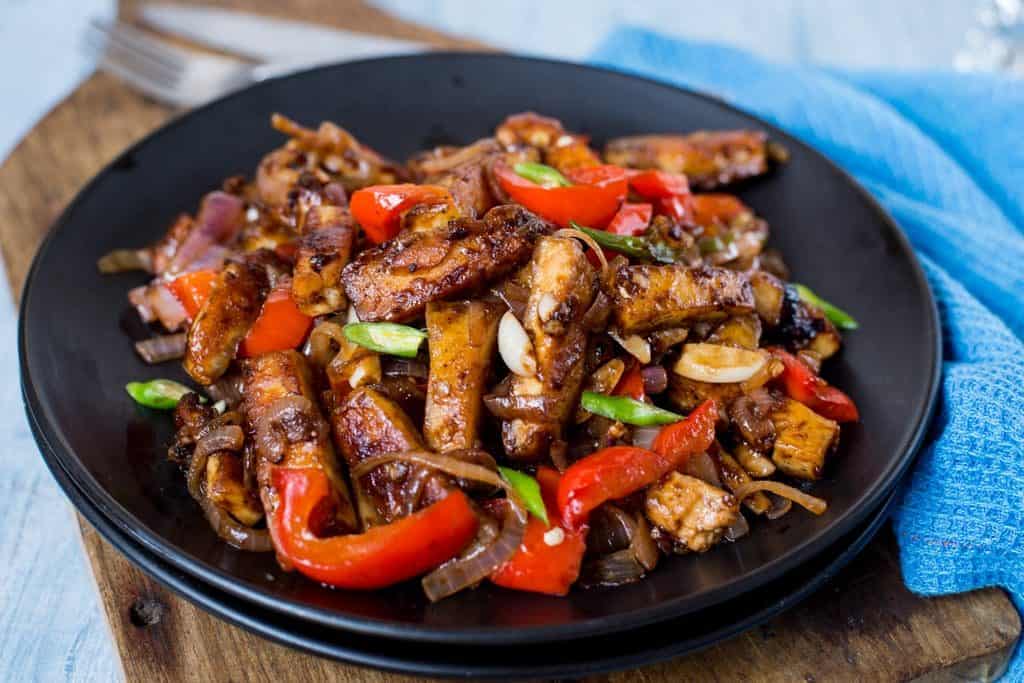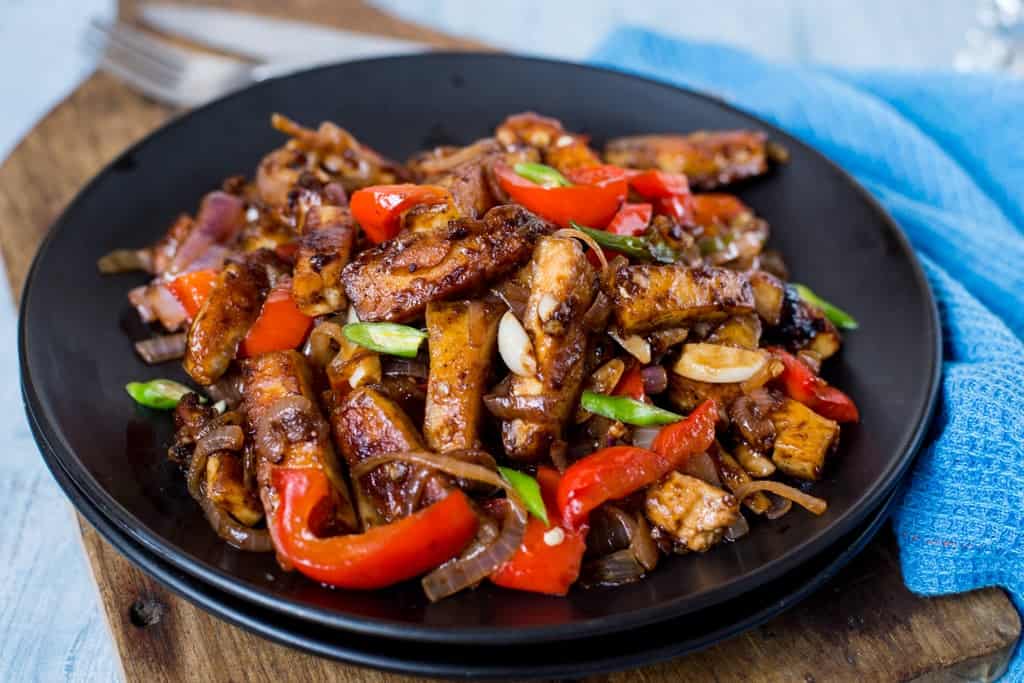 Prepared Crispy Tofu in Chinese Garlic Sauce Sunday evening to snack on. Sunday is always a day of indulgence and we have our lunch late afternoon. So it is obvious that we skip dinner, Instead, I make something quickly like an appetizer for the dinner.
Most of my weekends are also lined up with lots of work. Shooting for the blog, working on the photography assignment, cleaning, dusting, and the day ends with spending time with the little one. Among all these things a quick dinner comes to the rescue.
Flavours In Your Inbox
Subscribe for recipes straight to your inbox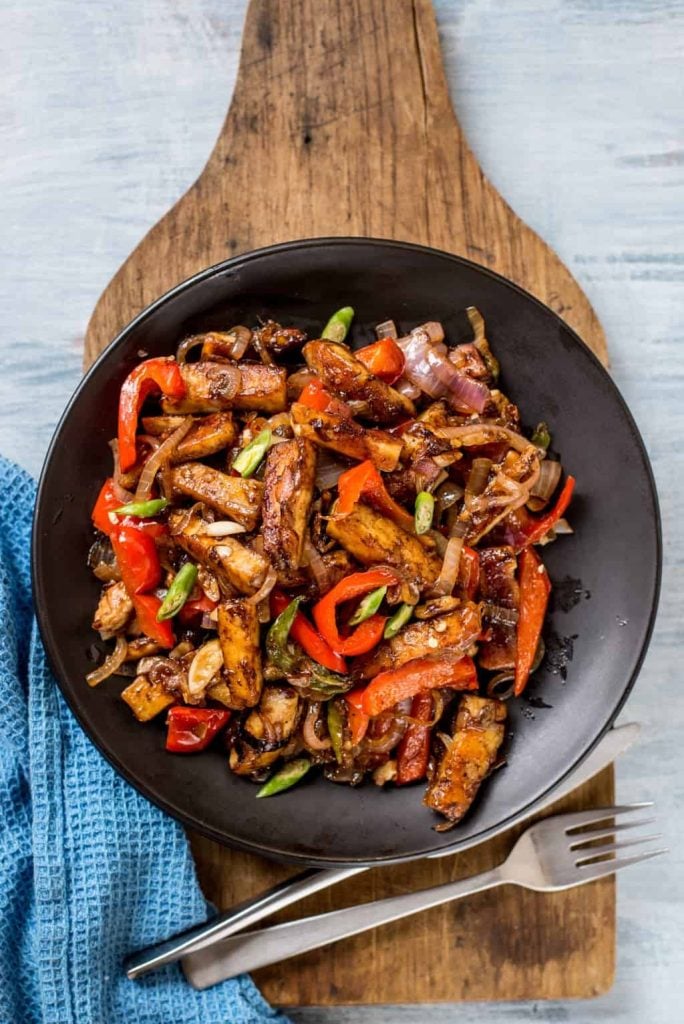 We love this Crispy Tofu in Chinese garlic Sauce because of the flavorful sauce. The sauce is a bomb, loaded with lots of garlic and chili. The sweetness of the caramelized onion balances the spicy sauce.
Do you love Crispy tofu? Whenever I make this or any other recipe that calls for crispy tofu, I pop a few of them before making it to the final dish. Let me tell you a few tips for super crispy tofu with a soft center.
Ingredients
Tofu – Refer to the next section on how to select the right tofu.
Onions, garlic & ginger – Flavor agents used in all asian recipes.
Cornstarch – To thicken the garlic sauce
Sauces – Soya sauce, rice vinegar and tomato ketchup – These sauces give the chinese garlic sauce its distinct flavor.
Red & Green chili – Red chilies are for the heat and green chilies are chopped for garnish.
Green onions – Adds flavor and used as garnish.
Red bell pepper – Gives heat, flavor and color to the dish.
Tips To Make Tofu Crispy?
Making Crispy Tofu is very easy. Few basic steps to prep the Tofu and you will be surprised with the outcome.
Always choose extra firm Tofu among other varieties. As the name says it is firm and easy to work with.
I always soak tofu in lightly salted warm water for 15 minutes. This helps in to soften and season the tofu. (I do this even with Paneer- Indian Cottage cheese).
Last but most importantly drain extra moister. Keep Tofu on a clean kitchen towel/ tissue. Cover it with another layer of tissue. Place some heavy weight on it, heavy enough to put little pressure and squeeze out extra water.
How to make
Marination of tofu pieces is quite easy and needs tossing of tofu with salt, oil, and pepper.
The next step is to prepare the base for the sauce. Needs stirring of all the sauces and cornstarch in a bowl.
Cook the tofu over high heat and flip until all sides are browned. Do not crowd the tofu and keep them on a single layer. Once it is browned, remove and cover them with a paper towel to soak up all the excess oil.
Now cook the rest of the ingredients (onions, garlic, ginger, etc) on the pan/skillet. Toss in the tofu and the sauce base. Toss everything well and wait for the sauce to thicken.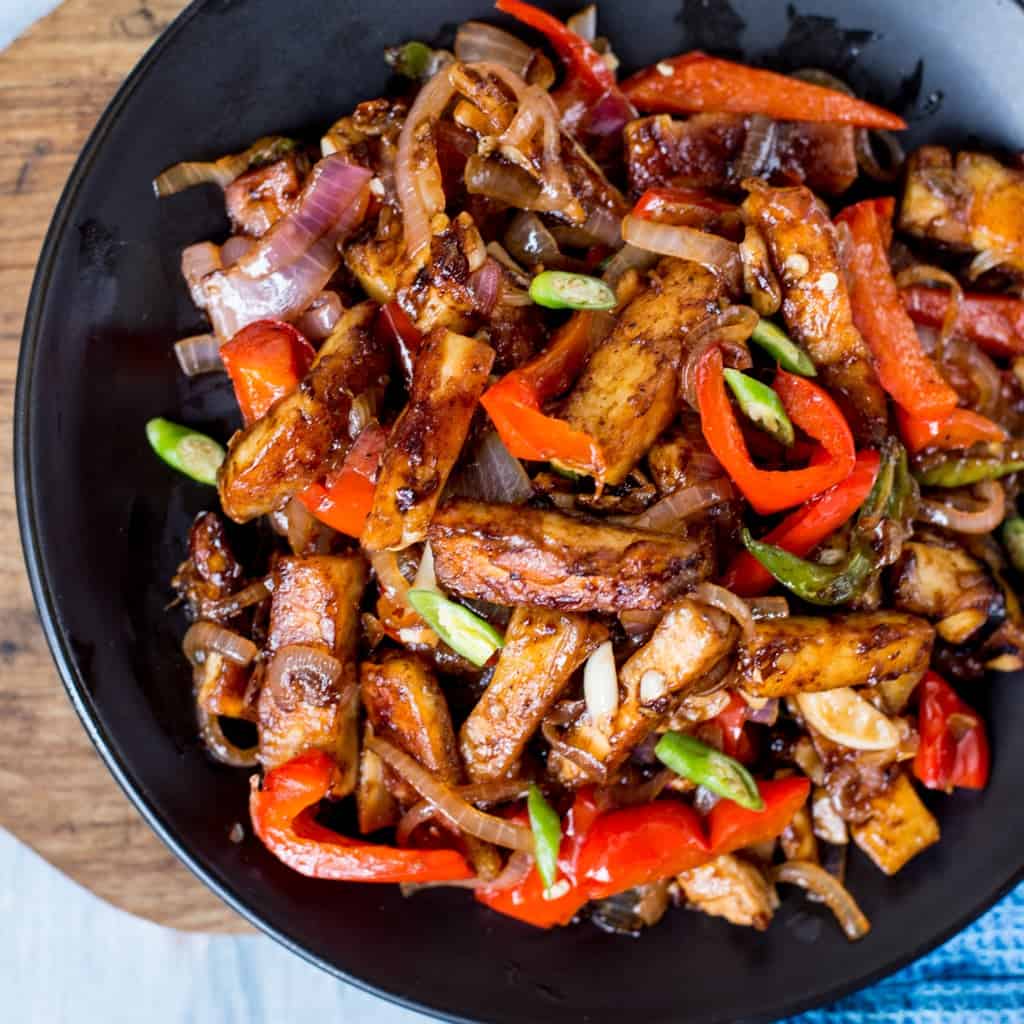 Serve With
You can serve this crispy tofu with any kind of rice – plain rice, brown rice, jasmine rice, or even fried rice like Jeera rice recipe, or Kimchi Fried Rice.
It can also be served with noodles. This can also be had as an appetizer.
Store
Crispy tofu will not stay crispy in the refrigerator. It will become soft but the overall dish will taste good.
I would not recommend storing it and it is better to prepare when needed as it is so quick to make.
Other chinese recipes
Chinese Chicken Salad With Sesame Dressing
Chinese Five Spice Ginger Chicken
Chinese Noodle Soup with Chicken
Chinese Chicken Salad With Sesame Dressing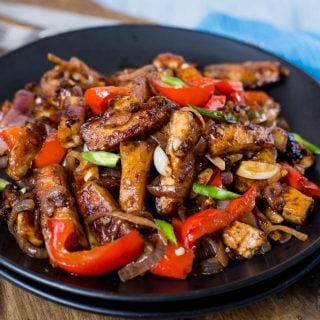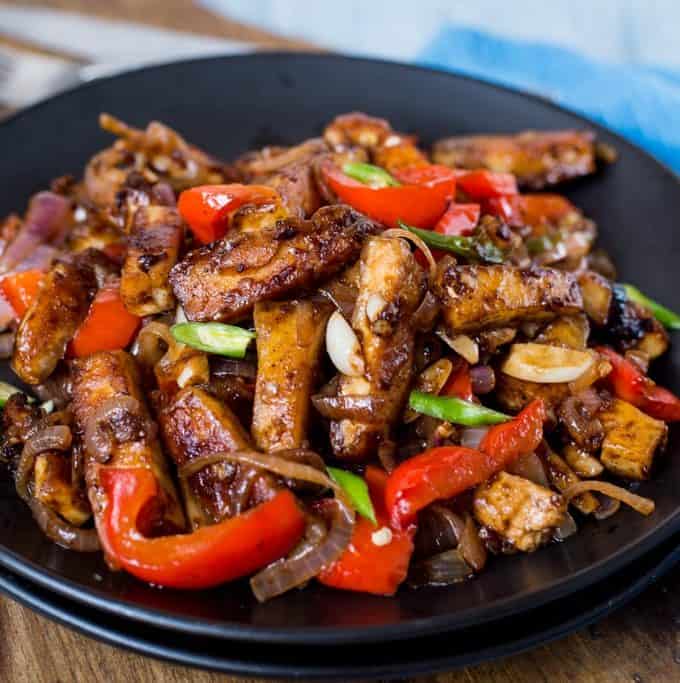 Crispy Tofu In Chinese Garlic Sauce
Crispy Tofu In Chinese Garlic Sauce: Take less than 20 minutes to prepare this stir fry. I have used Tofu here but you can just replace it with Chicken, Prawns, Mushrooms, even Paneer (Indian Cottage Cheese).
Ingredients
250 gm tofu Fresh,cut into strips
2 tbsps vegetable oil or Peanut oil
2 onions large , thinely sliced
1 Medium red bell pepper
8 – 10 pods garlic minced
½ tbsp ginger grated
1 tsp red chilli flakes
½ tablespoon rice vinegar
1 tablespoon soy sauce light
1 tsp soy sauce dark
1 tsp Tomato Ketchup
2 tsps cornstarch
salt pepper and as per taste
green onions green chillies Chopped and sliced to garnish
Instructions
In a large bowl, toss tofu strips with some oil,salt and pepper. Marinate for 10-15 minutes.

In a small bowl, stir together rice vinegar, soy sauce, dark soy sauce, Ketchup and cornstarch. Set aside.

Heat a large frying pan over high heat. Add 1 tbsp oil. Arrange the tofu strips in a single layer. Let it cook undisturbed on medium-high heat for 1-2 minutes. Flips the strips and let it crisp on the other side. The tofu strips should look brown and crisp on both sides.

Remove and place on a kitchen towel/tissue paper to absorb extra oil.

In the same pan add remaining oil. Once it is hot add in garlic, ginger, and red chili flakes. Fry over low heat for about 10-15 seconds, or until aromatic, taking care not to burn the garlic.

Increase the flame and add Sliced onion. Saute over high heat for a minute. Add red bell pepper and toss in high flame for about 1 minute. Make sure to stir and toss the vegetables well.

Add the crisp tofu strips followed by the prepared sauce. Toss everything well. Season with salt or pepper if required.

The sauce will start to thicken. If it is very thick add 1-2 tablespoons of water. Cook further for a minute or so.

Garnish with chopped green onions and green chilies.

Serve hot as an appetizer or along with rice or noodles.