Slow Cooker Creamy Chicken Thighs
This post may include affiliate links that earn us a small commission.
Chicken thighs are cooked in a slow cooker until tender and fall off the bone. The creamy sundried tomato sauce is packed with flavor and perfect to spoon over crispy chicken thighs.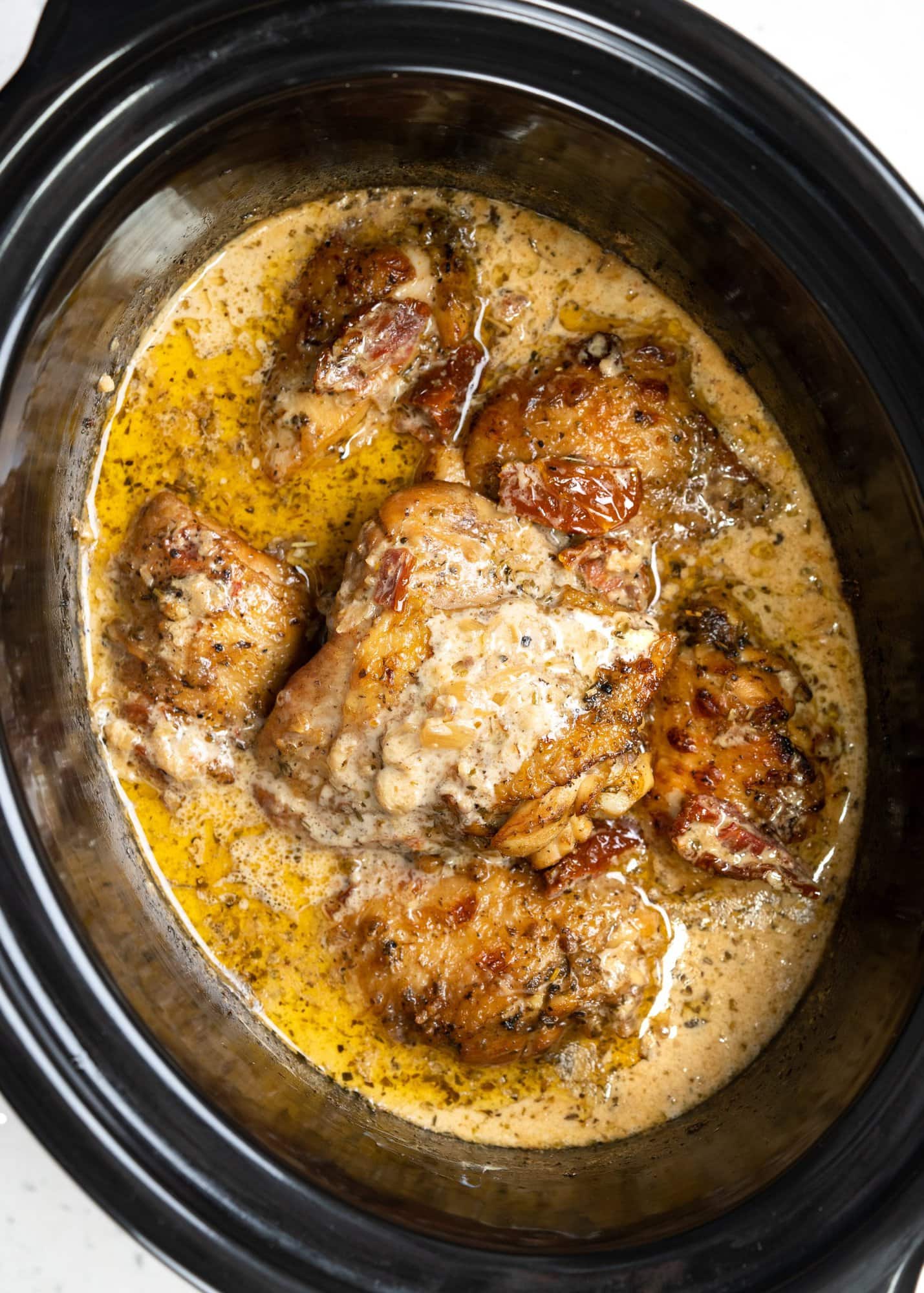 Bone-in chicken thighs cooked slowly for 4-8 hours in a crock pot is a game changer. Long and slow cooking ensures the chicken absorbs all the flavors and stays juicy. What better way to come home after a working day than a delicious meal ready for you in a crock pot?
Flavours In Your Inbox
Subscribe for recipes straight to your inbox
Cooking chicken thighs in a slow cooker is also easy and effortless. Chicken thighs are an excellent choice for slow cooking because they're packed with flavor and have just the right amount of fat to keep them juicy and tender. As they simmer away in the slow cooker, they become incredibly tender and practically melt in your mouth.
Also, the extra fat in chicken thighs helps in searing to produce a golden crisp skin. It also does preserve the moisture to result in tender meat.
The best creamy chicken thighs recipe
Unlike other recipes, we are not dumping the chicken raw along with the rest of the ingredients. I know dump and cook in the slow cooker is what everyone does. But I always feel something lacking in that kind of recipe, and that is the flavor and texture that comes from crispy skin.
So, here's what we're going to do: before placing the chicken in the slow cooker, we're going to give it a quick sear. Searing the thighs results in crispy skin and golden brown crust, and improves them in a couple of ways-
First, it enhances the flavor. Searing thighs on high heat caramelizes the outer layer and produce a crust. It also triggers the mallard reaction and brings in a depth of flavor and slight sweetness to the crust.
Secondly, the texture of the chicken improves with searing creating a brown crust that locks the moisture in. The meat retains the juices and stays tender and does not dry out.
For a similar recipe made with oven-made chicken thighs and a creamy sauce, check out my Oven Baked Creamy Chicken Thighs recipe. It has similar tender and juicy chicken with crispy skin and a creamy sauce.
Creamy sundried tomato sauce
This is just not any other slow cooker chicken thigh recipe, I must tell you. You will get moist chicken thighs with crispy skin, and plenty of creamy sundried tomato sauce to serve with.
The flavors of the sundried tomato sauce are absolutely amazing – rich, and perfectly balanced. The balance comes from the tangy and slightly sweet sundried tomatoes, velvety creaminess of the sauce, and the aromatic herbs and spices.
Ingredients
Chicken thighs – I would recommend getting skin-on-bone-in chicken thighs for maximum flavor. The skin when it gets crispy adds a depth of flavor and texture.
Sundried tomatoes – Sundried tomatoes have a tangy and slightly sweet taste to the sauce and make it delicious.
Choice of fat – We use both butter and oil in this recipe. Butter adds a rich flavor to the seared thighs. But butter has a low smoking point and oil increases the overall smoking point, which allows the thighs to sear on high heat without burning the butter and making it rancid.
Heavy cream & cheese – Heavy cream makes the sauce creamy and rich and adds a luscious texture. Parmesan cheese adds a nuttiness and melts and thickens the sauce.
Aromatics – The usual stuff here – minced garlic and diced onion add savoriness to the sauce.
Chicken stock – Forms the flavor base for the sauce. You can make them easily at home with discarded bones or get a store-bought one from a good brand.
Spices & herbs – Italian seasoning is a blend of dried herbs that provide an essence of Italian cuisine. Salt and pepper to balance the flavors.
Spinach is a great addition here. Add spinach while adding cream and let it cook until it wilts. You can also add sauteed mushrooms towards the end.
How to make chicken thighs in slow cooker
This recipe involves an extra step – searing the chicken thighs before the slow cooker does its magic. This step is worth all the effort.
Season – First thing first, clean and pat dry the chicken. Patting removes the moisture which would prevent the skin from getting crispy. Season with salt and pepper.
Sear chicken – In a hot skillet melt butter and oil. Sear chicken skin side down for 3-4 minutes. Searing and caramelizing chicken thighs, before cooking them, adds tons of flavor. Remove the thighs from the skillet and put them in the crock pot.
Deglaze – No way we are going to waste all the brown bits and fat dripping in the skillet. Saute chopped onion and garlic in the remaining fat. Deglaze the pan with chicken stock. Add the mixture to the slow cooker.
Cook the sauce – Add chopped sundried tomatoes, Italian seasoning, salt, and pepper to the slow cooker. Cook on high or low depending on the time you have. Recommended is low and slow cooking which allows the chicken to become moist and tender while the flavors infuse and intensify. You can leave it on low for 6-8 hours. Remove the cooked chicken thighs from the crockpot.
Broil chicken with skin -If you're using chicken thighs with the skin on, this step is for you. Once the chicken is fully cooked, you can give it an extra burst of deliciousness by broiling it until the skin turns crispy and golden. If you're using skinless chicken thighs, you can skip this step and move on to the next one.
Prepare the creamy sauce – After removing the chicken from the broiler, it's time to prepare the creamy sauce. Add heavy cream, and parmesan cheese to the slow cooker. Cover and cook for another 15-20 minutes. Put back the crispy chicken thighs. Pour the sauce over it.
Bring it all together – Now, it's time to assemble your dish. Take those crispy chicken thighs and place them back into the pan. Pour the luscious creamy sauce over the chicken, ensuring each piece gets nicely coated. This step is where the magic happens as the sauce melds with the chicken and creates a symphony of flavors.
I don't prefer cooking cream for a long time along with chicken. Chances are there that cream might split and it will also lose its delicate taste. So add it towards the end.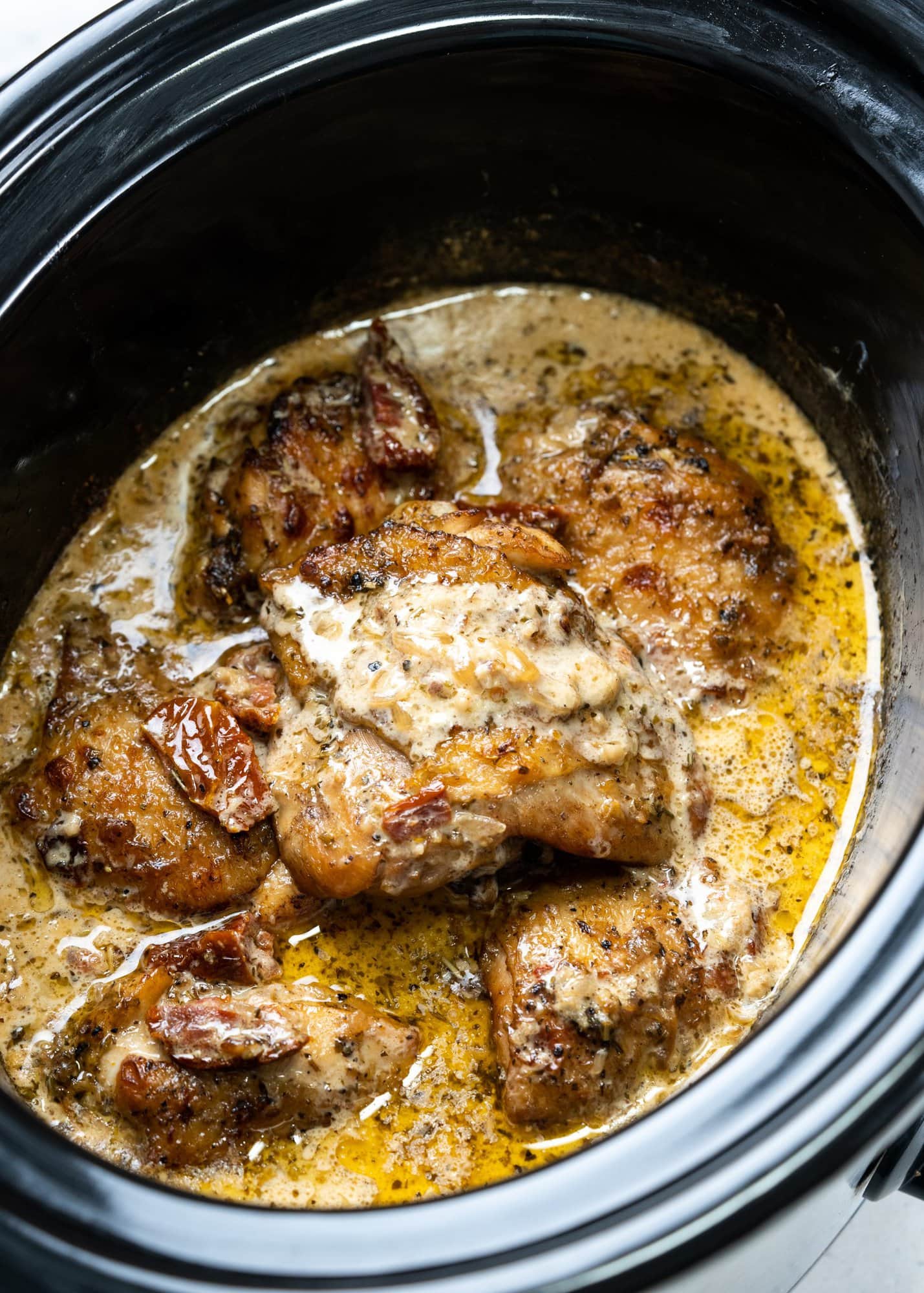 Can we use boneless chicken breast instead?
I know some don't like chicken thighs or just have chicken breast in hand. If you must, then you can definitely substitute thighs for chicken breasts. Chicken breast cooks faster, so adjust the cooking time accordingly.
Storage instructions
Yes, you can store creamy chicken thighs in the refrigerator for up to 4 days. Allow the dish to cool down to room temperature first. Use an air-tight container and make sure there is no gap when you place the lid on. You may also use zip-lock bags.
Check the sauce when you take it out from the refrigerator. If it has thickened, then reheat it with a splash of cream or milk, to get back the desired consistency.
When it is time to reheat the dish, do so gently over low heat. Dishes with cream or milk tend to separate when heated. To avoid that, occasionally stir the sauce to prevent it from separating.
What to serve with
Pair these chicken thighs with pasta and there is also enough creamy tomato sauce to pour over. Or serve it with other delicious side dishes like roasted veggies or mashed potatoes.
More Chicken Thigh Recipes
Have a look at some of the awesome dishes that you can make with chicken thighs –
Honey Garlic Chicken Thighs – A sweet, sticky, and savory honey garlic sauce with seared thighs.
Sweet and Spicy Boneless Chicken Thighs – Chicken thighs made on the stovetop with a delectable sweet-spicy dry rub featuring brown sugar and aromatic spices.
Rosemary Lemon Chicken Thighs – Indulge in tender, flavorful chicken thighs with crispy skin and a delightful garlic lemon butter sauce.
Garlic Butter Chicken Thighs – Deliciously juicy boneless skinless chicken thighs in a buttery garlic sauce – a quick and easy stovetop dinner ready in 30 minutes.
Cilantro Lime Chicken – Grilled chicken thighs marinated in zesty cilantro, cumin, lime, and garlic marinade for a flavorful summer meal or anytime delight.
Chicken Paprikash – Discover the authentic flavors of Chicken Paprikash, a comforting Hungarian stew featuring tender chicken pieces braised in a creamy and flavorful paprika sauce.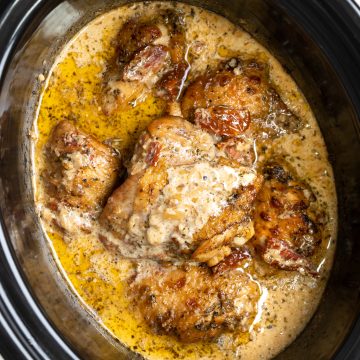 Slow Cooker Chicken Thighs
Make these juicy chicken thighs with creamy sundried tomato sauce in a slow cooker. Long and slow cooking yields realy moist and flavourful chicken thighs.
Ingredients
6 Bone-in Chicken Thighs
1 teaspoon Salt
½ teaspoon Pepper
1 tablespoon Butter
1 tablespoon Oil
½ Onion
1 tablespoon Minced Garlic
1 tespoon Italian Seasoning
⅓ cup Chopped Sundried Tomatoes
½ cup Chicken Stock
½ cup Heavy Cream
¼ cup Shredded Parmesan Cheese
Instructions
Season Chicken thighs with salt and pepper.

Heat oil and butter together in a skillet. Place chicken thighs skin side down. Cook for 3-4 minutes. Flip cook for another minute.

Remove chicken thighs and put in the slow cooker.

In the same skillet, in the remaining oil saute onion and minced garlic for 3-4 minutes.

Deglaze the skillet with chicken stock. Scarp the brown caramelized bit from stuck to the bottom of the pan.

Add the above onion, garlic mixture to the slow cooker along with chopped sun dried tomatoes and Italian seasoning.

Cover and cook on high for 4 hours or on low for 6-7 hours.

At the end of cooking, remove the chicken thighs from the slow cooker. Keep it covered or If you prefer crispy skin broil in a preheated oven @200 degrees Celcius for 2-3 minutes.

After removing the chicken thighs, to the remaining liquid in the slow cooker add heavu cream and parmesan cheese. At this point add spinach if you wish. Cover and let it cook for another 20-30 minutes for the sauce to come together.

Add the crispy chicken thighs back to the slow cooker. Pour the sauce over.

Serve on top of pasta/ along with roasted potateos or veggies.
Nutrition
Serving: 1serving | Calories: 676kcal | Carbohydrates: 5g | Protein: 39g | Fat: 55g | Saturated Fat: 20g | Polyunsaturated Fat: 9g | Monounsaturated Fat: 21g | Trans Fat: 0.3g | Cholesterol: 259mg | Sodium: 923mg | Potassium: 542mg | Fiber: 0.3g | Sugar: 2g | Vitamin A: 745IU | Vitamin C: 2mg | Calcium: 121mg | Iron: 2mg