Crispy Italian Chicken Cutlet
This post may include affiliate links that earn us a small commission.
Chicken cutlets are great, but Italian seasoning and parmesan in the panko breadcrumbs makes these crisp chicken cutlets taste even better. Learn to make kick-ass juicy cutlets at home easily in 20 minutes.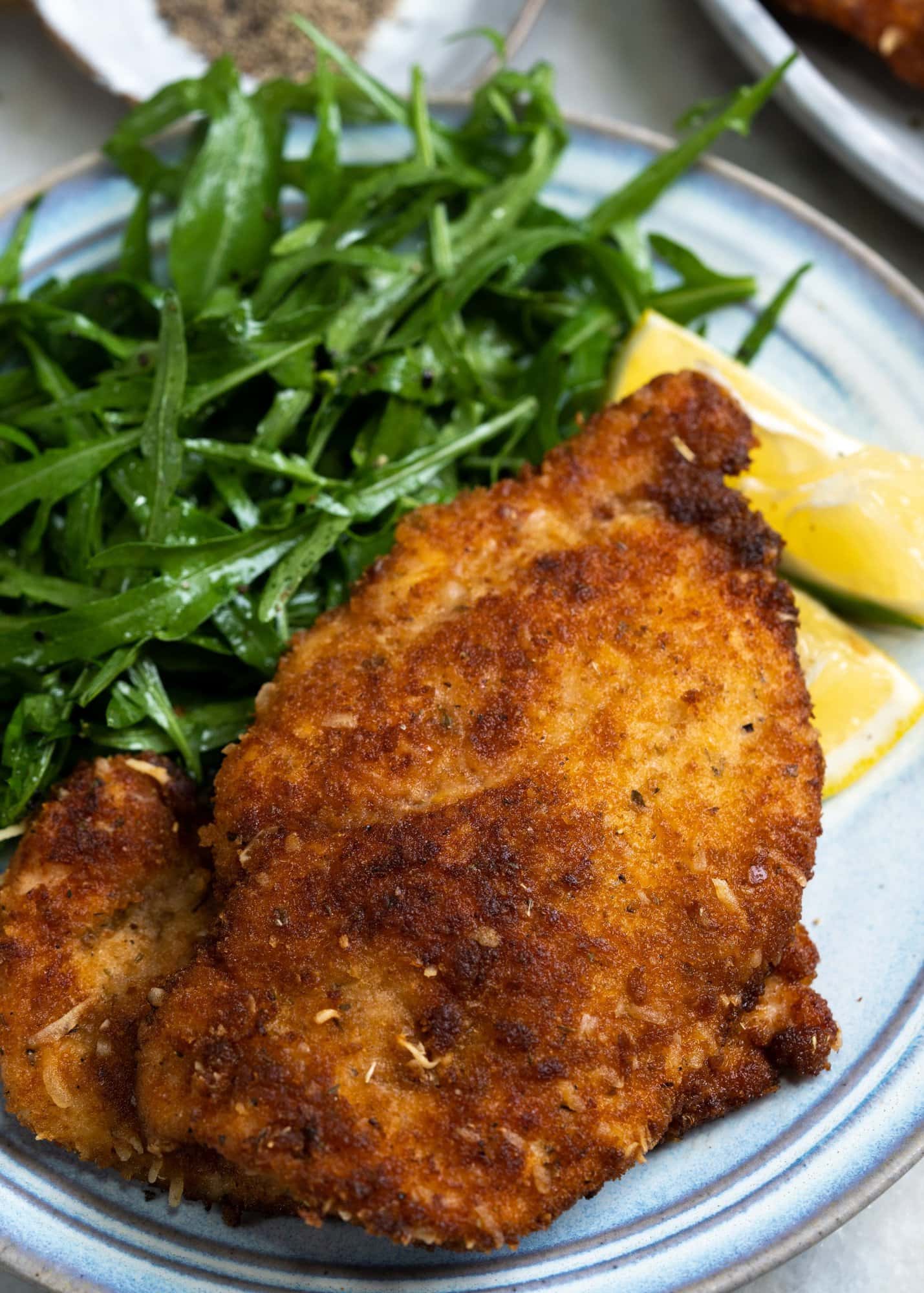 Italian Chicken Cutlets
One would ask, what is an Italian chicken Cutlet? Or Why are these the best chicken cutlets? These cutlets get the Italian prefix from Italian seasoning and parmesan added to the breadcrumbs.
Flavours In Your Inbox
Subscribe for recipes straight to your inbox
Long answer – Italian chicken cutlets are regular chicken cutlets with Italian breadcrumbs. Italian breadcrumbs are regular breadcrumbs (homemade or store-bought) or panko mixed with Italian seasoning.
Chicken cutlets are skinless, boneless chicken breasts that are cut or sliced horizontally into halves. The word 'cutlet' comes from cutting the chicken breast. If you have a thin breast to start with, just pound it evenly to make it thinner. A thin cutlet cooks evenly.
These chicken cutlets have been made with Italian seasoning. You may substitute these with Cajun seasoning, Mexican mix, or other seasonings. The process remains the same.
Why this is the best chicken cutlet recipe
The breading has Italian seasoning with the best balance of spices and herbs. This has a much better flavor than plain breadcrumbs, so no bland chicken cutlets
The panko breadcrumbs are mixed with Italian seasoning, giving the breading a great flavor. This is better than buying Italian breadcrumbs.
You will get perfectly cutlets where the breading stays firm and gets crisp.
Cutlets are shallow fried and not deep fried. It is a lot healthier without compromising on the crispiness and taste.
Uses finely grated parmesan that sticks to the chicken better than shredded parmesan. For grating parmesan finely at home, put small pieces of parmesan cheese (cut from a block) in a food processor and blend it until it is finely processed,
When you make crisp chicken cutlets with flavor each and every time by following the instructions below, you will concur this is the best chicken cutlet recipe.
Technique of Breading
Breading the cutlets involves coating them with a dry breadcrumb-derived mix. It is slightly different from dredging, which does not have a liquid component.
To ensure that the breadcrumbs stick to the chicken, the cutlets are first moistened by dipping in a liquid from raw eggs and water. The cutlets are then transferred to the breadcrumbs and pressed to get a good side coating.
The breading does some wonderful things to the cutlet –
It saves the underlying chicken from drying as the coating preserves the moisture in the chicken.
It helps to get the browning on the outside.
It adds a lot of flavor to the chicken as the coating can be enhanced by adding spices and herbs to the mix.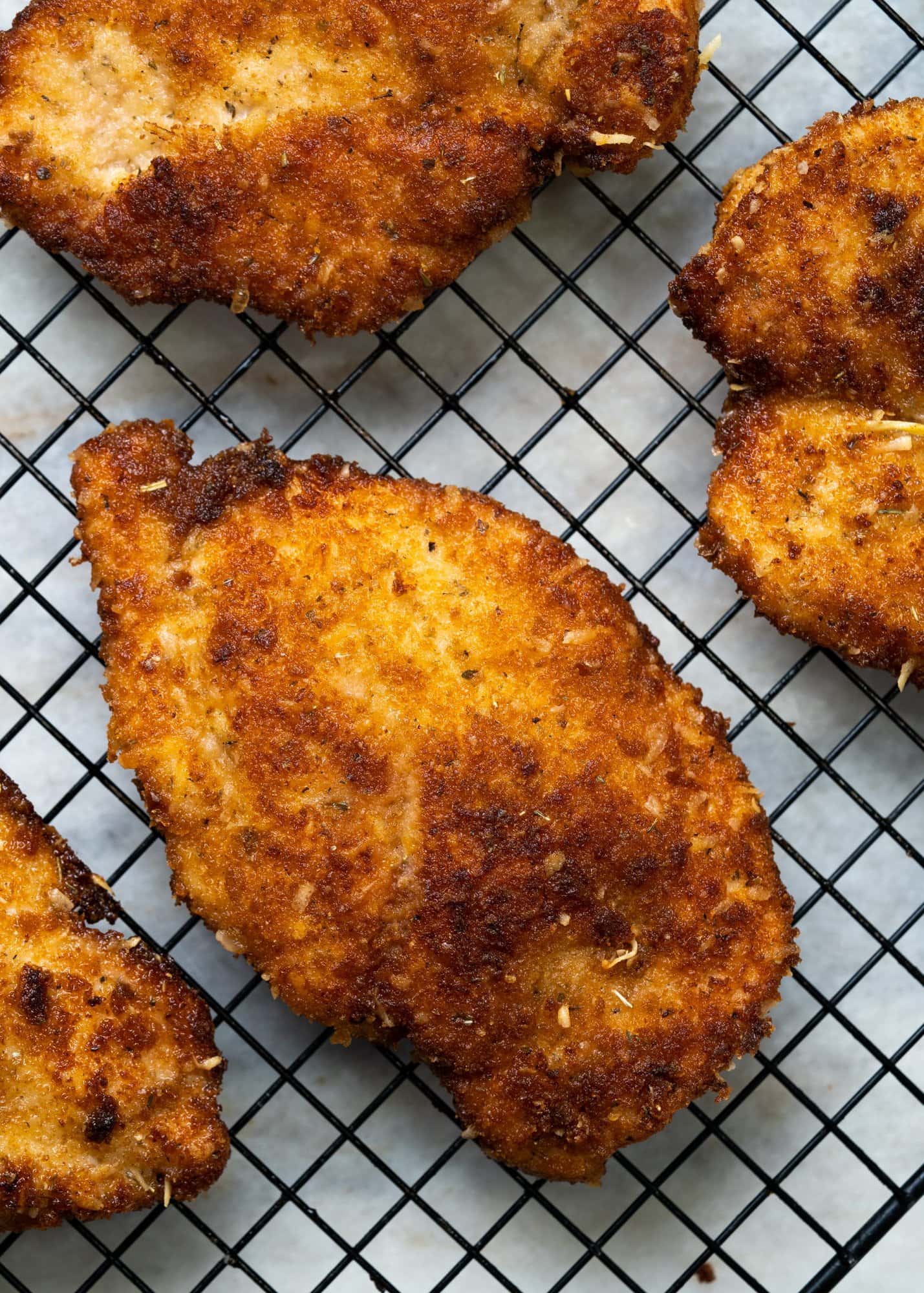 Ingredient notes
A simple snack requires a simple list of ingredients.
Chicken cutlets – Getting it from the store? Get thin cutlets. You may slice chicken breasts horizontally and pound them to even thickness at home to get thin-sized ones.
Panko breadcrumbs – preferred over store-bought bread crumbs. Homemade works fine too. Panko gives a more crispy topping than regular breadcrumbs and absorbs less oil.
Flour – All-purpose flour is added to the breaded mixture to help it stick better to the chicken and give that extra crispiness.
Parmesan cheese – has to be finely grated to stick to the chicken.
Italian seasoning – is added to the panko breadcrumbs to give that spice-herb flavor. Better than getting Italian breadcrumbs.
Garlic powder – is my secret ingredient to up the flavor.
Egg – The egg acts as a binding agent for the flour to stick to the cutlets.
Vegetable oil – Add vegetable oil or similar with a high smoking point.
Salt and pepper – to balance the taste and heat, brings out the flavor in the breading.
How to make crispy chicken cutlets
These cutlets are shallow-fried in a pan/skillet.
Cut the cutlets
Get readymade cutlets from the supermarket. Or cut a large chicken breast horizontally into two slices. Using a meat mallet pound it to an even thickness.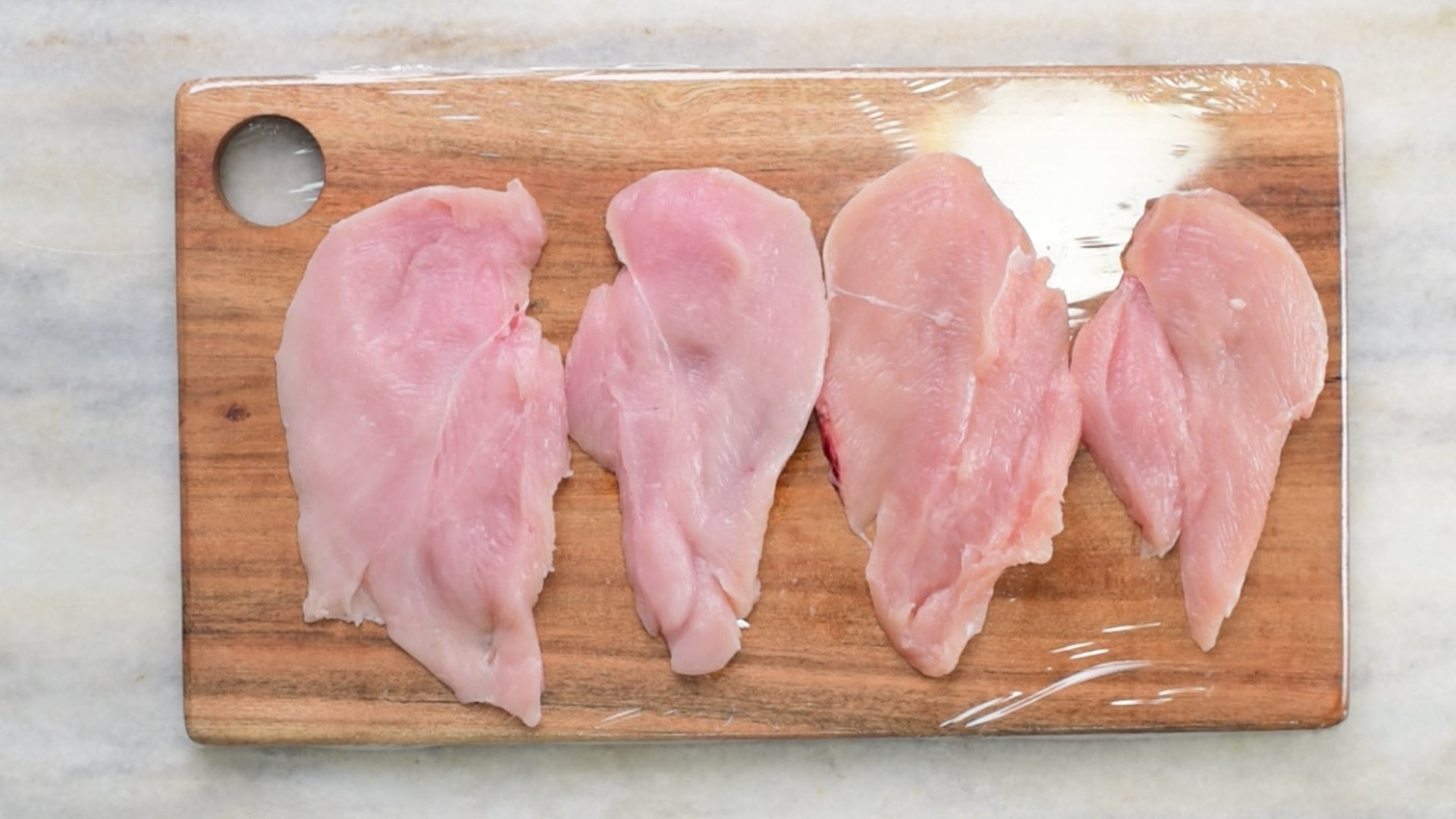 Breading
For breading in a bowl mix egg, water, salt, and pepper. In another bowl mix breadcrumbs, parmesan cheese, flour, and seasoning. Use a kitchen tong to dip chicken cutlets into the egg wash, followed by bread crumb mixture. Press the cutlets gently into the breading, so that it gets coated evenly.
Shaking off the coating is important, else the excess branding will get into the oil while frying.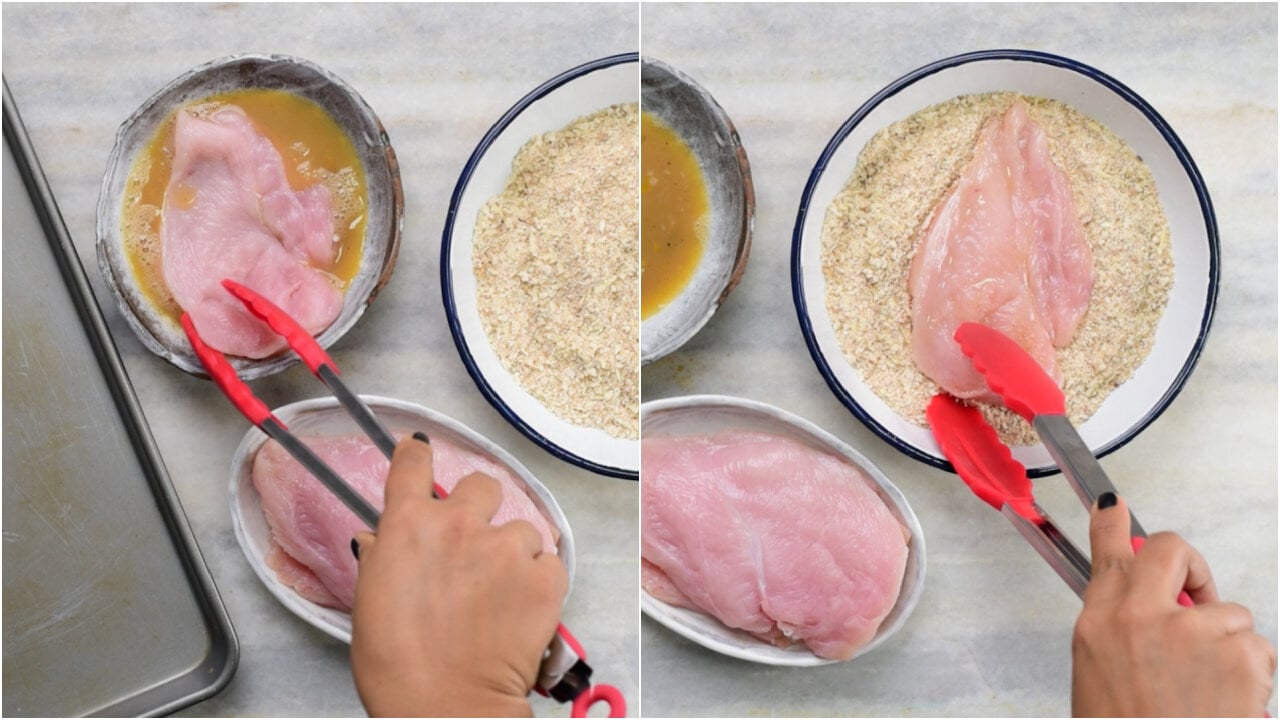 Shallow fry
For Shallow fry add oil just enough to partially submerge the chicken. Fry 1 or 2 cutlets at a time for the best result. Don't overcrowd the pan, or else the chicken will not crisp up.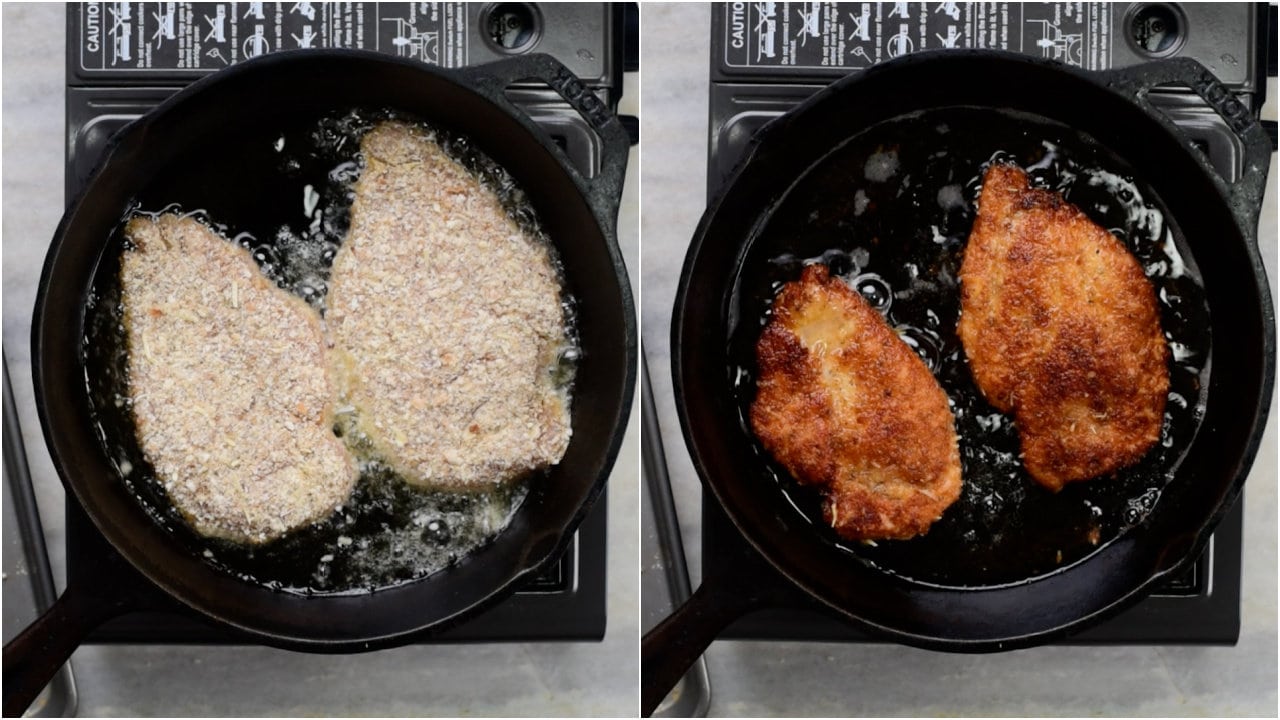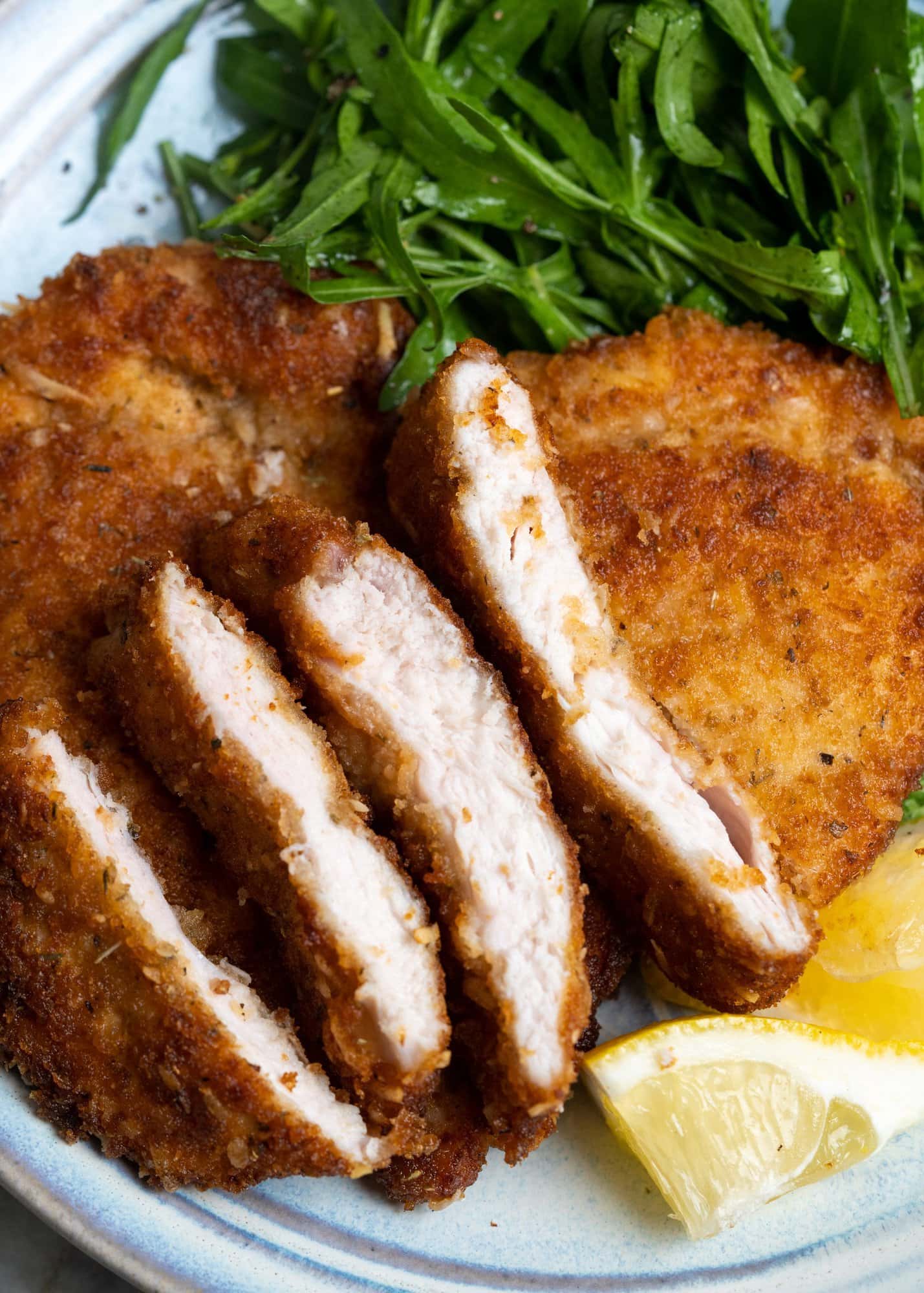 Tips
Heavy bottom pan – Go for a heavy cast-iron pan or other heavy-bottom pans. They retain heat better and maintain the temperature for longer.
Thaw the chicken – do not cut and fry fridge-cold chicken. For the coating to be crispy, you need to fry it for less time in hot oil. Cold chicken brings down the temperature of the oil and needs more time to cook, thus becoming soggy.
Thinning the egg – Slightly runny egg mixture sticks better with the chicken's crumbs than raw eggs' thick gelatin-like texture. I have added plain water to the eggs. You may use buttermilk instead of water for additional flavor.
Add flour to breading – To get that extra bit of crispiness, add little flour to the breadcrumbs for breading.
No olive oil – Vegetable oil or similar with a high smoking point is preferred here. Olive oil, especially extra-virgin olive oil, is unsuitable due to its low smoking point as it gives a slightly burnt taste after frying.
Fry it fast – Since this is chicken breast, the cooking time is very less. Breast pieces cook very fast and risk losing all moisture and becoming tough and chewy if left on heat longer.
Rest on a wire rack – Keep the chicken cutlets on a wire rack after frying. This allows the cutlets to breathe, dry, and stay crisp. Do not keep fried chicken cutlets on a paper towel or flat surface. This makes them steam and becomes soggy.
How to keep your fried cutlets warm and crispy before serving? Keep a backing sheet and a rack on top with space between them. Arrange the cutlets spread apart on the rack at a low over (170 F). This arrangement will not trap the steam, allowing warm air to pass and keep the cutlets dry and crisp.
Tools to flatten – To flatten the chicken breast, use a meat mallet, rolling pin, or the bottom of a heavy pan.
Store
Once fried, if not serving immediately cool it down on a wired rack. This avoids the cutlet being soggy at the bottom. Once it is completely cold, line an airtight container with kitchen tissue and store the cutlets up to 3 days.
Serve With
Serve these Crispy Chicken cutlets with a simple salad, Potato Salad or mashed potatoes. You can also pair it with any creamy pasta dish to make a complete meal. Lemon Pasta, Creamy Spinach pasta or Cream Cheese Pasta.
It pairs perfectly with Mushroom rice or Garlic Butter rice too.
More Boneless Chicken Breast Recipes
Cripsy Airfryer Chicken Breast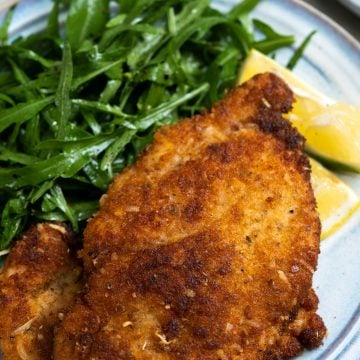 Crispy Italian Chicken Cutlets
Thinly sliced chicken cutlet first coated in eggs then tossed in a breadcrumb mixture. These shallow fried chicken cutlets are juicy on inside with a crispy outside. The breading has Italian seasoning and makes it flavourful.
Ingredients
2 large Chicken breast
¾ cup Panko Breadcrumbs
⅓ cup Fine Parmesan Cheese
¼ cup Flour
1 teaspoon Italian Seasoning
1 teaspoon Garlic Powder
1 egg
salt and pepper
2-3 cups Oil for frying
Instructions
Cut chicken breast horizontally into two pieces. You will get 4 chicken cutlets in total.

Using a rolling pin or meat mallet flatten the thick parts.

Gather two bowls. In one bowl beat 1 egg, 1 tablespoon of water, salt, and pepper.

In another bowl add panko breadcrumbs, parmesan cheese, flour, Italian seasoning, garlic powder, salt, and pepper.

Using a kitchen tong pick one cutlet. Dip both the sides in egg mixture.

Let the excess egg mixture drip off, then dip into the breadcrumb mixture. Press into the bread mixture for even coating.

Heat 2 cups of oil in a skillet. Just enough oil for shallow frying.

Fry 2 chicken cutlets at a time. Cook one side for 3-4 minutes undisturbed.

Flip and cook for another 3-4 minutes. It should be golden brown in colour.

Remove and keep it on a wired rack to drain excess oil.

Serve with a squeeze of lime with fresh salad or over pasta.
Notes
Use finely grated ( not shredded) parmesan cheese, as it will stick better. You can also use bottled grated parmesan in this case.
You can also buy chicken cutlets directly from the supermarket. 
If not serving immediately, cool the fried chicken cutlets on a wire rack. Else it will steam and make the crust soggy.
Nutrition
Serving: 1serving | Calories: 300kcal | Carbohydrates: 18g | Protein: 25g | Fat: 13g | Saturated Fat: 3g | Polyunsaturated Fat: 3g | Monounsaturated Fat: 6g | Trans Fat: 0.04g | Cholesterol: 103mg | Sodium: 370mg | Potassium: 392mg | Fiber: 1g | Sugar: 1g | Vitamin A: 157IU | Vitamin C: 1mg | Calcium: 113mg | Iron: 2mg