This post may include affiliate links that earn us a small commission.
Italian stuffed peppers filled with Chicken, Rice and lots of cheese is a complete meal in itself. The stuffing is moist, tangy and full of Italian flavours.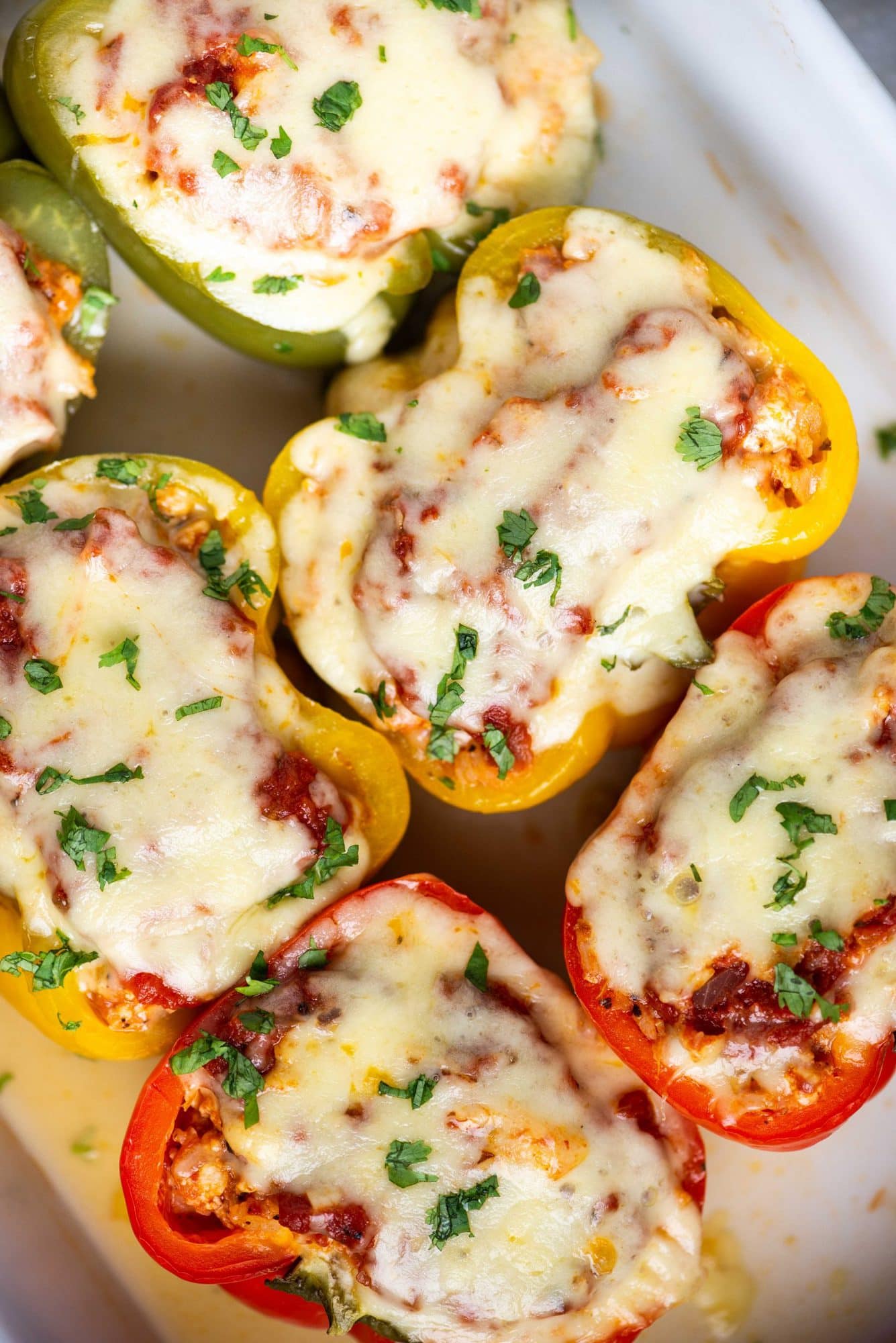 I love recipes that can be served as a meal in itself or just with a simple salad on the sides. This Italian Stuffed pepper is one such dish, which we really enjoy having. The stuffing has minced Chicken, rice mixed with marinara sauce, Italian seasoning and cheese. Then the stuffed Peppers are baked until the peppers are cooked through.
Flavours In Your Inbox
Subscribe for recipes straight to your inbox
This is a wholesome dish with a balanced proportion of carbs, protein and fibres. There is nothing fancy or complicated in this recipe. These are easier to make, really versatile and perfect meals to feed a crowd.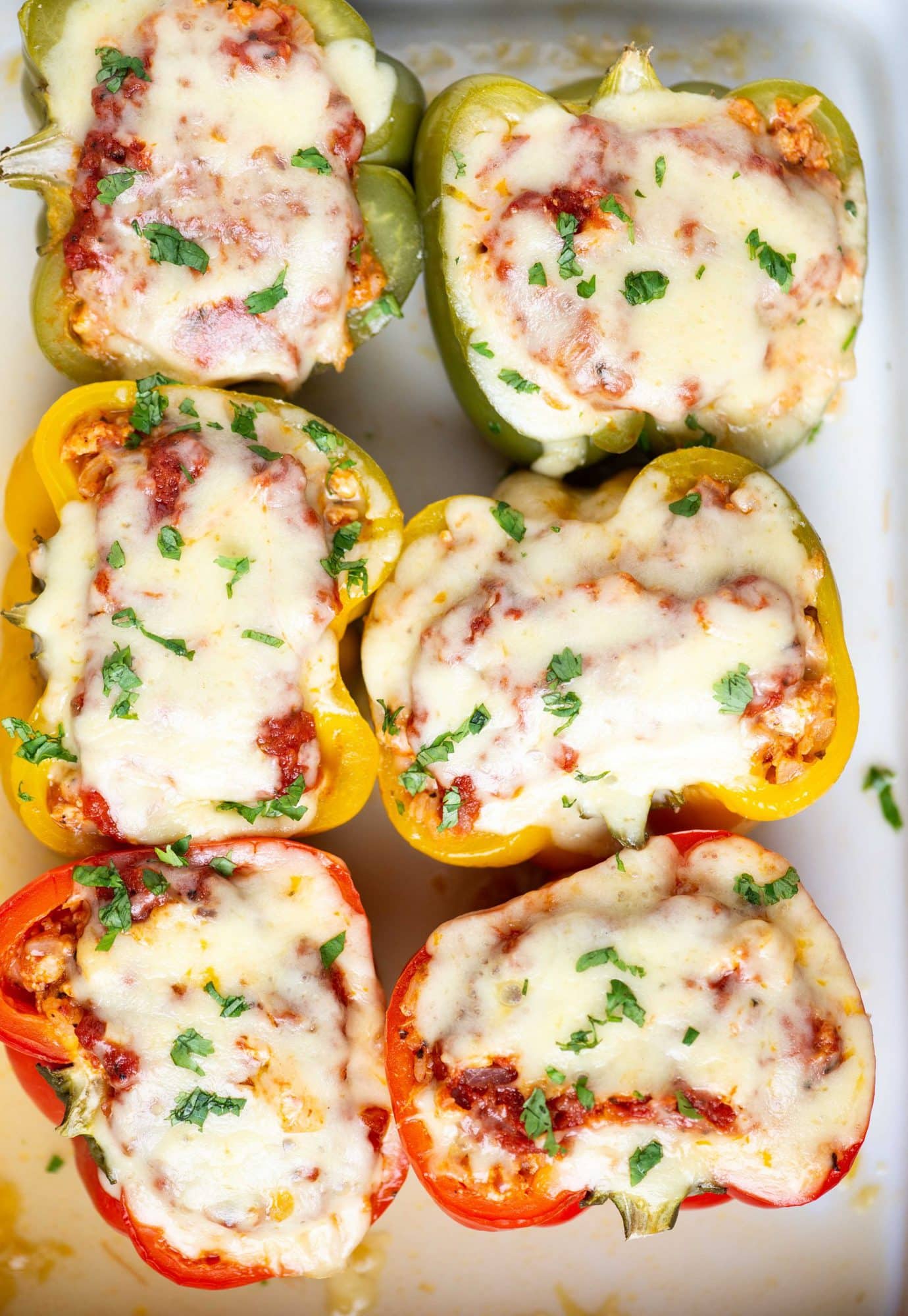 Ingredients for Stuffed Peppers
These Stuffed peppers has all the familiar Italian flavours and ingredients. It is quite versatile as well and you have room for alteration as per your preference.
Peppers– Use assorted coloured peppers. Yellow, green, red – all these colours will make the final dish look so vibrant and fresh.
Minced Chicken– Easily available. You can substitute it with minced pork or mild Italian Sausage. If using sausage, skip the Italian seasoning as the sausage will already be seasoned.
Onion, Garlic
Cooked Rice– Freshly cooked or leftover rice works in this recipe. You can also use brown rice or cooked Quinoa or even Cauliflower rice for a low carb version.
Cheese- You need both mozzarella and parmesan cheese for the perfect Italian flavours.
Marinara/ pasta Sauce – it is more flavourful. I generally use a bit of chunky sauce for texture. You can also use crushed tomatoes and add more seasoning instead.
Seasoning– Italian Seasoning, red chilli flakes, salt and pepper. Fresh Italian Basil is a great addition as well.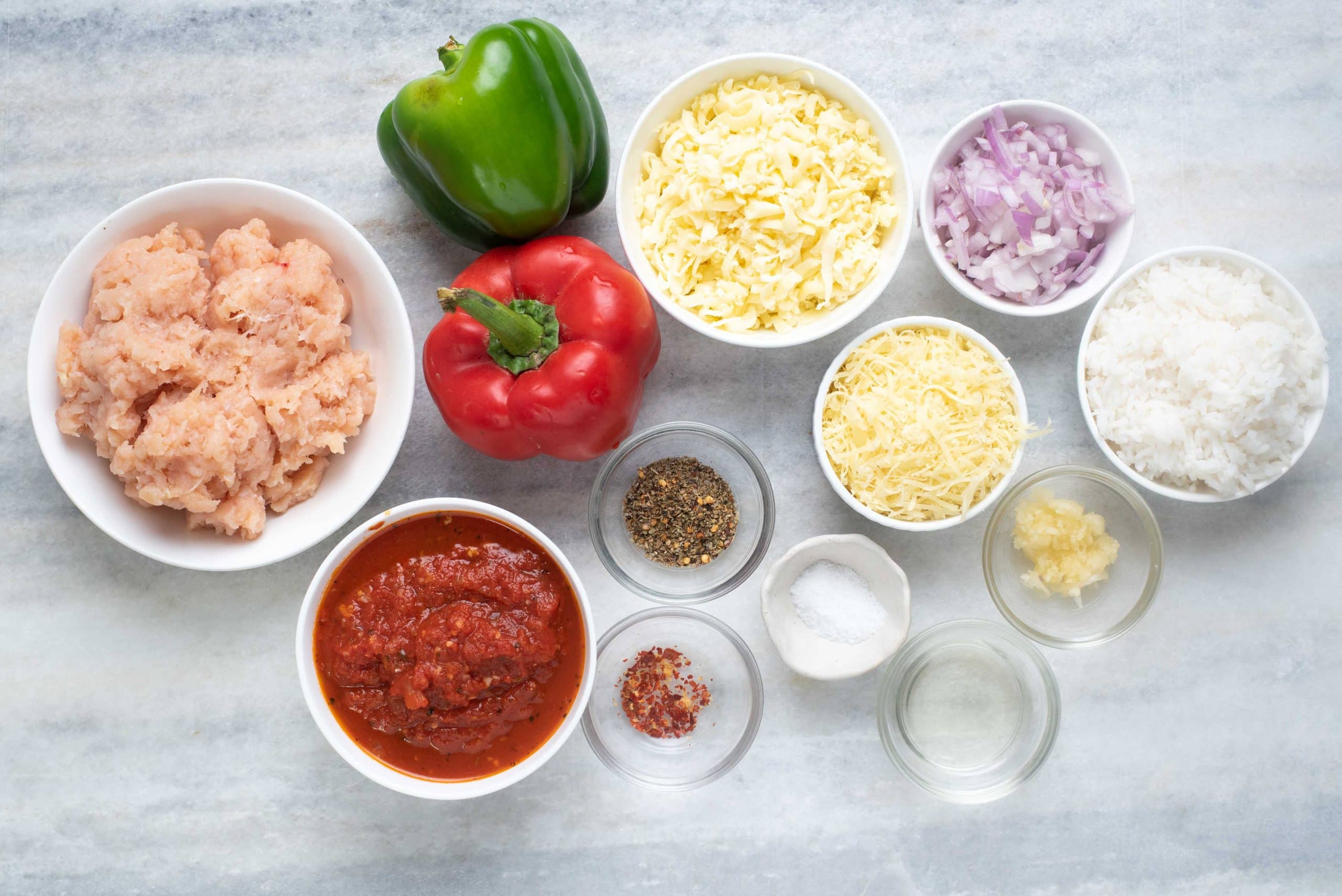 How to make
Prep the peppers: Get large round preppers, so that they can hold enough stuffing. I like to cut the peppers lengthwise in half. It is easier to clean the core when cut lengthwise. For the peppers to sit flat on the baking dish, trim a small portion from the bottom so that it becomes flat and stays well.
You can also use whole peppers. Cut the stem. Remove the core and seeds carefully.
We are not going to cook the peppers separately. Cooking peppers along with the stuffing makes it more flavourful.
Make the stuffing – Keep Chicken, chunky pasta/marinara sauce, rice and cheese ready.
Cook minced chicken on medium to high heat. Make sure to break any big lumps of chicken.
After adding pasta sauce, seasoning and rice to cooked chicken, make sure to cook until it comes together and there is not a lot of liquid left in the pan. Neither the stuffing should be too dry.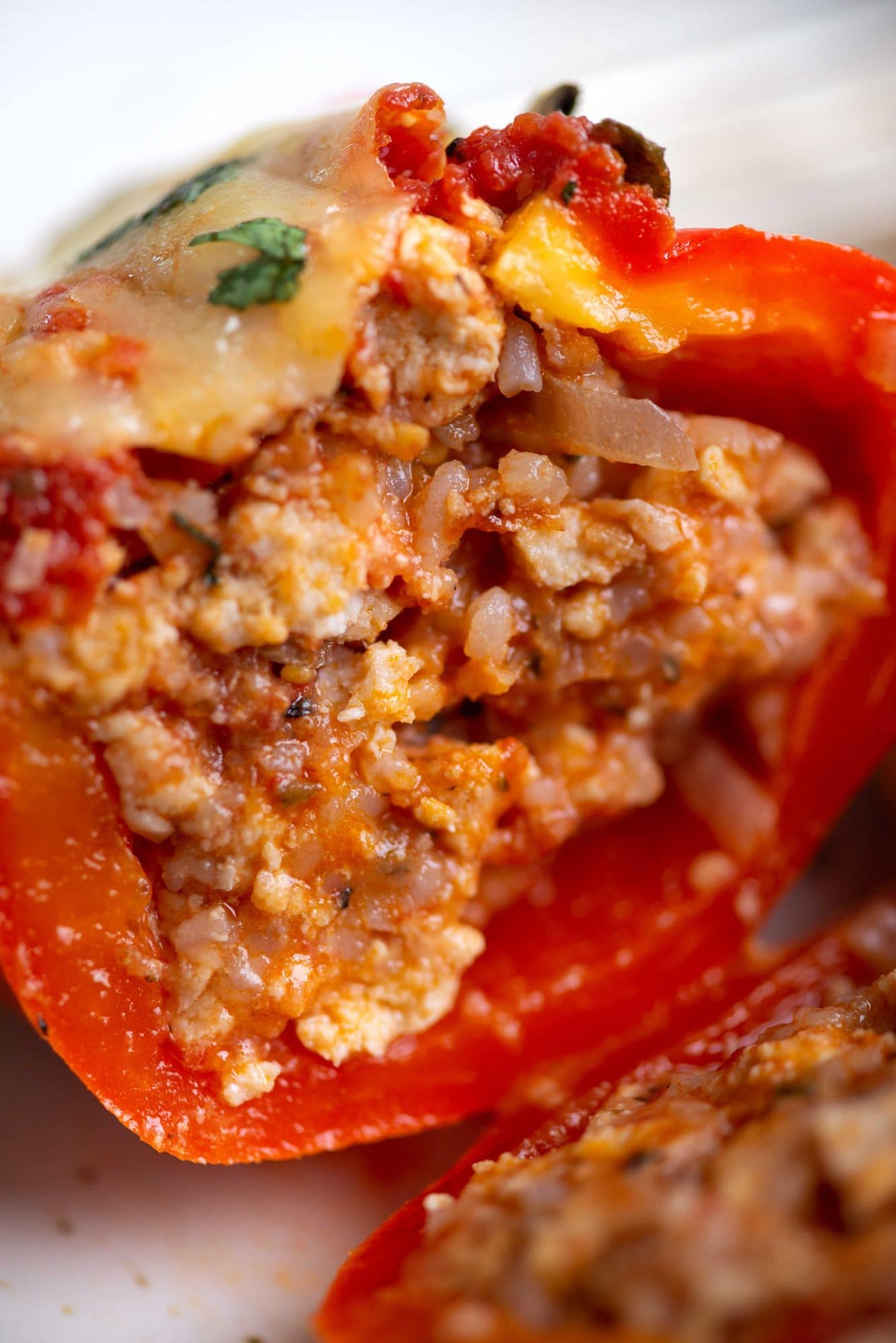 Freezer friendly and good for meal prepping
Freezing Italian Stuffed Peppers – Cooked and cooled down peppers can be frozen in a freezer-safe container for up to 3 months. Reheat in a microwave before serving.
This recipe can easily be doubled for meal prep or to feed a big crowd.
Sides to serve with Stuffed Peppers
What I love about Stuffed pepper is it is a complete meal on its own. It is quite filling as well. If you want you can serve a light green salad, like this Chopped Italian Salad.
More Italian Inspired dinner Ideas
One Pot Tomato Basil Chicken Orzo
Italian Stuffed Peppers
Italian stuffed peppers filled with Chicken, Rice and lots of cheese is a complete meal in itself. The stuffing is moist, tangy and full of Italian flavours.
Ingredients
4 large Bell Peppers
2 tablespoon Olive oil
500 grams Minced Chicken
½ Onion diced
1 tablespoon Minced Garlic
2 cup Marinara Sauce / Pasta Sauce chunky sauce
1 cup Cooked Rice
¼ teaspoon Red pepper flakes (optional)
2 teaspoon Italian Seasoning
1.5 cup Mozzarella
½ cup shredded Parmesan Cheese
¼ cup Chicken Stock/water
Chopped basil or parsley to garnish
Instructions
Preheat your oven to 400 degrees F. 

Heat olive oil in a skillet. Add diced onion and garlic. Saute for 2 minutes, until it is fragrant and onion has softened.

Add minced chicken and cook it for 4-5 minutes, until it no longer looks pink and is cooked through. Break big lumps of meat with a wooden spoon in between.

Add 1.5 cup Marinara sauce, rice, Italian seasoning and red pepper flakes(if using). Mix well. Make sure not to cook the mixture too long, else it will turn dry.

Add 1 cup mozzarella and parmesan cheese. You can also add a handful of chopped Italian Basil if you prefer. Mix well.

Cut peppers into half lengthwise. Remove the core and seeds. For the peppers to sit perfectly in the dish, trim a thin slice to get a flat bottom.

Arrange the peppers cut side up in an ovenproof baking dish, large enough to hod the peppers.

Stuff each pepper with the filling. Top each with a tablespoon of marinara sauce. Sprinkle the remaining mozzarella cheese on top.

Slowly add 1/4 cup of stock or water to the bottom of the pan.

Cover with aluminium foil. Bake it covered for about 30-35 minutes.

Remove the foil and bake it 5 minutes more on the upper rack of the oven until the cheese is bubbly.
To Make it on Stove top
Arrange the filled peppers cut side up on a heavy bottom skillet. Add about 1/2 cup of stock instead of 1/4 cup mentioned above. Cover and cook at the lowest heat for about 35-40 minutes or until the peppers are done.
Nutrition
Serving: 1serving | Calories: 553kcal | Carbohydrates: 30g | Protein: 40g | Fat: 31g | Saturated Fat: 12g | Polyunsaturated Fat: 3g | Monounsaturated Fat: 13g | Trans Fat: 1g | Cholesterol: 149mg | Sodium: 1190mg | Potassium: 1484mg | Fiber: 6g | Sugar: 13g | Vitamin A: 6084IU | Vitamin C: 219mg | Calcium: 403mg | Iron: 3mg