This post may include affiliate links that earn us a small commission.
This easy mozzarella chicken in homemade tomato sauce is low-carb and made in one skillet. Pan-seared chicken cooked in chunky tomato sauce and topped with gooey mozzarella is a perfect low-carb dinner.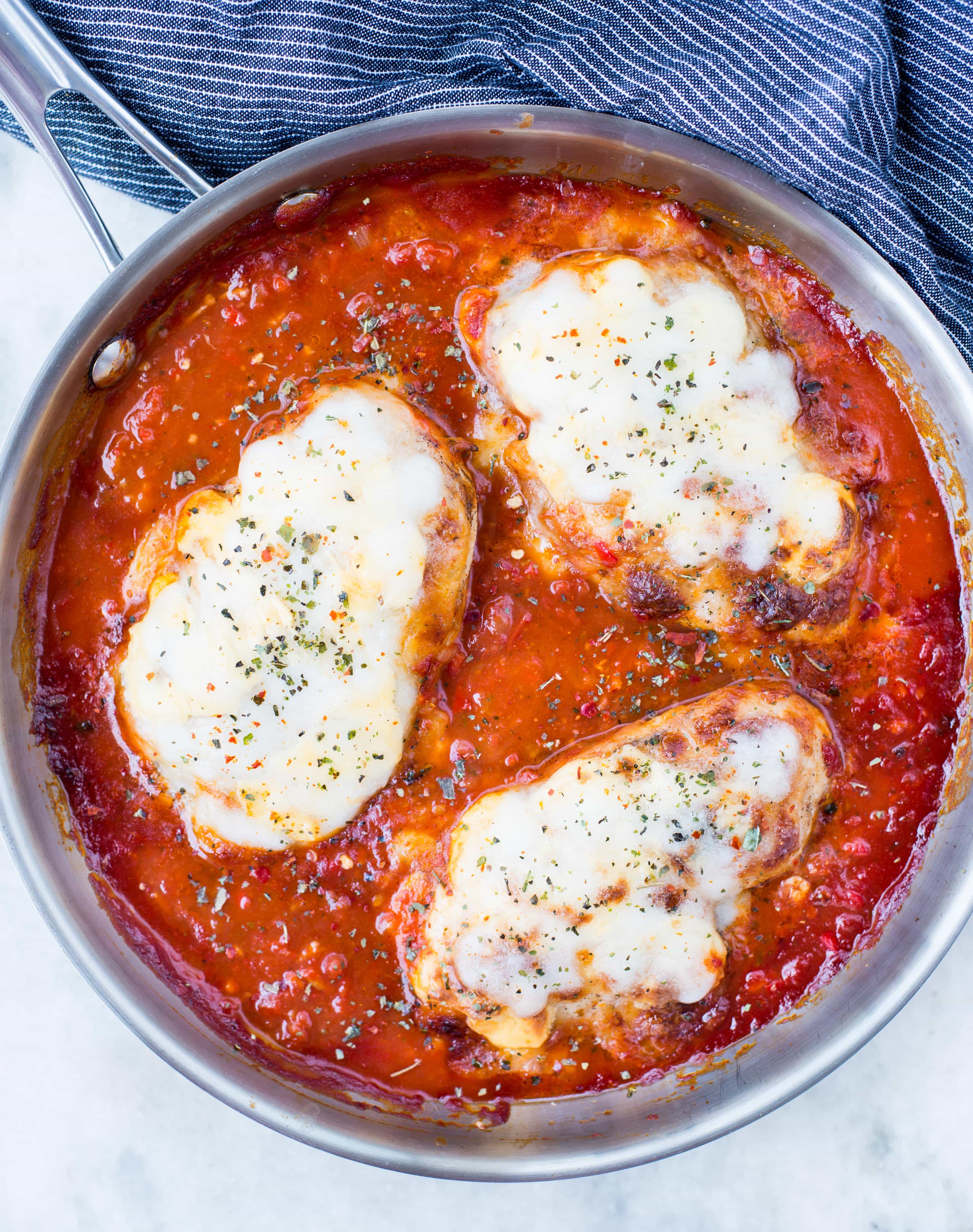 Hey Hello!! Happy Monday, folks. Let's begin the week with this amazing Mozzarella Chicken. A simple winner-winner-chicken-dinner recipe. Raise your hand if you always look for dinner like this.
Flavours In Your Inbox
Subscribe for recipes straight to your inbox
I always search for quick low-carb dinner recipes with few ingredients and minimal effort.
This delicious Mozzarella Chicken is definitely going to blow your mind. With just a handful of ingredients, this low-carb chicken recipe is big on Italian flavors. You only need one skillet and 30 minutes to bring dinner to the table.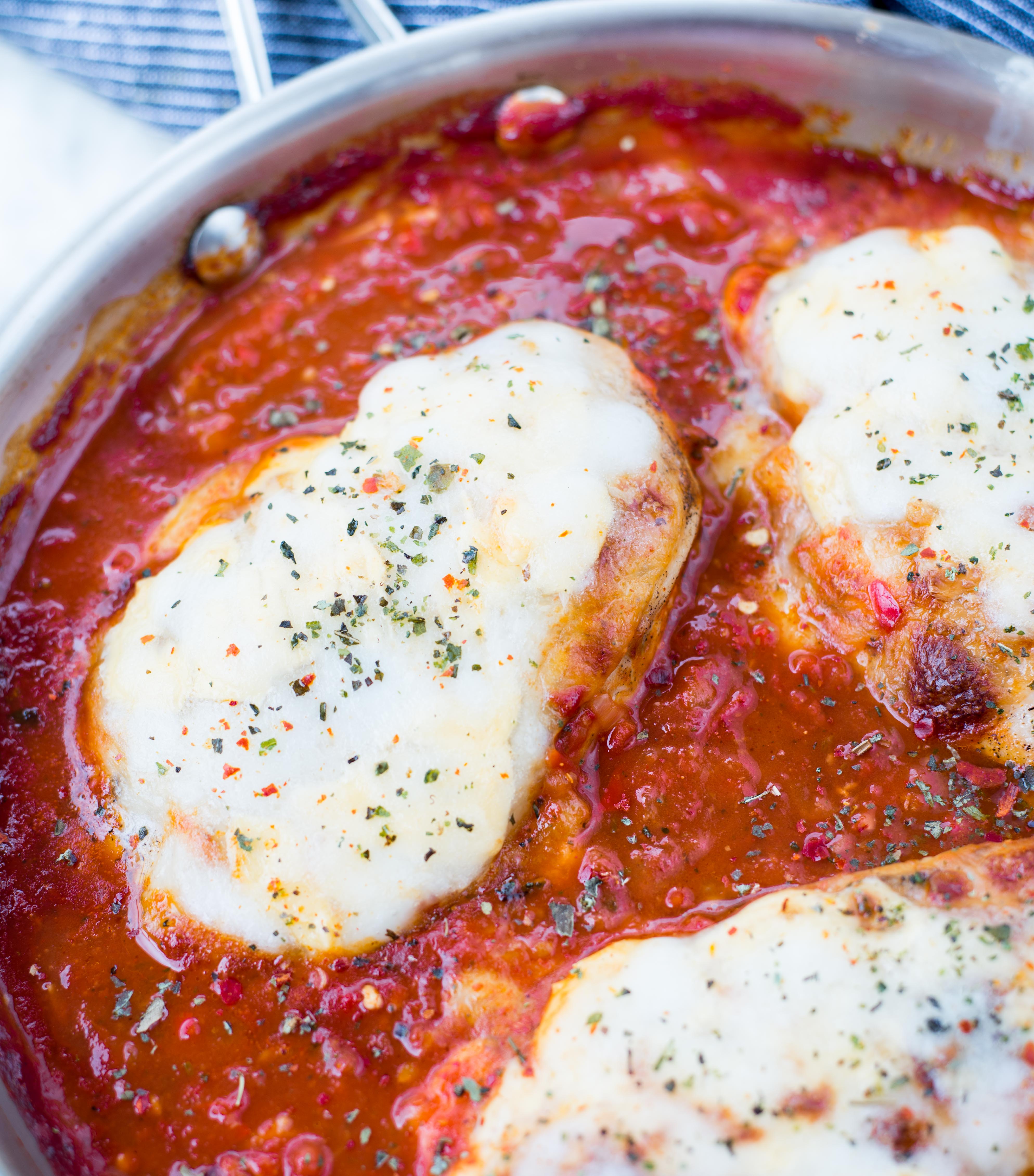 The chunky tomato sauce is made from scratch. If you wish, you can use canned crushed tomatoes as well. But let me tell you a hack for making crushed tomatoes at home. In just 15 minutes, you can make your own Tomato sauce at home.
If you are serious about your carb count, it is better to go with a homemade one, to avoid any hidden sugar.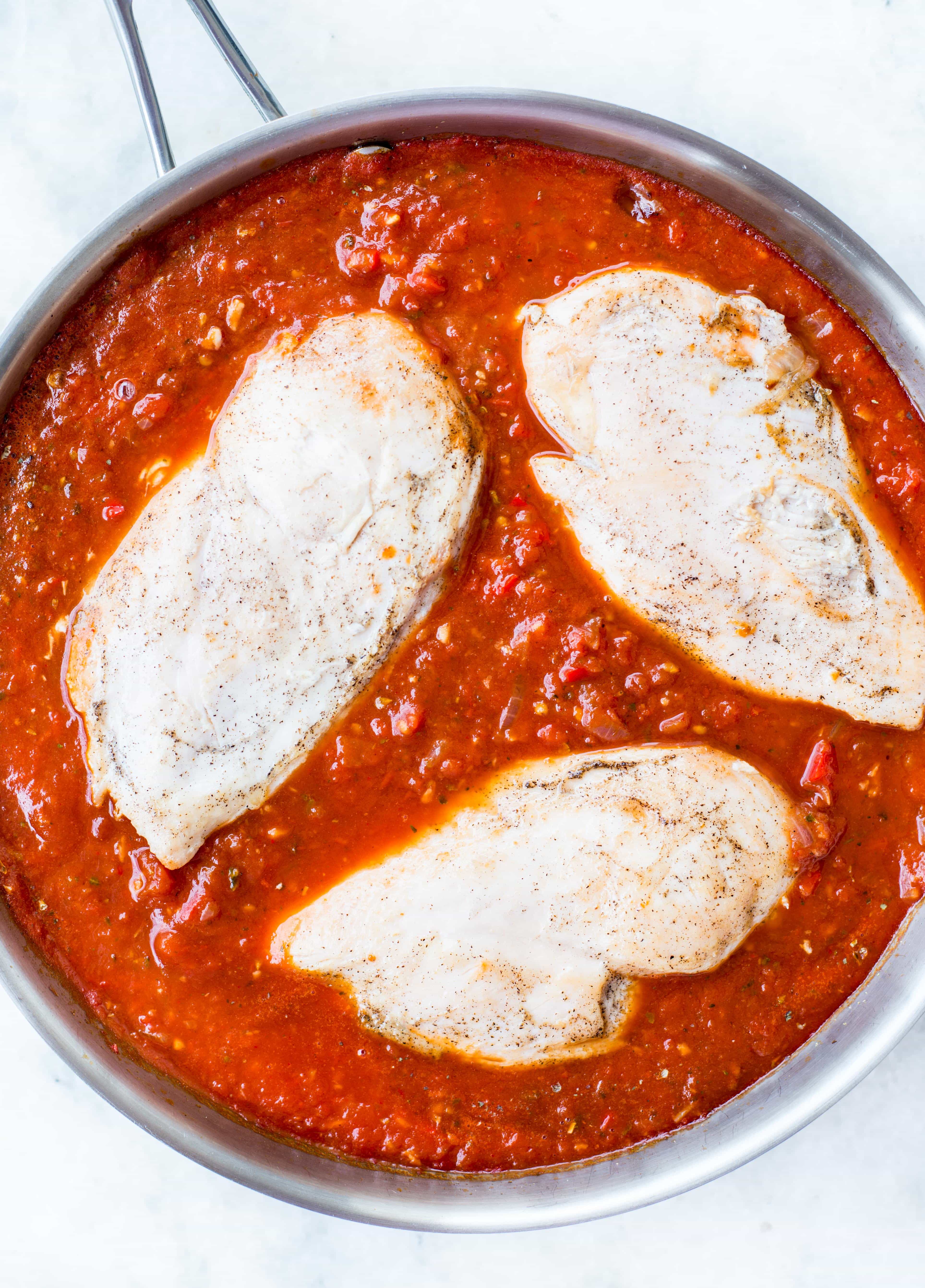 How to make tomato sauce
To make your own tomato sauce, start with fresh ripe plum tomatoes. Clean tomatoes and make 3-4 slits on the skin(not very deep). Place the tomatoes and microwave on high in a microwave-safe bowl for 8-10 minutes. You would see the skins have loosened up, and the tomatoes are almost cooked. Then let it cool down. Using a hand blender, pulse it a couple of times. I like to keep it a little chunky.
Microwaving tomatoes is a quick way of blanching, and it works really well. You can store it for 4-5 days in the refrigerator. I use these crushed tomatoes to make my curry base, pasta sauce, and sometimes soups.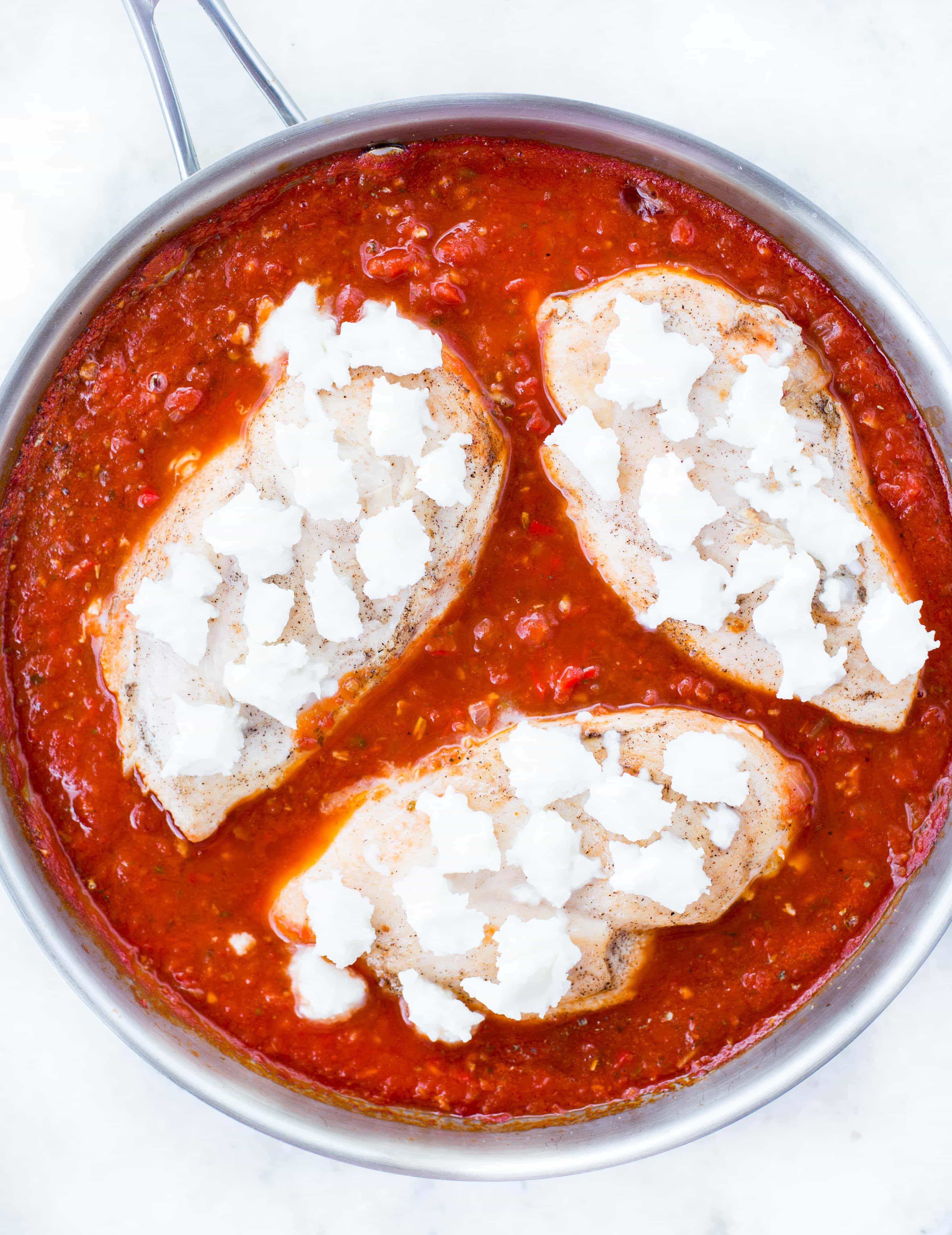 How to make mozzarella chicken
Once you have the tomato sauce ready, you are almost done with the prep work. You need only 20 minutes more to complete the dish.
Preheat oven to 200 degrees Celsius.
Start with preparing the chicken breast. For uniform cooking, the chicken breast must be of uniform thickness. Use a rolling pin or meat mallet to pound the thickest part of the
Season chicken breast with salt and pepper.
Heat a heavy bottom pan. Add oil. Sear chicken breast for 3-4 minutes on each side till you see the light golden sear marks appear. Remove and keep covered aside.
To the same pan, add finely chopped onion. Cook till it turns translucent. Then add finely minced garlic. Cook till the raw smell is gone.
Add finely chopped red bell peppers. For extra flavor, you can use roasted bell peppers. Cook till it softens.
Add tomato sauce, seasoning, and the rest of the ingredients. Mix well.
Add chicken to the pan.
Switch off the flame.
Top with mozzarella cheese.
Put the pan in the oven and bake for 8-10 minutes until mozzarella is melty and a few brown bubbles appear.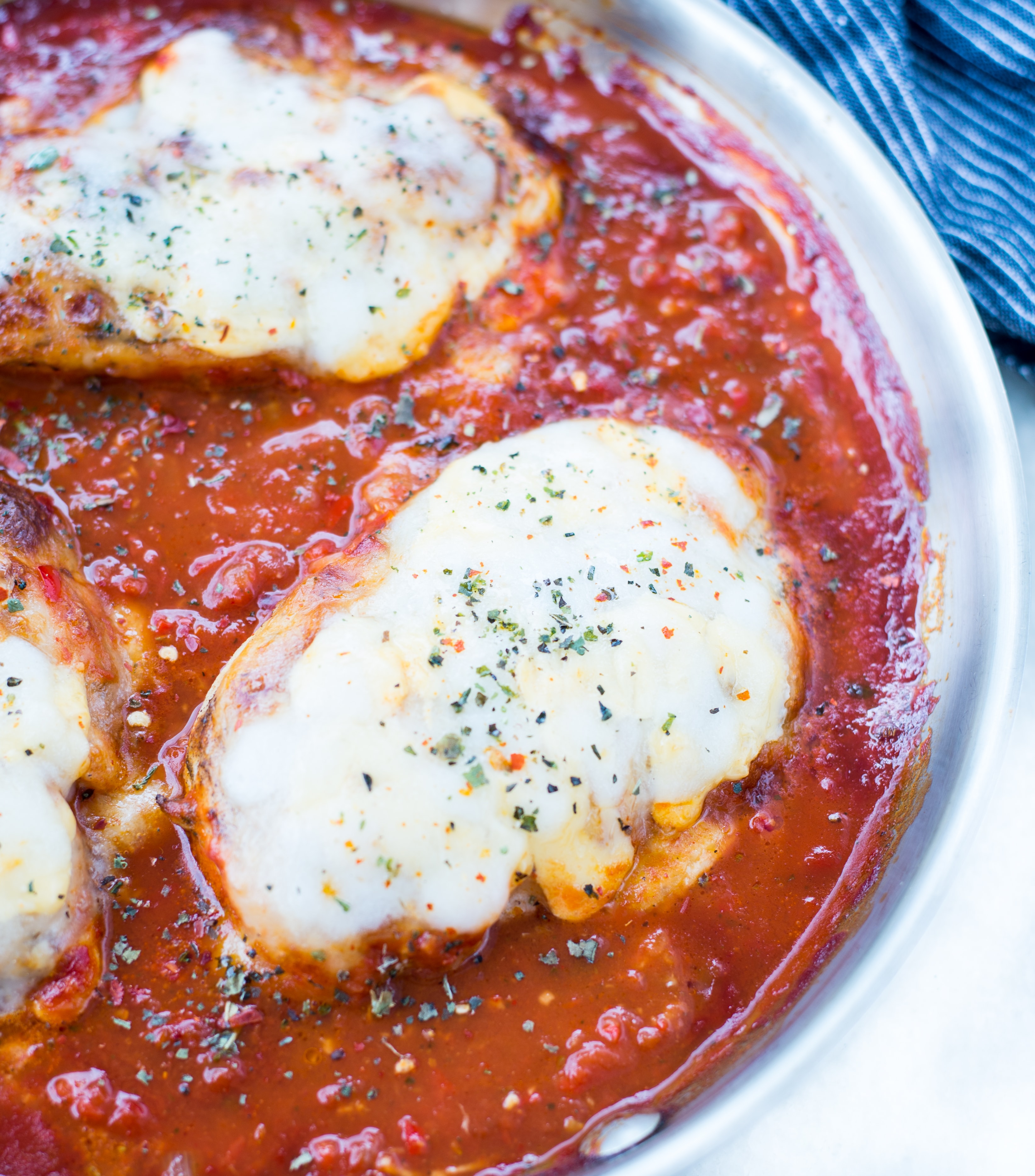 Alternatively, you can also finish off the dish on the stovetop. Once you add Mozzarella, cover the pan. Cook until chicken is tender, and mozzarella is completely melted.
Can I use chicken thighs?
Yes, you can absolutely substitute chicken breast with chicken thighs. All you have to do is adjust the cooking time.
Can I meal prep this recipe?
This recipe works perfectly for meal prepping. You can prepare everything else in advance except for the last step of melting the mozzarella. Just before serving, thaw it, top it with cheese, and finish it in the oven.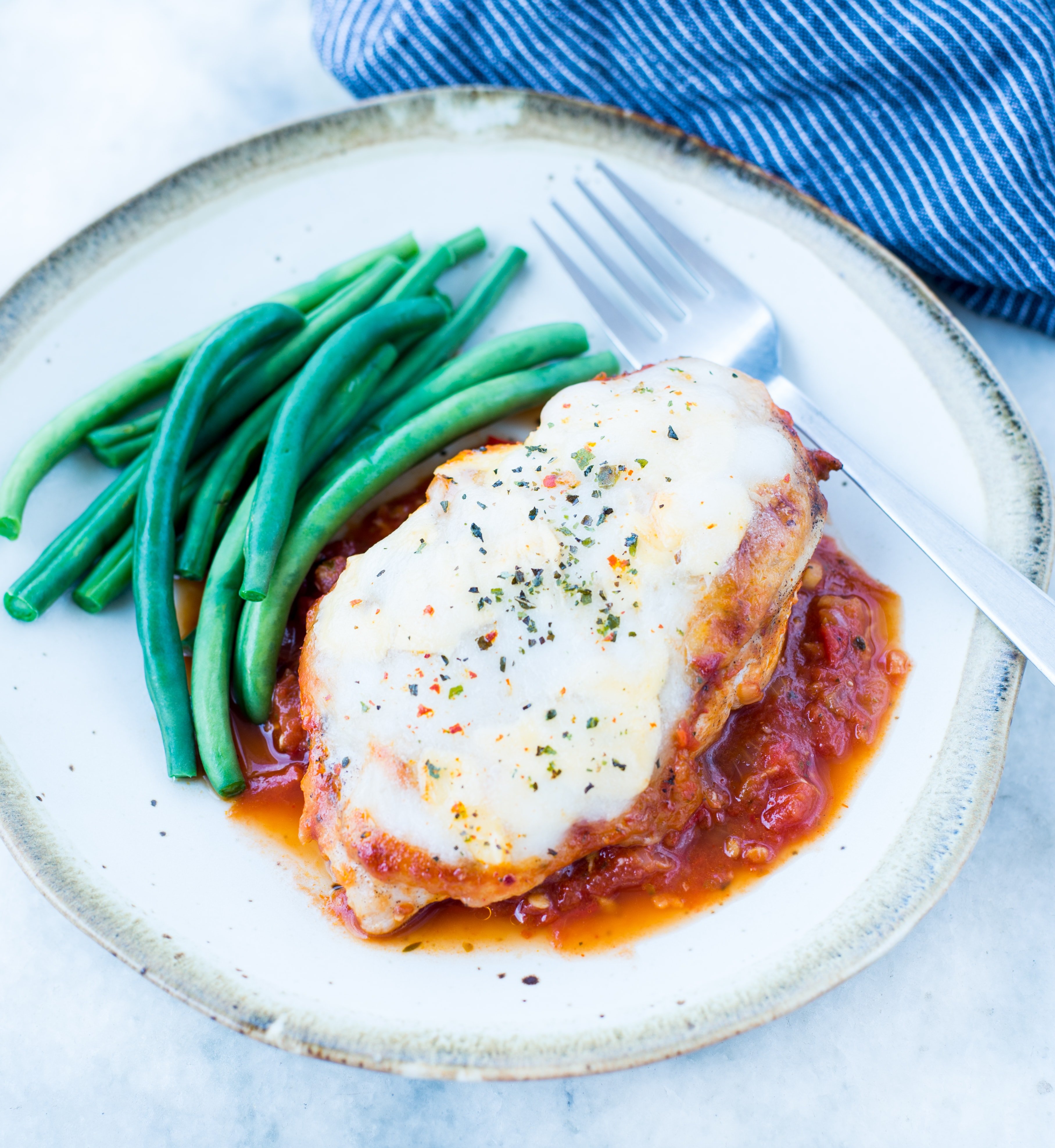 Serve with
I would like to serve it with sauteed green beans or broccoli. This is also great to be served with your favorite pasta.
One-pan chicken recipes you might like
Chicken and Cabbage Stir-fry – Garlic and curry powder make this simple chicken and cabbage stir-fry delicious.
Baked Chicken and Potatoes – Juicy chicken and tender potatoes cooked in a butter garlic herb sauce.
Lemon herb chicken, Asparagus, & Mushroom – Chicken and asparagus with mushrooms is a fresh, healthy, low-carb dinner.
Maple Mustard Sheet Pan Chicken – Chicken gets roasted along with veggies in a maple mustard dressing.
Honey Garlic Chicken Thighs – Seared chicken thighs are cooked in a sweet, savory, sticky honey garlic sauce.
Creamy Garlic Chicken and Broccoli – Chicken and broccoli cooked in a creamy garlic sauce.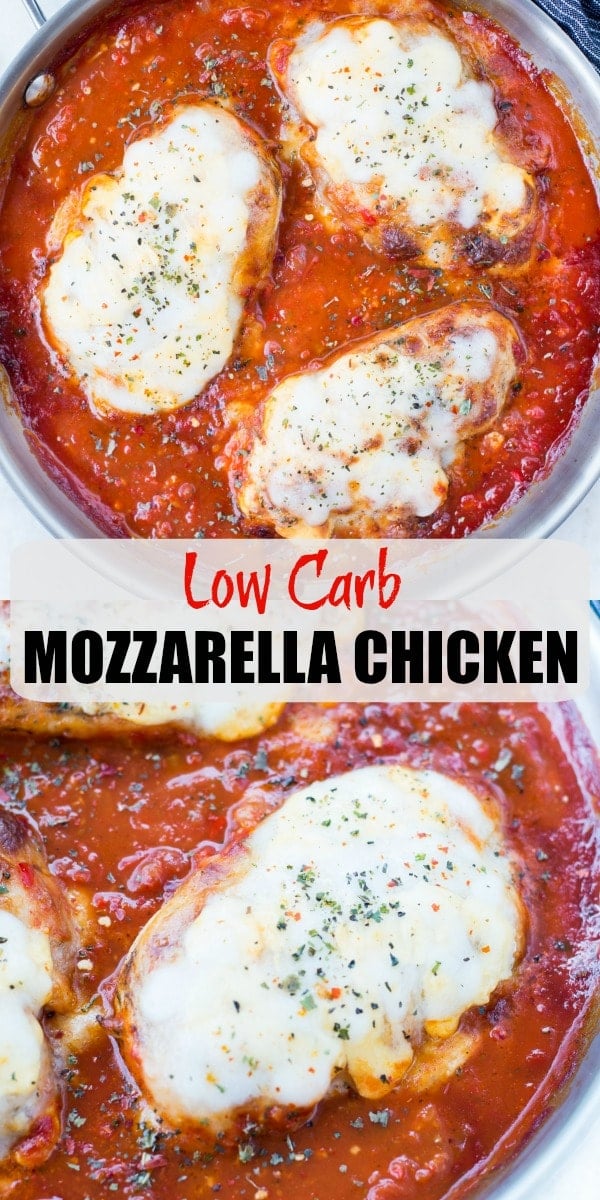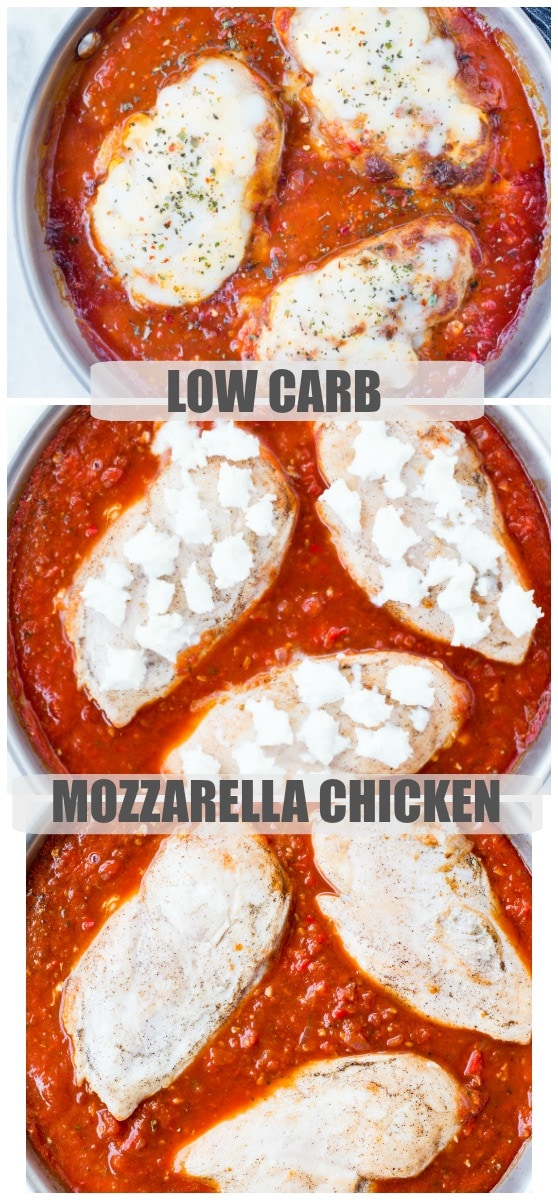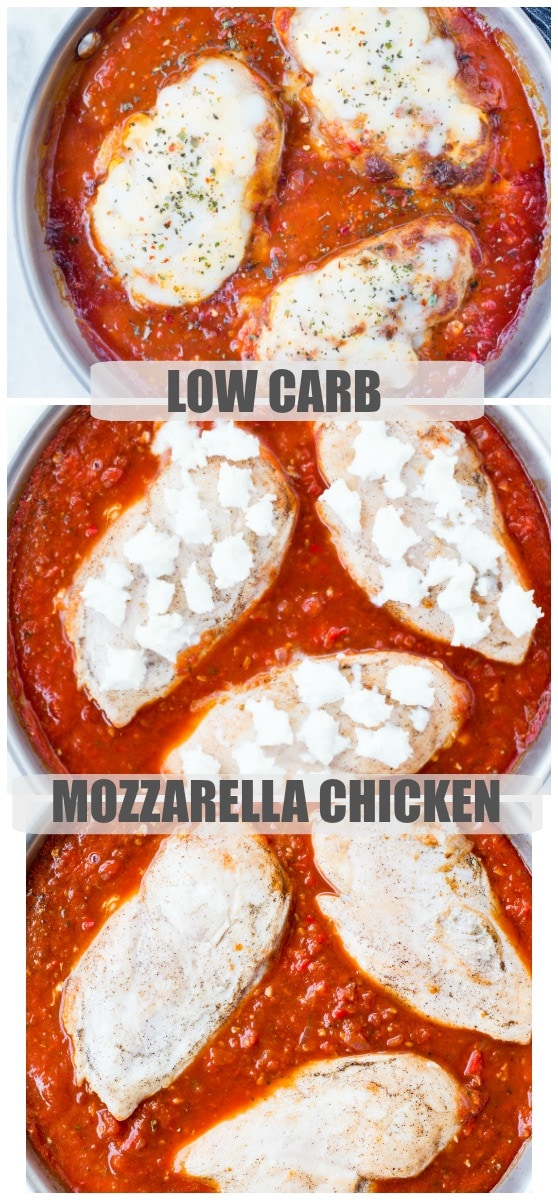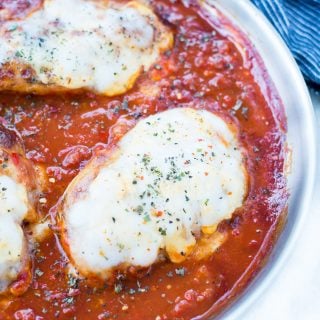 MOZZARELLA CHICKEN
Easy Mozzarella Chicken in homemade tomato sauce is low carb and made in one skillet. Pan Seared Chicken cooked in chunky tomato sauce and topped with gooey mozzarella is a perfect low carb dinner.
Ingredients
3 Boneless Chicken Breast
2-3 tbsp extra virgin olive oil
1 small Onion
1 tbspn fresh minced garlic
400 grams Ripe plum tomato (or equivalent canned crushed tomato)
½ red bell pepper
1 tspn balsamic vinegar
1 tspn Dried Oregano
2 tspn Dried Basil
½ tspn Red chili flakes (I added 1 tspn)
1 tspn Sugar or low carb sweetner
Salt and Pepper as per taste
½ cup mozzarella cheese (or more as per preference)
Instructions
If using canned crushed tomatoes, skip this step. Else if using fresh tomatoes, refer section 'STEPS TO MAKE MOZZARELLA CHICKEN' in the post above.

Preheat oven at 200-degree Celsius.

Heat a heavy bottom oven safe pan. Add oil.

When the oil is hot, sear chicken breast 2-3 minutes each side till golden sear mark appears.

Remove Chicken from the pan and keep aside covered.

To the same pan add finely chopped onion. Cook 1-2 minutes.

When onion softens and turns translucent add minced garlic. Saute for 30 seconds.

Add finely chopped red bell pepper. Cook for a minute.

Add crushed tomatoes, oregano, basil, red chilli flakes, balsamic vinegar, salt and pepper. Mix well.

Arrange chicken in a single layer. Top with shredded cheese.

Bake in upper third part of the oven for 8-10 minutes, until cheese melts and brown spots start to appear.
Nutrition
Serving: 100g | Calories: 452kcal | Carbohydrates: 12g | Protein: 54g | Fat: 19g | Saturated Fat: 5g | Cholesterol: 159mg | Sodium: 392mg | Potassium: 1299mg | Fiber: 3g | Sugar: 6g | Vitamin A: 1975IU | Vitamin C: 50.6mg | Calcium: 157mg | Iron: 2.3mg