This post may include affiliate links that earn us a small commission.
Creamy Butternut Squash Risotto, a classic Italian rice dish with arborio rice, Butternut squash puree, nutmeg, white wine, and Parmesan cheese. Making restaurant-quality risotto rice at home is easy and takes only 30 minutes.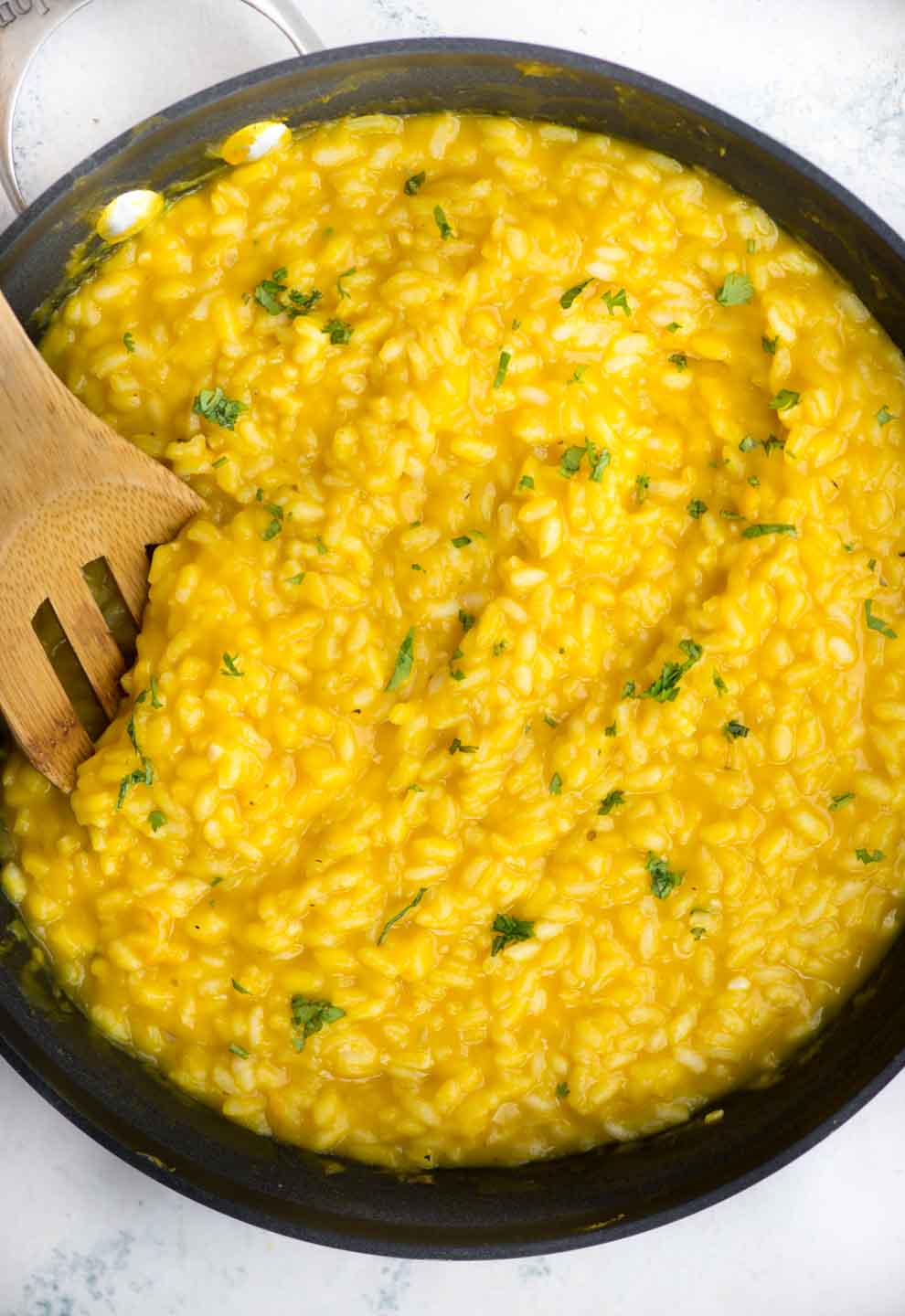 Creamy Butternut Squash Risotto is a fancy restaurant-style dish that you can make at home in just 30 minutes. Perfect comfort food for fall and winter.  Creamy buttery texture with a hint of sweetness from the Squash and a good amount of Parmesan cheese. For extra flavor, I prefer to add a splash of white wine to the risotto (Bonus is you can sip a glass of wine while cooking too).
I had one of the best Risotto during our Italy trip. Saffron Risotto i.e. Risotto Alla Milanese. It was so good and comforting. The subtle aroma of saffron was almost magical. It looked simple yet luxuriously creamy, definitely one of our favorites on the trip.
Flavours In Your Inbox
Subscribe for recipes straight to your inbox
And when you liked a dish so much, it has to be recreated at home. After a couple of tries, I got perfectly cooked risotto. To bring out little fall vibes, I made this butternut squash risotto last weekend. It turned too good and it appeared on our menu for two consecutive days.
How To Make Risotto Rice?
Making risotto at home might seem overwhelming, but with a bit of patience, you can make restaurant-quality risotto. If you are short of time, then this is not your best option, neither it is a kind of dish that you put it on the stove and walk away. This dish needs your attention for sure. So while cooking risotto, pour yourself a glass of wine and watch how a handful of ingredients transforms into creamy delicious goodness.
The best rice for making risotto is Italian-short grain rice. Usually, Arborio rice is used. These short-grain rice are high on starch compared to regular rice.
Unlike other rice, don't wash or soak Risotto rice before cooking. Starch in rice help to make risotto creamy and rich. By washing the rice, we would lose the starch.
For more intense flavour, use good quality stock.
The next step is risotto rice to liquid ratio. Though it is usually 3:1, i.e  3 cups of liquid to 1 cup of rice. But it might vary a little depending on the rice quality. I have always needed 3.5- 4 cups of stock per 1 cup of rice.
Always add warm stock to the risotto. So before you start cooking, warm the stock and keep it covered until use. It is similar to how you cook pasta by adding dry pasta to a pot of boiling water, not cold water.
Slightly toast rice in butter before adding the stock. This ensures the rice doesn't stick and looks clumpy.
Add stock one ladle at a time. After adding the stock, let it cook on low heat, stir in between, and once almost all the liquid has evaporated, add another ladle of stock. Patience is the key here.
The risotto should be cooked al dente. It should not be mushy and soft. it should be slightly firm to the bite but not crunchy.
What Do You need For Butternut Squash Risotto?
Arborio rice
Butternut square puree– canned or fresh. To make fresh puree at home bake butternut Squash in an oven until soft and tender. Scoop out the flesh and blend it in a food processor. Alternatively, peel and chop the squash. In a heavy bottom pan, add enough water to cover the squash. Cover and cook on low heat until the squash is cooked through. Once cooled down, process until smooth.
Butter
Shallots
Garlic finely minced
Good quality low sodium Chicken Stock
Dry white wine (vermouth, sauvignon blanc, dry Martini )
Freshly grated Parmesan cheese.
A good pinch of nutmeg.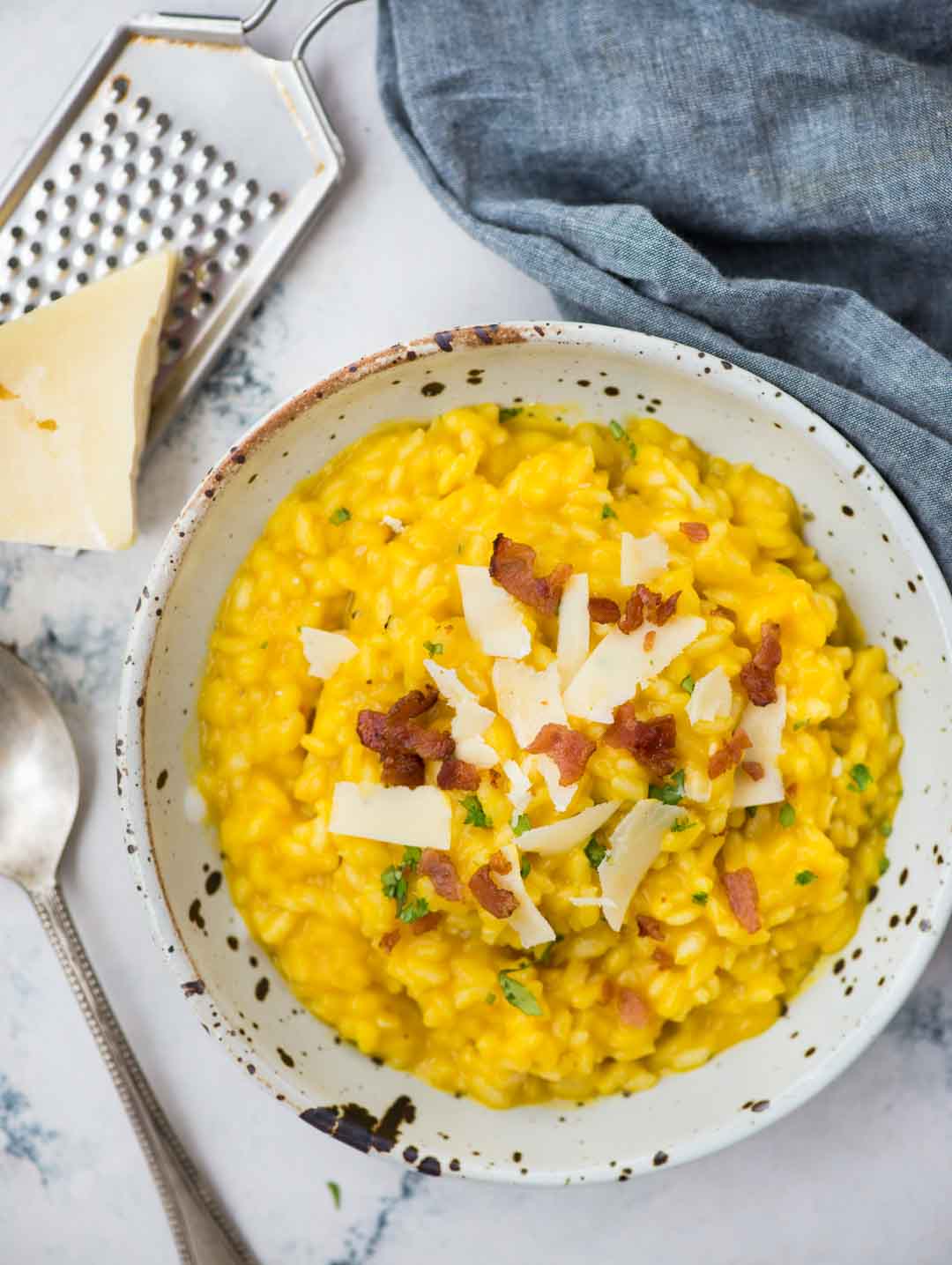 Storing/Freezing Risotto
Digging into a bowl of freshly made warm risotto is pure comfort. Chances are very slim that you will have any leftovers. But in case you have got any leftovers, store it in an airtight container up to 3 days.  Once refrigerated the rice would absorb all the liquid and becomes quite thick. For reheating add some warm chicken stock to the pan along with risotto, stir and break any big pieces. Once the desired consistency is reached heat on low flame.
I would not recommend freezing risotto as it might change the texture of the creamy sauce.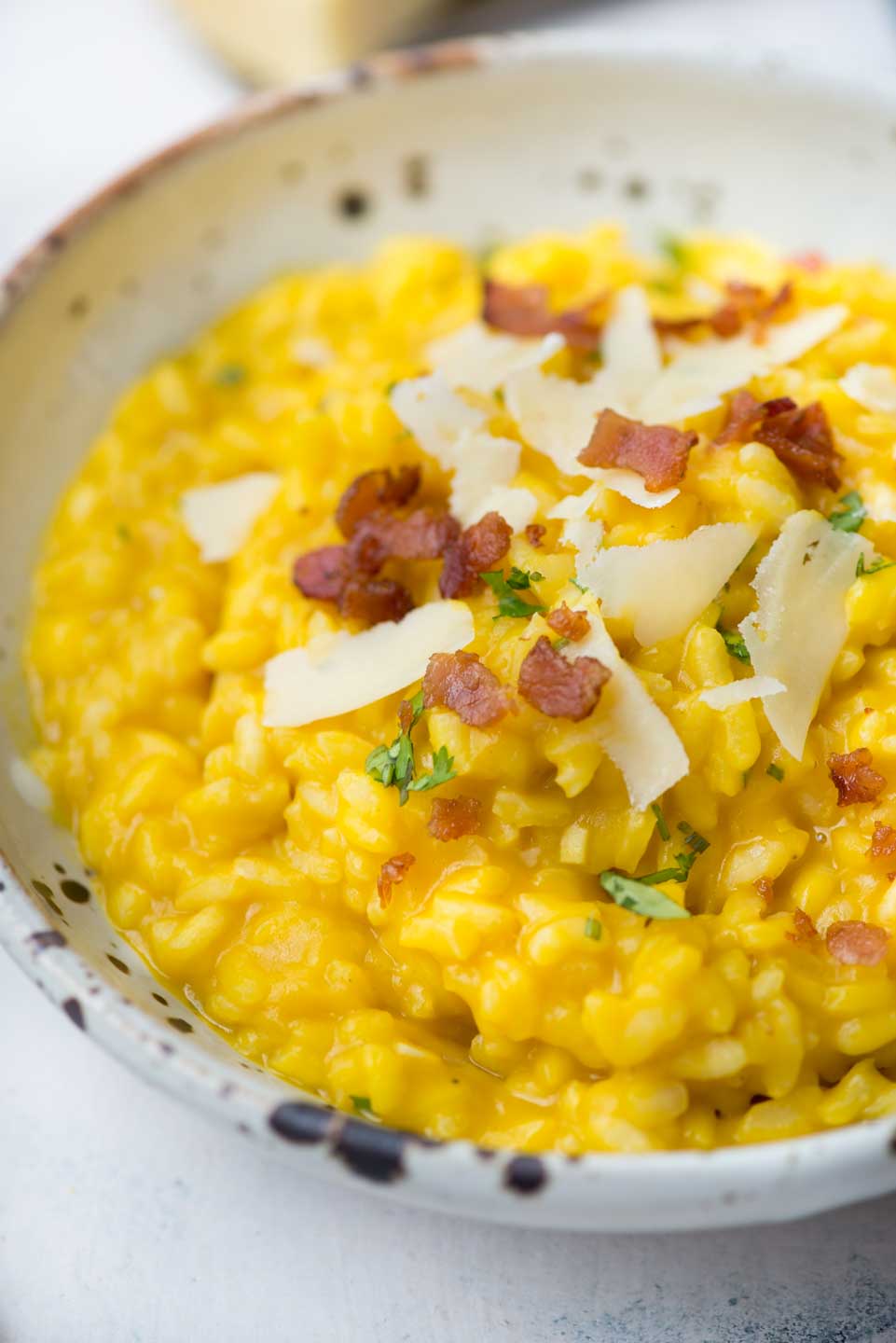 What to serve with Butternut Squash Risotto?
For me, risotto is a complete dish in itself. This rich creamy dish is meant to be relished of its own. In Italy, I have seen it is usually served with fresh arugula. Fresh peppery arugula kind of compliments the rich dish. You can also serve any other fresh leafy salad along with it.
You can also serve this as a side dish, along with some protein.
I serve this butternut Squash as a main dish topped with freshly grated parmesan, crispy bacon (or crispy pancetta), and a sprinkle of fresh parsley.
Here is another favorite butternut squash Recipe Thai Butternut Squash Curry. Perfect with a bowl of rice or noodles.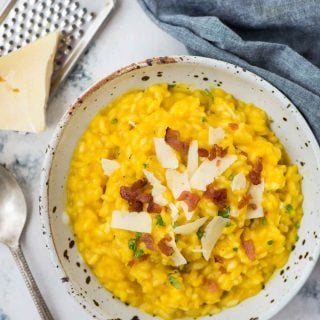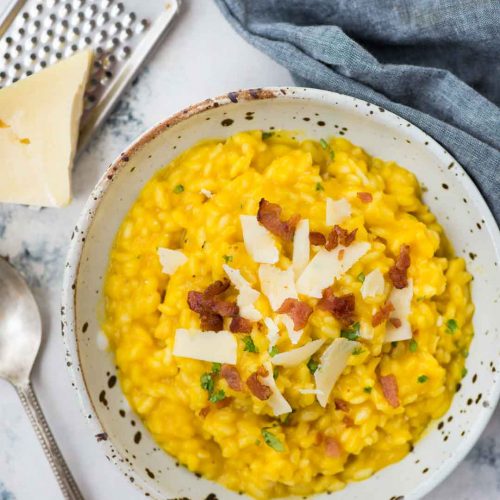 Butternut Squash Risotto
Creamy Butternut Squash Risotto, made with Italian risotto rice, Butternut squash puree, nutmeg, white wine and Parmesan cheese. Making restaurant-quality risotto rice at home is easy one-pan dinner.
Ingredients
1 cup Risotto Arborio rice
salt to taste (I used about 3/4 teaspoon)
1 cup Butternut squash Puree
3 cups Low Sodium Vegetable Stock
a big pinch of fresh nutmeg
2 tablespoon Butter
1 teaspoon olive oil
½ cup Onion Chopped
½ tablespoon Garlic minced
¼ cup Dry White Wine
1 cup Parmesan Freshly grated (more for serving)
2 tablespoon parsley for garnishing
Instructions
Start with preparing the stock for risotto. In a saucepan heat Vegetable Stock, Butternut Squash Puree, nutmeg and salt. Once it is hot but not boiling, remove from the flame and keep aside covered.

In a heavy bottom pan, melt butter and oil. When the butter is hot enough, add minced garlic and chopped onion.

Cook onion and garlic until the onion has softened and raw smell of garlic has disappeared.

Add in the risotto rice. Stir rice until it is coated evenly with butter. Toast rice for about 2 minutes stirring continuously until you get nice toasted rice smell.

Add wine, stir the rice and simmer. Let the wine completely reduce and the rice looks almost dry.

Stir in warm stock 1 ladle/ 1/2 cup at a time. Cook on low heat. Keep string in between.

After adding stock let the rice cook on low and keep adding stock after all the liquid is absorbed.

Repeat the above step until all the stock is over. Check the seasoning and if required adjust by adding more salt and pepper.

In the end, the rice should have a porridge-like consistency, the quantity would have almost doubled. The rice should be al dente but still a bit chewy.

Switch of the flame. Stir in grated parmesan and a pinch of nutmeg(optional).

Serve hot with more grated parmesan and chopped parsley on top.
Nutrition
Serving: 100g | Calories: 388.18kcal | Carbohydrates: 50.31g | Protein: 13.28g | Fat: 13.61g | Saturated Fat: 8.01g | Cholesterol: 32.05mg | Sodium: 1161.9mg | Potassium: 238.11mg | Fiber: 3.58g | Sugar: 4.74g | Vitamin A: 10446.41IU | Vitamin C: 7.03mg | Calcium: 319.28mg | Iron: 3.3mg