This easy Cranberry Pistachio Chocolate fudge is creamy, decadent with hidden Orange flavor in it. It takes only a few minutes to make and makes a perfect holiday/Christmas gift.
If you love chocolate and have sudden chocolate craving quite frequently then this recipe is for you. Saying that, if you are a real chocolate lover you must always be having a hidden stash of chocolate in some part of your house.  I am telling this because, if you raid my house you would find bars of chocolate in every possible place. My husband loves good dark chocolate and nowadays my 4 yr old gives a company to him.
With so many options available in supermarkets, I never thought of making chocolates at home. I mean why take all the fuss to make your own when you already have so many options available. One day I saw my daughter enjoying some homemade chocolates at her friend's house. And then I realized that I have never made any chocolates at home. Had some dark Callebaut at home.Being a mother, obviously, I wanted to give my little one something to eat with better nutritional value. So, ended up adding dry fruits and nuts. This chocolate fudge was a real hit not only at home but at D's office too.
The pictures that you are seeing are my 3 rd batch. The first batch was good but it was not fudgy enough. The second batch came out perfect when I increased the butter quantity a more. But couldn't photograph them because the weather was horrible. And D was almost impatient to carry them to his office. Finally, Could take pictures of the third batch and half of them were gone next day itself. So I can tell you these fudges are the best and certified by many.

MY LATEST VIDEOS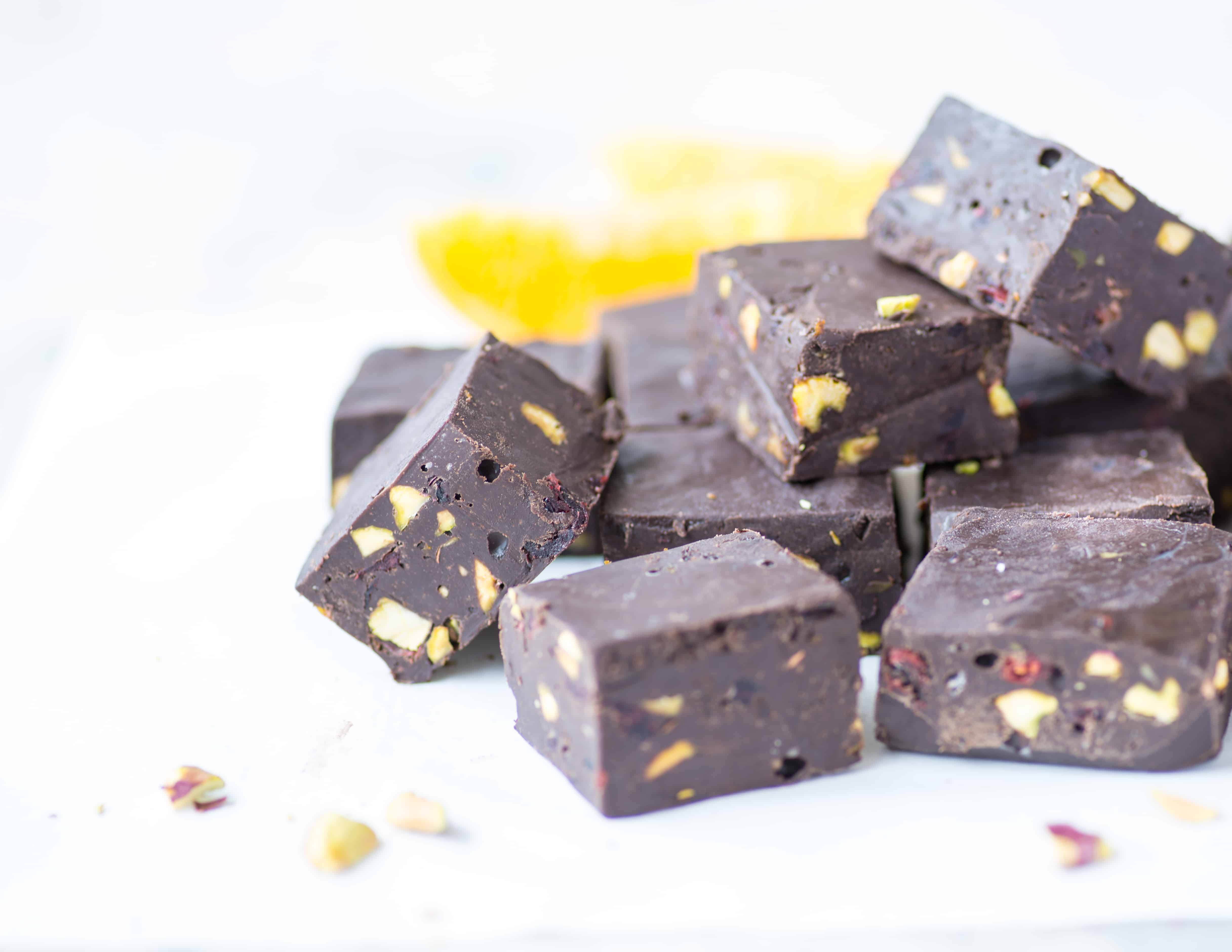 We are almost at the end of the year. With Thanksgiving, Christmas around the corner, these make a perfect Holiday Gift. You can make these ahead as it stores well. I have added Orange zest to it, but adding some candied orange peel is also a good idea.
| | |
| --- | --- |
| | |
In a microwave-safe bowl add chopped dark chocolate, Condensed milk, Butter and instant coffee powder.

Microwave for 30 seconds. Rest for a couple of minutes. Then slowly whisk the chocolate till it makes a smooth mixture.

If you are still finding few lumps of chocolate, microwave again for 20 seconds. Let it rest for a minute. Then mix.

Alternatively, you can set up a double boiler. Add all the ingredients mentioned above and keep stirring until chocolate melts. The mixture should be smooth and silky.

Add chopped salted pistachio, cranberry and orange zest. Mix just until everything is well distributed. Don't overmix at this stage.

Line an 8x8 square tin with parchment paper hanging on the sides.

Pour in the mixture. Make the top smooth with a spatula. Freeze it atleaset 3-4 hours.

Once the fudge is set, take the tin out of the refrigerator. Let it rest for 20 -30 minutes. Then dip a sharp knife in hot water. Wipe the knife with a kitchen towel. Cut the fudge into neat squares.