Creamy Chorizo Potato Soup
This post may include affiliate links that earn us a small commission.
Creamy Chorizo Potato Soup is a rich, delicious, and soul-satisfying meal on a cold winter night. The intense flavors of chorizo complement the chunky potatoes. Serve this creamy potato soup with a side of crusty bread.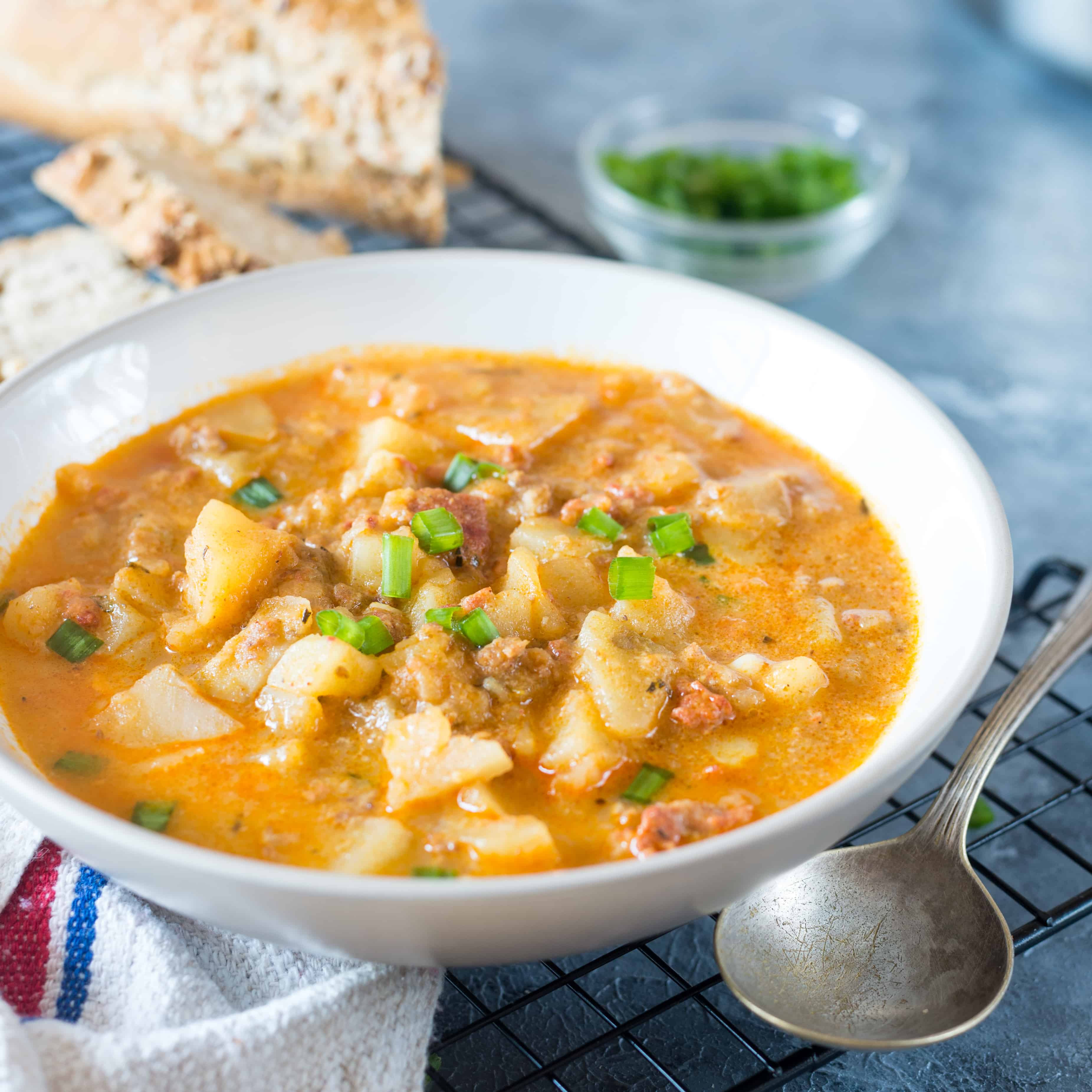 Winter is almost coming to an end, and so is the soup season. We have to wait one long year to enjoy a bowl of cozy soup. So before it gets warmer, I am trying a few more interesting soups. There are lots of potato soup recipes out there. If you love thick, creamy potato soup made with Italian sausages, then I am sure you are going to love this version with Spanish chorizo.
Flavours In Your Inbox
Subscribe for recipes straight to your inbox
This smokey chorizo potato soup I prepared a few weeks ago is so hearty and filling. Once the potato is cooked, it thickens the soup and makes it creamy. So you don't have to add gallons of cream to make it creamy.
This was the first time I'd tried chorizo. We really liked it because it was spicy and quite flavorful. If you have any interesting recipes with chorizo, we would love to hear from you. I served some crusty sourdough bread on the side, and it was a winning combo.
This soup is in one pot and takes 30–40 minutes to make. This soup can also be made in a slow cooker or Instant Pot; all you have to do is adjust the cooking time.
Potatoes are a hearty ingredient, and being a starch, they absorb the flavors of the soup very well. Make them with sausages like chorizo, or pair them with veggies like Cauliflower Potato Soup. You may want to look at Instant Pot Pumpkin Sweet potato Soup made in an Instant Pot.
Italian sausages are milder compared to chorizo but are equally delicious. If you want to make something with them, there's a quite rich pasta recipe here: Pappardelle Pasta With Italian Sausage.
Ingredients
Chorizo sausages – have an intense flavor and a savory taste. Get a high-quality chorizo sausage, which makes a lot of difference. You can choose between mild or spicy chorizo.
Potatoes – give a hearty taste with chunks of potatoes.
Chicken stock – gives a flavorful base to the soup. Substitute vegetable stock for an alternative.
Full-fat milk – increases the creaminess of the soup and balances the savory flavors.
Oil – use vegetable oil.
Aromatics – Garlic adds a savory profile, while sauteed onions add some sweetness and complexity to the dish.
Spices – Thyme, bay leaf, and cumin powder.
Salt and pepper – Salt brings all the other flavors out, while pepper balances with some heat.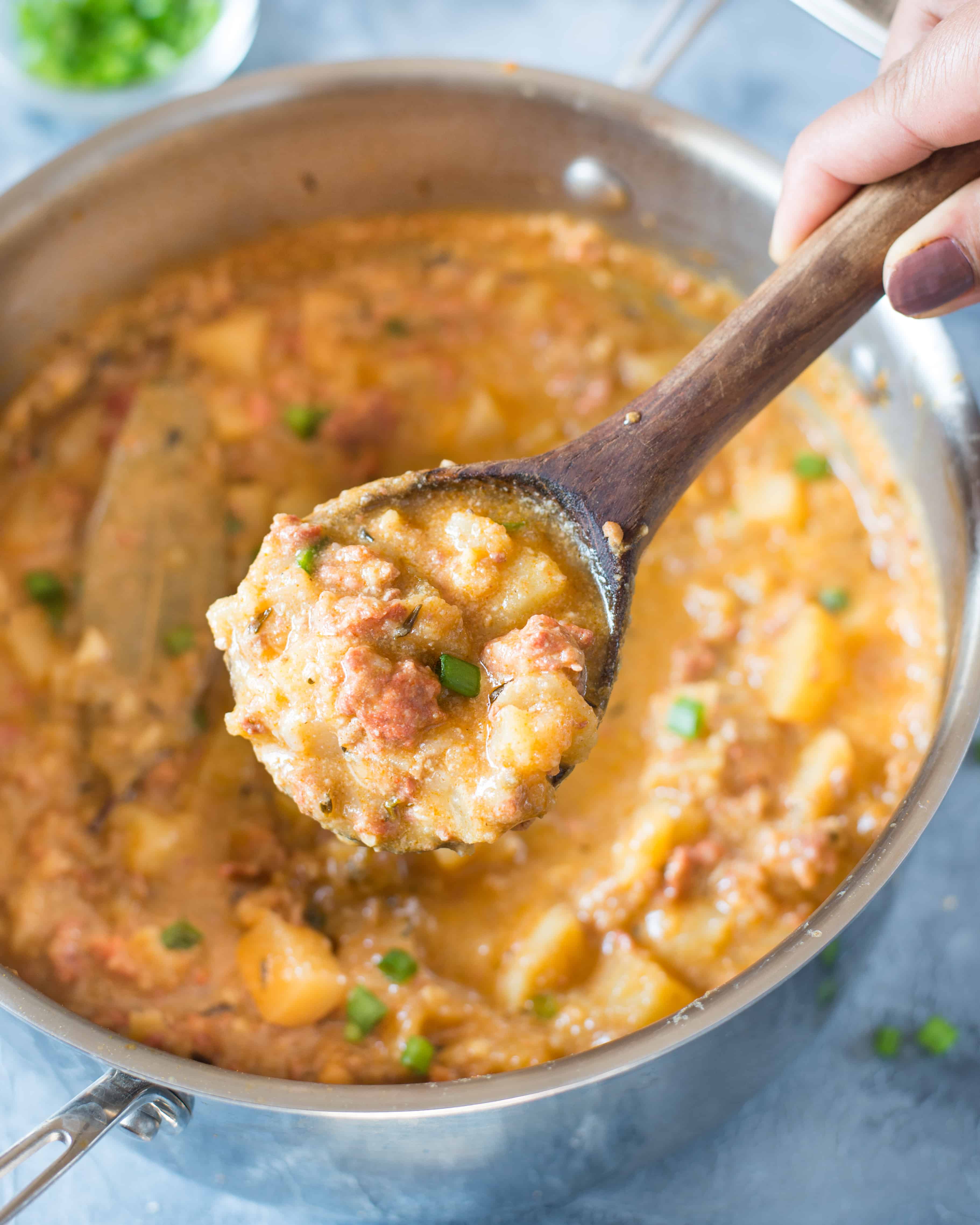 How to make potato soup with chorizo
To make this soup, you will need the flavor from the oil in the chorizo and have the potatoes absorb everything in the soup. You get a creamy and rich soup.
Saute the chorizo
Heat oil in a pot and then add the aromatics—onion first and then garlic later. Saute them until the onion becomes soft and the garlic needs a minute to become aromatic.
Add chorizo chunks and stir them. They will release the oil, which has a lot of flavor. Add potato chunks to them, and stir-fry the potatoes in the released oil so they absorb all the flavor. This way, we are also cooking the potatoes a bit before we do so further in the stock.
Add spices and stock
Now add the spices, like thyme and cumin powder, and sauté for a little while. Next, add the chicken or vegetable stock along with the bay leaf and bring it to a boil.
Reduce the heat to low, cover with a lid, and let it simmer for another 15 minutes. We want to wait until the potatoes are thoroughly cooked. Stir in-between.
Make it creamy
Remove the lid, add milk, and stir well. Let the soup simmer for another 5 minutes or so until you get the desired consistency. Keep checking, so you can switch off the flame before you get the desired consistency. Remember, the soup will keep losing moisture while the heat subsides and eventually thickens further.
Serve in a bowl and garnish with chopped green onion.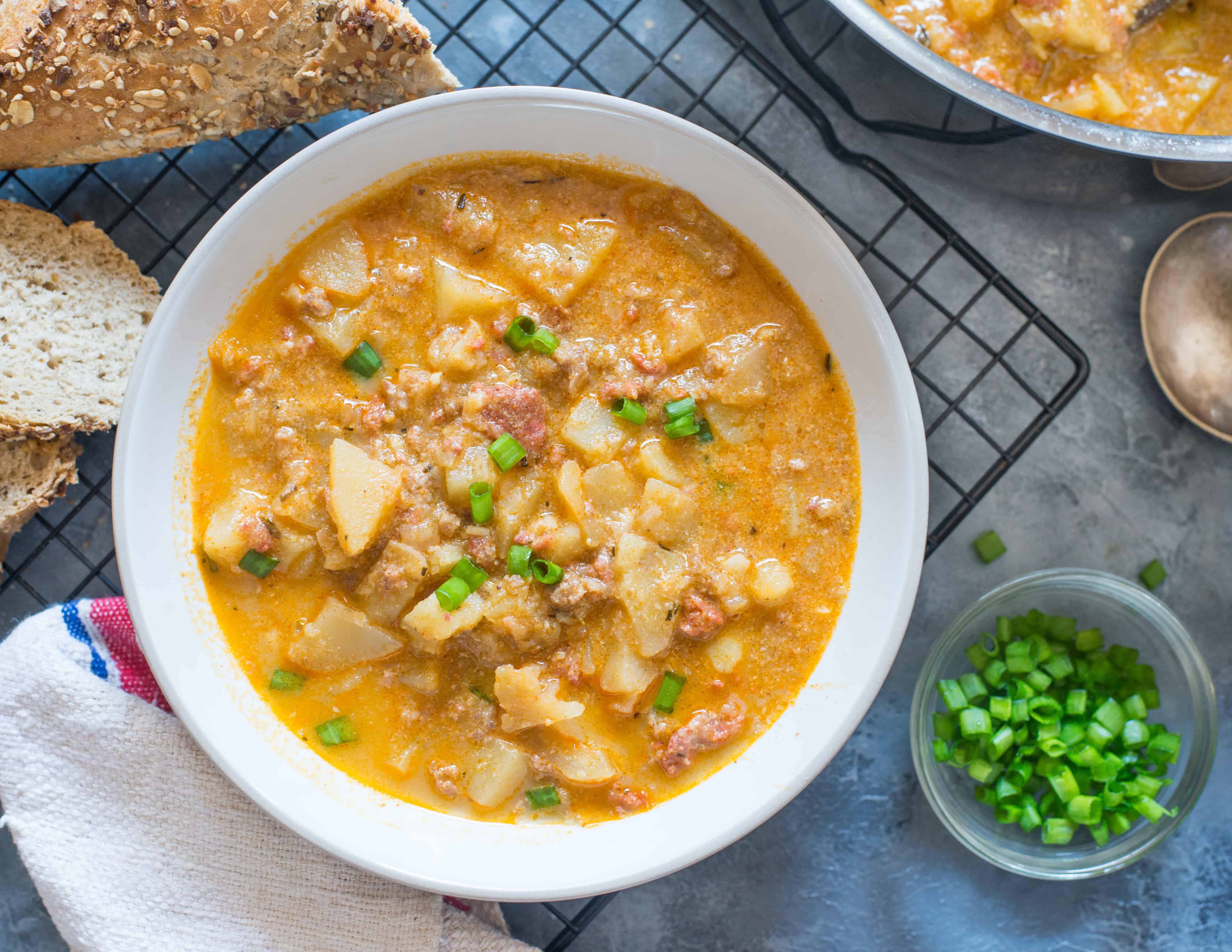 Slow cooker or stovetop?
If you are making it in a slow cooker, brown the chorizo in a pan, and then add all the ingredients to the slow cooker. At the end, add milk and cook for another 30 minutes on low.
The instant pot version would be even quicker than the stovetop version. So it's up to you which method you choose. This soup can easily be made in bulk and refrigerated for up to 4 days. If it is very thick, then add warm stock to it while reheating, and you are good to go.
Store
The best part is that you can make this soup beforehand and easily refrigerate or freeze it.
Refrigerate – Let the soup cook halfway, and then you can refrigerate it in an airtight container for up to 4 days.
Freeze – To freeze this, you will have to let it cool completely. In a freezer-safe container or sealable bag, pour the soup, mark the date, and put it in the freezer for up to 3 months. It will be safe and retain its flavor.
Reheat – Move the frozen soup to the refrigerator and let it thaw overnight. Reheat the soup in a pot on low heat while you stir occasionally. If you notice the soup has thickened, add a dash of chicken, vegetable stock, or cream and mix it well.
Serve with
This comforting and flavorful dish can be stored with a variety of side dishes.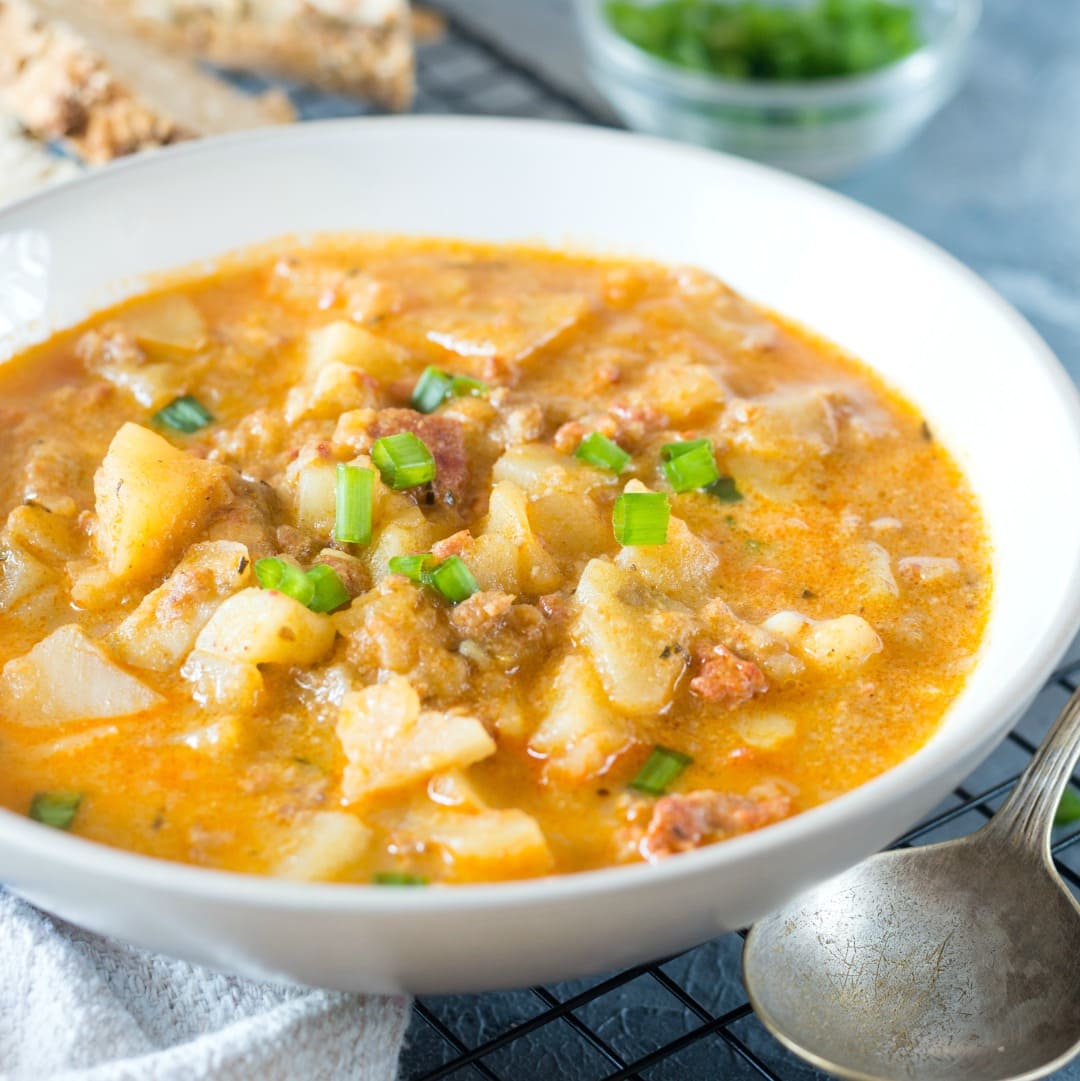 More soup recipes
Mexican Chicken Soup – A classic and my reader's favorite soup with bold Mexican flavors
Cabbage Chicken Taco Soup – Make the best use of cabbage by pairing it with taco flavors in a soup.
Cauliflower Soup – This is a healthy, low-carb, keto-friendly recipe that is also creamy and delicious.
Chicken and Gravy – Tender chicken breast and thick, creamy gravy made from scratch
Creamy Vegetable Soup – A healthy, gluten-free recipe made with loads of vegetables and the richness of parmesan cheese.
Sausage Tortellini Soup – Tomato-based broth, sausage, and cheesy tortellini make this soup filling and flavorful.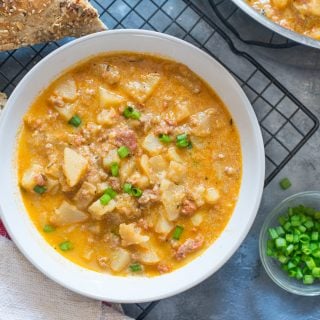 Creamy Chorizo Potato Soup
Creamy Chorizo Potato Soup is a rich, delicious and soul-satisfying meal on a cold winter night. Serve this with a side of crusty bread.
Equipment
Instant Pot or make it on stovetop
Ingredients
8-10 Ounce Spicy Chorizo crumbled in to small chunks
15 Ounce potato Peeled and cut into cubes
1 tbsp Oil
1 Medium Onion Chopped
1 tbsp Minced garlic
1 tspn Cumin Powder
1 tspn Dried thyme
1 Bay leaf
3-4 cups Chicken stock
1 cup Full fat milk
Salt to taste
Instructions
Saute aromatics and chorizo
Heat a pot. Add oil to it.

Once the oil is medium-hot, add chopped onion. Fry till it softens.

Add minced garlic. Saute them until they become aromatic (avoid burning).

Add chorizo chunks. Cook for 4- 5 minutes. It will start to release oil and the color will change.
Add and cook potatoes in stock
Add cubed potatoes. Cook on medium heat for 5-7 minutes.

Add cumin powder, and thyme and season with salt. Mix well.

Add chicken stock and bay leaf. Let it come to a boil, then, reduce the heat to low. Cover and let it simmer for 15 minutes or so until the potatoes are cooked.

Stir in between. If required add more stock. Potatoes should be cooked and become soft.
Add milk and simmer
Once the potatoes are cooked through, add milk.

Stir well. Cover and let it simmer for another 10 minutes on low heat.

While serving, garnish with chopped green onion.
Notes
 The chorizo is spicy enough, so I have not added any chili powder. You can adjust the spices as per your preference.
If you want to reduce the cooking time, substitute raw potatoes with cooked potatoes.
I prefer to have small potato chunks in the soup. If you prefer something very creamy and thick without any chunks, use a blender to blend everything in the soup after the potatoes are cooked. This will make the soup very creamy and smooth.
Nutrition
Serving: 100g | Calories: 248kcal | Carbohydrates: 17g | Protein: 12g | Fat: 14g | Saturated Fat: 4g | Cholesterol: 31mg | Sodium: 649mg | Potassium: 499mg | Fiber: 2g | Sugar: 4g | Vitamin A: 200IU | Vitamin C: 10.1mg | Calcium: 81mg | Iron: 3.6mg