Crispy Sesame Ginger Tofu With Soba Noodles
This post may include affiliate links that earn us a small commission.
This Crispy Sesame Ginger Tofu with Soba Noodles is delicious, protein-rich and Vegan. The sweet and spicy sauce loaded with ginger and garlic brings a lot of flavor to the dish.
This Crispy Sesame Ginger Tofu with Soba Noodles is refreshing, with tons of flavor. Noodles in any form are always welcome at my home. A quick lo mein with loads of veggies and chicken is regular at our home.
Flavours In Your Inbox
Subscribe for recipes straight to your inbox
A few other noodle recipes like Asian Shrimp Garlic Noodles, Chicken Ramen Noodle Recipe, Oriental Chicken Noodles and Chinese five spice chicken/tofu noodles would be perfect for an asian dinner on a weekday.

Lately, I am substituting all-purpose flour noodles with a healthier alternative like whole wheat noodles.  And now our new favorite is Soba noodles.
A couple of months back, I made a delicious broth soup with mushrooms, bok choy, and soba noodles. I quite like the nutty taste of Soba noodles. It definitely tastes very different from regular noodles but a good broth or a sauce will do the magic.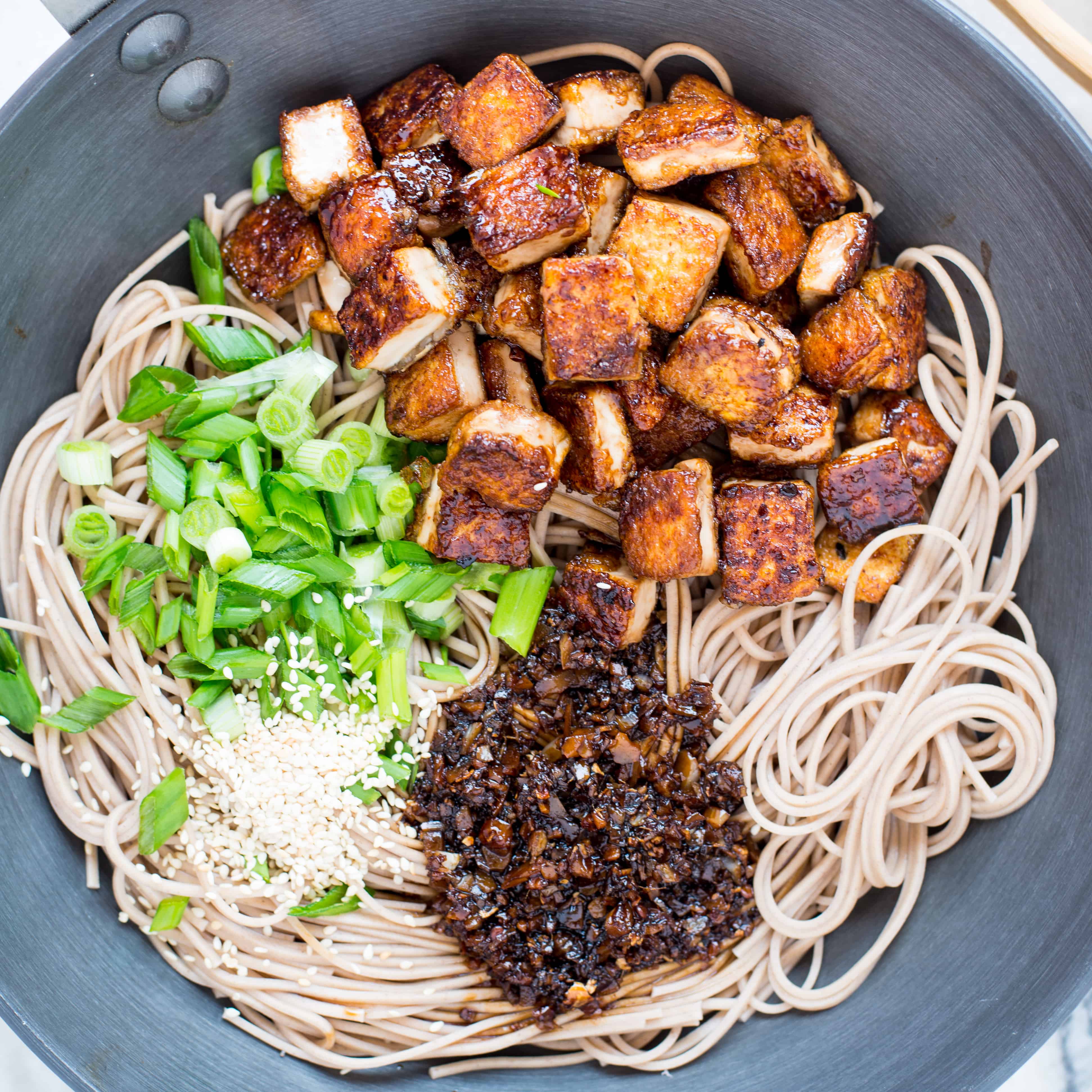 What is Soba Noodle?
In case you are new to Soba noodles, let me tell you few things about this healthy noodles.
Soba noodles are Japanese noodles that are made from Buckwheat flour. Excellent alternative to Wheat-based noodles with some health benefits.
100% Buckwheat flour soba noodles are gluten-free. So if you are gluten intolerant, then this noodles would satisfy your noodle/pasta craving. Generally, Soba noodles have few percentage of wheat flour in it. So If you are looking for absolute gluten-free, make sure they are made with only Buckwheat flour.
Along with gluten-free, these are rich in protein and amino acids. Its higher protein content makes it popular among vegetarians, especially Vegans.
This noodles is less in calorie and higher in fiber when compared to traditional pasta or noodles.
Here is an article – Are Soba Noodles Healthy? that gives an insight into the health benefits of soba noodles.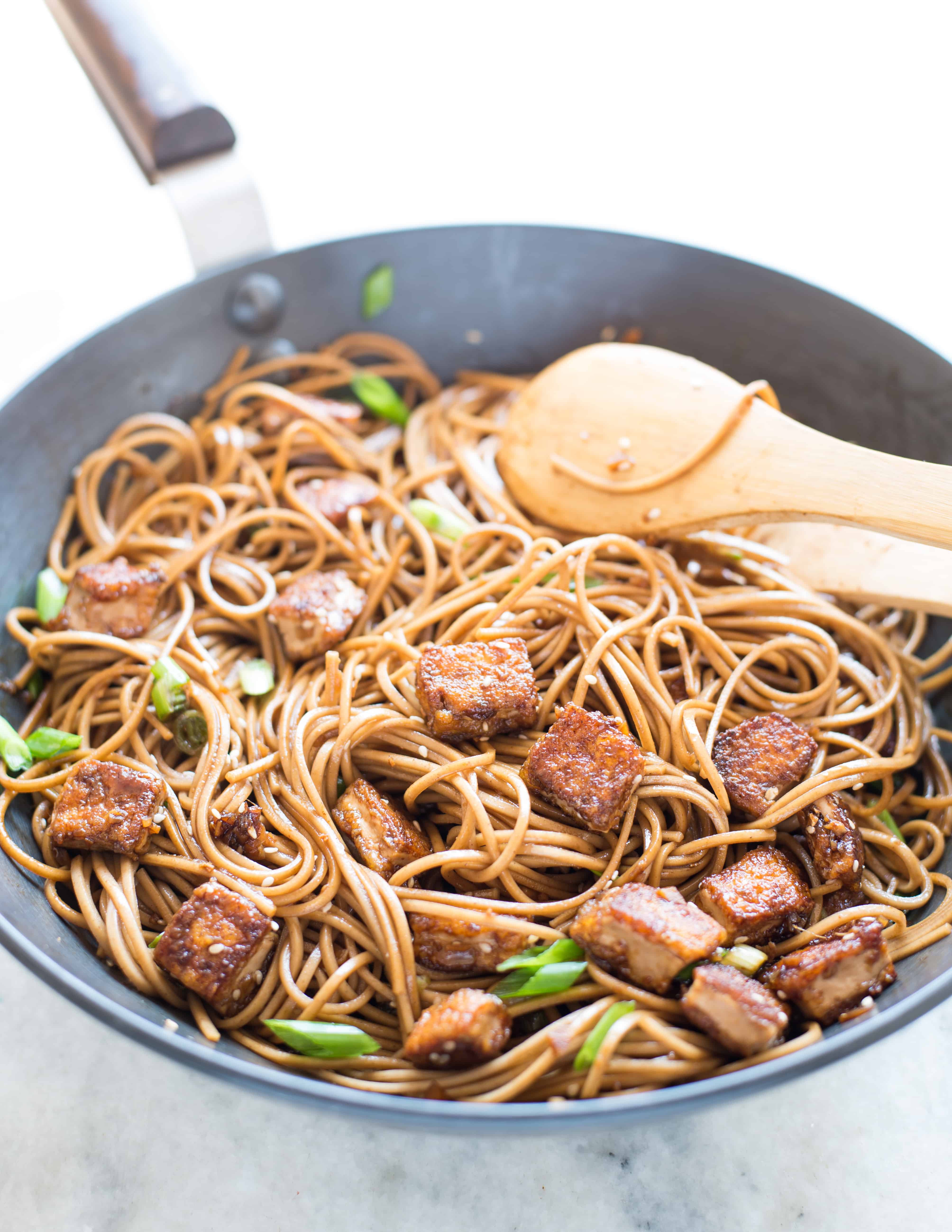 So overall this Crispy sesame ginger tofu with soba noodles is easy, quick, vegan and rich in protein too.  Perfect on the busy weeknights, when you want to have healthy filling dinner with less of a hassle.
In this stir fry Protein not only comes from soba noodles, tofu is also an excellent source of protein. To get perfectly crisp tofu, I have given some easy tips in this Crisp Tofu in Chinese Garlic Sauce recipe., another favorite and popular recipe on the blog.
Here is another Gluten Free Noodles recipe with a delicious Asian Sauce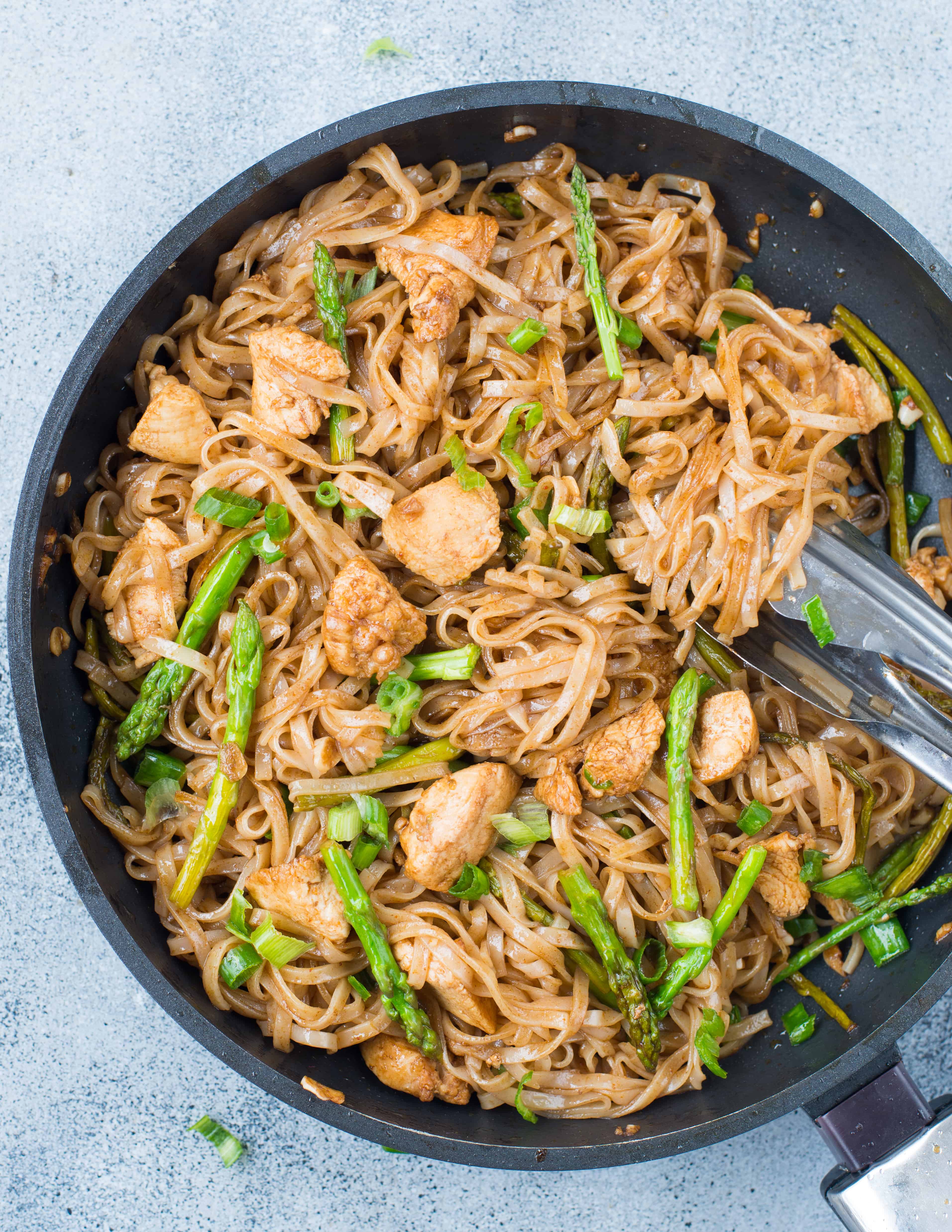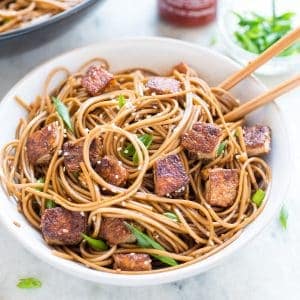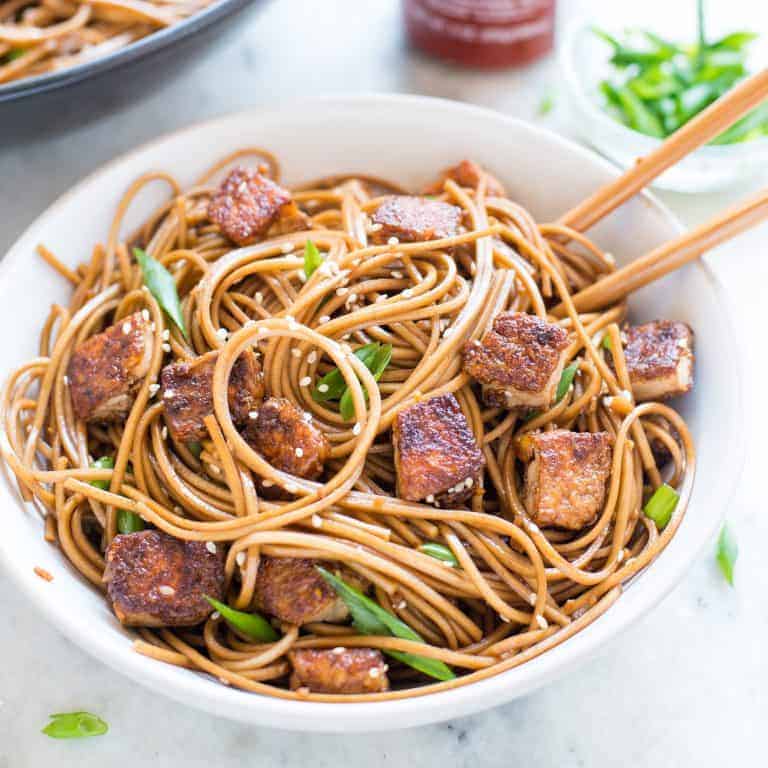 CRISPY SESAME GINGER TOFU WITH SOBA NOODLES
This Crispy Sesame Ginger Tofu with Soba Noodles is a delicious, healthy and Vegan stir fry. The sweet and spicy sauce loaded with ginger and garlic brings a lot of flavor to the dish.
Ingredients
200 grams Dry Soba Noodles
250 grams Extra Firm Tofu
Salt and Pepper as per taste
2 tbspn cornflour (rice flour for gluten free)
2 tbsp Sesame Oil or Vegetable Oil
1.5 tbsp Minced Fresh Ginger
1 tbsp Minced garlic
1 tbsp Chinese rice vinegar
3 tbsp Dark soy sauce
2.5 tbsp honey
1 tspn Sriracha or Any Red Hot Sauce
2 tspn Toasted Seasame seeds
Chopped Green Onion for Garnish
Instructions
Cook Soba Noodles as per package instruction. Run under cold water and keep aside.

Prepare tofu by following instructions mentioned above.

In a bowl mix together Soy sauce, Honey, rice vinegar, and sriracha. Keep aside.

Season tofu cubes lightly with salt and pepper. Toss in Cornflour.

Heat a pan. Add 1 tspn oil. Once pan is hot spread tofu cubes in single layer. Fry undisturbed till they are golden brown in color. Turn and fry again till the otherside is golden bworn in colour.

At the end add 1 tablespoon of the above prepared sauce. Cook for a couple of minutes, till all the sauce has been soaked. Remove from the pan and keep aside.

In the same pan, add minced ginger and garlic.

Add prepared sauce.

Once the sauce starts to bubble, add cooked noodles. Toss well.

Add Crsipy fried tofu cubes. Mix everything well.

Sprinkle toasted sesame seeds and green onion.

Serve immedietly.
Nutrition
Serving: 100g | Calories: 346kcal | Carbohydrates: 57g | Protein: 13g | Fat: 8g | Saturated Fat: 1g | Sodium: 1197mg | Potassium: 250mg | Sugar: 11g | Vitamin C: 0.7mg | Calcium: 48mg | Iron: 2.5mg