This post may include affiliate links that earn us a small commission.
A fairly simple stir fried chicken noodles with bursting Oriental flavours. This Oriental chicken noodle is quick to make,loaded with veggies and protein. I had this Oriental noodles a couple of years back in an Oriental restaurant and was totally hooked to the flavours. The best things about this one pan dish are the sauce and lots of fresh Thai basil.
Since past couple of months, blogging has taken a back seat because of other priority tasks. I am hardly spending time in the kitchen in trying new recipes. In fact, this recipe was sitting in the draft for almost a month before I finally got a little time to write this post.
Flavours In Your Inbox
Subscribe for recipes straight to your inbox
I had made this noodle almost a month ago when I had some lemongrass and fresh Thai basil. You have to consume them before they get spoiled. Earlier I used to clean the herbs and store them in the refrigerator on the same day of purchase. Still, they never used to be fresh. Now I just clean the roots if there is any mud(in the case of coriander leaves), trim the bottom a little, then put the bunch in a small jar filled half filled with water. Then loosely cover the bunch with a plastic cover and place on the kitchen counter. Change water in the jar in every two days. This way the herbs remain fresh for almost a week.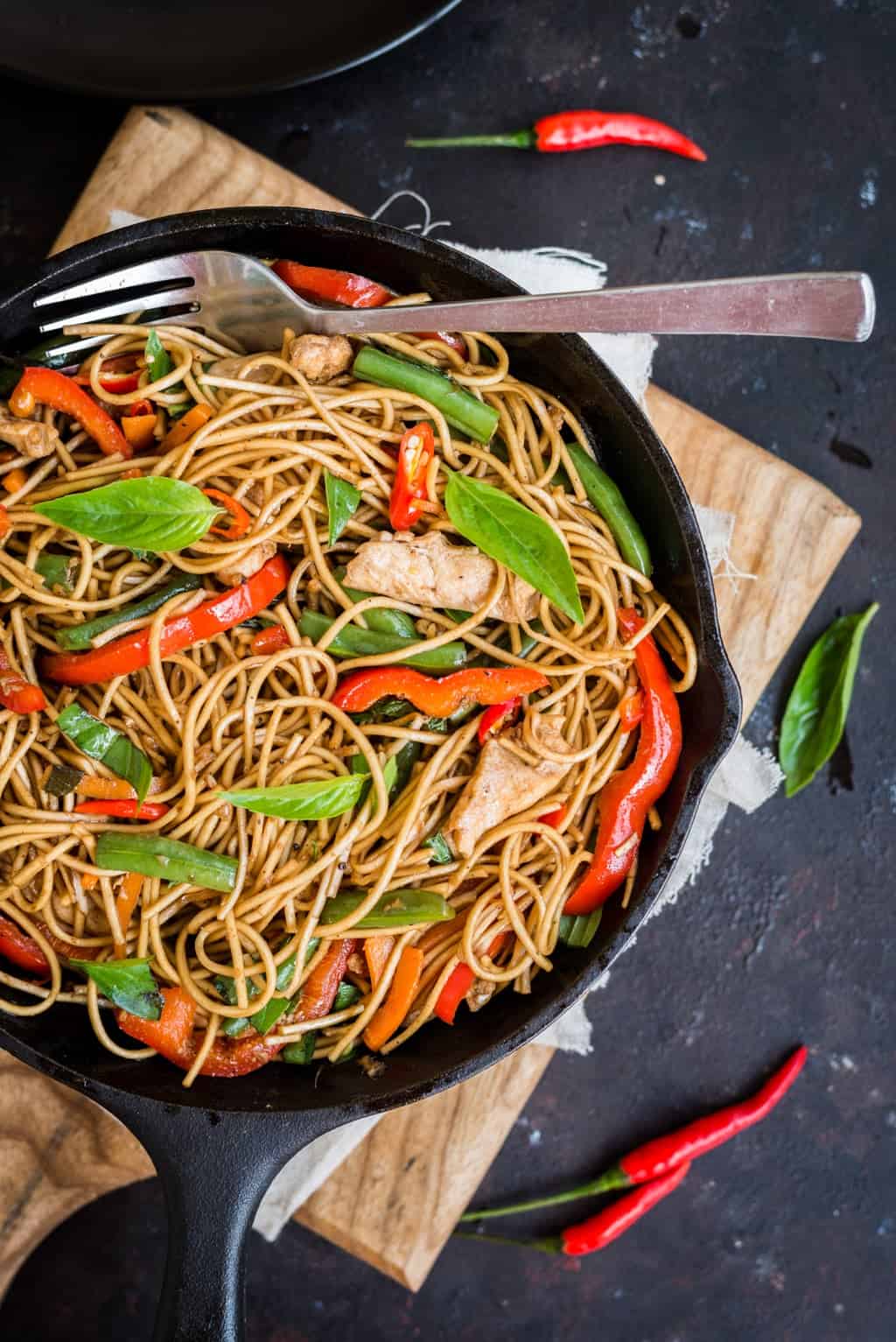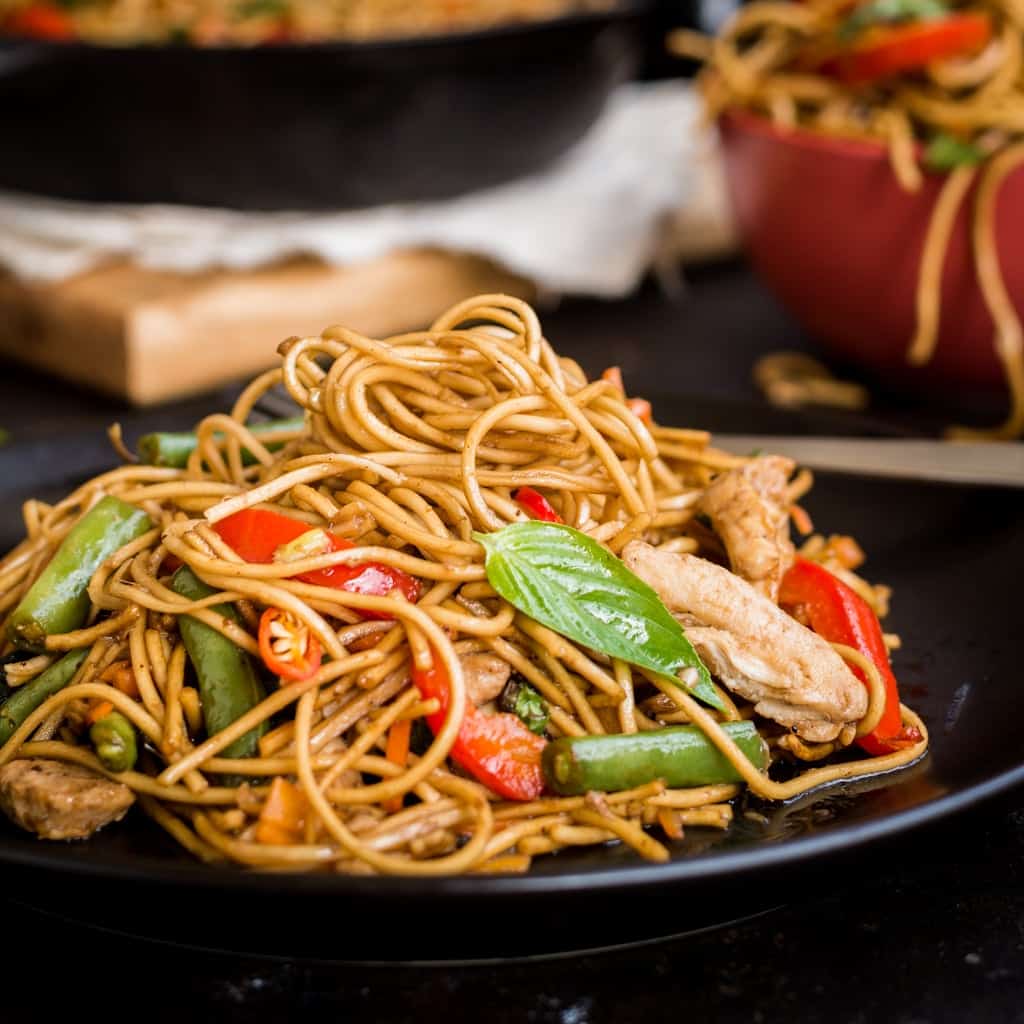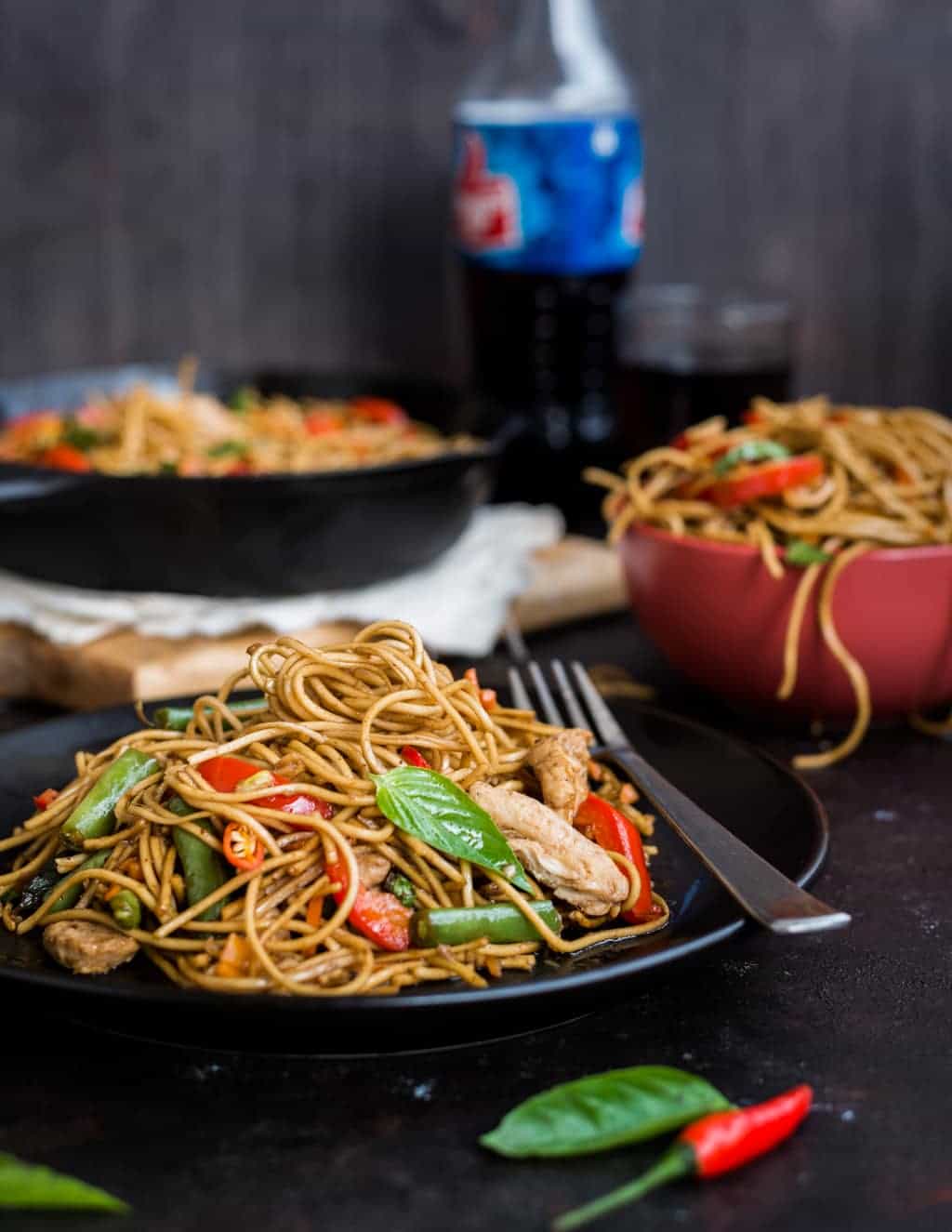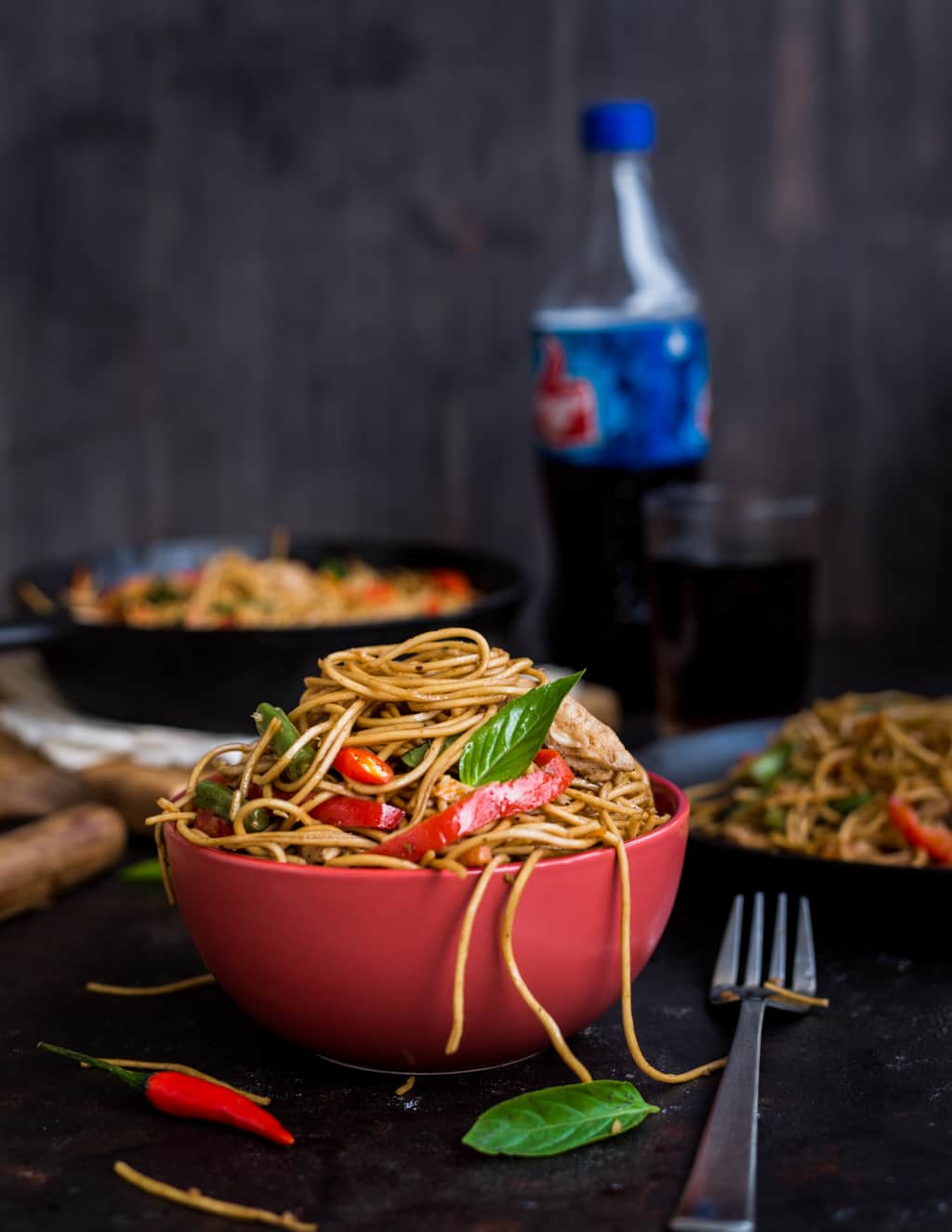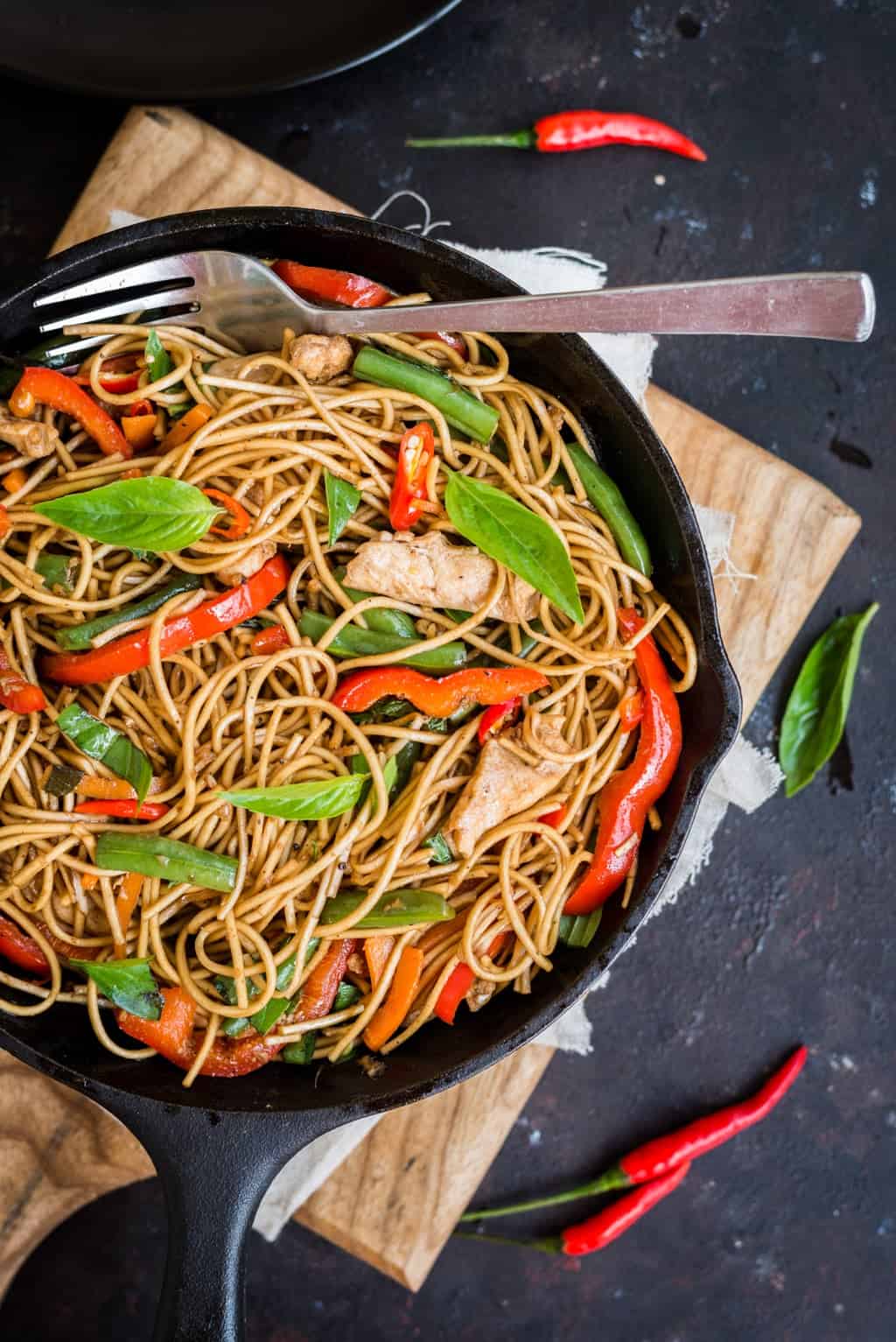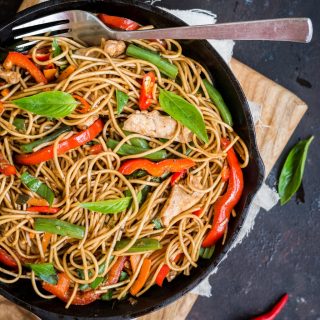 Oriental Chicken Noodle
Ingredients
400 gm egg noodle Dried
chicken breast 250 grams thin ,cut into strips
ginger 1 tbsp
garlic 1 tbsp
lemongrass 1 stalk
eye chilli 1-2 Thai bird's
thai basil 1/2 cup fresh
salt pepper and per taste
fish sauce dash of A good
sauce For
soy sauce 2 tbsps light
soy sauce 1 tbsp dark
oyster sauce 1 tbsp
vinegar 1 tbsp
Instructions
Cook dried egg noodles as per instruction. Drain in a colander and run under running tap water to stop further cooking. Toss it in 1 tsp oil and keep aside.

Toss chicken strips in little salt and pepper. Keep aside.

In a coffee grinder or mortar and pestle make a coarse paste of ginger,garlic, and lemongrass.

In a heavy bottom, pan add 2 tbsp oil. Once the oil is hot add ginger,garlic, and lemon grass mixture. Saute on medium-high heat briefly till the raw smell is gone.( Take care not to burn it).

Add chicken stripes. Toss on medium-high heat for 1 minute. Quickly add carrot and beans. Toss for a couple of minutes.

Add peppers followed by cooked noodles. Toss everything well.

Add sauce and slit bird's eye chilis (deseeded). Mix everything very quickly on medium-high heat

Switch off the gas. Sprinkle roughly tossed basil leaves. Toss everything well.

Serve immedielty.