This pizza-like Turkish fast food has a soft and flavourful base and delicious toppings. Turkish Lamb pide has a mix of cheese and minced lamb toppings. If you are bored with pizza, the boat-shaped pide is a great option.
Turkish Lamb Pide
'Pide' sounds like a fancy word, isn't it? Well, the Turkish lamb pide is nothing but a kind of Turkish pizza. Along with other different varieties of bread, pide is also a very popular snack.
First time I came across this in a TV food show. I was amazed to see so many varieties of bread that they do in Turkey. At first, it resembles so much to a pizza, though it is a dish in its own right.
Kebabs again is a very well know street food in Turkey. Pita which again is a flatbread to wrap kababs along with greens and sauces is also very popular.
If you are in the mood to bake bread and other dishes something similar to this, look at the No-Knead Rustic White Bread, ARTOS: Greek Celebration Bread, Kadhai chicken & saffron potato flatbread, NUTELLA STUFFED POTATO CRESCENT BREAD ROLLS.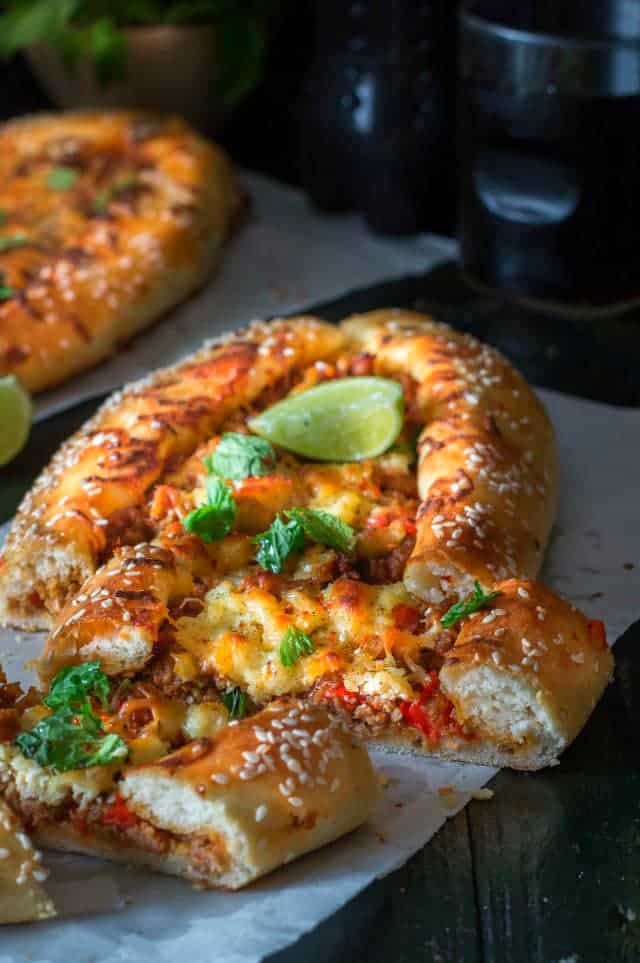 Pin
How to make Lamb Pide?
Pide is prepared with meat (lamb/beef), vegetables, and also Spinach Cheese. So it's up to you to decide what are you going to use as filling.
I have used lamb and did the filling a little bit on the spicier side. The bread base was super soft and moist.
Got a beautiful recipe here. She has explained each and every step clearly.
I was super happy to get a beautiful puffed-up soft side of the base. It looked and tasted amazing. It had the right amount of chewiness to it as well as smelled very good.
Ingredients
What do we need to make the bread base -
Flour
Milk
Water
Yeast
Salt
Sugar
Required to make the Filling -
Lamb
Spices

Cummin
Coriander
Cinnamon
Black Pepper
Garam Masala
Red Chili

Tomato
Cheese
Onion & Garlic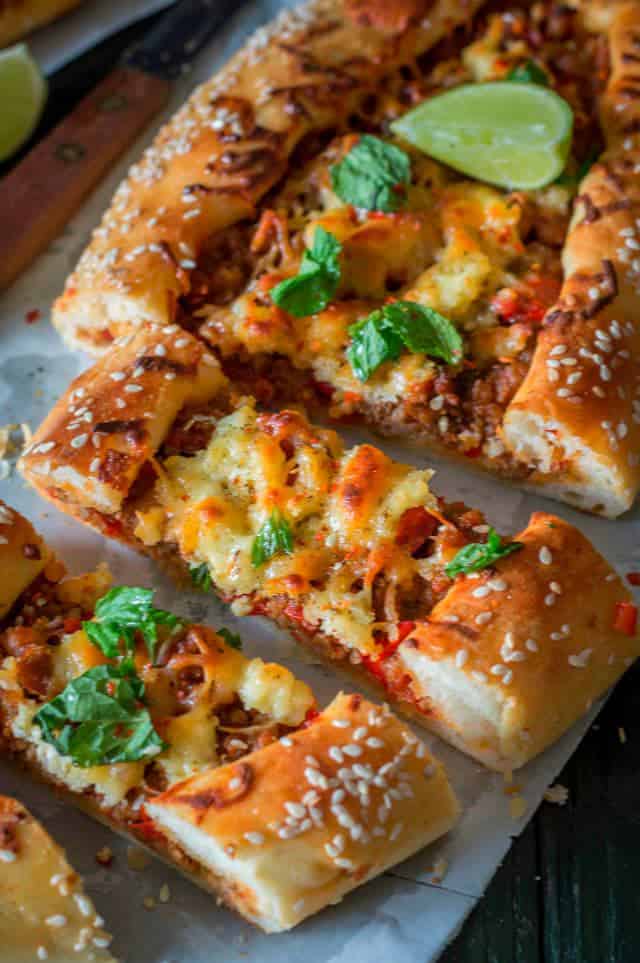 Pin
Ingredients
Dough
3

cups

all purpose flour

1

tablespoon

active dry yeast

¾

cups

milk

warm

1

teaspoon

sugar

1

teaspoon

salt

1

egg
For lamb filling:
500

gm

lamb

Finely minced

1

Onion

large

2

cloves

Garlic

( I used 6)

2

tbsps

Butter Vegetable oil

or

½

teaspoon

Cumin

( I used 1 teaspoon slightyl roasted cumin powder)

½

teaspoon

Coriander

powder

¼

teaspoon

Cinnamon

powder

½

teaspoon

Garam masala

(optional,my addition)

½

teaspoon

Red chilli

flakes (optional,my addition)

to taste

salt

½

teaspoon

Black pepper

powder

1

teaspoon

lemon juice

Fresh

2

tbsps

mint

Fresh chopped

1

tomato

Medium

bell pepper

/ Redgreen

1

Cup

cheddar cheese

Mozarella or

Sesame seeds

to sprinkle on top
Instructions
In a big bowl put warm milk, sugar and yeast.Keep undisturbed for 10 minutes. It will start to bubble. Add egg,salt and oil.Mix everything well and add flour. Knead to a nice smooth,elastic dough.

Oil a bowl and coat the dough ball well. Cover with a wet towel.Let the dough rest for up-to 1 hour until it double in sizes.

Mean while heat a pan. Add butter/oil. Add minced garlic. Once it is aromatic,add chopped onion. Fry till onion is golden brown.

Add minced lamb. Saute in high heat for 5-6 minutes. The lamb will start changing colour. Reduce flame add all dry spices. Let it cook till lamb is done.

Add tomatoes,and chopped red bell pepper. Let it cook for 2-3 more minutes. Stir in between.Switch off the gas.

Add chopped mint,lemon juice and give everything a good mix.Keep aside and let it cool.

Pre-heat oven to 200 degree Celsius.

Punch down the dough and release all trapped gas. Take out dough on a lightly floured surface. Divide into two pieces.

Take one part, roll dough to a oval shape. Then transfer the oval shaped dough to a lined baking sheet. Using hand stretch the dough a little more. It should turn to an oval shape. Dust top with some cornflour.

Spread half of the cooled mixture on the shaped dough. Spread half of grated cheese on top. I have sprinkled some fresh cottage cheese in one and some sliced mushroom on another pide.

Fold the side,bring together the end and pinch together. Shape the dough like boat. Refer this step by step pictures on how to shape.

Lightly beat one egg. Using a pastry dough brush the edges of shaped dough. Pour couple of spoon of egg above the filling. Sprinkle sesame seed on the edges.

Bake pide for 25- 30 minutes or until it looks golden brown.

Once done let it rest for 5 minutes,then sprinkle some zaatar on top. Slice and serve warm.