Instant Pot Cashew Chicken
This post may include affiliate links that earn us a small commission.
Resturant Style Cashew Chicken with crunchy peppers made right in the Instant Pot. This extra saucy Cashew Chicken is pairs really well with rice. You can easily make it on the stovetop as well.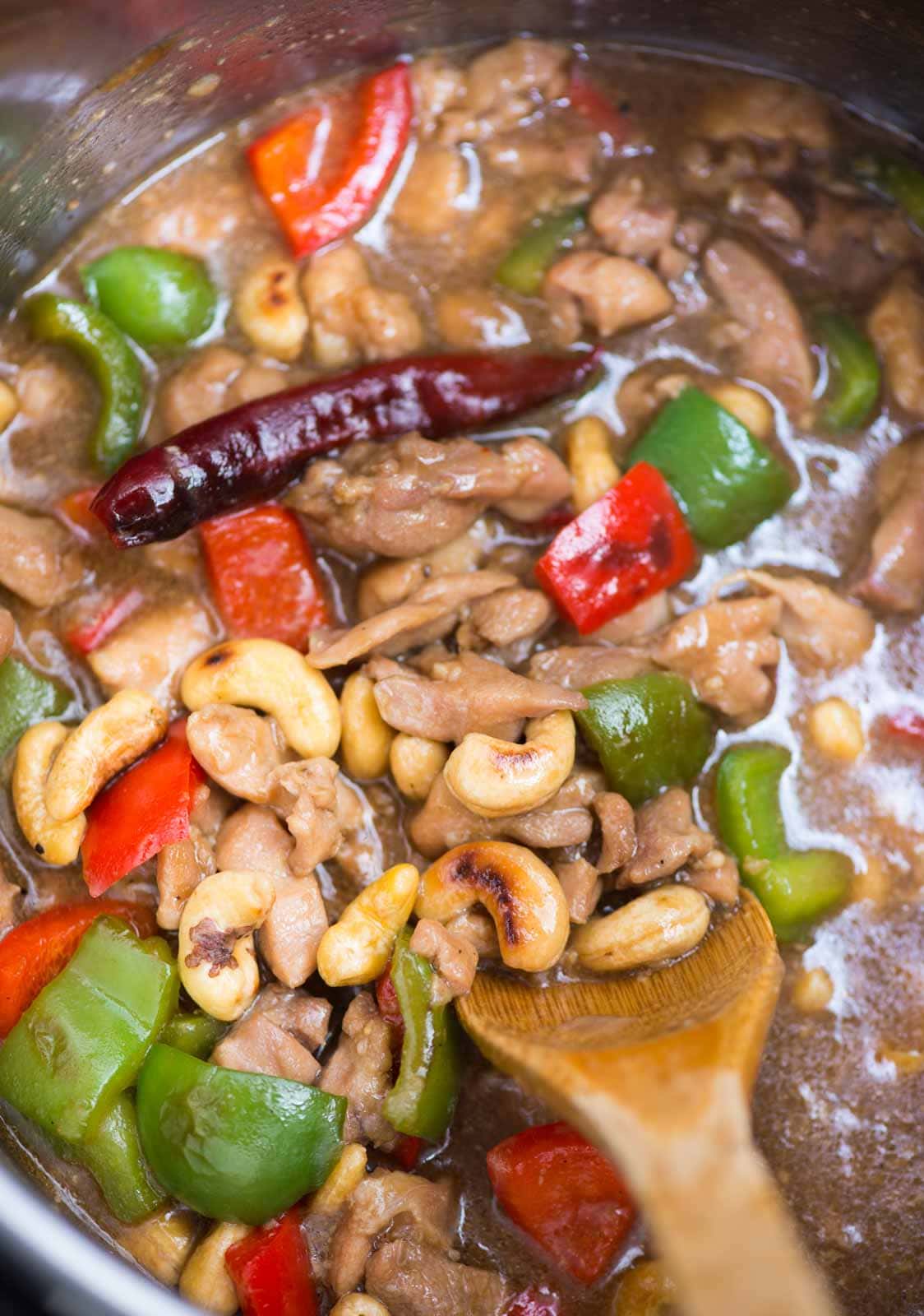 Do you know what's better than a take out?? Make it at home. This Crunchy Cashew Chicken tastes as good as the restaurant version. Tender juicy Chicken, Crunchy peppers, Cashew, and the sauce is full of Umami. And the bonus is you can make it in an instant pot.
Flavours In Your Inbox
Subscribe for recipes straight to your inbox
I know when it comes to Chinese cooking, all you need is a wok or a skillet. But this Instant pot version is equally good.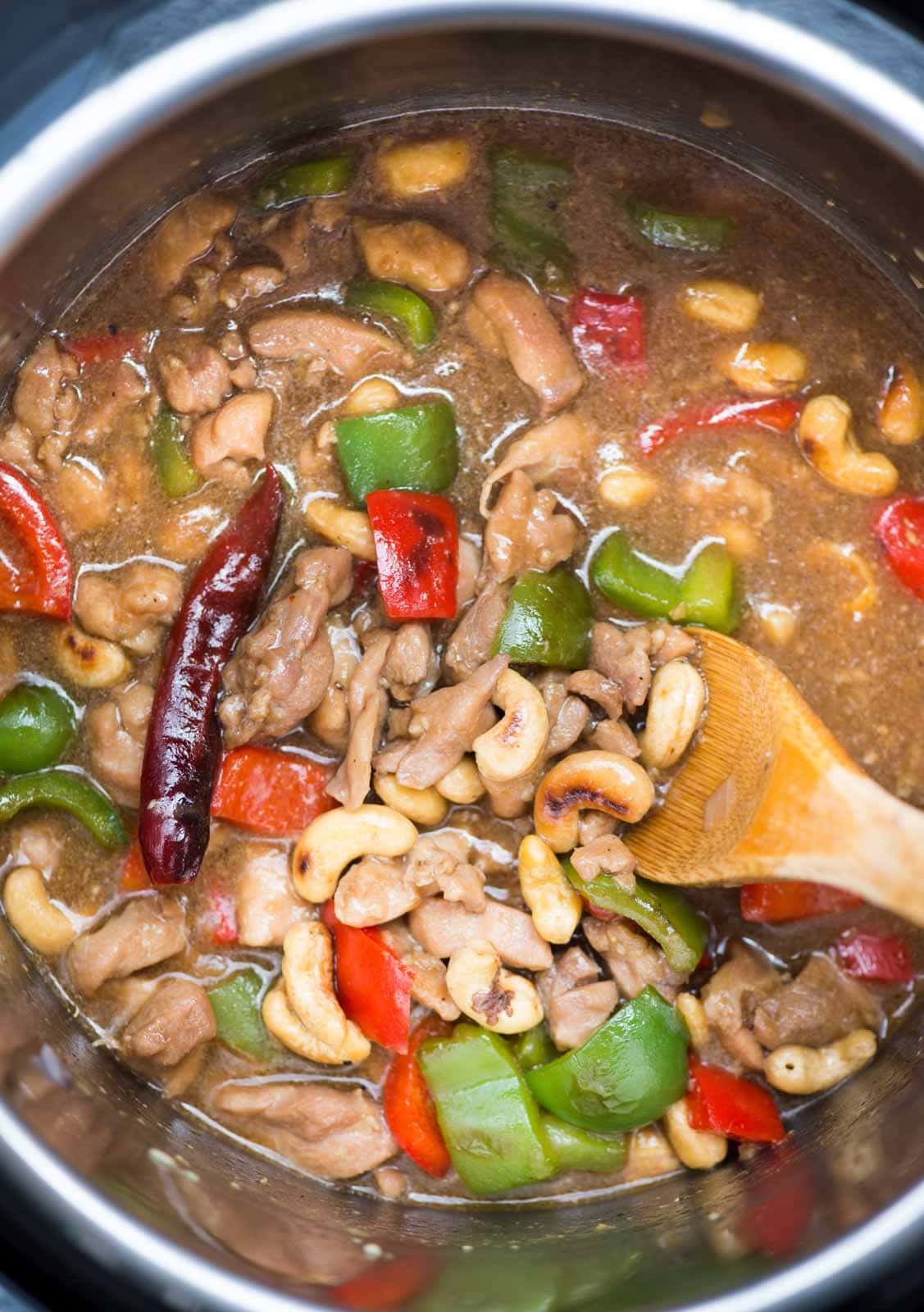 Ingredients you need for Cashew Chicken
Looking at the list of ingredients you might get overwhelmed. The Asian sauces like Soy Sauce, Oyster Sauce, Vinegar etc. stays well for years. And the quality of sauce matters a lot, so I would recommend to invest in some good quality ones.
Chicken thighs or breast. I like chicken thighs because it stays moist and juicy. If you are using Chicken breast, cut chicken into thin strips against the grain
Vegetables– Colourful peppers, Broccoli, Snap peas
Soy sauce, Oyster Sauce – Use good quality low Sodium Soy Sauce.
Chinese Cooking wine – It makes a huge difference, so a trip to a nearby Asian store would be worth it. You can substitute it with dry sherry or Chicken Stock.
Sesame Oil
Onion, Garlic, and Ginger
To thicken use a cornflour slurry.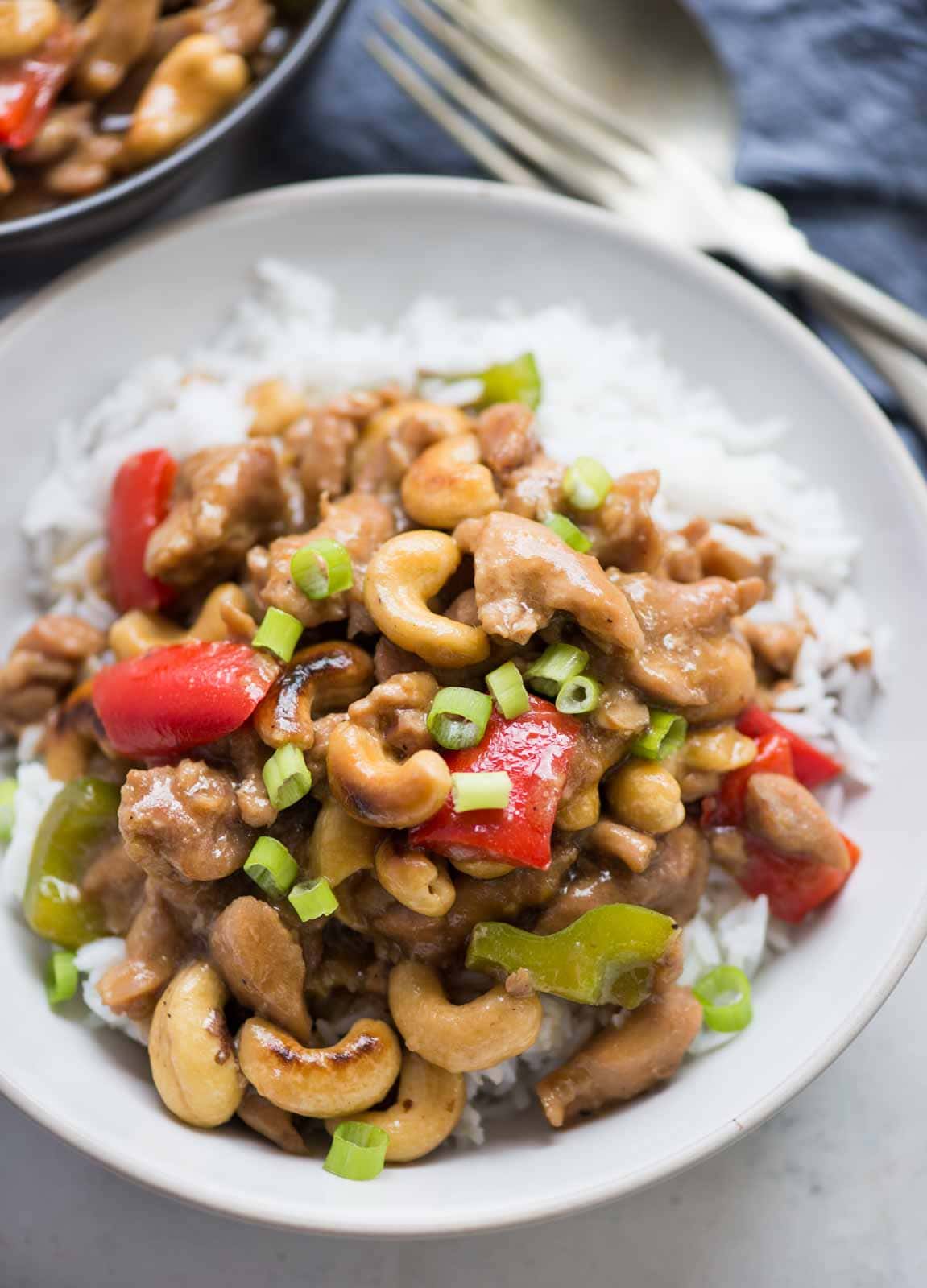 To make on Stove top
Like any other stir fry recipes, you can make Cashew Chicken on the stovetop as well. Use a wok or a skillet.
Mix all the sauce ingredients. Take two tablespoon of sauce mix and add to the chicken and let it marinate.
Heat oil in a wok/skillet. Add dry red chili and fry it for 10 seconds. Add onion, garlic and ginger to the pan. Sauté until the ginger garlic no more smells raw for a minute.
Add Chicken to the pan. Let it be there undisturbed for a minute, then toss and sauté for another minute. Add the peppers, sauce mix, chicken stock, and cornflour slurry.
Cook until the chicken has cooked through.
More Instant Pot Chicken recipes you might like
Instant Pot Chicken in a creamy tomato sauce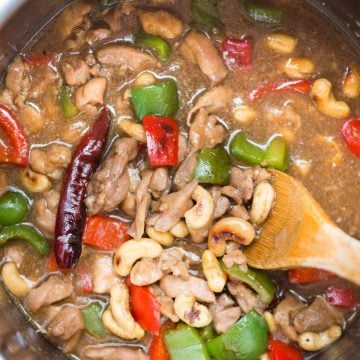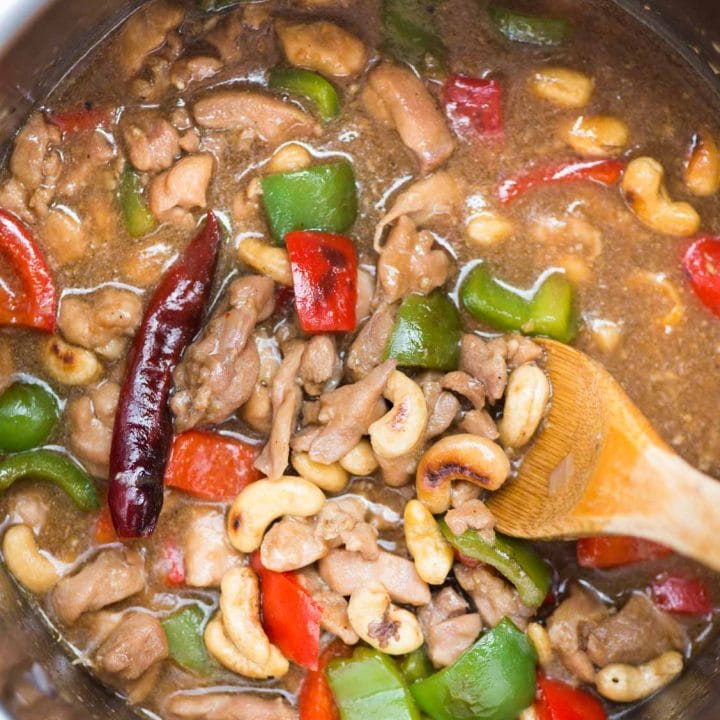 Instant Pot Cashew Chicken
Better thank takeout style Cashew Chicken made in the Instant Pot. It is super quick and easy to do, with an incredible sauce to serve with rice.
Ingredients
500 grams Boneless chicken thighs cut into thin strips or bite sized pieces
1 cup Bell pepper
2 tablespoon Vegetable oil
1 dry red chili
1 medium Onion
1 tablespoon Garlic minced
1 teaspoon ginger minced
¼ cup Chicken Stock
½ teaspoon white pepper powder
1 tablespoon Cornstarch Mixed in 3 tablespoon water
½ cup toasted Unsalted Cashew
For Sauce
3 tablespoon low sodium Soy Sauce
1 tablespoon Oyster Sauce
1 tablespoon Shaoxing wine (ref note 1)
1 teaspoon sugar
1 teaspoon toasted Sesame Oil
Instructions
To make in Instant Pot
Mix all the ingredients mentioned under Sauce.

Add two tablespoons of the above sauce to the chicken and let it marinate while you do the rest of the steps.

Switch on the instant pot and set it to 'Saute Mode'.

When the inner pot is hot, add a teaspoon of oil(from 2 tablespoons of oil). Add cubed peppers and saute for 2 minutes.

The peppers would look slightly charred and smells nice and smokey. Remove from the pot and keep it aside.

Next to the pot add rest of the oil, when oil is hot add dry red chilli, minced ginger, minced garlic, chopped onion. Saute for a minute, until the onion has softened a bit and ginger garlic is aromatic.

Add marinated chicken to the pot. Toss well and let it saute for 1 minute.

Add the rest of the sauce, chicken stock, and pepper to the pot.

Close the lid and set the Instant pot to 'Manual/ High-Pressure Mode'. Set the timer to 4 minutes.

The timer will start when the IP comes to full pressure, it may take around 5 minutes.

When the timer is off, carefully quick release the pressure.

Stir in the cornflour slurry, sauteed peppers, roasted Cashew. Let it cook for a few seconds and the sauce will thicken.

Serve hot over rice.
Notes
Substitute Shaoxing wine with dry sherry or simple chicken stock. 
For a less sauce version, skip adding 1/4 cup chicken stock.
You can also substitute Oyster Sauce with Hoisin Sauce. 
Nutrition
Serving: 1serving | Calories: 402kcal | Carbohydrates: 11g | Protein: 22g | Fat: 29g | Saturated Fat: 12g | Cholesterol: 123mg | Sodium: 767mg | Potassium: 412mg | Fiber: 1g | Sugar: 4g | Vitamin A: 1264IU | Vitamin C: 50mg | Calcium: 25mg | Iron: 1mg