Curried Mayonnaise Chicken Drumsticks
This post may include affiliate links that earn us a small commission.
Chicken drumsticks marinated in Curried Mayonnaise and roasted to perfection. The drumsticks are juicy and packed with curry flavors. A no fail marinade that makes sure to keep the meat juicy. Use basic ingredients available in your kitchen for this Curried Mayonnaise Roasted Chicken Drumsticks and what you will have is a perfect appetizer for your evening party.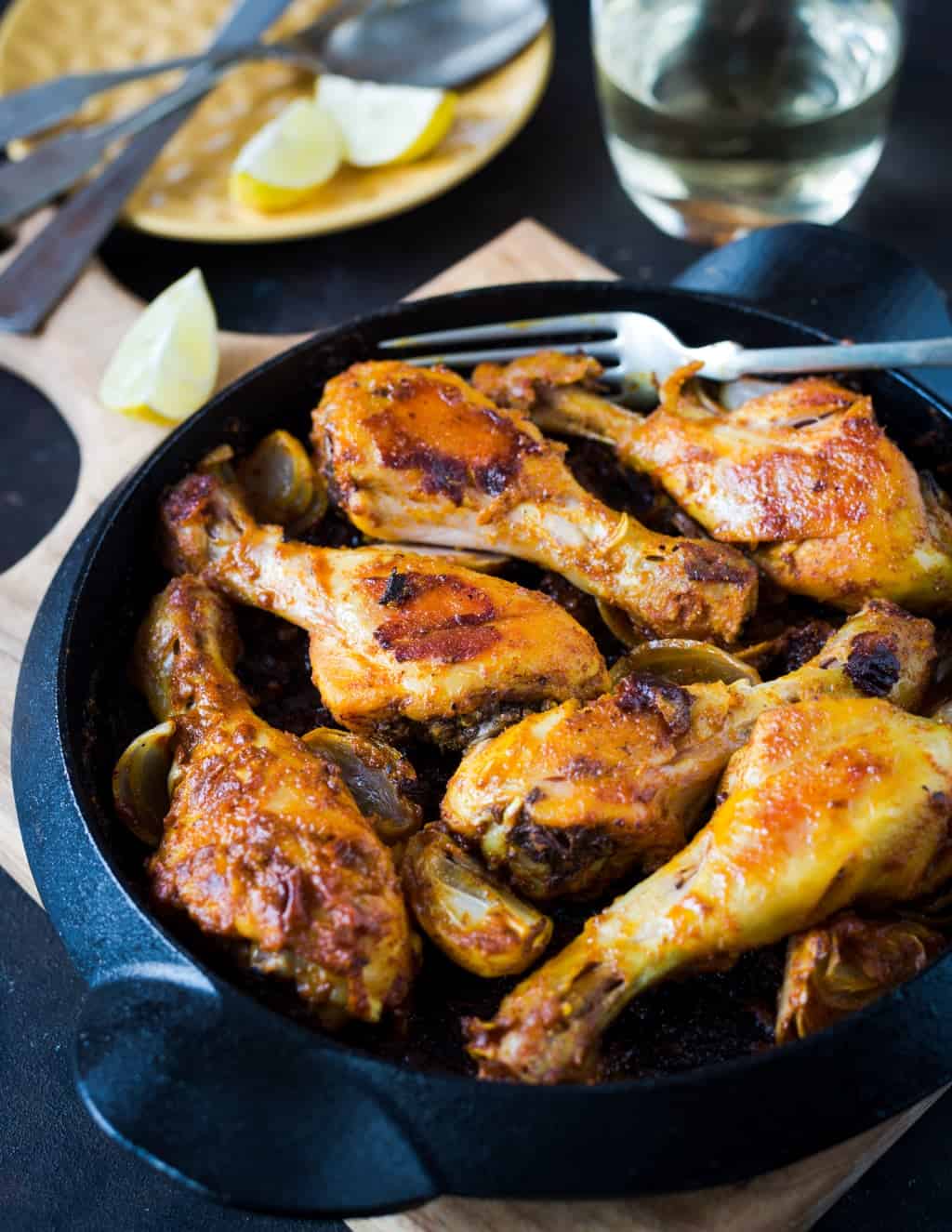 Flavours In Your Inbox
Subscribe for recipes straight to your inbox
No oil or butter, the fat in Mayo is good enough for the roast. The egg in Mayo helps in giving good flavor and browning the drumsticks. I use this marinade most of the time . The base of the marination is mayo and if don't have curry powder then just add your favorite herb or seasoning to it and you are good to go.
I love to experiment with different marinade. Check out these one pan chicken recipes for a quick weekday dinner ROASTED CILANTRO CHILLI CHICKEN THIGHS AND POTATOES and HARISSA ROASTED CHICKEN .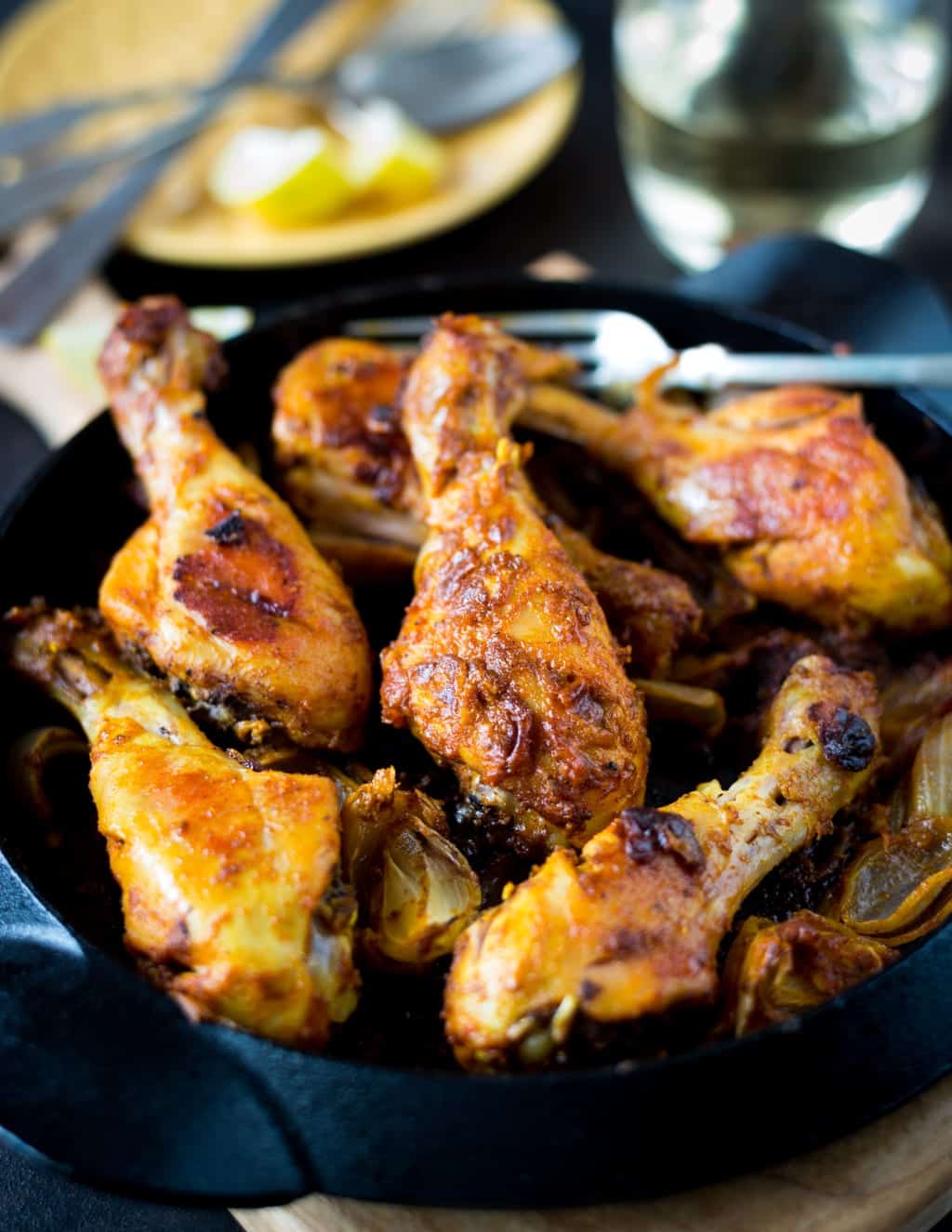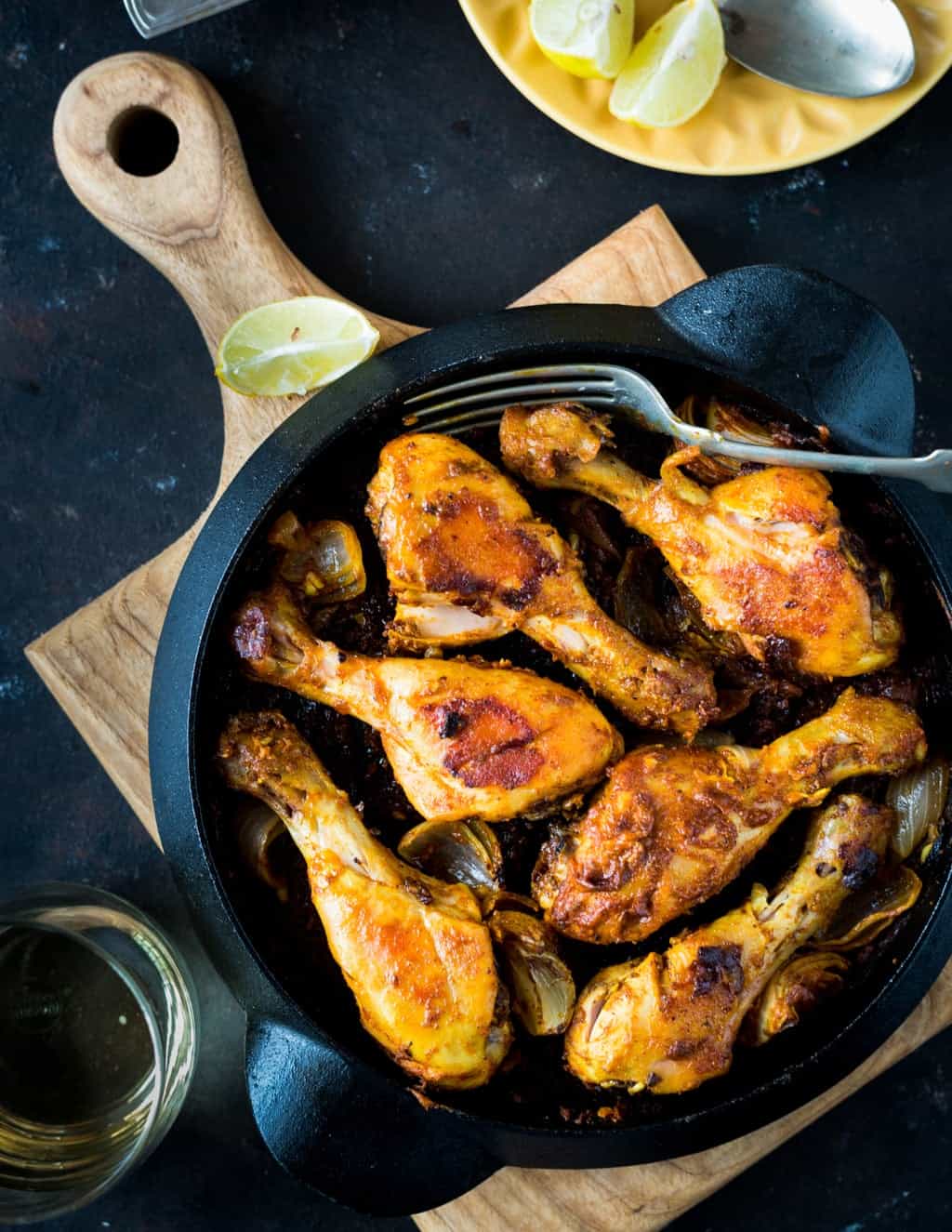 Save
Save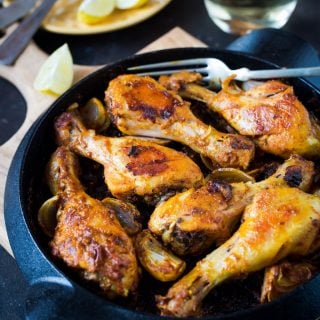 Curried Mayonnaise Roasted Chicken Drumsticks
Ingredients
500 gms Chicken drumstick chicken thigh / with bone
2 tbsps mayonnaise low fat
1 tbsp yogurt thick
1 tbsp curry powder (See Notes)
½ tsp turmeric powder
1 tsp chili powder
7 - 8 pods garlic garlic ,minced finely / 1 tsps (heaped) paste
1 tsp honey
to taste salt
2 quartered onions (optional)
Instructions
Mix all the ingredients except chicken and onion in a big mixing bowl.

Wash and pat dry the chicken drumsticks.Make slits on the drumsticks using a sharp knife. Add to the marinade. Coat well and let it marinate at least for 4 hours up to overnight.

Remove marinated chicken from refrigerator and bring into room temperature.

Preheat oven to 200 degree celsius.

Shake off any extra marinade and arrange the drumsticks in a single layer in a oven proof dish (Cast iron works best).

In the remaining marinade toss quartered Onions (You can also add par cooked potatoes, carrots and peppers). Arrange on the baking dish.

Bake for 20 - 25 minutes.
Notes
Note : I have used Eastern Chicken Masala. If you are in India you have plenty of option for curry powder. If the curry powder that you are using is very strong and of intense flavour then adjust the quantity as per preference. There are few curry powders that has turmeric in it, if so then skip adding turmeric to it.