Brown rice tossed in Roasted Chicken, Crunchy vegetables, peppers and subtle spices. It is super healthy and packed with protein. This has very minimal amount of oil too. Can any dish be healthier than this?
This recipe is coming to you just at the right time of the year. After all that sugar and butter loaded stuff you might have had during the holiday season, you might be looking for a healthy recipe right ??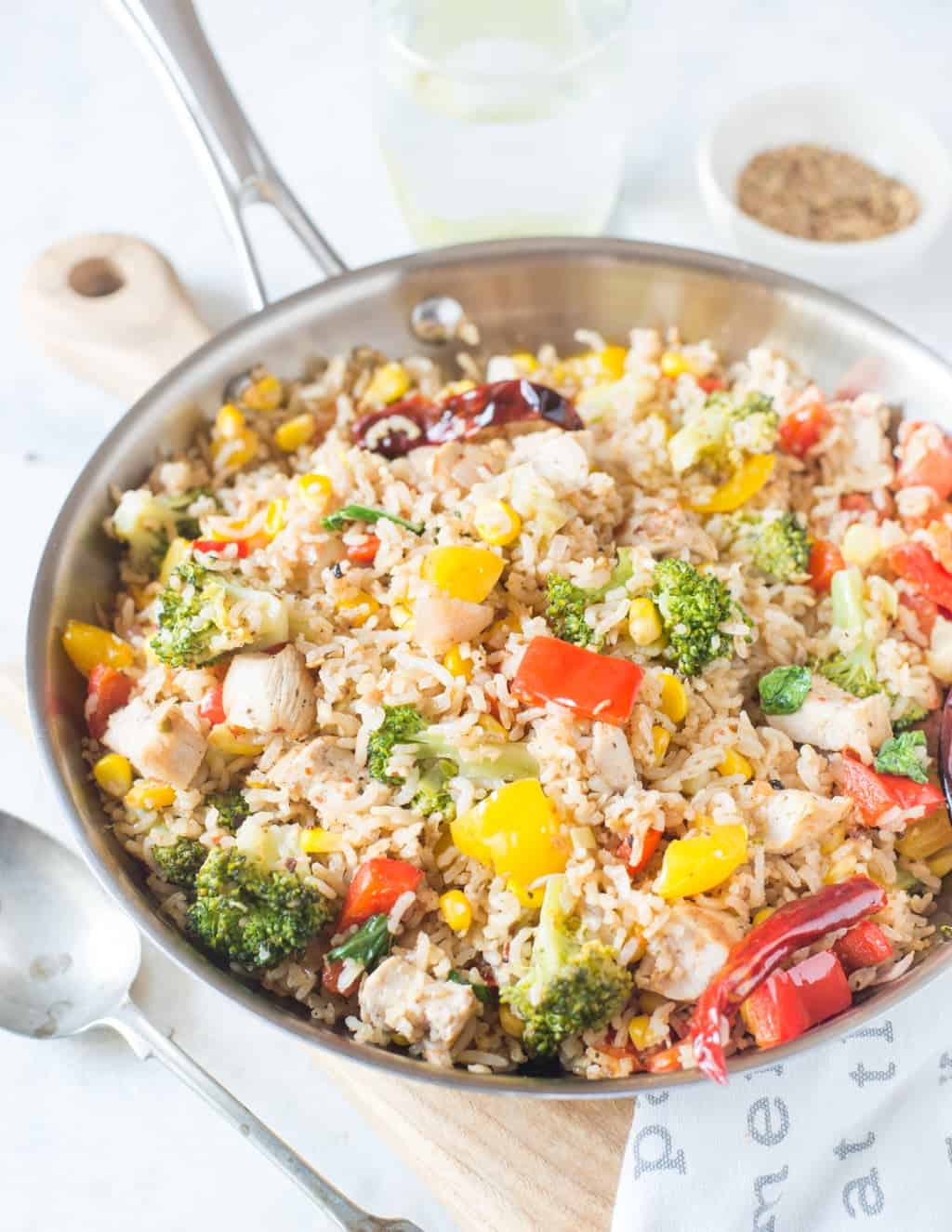 So this recipe was not planned to be posted now. It is just a coincidence. I have been making this for quite some time now. Of late I have switched to brown rice. I love rice and just can't think of skipping it for a day. But when weight loss is your agenda then you have to stay far away from rice. That should be the last thing you should think about. I am slowly substituting white polished rice with brown rice or millets. It is not easy because the more you try to avoid something, the more you crave for it. Isn't it ?
I have been working on creating interesting recipes using brown rice and millets. So far I have been enjoying these new grains. This particular recipe is one of my favorites. The colorful veggies, the crunch, nutty flavor of brown rice and it is very fulfilling too.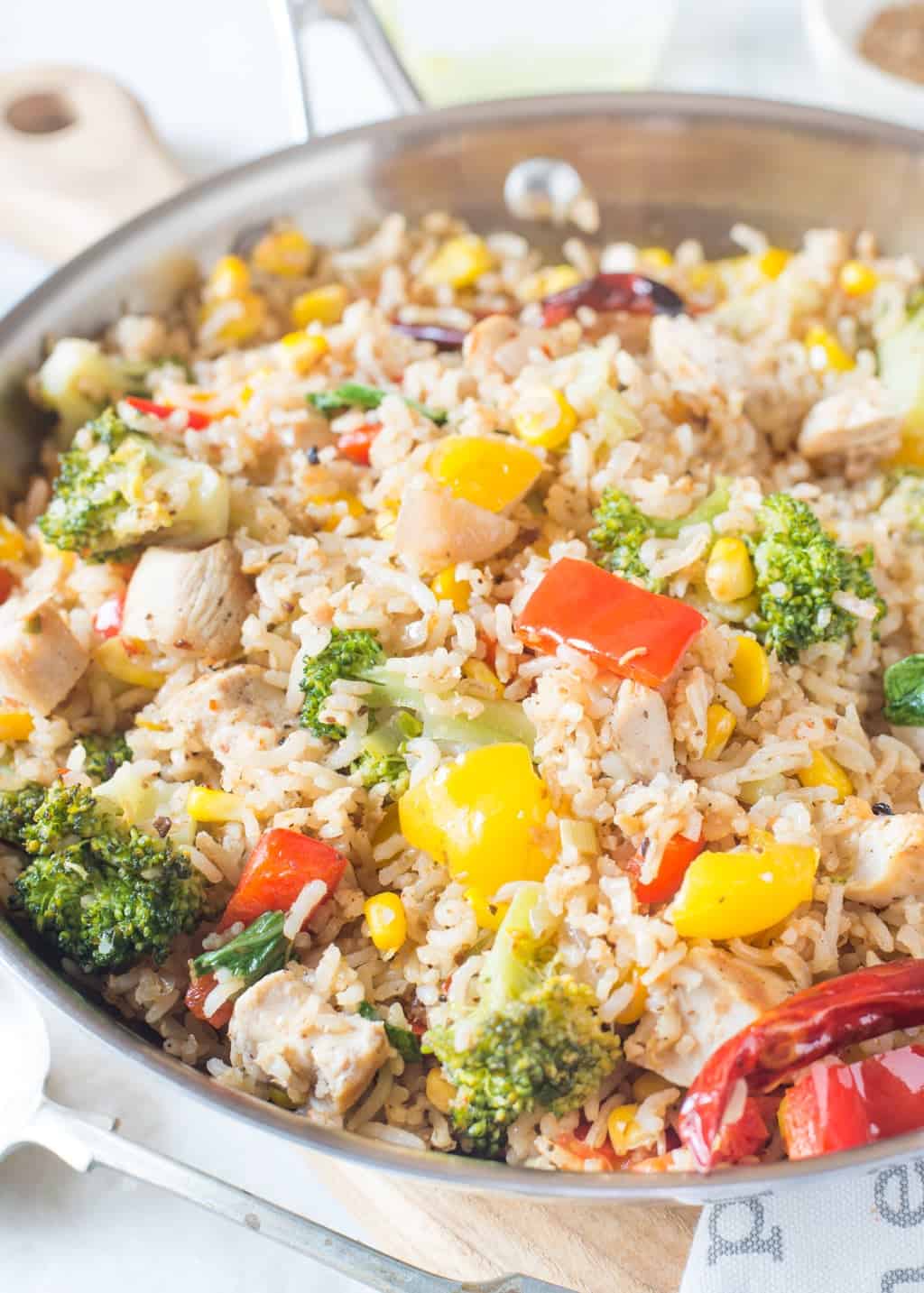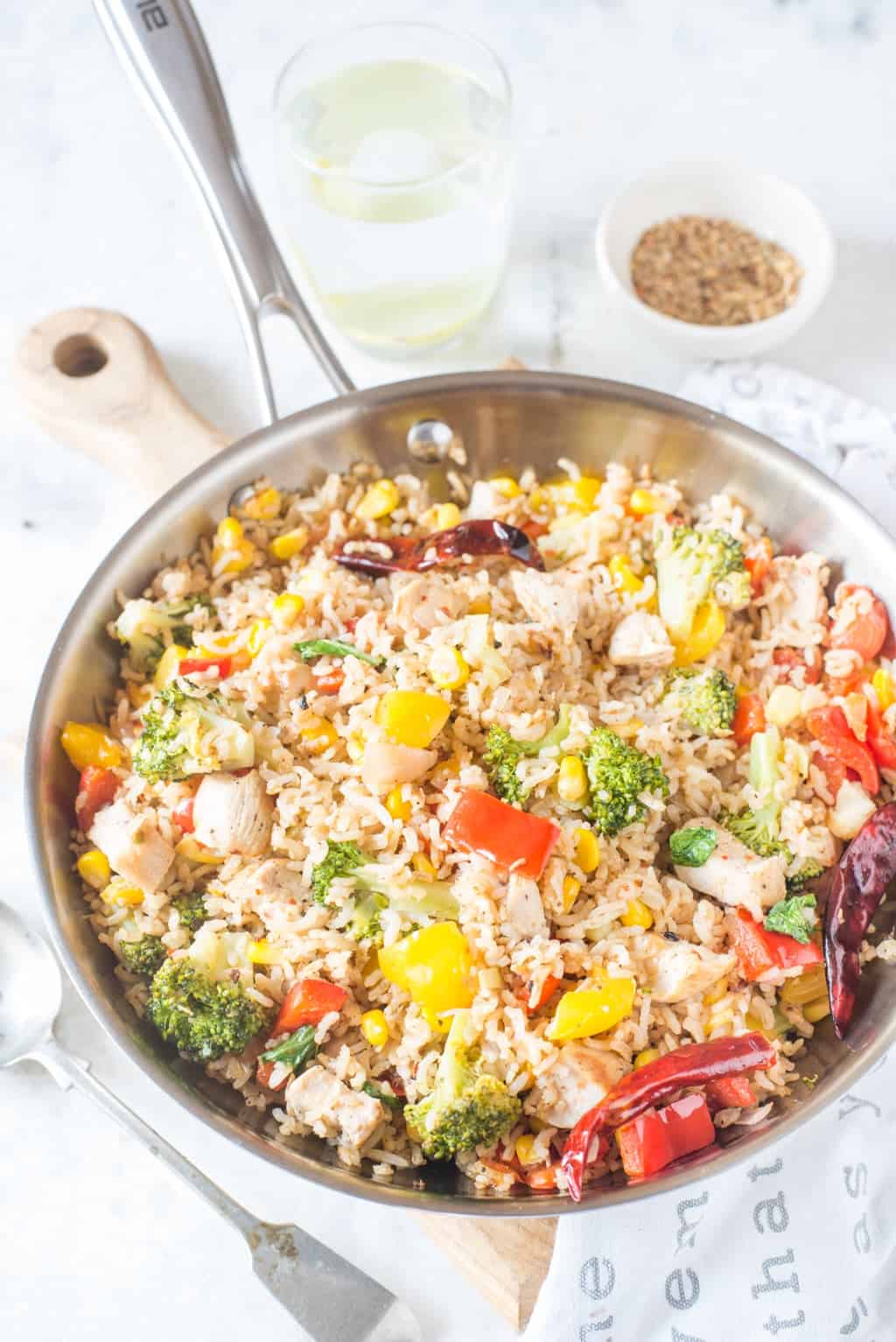 If you want to skip chicken that's absolutely fine. There will still be enough vegetables. If you wish you can add chickpeas or tofu instead of chicken to compensate the protein part. But I would strongly recommend adding broccoli and peppers. Sweet corn adds a hint of sweetness in every bite, it is optional though.
If you find cooking brown rice is time taking then the easiest way is to soak it for 15-20 minutes before cooking. This will shorten the cooking time.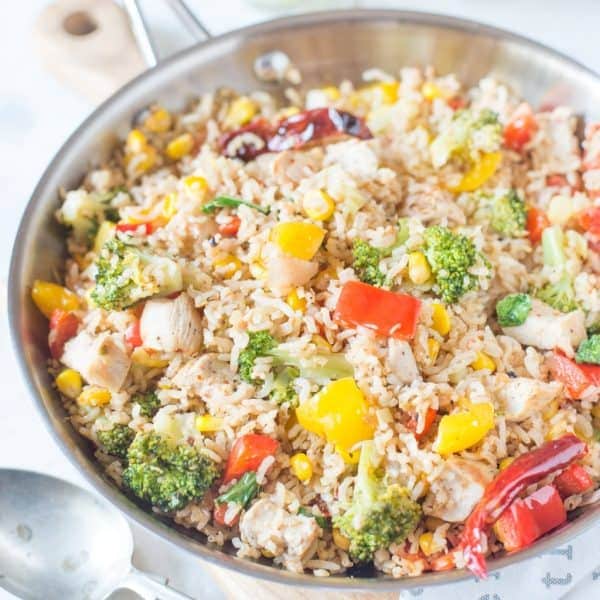 | | |
| --- | --- |
| | |
Season chicken with salt and pepper. Add 1/2 tsp minced garlic and lemon juice. Let it marinate for 1 hour.

Heat a griddle pan. Lightly brush with oil. Grill chicken 4 minutes each side/ or till it is cooked through. Let it rest. Once completely cold cut it into small cubes.

In a pan add remaining oil. Add minced garlic and dried red chillies. Once aromatic add chopped Onion. Cook onion till soft and transparent.

While onion is cooking, blanch broccoli florets in boiling salted water for 3-4 minutes. Drain and keep aside.

When onion is cooked add tomatoes and cook till they are soft.

Then add chopped peppers, blanched broccoli florets, white part of bok choy(reserve the green part). Toss on medium-high heat for 4-5 minutes. The vegetables should be cooked but still crunchy.

Add cooked brown rice, Chicken cubes, cooked corn kernels, green part of bok choy(roughly torn). Add the italian seasoning, salt and pepper. Toss on medium-high heat, till everything is mixed (for about 5 minutes).