Vegetable and Chicken Brown Rice
This post may include affiliate links that earn us a small commission.
This Brown Rice Recipe with Chicken and vegetables is healthy, filling and easy to make. When made with leftover rice and precut vegetables, it would take less than 15 minutes.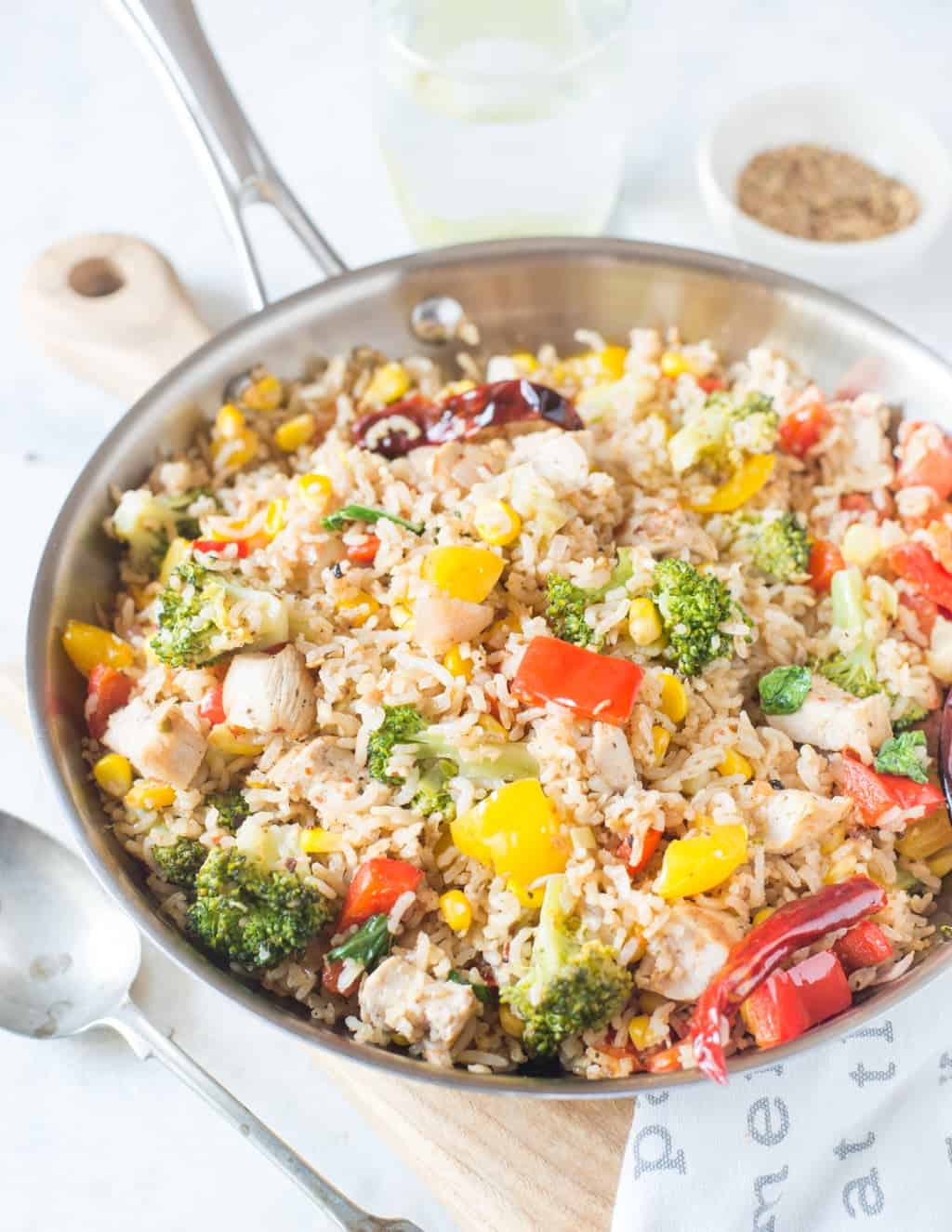 Nutty Brown rice, Chicken and array of vegetables, this Brown Rice Recipe is loaded with all good stuff and tastes delicious too.
This recipe is coming to you just at the right time of the year. After all that sugar and butter loaded stuff during the holiday season, We all need something light. healthy and nutritious. This recipe just fits the bill.
Have I told you how much I love rice? Basically I have been eating rice all my life and given a preference I can have to for all the meal in a day. In India, we mostly cook white rice.
In recent times brown rice grew into popularity because of its high fibre content and nutritional value.  I know many who don't like brown rice, especially if you are used to eating white rice.  But I love brown rice because of its nutty taste and chewy texture.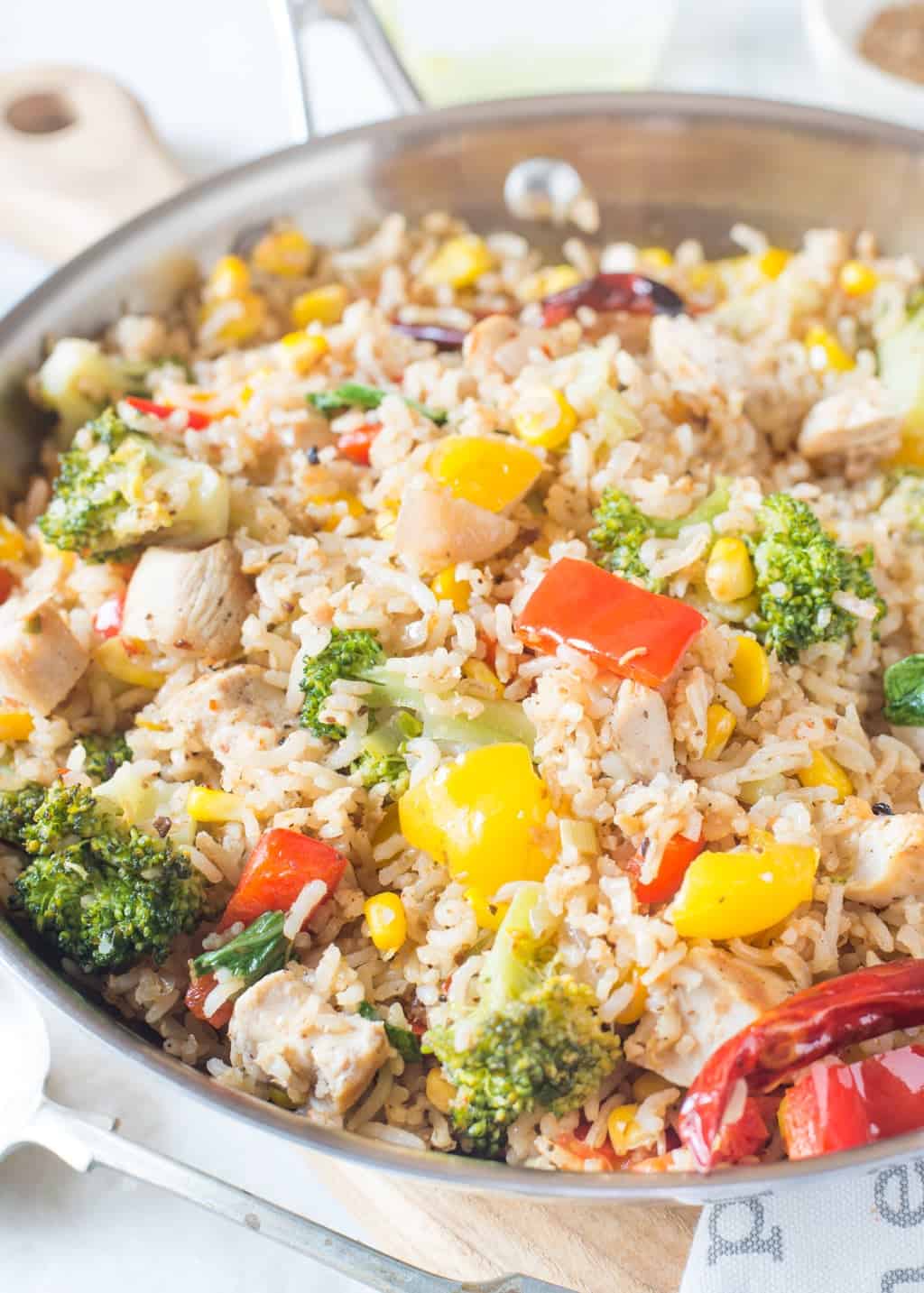 How To Cook Brown Rice?
Fluffy cooked rice is the key to any rice recipes. Cooking Brown rice needs time and patience. I always cook brown rice in a pot of boiling water and once cooked drain excess water. Tips for perfectly cooked, fluffy Brown rice
Rinse the rice a couple of times and soak in water for 15-20 minutes. Soaking rice not only quickens the cooking process but also ensures fluffy grains once cooked.
Use enough water while cooking (if you are following cook and drain method)
Once cooked and the extra water is drained, Cover and let the rice sit for 10 minutes.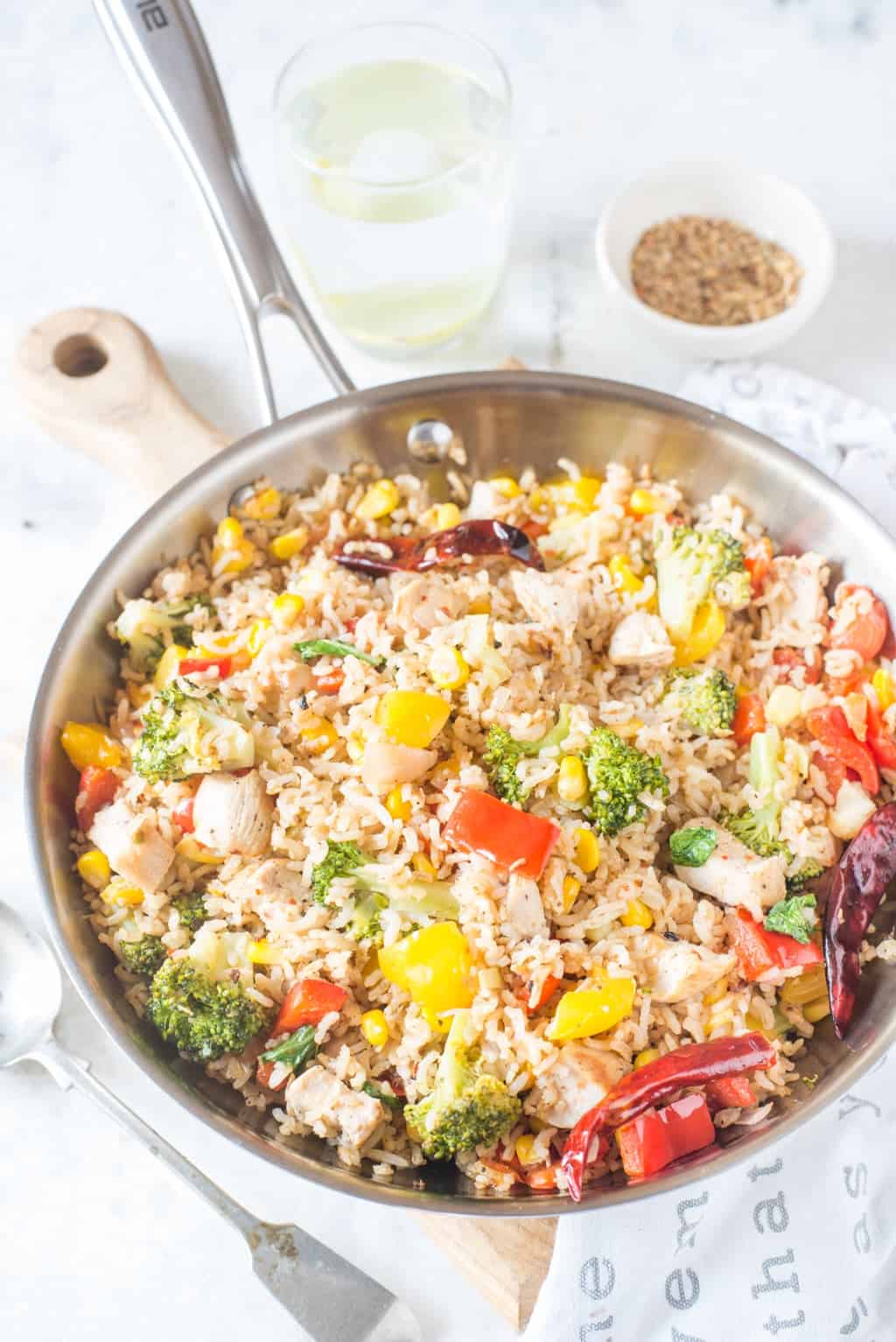 If you want to skip chicken that's absolutely fine. There will still be enough vegetables. If you wish you can add chickpeas or tofu instead of chicken to compensate the protein part. But I would strongly recommend adding broccoli and peppers. Sweet corn adds a hint of sweetness in every bite, it is optional though.
If you find cooking brown rice is time taking then the easiest way is to soak it for 15-20 minutes before cooking. This will shorten the cooking time.
More Rice Recipes That I Love…
Instant Pot Garlic Herb Chicken and Rice
Flavours In Your Inbox
Subscribe for recipes straight to your inbox
Stuffed Peppers with Spicy Lamb and Brown Rice
Instant Pot Curried Chicken and Rice
Easy Herbed Garlic Butter Rice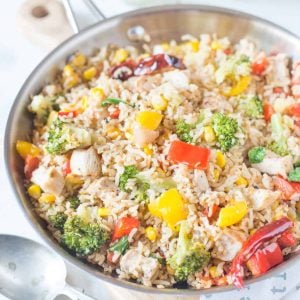 Chicken and Vegetable Brown Rice
This Brown Rice Recipe with Chicken and vegetables is healthy, filling and easy to make. When made with leftover rice and precut vegetables, it would take less than 15 minutes.
Ingredients
3 cups brown rice cooked
2.5 tbsps olive oil
1 chicken breast boneless ( roughly 200 gms)
7 - 8 pods garlic , minced
2 red chilli dry
1 Onion medium , Chopped
7 - 8 cherry tomatoes or (1 large tomato)
1 small head broccoli of
1 red bell pepper small
1 bell pepper small yellow
1 small head bok choy of
¼ cup sweetcorn cooked
1.5 tsps italian seasoning ( or mixed dried herb like thyme,oregano and rosemary)
½ tsp lemon juice fresh
salt pepper and as per taste
Instructions
Season chicken with salt and pepper. Add 1/2 tsp minced garlic and lemon juice. Let it marinate for 1 hour.

Heat a griddle pan. Lightly brush with oil. Grill chicken 4 minutes each side/ or till it is cooked through. Let it rest. Once completely cold cut it into small cubes.

In a pan add remaining oil. Add minced garlic and dried red chillies. Once aromatic add chopped Onion. Cook onion till soft and transparent.

While the onion is cooking, blanch broccoli florets in boiling salted water for 3-4 minutes. Drain and keep aside.

When the onion is cooked add tomatoes and cook till they are soft.

Then add chopped peppers, blanched broccoli florets, the white part of bok choy(reserve the green part). Toss on medium-high heat for 4-5 minutes. The vegetables should be cooked but still crunchy.

Add cooked brown rice, Chicken cubes, cooked corn kernels, green part of bok choy(roughly torn). Add the Italian seasoning, salt and pepper. Toss on medium-high heat, till everything is mixed (for about 5 minutes).

Serve warm.
Nutrition
Serving: 100g | Calories: 803kcal | Carbohydrates: 138g | Protein: 33g | Fat: 16g | Saturated Fat: 2g | Cholesterol: 36mg | Sodium: 272mg | Potassium: 2023mg | Fiber: 14g | Sugar: 12g | Vitamin A: 12774IU | Vitamin C: 358mg | Calcium: 377mg | Iron: 7mg