This post may include affiliate links that earn us a small commission.
Kala Jamun, a dark-colored variant of gulab jamun, has nice crisp crystalized coating on the outside and is juicy, sweet, and soft inside. Treat yourself to super soft, juicy, and sweet Kala Jamuns on any festive occasion by following this step-by-step recipe.
For other delicious Indian sweets, appropriate for most festive occasions, you may check out Sweet Boondi (Meethi Boondi)
Flavours In Your Inbox
Subscribe for recipes straight to your inbox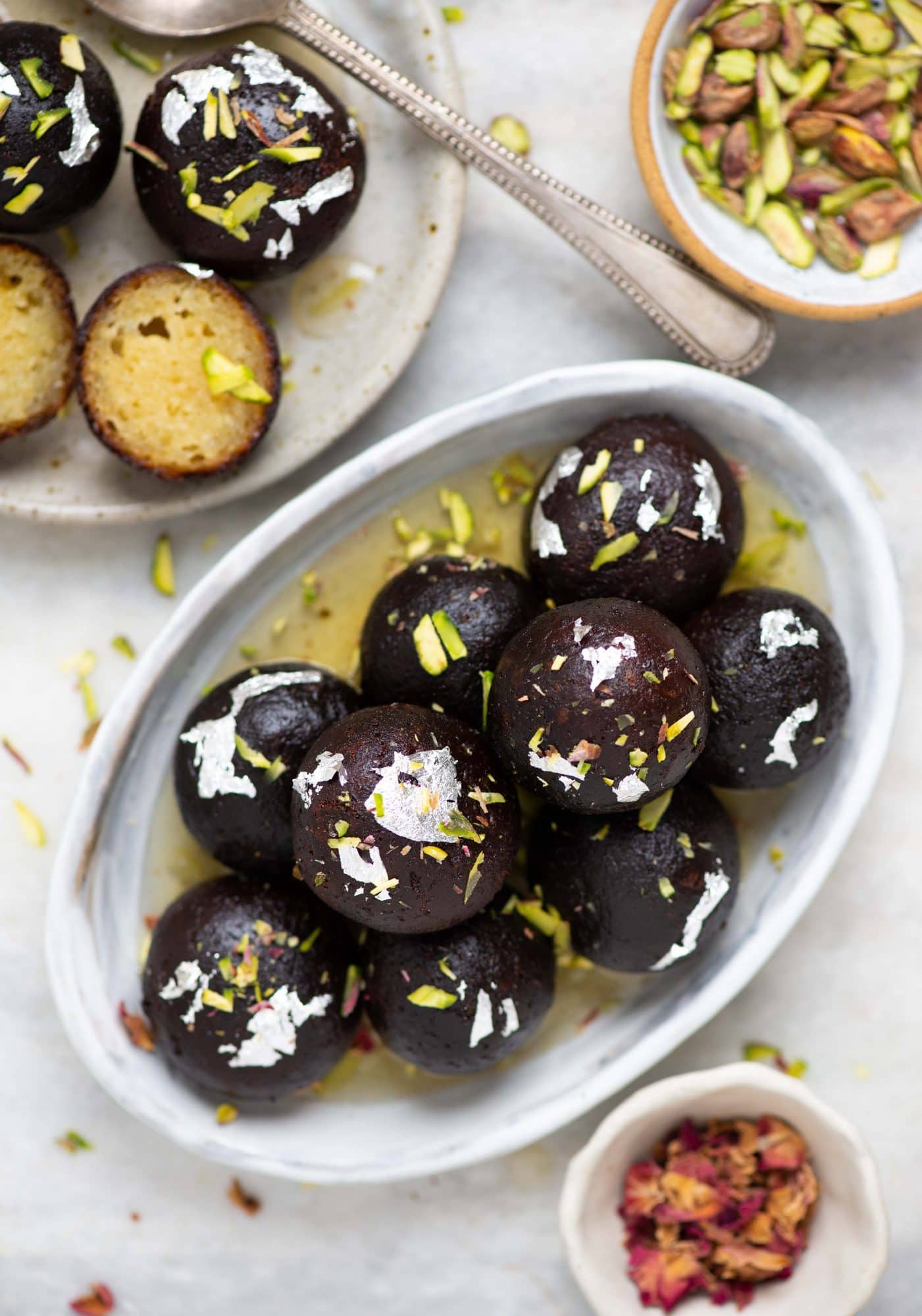 Kala Jamun and gulab jamun are very popular sweets from the Indian subcontinent and many other south Asian countries like Maldives, Bangladesh, etc. They are also made in many countries around the world, which have a good population of south Asian diaspora.
Did you know gulab jamun is the national dessert of Pakistan? Well, that's true and goes to show how popular this sweet is.
It is a true delicacy and is also made at home and offered after meals as a dessert. They are also offered to celebrate events and occasions.
Kala Jamun vs Gulab Jamun
Kala Jamun is a milk-based sweet made from reduced milk (i.e. khoya) traditionally. Although many modern recipes also use milk powder, I have used khoya here as that gives a wonderful texture to the jamuns.
Gulab jamuns are brown in color whereas Kala jamuns are almost black. Kala means 'black' and these jamuns are called as such due to the dark color (a few shades from black). They get their dark color when the sugar added to the dough gets crystallized while frying.
A perfect Kala Jamun should have a bit hard exterior – very dark in color and which should be like a shell for the juicy and soft part inside. On splitting a Jamun, the interior appears soft, juicy and the center should be as soft as any other part. Most often, jamun made at home comes with a hard-core which shows it hasn't cooked properly while frying.
Both Kala and Gulab jamuns have the scent of rose (Gulab) which comes from rose water added in the syrup. They are garnished with edible silver foils and sometimes they have chopped nuts like pista or cashew in the middle.
This recipe covers all the details and following the instructions will ensure that you get very juicy and softcore of the Jamun.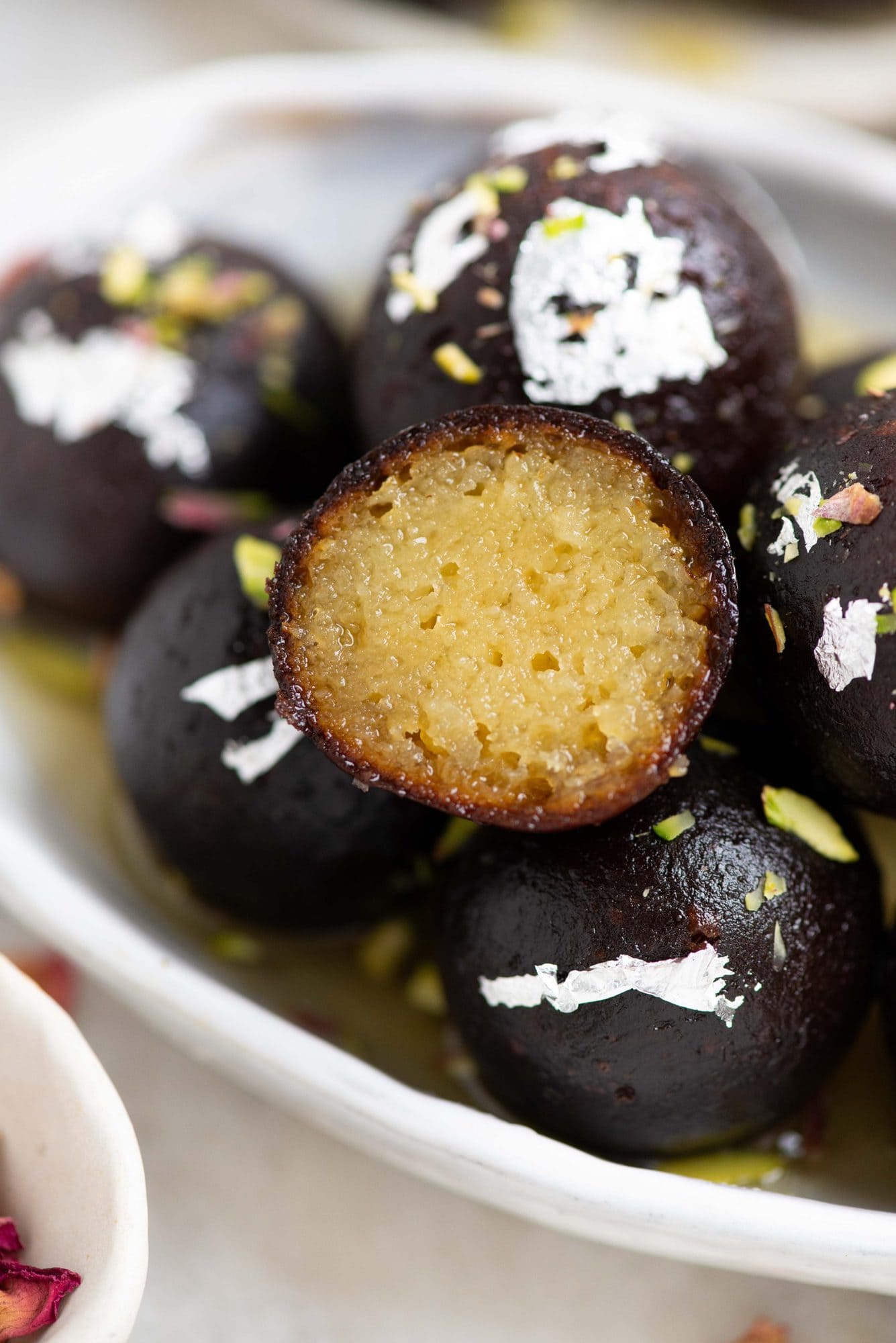 Ingredients
For Jamuns
Khoya – khoya are milk solids obtained by simmering full-fat milk over hours. Water content in the milk evaporates leaving only the solids behind. The khoya used to make gulab jamun is soft khoya also known as Dhaap.
Paneer – Homemade cottage cheese or readymade paneer from nearby stores.
Maida
Sooji
Milk
Baking soda
For Sugar Syrup
Sugar
Water
Lemon juice
Rose water
Cardamom green , crushed
Pinch of saffron
Tip for perfect Jamun
Khoya is grainy to start with. When mashed properly, the lumps disappear and you get a smooth and soft paste.
Suggest to use your hands to mash the khoya. The khoya when mashed releases oil and that makes the khoya mash more soft and smooth. You need to do it in a routine motion using your palm. Refer to the video to see the mashing technique.
While making the dough after adding paneer and flour(Maida), add the milk little by little. Repeat the procedure by adding a little of milk and then mix to make a dough. While the mixture appears dry, keep on adding a little milk, mix to make dough smoother. Repeat.
If the dough turns out a bit more wet than desired, add some more flour to get the required consistency back.
The temperature of the oil is critical here. It should never be too hot. Start with medium hot and maintain it all the way through. Keep testing the oil by putting a small ball of dough to check if it rises up. If you have left for long and it has got too hot, lower the flame for some time.
Do not crowd the pan with too many dough balls. You will need to keep flipping the balls so that they get browned and cooked evenly. Less number of dough balls will make doing this easier.
Store
You can keep the Kala jamuns covered in a container at room temperature for up to 3 days. You can also refrigerate them for up to a week.
As the jamuns are deep-fried in oil and dipped in sugar syrup, it stays fresh for a week at least.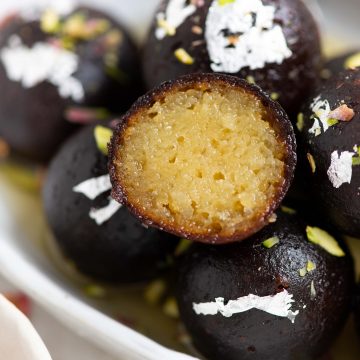 Kala Jamun
Ingredients
200 gms khoya soft / / dried evaporated solids
½ cup Paneer grated (about 60 grams)
4 tablespoon maida All purpose flour /
1 tablespoon Sooji
pinch of soda
3 tablespoon milk
For Sugar syrup
2 cups sugar
1.5 cups water
¼ tsp lemon juice
1 tablespoon rose water
2 – 3 cardamom green , crushed
pinch saffron
Instructions
In a bowl grate khoya, mashed it well using hands.So that there is no lumps. In a separate bowl mash fresh cottage cheese very well, It shouldn't look grainy any more.

Add mashed cottage cheese to the khoya bowl, add flour, milk and gently mix everything using hands.Form into a smooth dough. (Don't over mix/Knead the dough for too long. stop once everything is mixed thoroughly)

Pinch small marble sized balls from the dough and roll them in a round shape between your palms,applying gentle pressure. 

If you want you can keep the balls round or make it oblong cylindrical shape. Shape all the dough and keep them covered.

In a heavy bottom pan mix sugar and water. When sugar is completely dissolved,add lemon juice and mix. 

Cook the sugar water mixture on medium heat till it becomes thin syrup like consistency . Switch off the gas. Add rose water,cardamom and saffron.

In a deep frying pan heat oil on medium heat. Once the oil is hot,slide a small ball of dough to the oil. The dough ball should slowly rise up and start floating. It indicates the right temperature of oil.

Slid shaped dough balls in batches. Reduce the heat to medium. Once the jamuns start floating on top,gently keep on turning them to make sure even browning. Fry till it looks dark brown in colour.

Drain excess oil in a paper towel and quickly add to warm sugar syrup.Cover and allow the jamuns to soak in the sugar syrup at least 4-5 hours or preferably overnight.
Notes
Note: 1. If using homemade cottage cheese drain the all the water from it. Any extra liquid will impact the dough consistency. 2.If the mixture looks dry , add milk little at a time. till the dough comes together.If the dough feels very wet then you can add little flour to it. 3.The temperature of oil is very important. Too hot oil will brown the jamuns quickly from the outside,while the inside will remain undercooked. 4. The sugar syrup should not be too hot,else jamuns will shrink as soon as they go into the syrup. It has to be just warm.