Instant Pot Garlic Herb Chicken and Rice
This post may include affiliate links that earn us a small commission.
This Instant Pot Chicken and rice is a wholesome dinner that the entire family will love. Garlic Herb Chicken and Rice made in the Instant Pot results in fluffy buttery rice and Juicy Chicken thighs.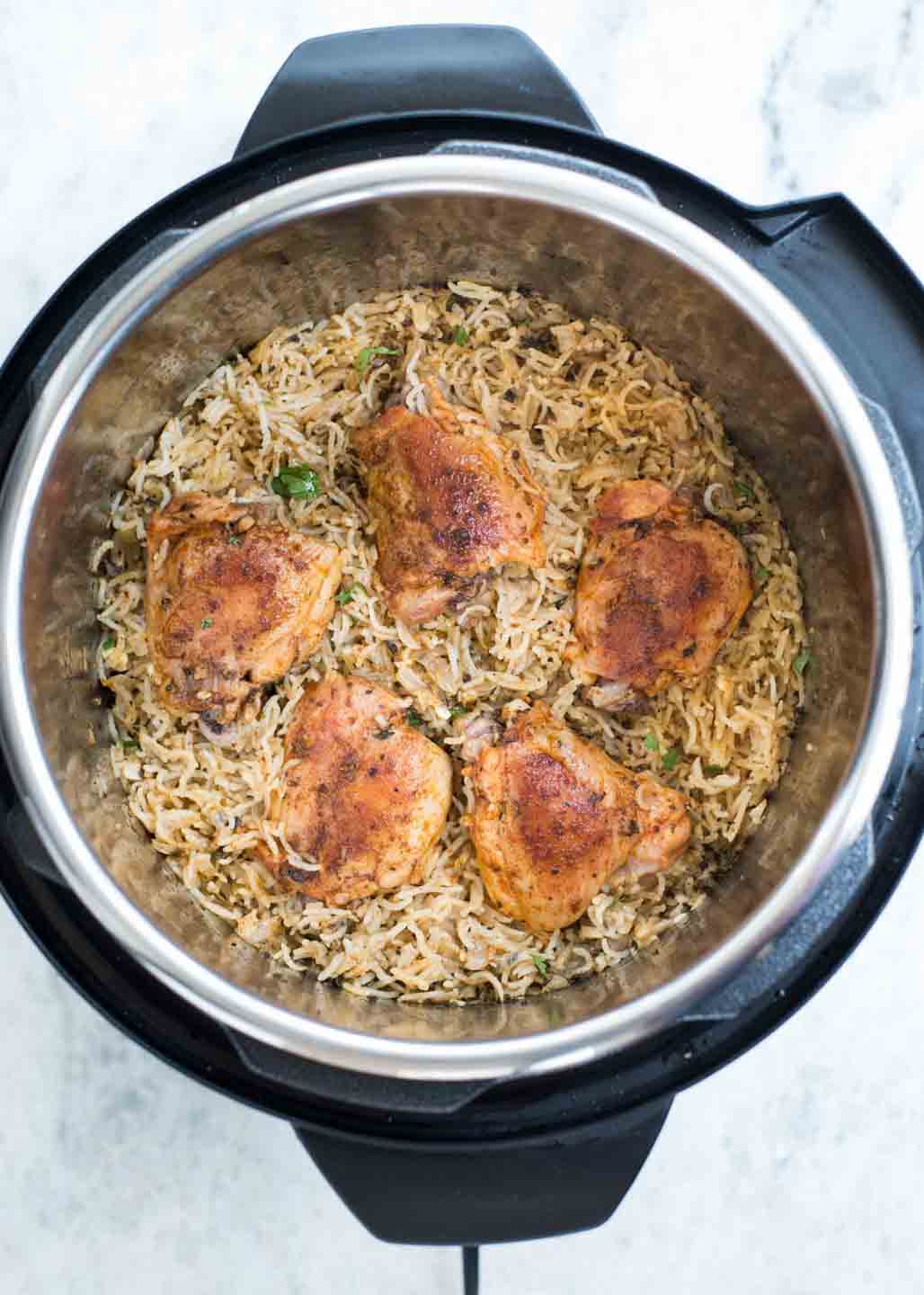 I am really obsessed with this Instant Pot Chicken and Rice recipe. This Garlic Herb Chicken and rice have so much flavour in it from the butter, lots of garlic and herbs.
Flavours In Your Inbox
Subscribe for recipes straight to your inbox
Crispy Juicy Chicken thigh with perfectly seasoned rice is one of those family-friendly recipes that you can make on any day. It is easy, healthy and made in an Instant pot in just about 15 minutes.
It turned out to be perfect with amazing flavours. If you ask me, there is nothing like a one-pot Chicken and rice dish. It is always filling and satisfying. You can easily double the recipe for a larger crowd.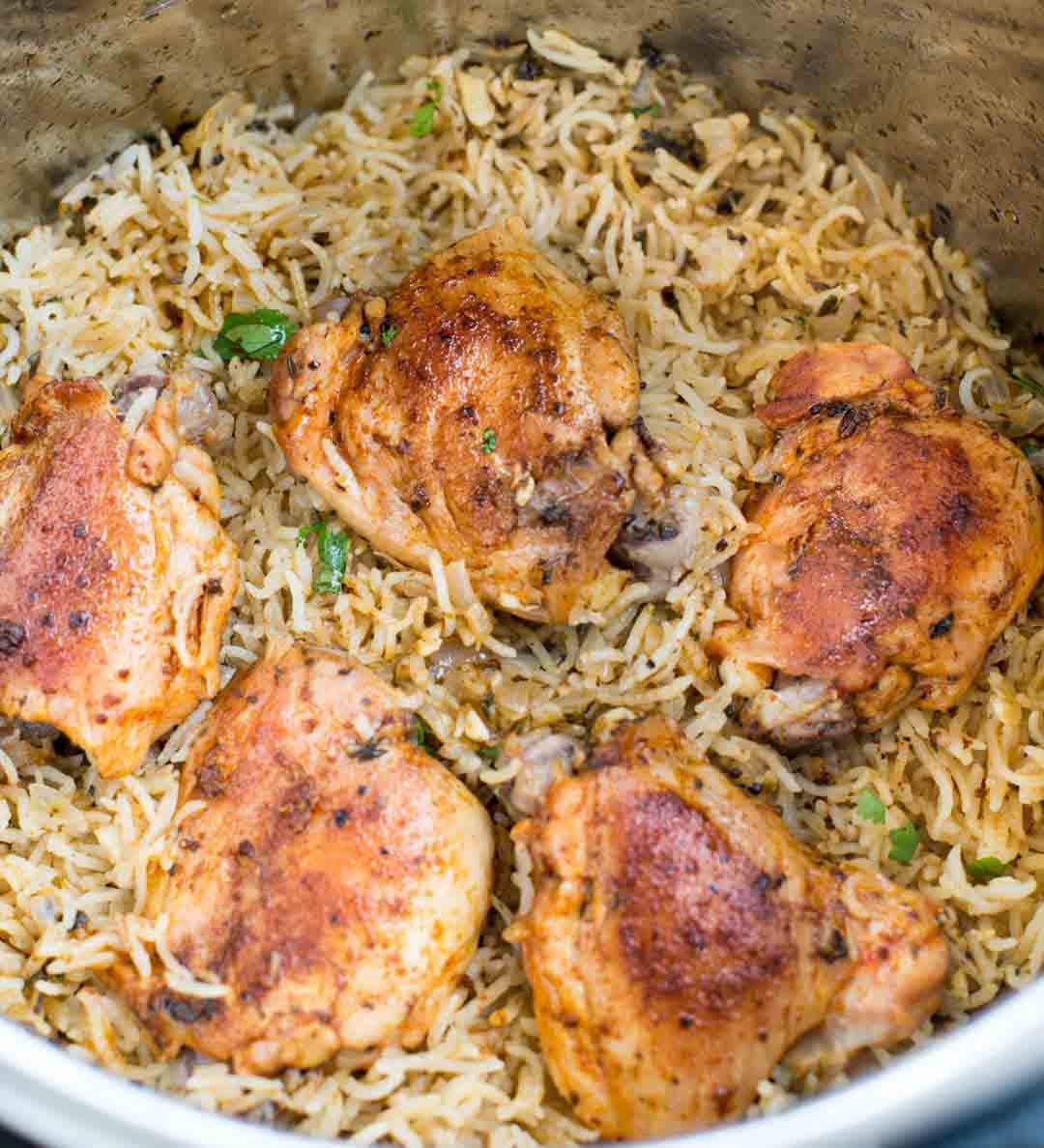 I have been exploring my new Instant Pot in every possible way. So far I am really loving the pressure cooker. After trying Instant Pot Sweet Potato Chickpea Curry, I tried making rice in the Instant Pot. Cooking rice in the instant pot is easy with an amazing result.
So, what was the result that simply wowed me? Perfect grains of rice every single time. A person like me who has been eating rice all her life was very happy with the result.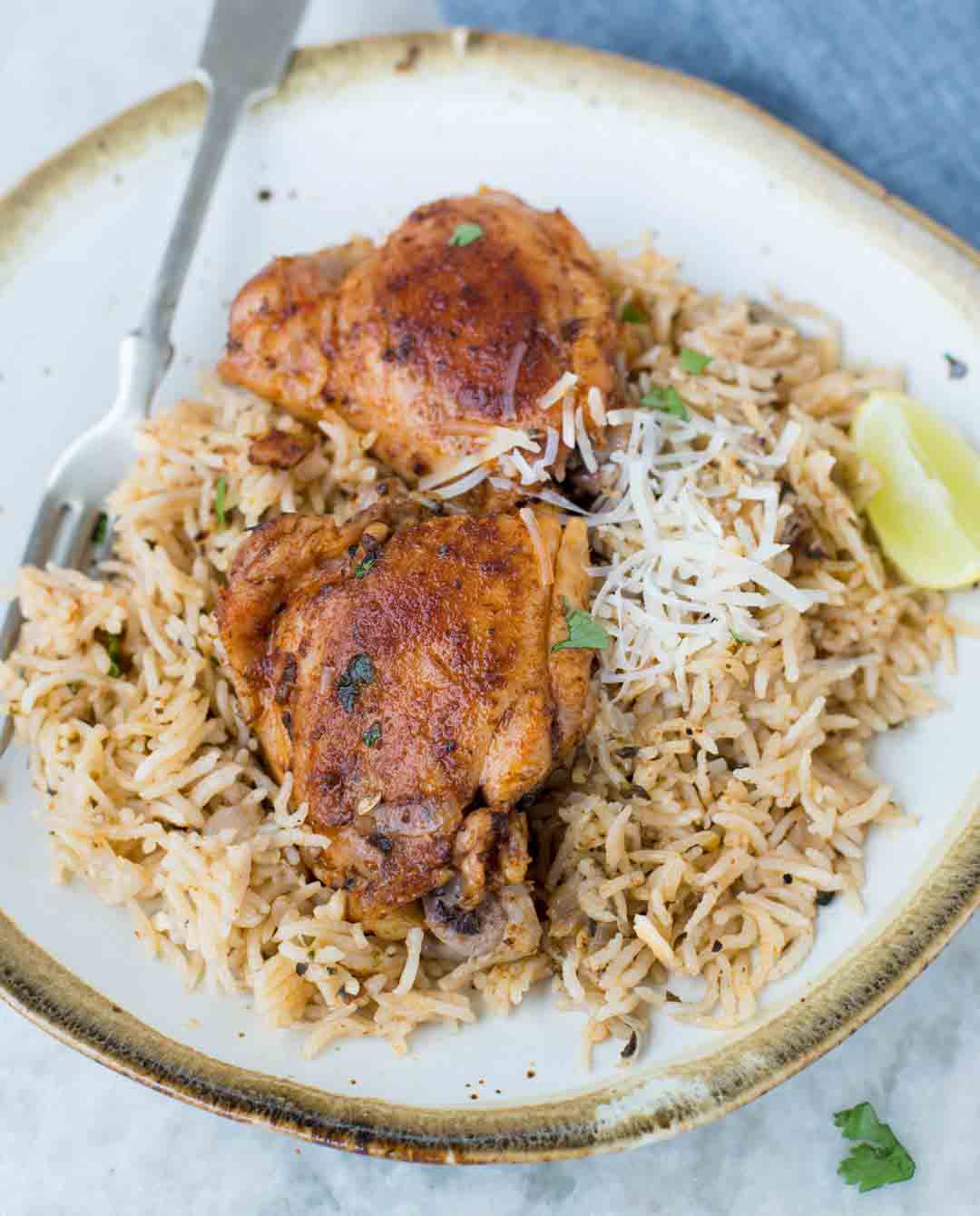 How to cook rice in the Instant Pot?
Cooking rice in the Instant Pot is easy. Rice to water ratio and the right timing is the key to perfect rice.
I cook rice in a pressure cooker or using the "cook and drain" method. When cooking rice in an open pot and drain the extra liquid you don't need to worry about the rice to water ratio.
Because once the rice is cooked, you drain excess water. On the other hand, cooking rice in a pressure cooker needs an exact rice-water ratio.
To cook perfect rice below are a few tips
Wash rice under running tap, until water runs clear.
Measure water. As a general rule for every part of rice, you need two parts of water(1:2). But while cooking in Instant Pot because there is no evaporation of water, the amount of water you would need is less. The rice to water ratio would be 1:1.5
Always add rice to warm water.
While water is warming up, soak rice for 10 – 15 minutes.
These tips are for regular white rice, long grain Basmati rice and Brown rice. But rice varieties are not only limited to this. With my 20 years of experience in cooking rice, these few tips have always worked for me. But cooking perfect rice also depends on the quality of rice.
If the rice is of the starchy kind, you will have to adjust the quantity of water and time. The age of the rice grain also determines the end result. The older/aged the grain, the better it turns out.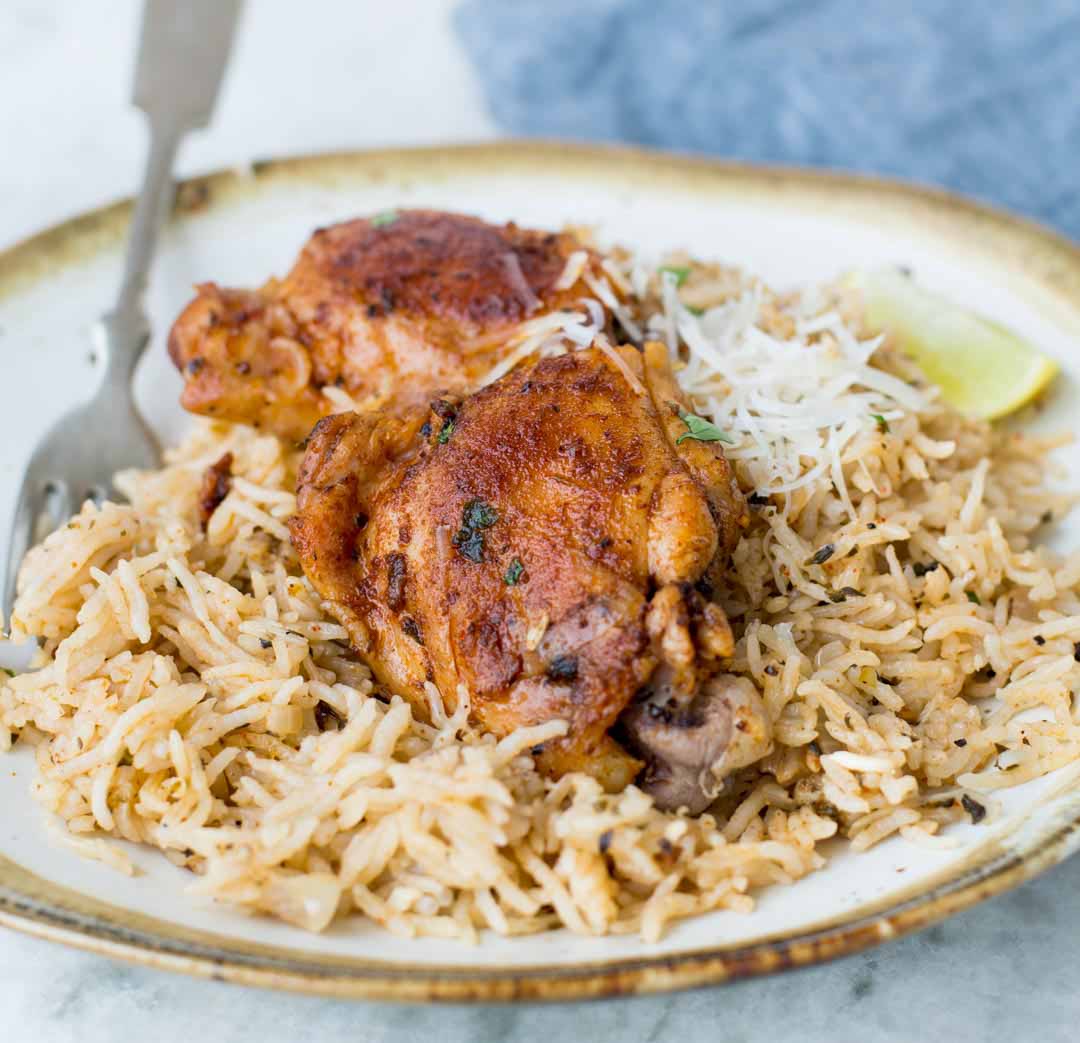 Instant Pot Chicken And Rice With Butter, Garlic & Herbs
Making Chicken and rice in Instant Pot is easy and convenient. No need for cleaning multiple pans or spending hours in the kitchen. Make it in the instant pot from start to finish in just 20 minutes.
Start with seasoning Chicken. Seasoning Chicken well and browning helps in developing flavour. I have used chicken thighs but you can also use chicken breast instead.
Next is to caramelize onion and a lot of garlic in butter, which again adds lots of flavours. You can use Olive oil instead of butter, but believe me, it will not be the same. So for once keep your worries about calories aside and use butter.
I have used a mix of herbs Oregano, thyme and parsley. But you can use any of your favourite herbs.
Using Chicken Stock instead of water makes the flavour robust. Use water or a mix of water and stock instead.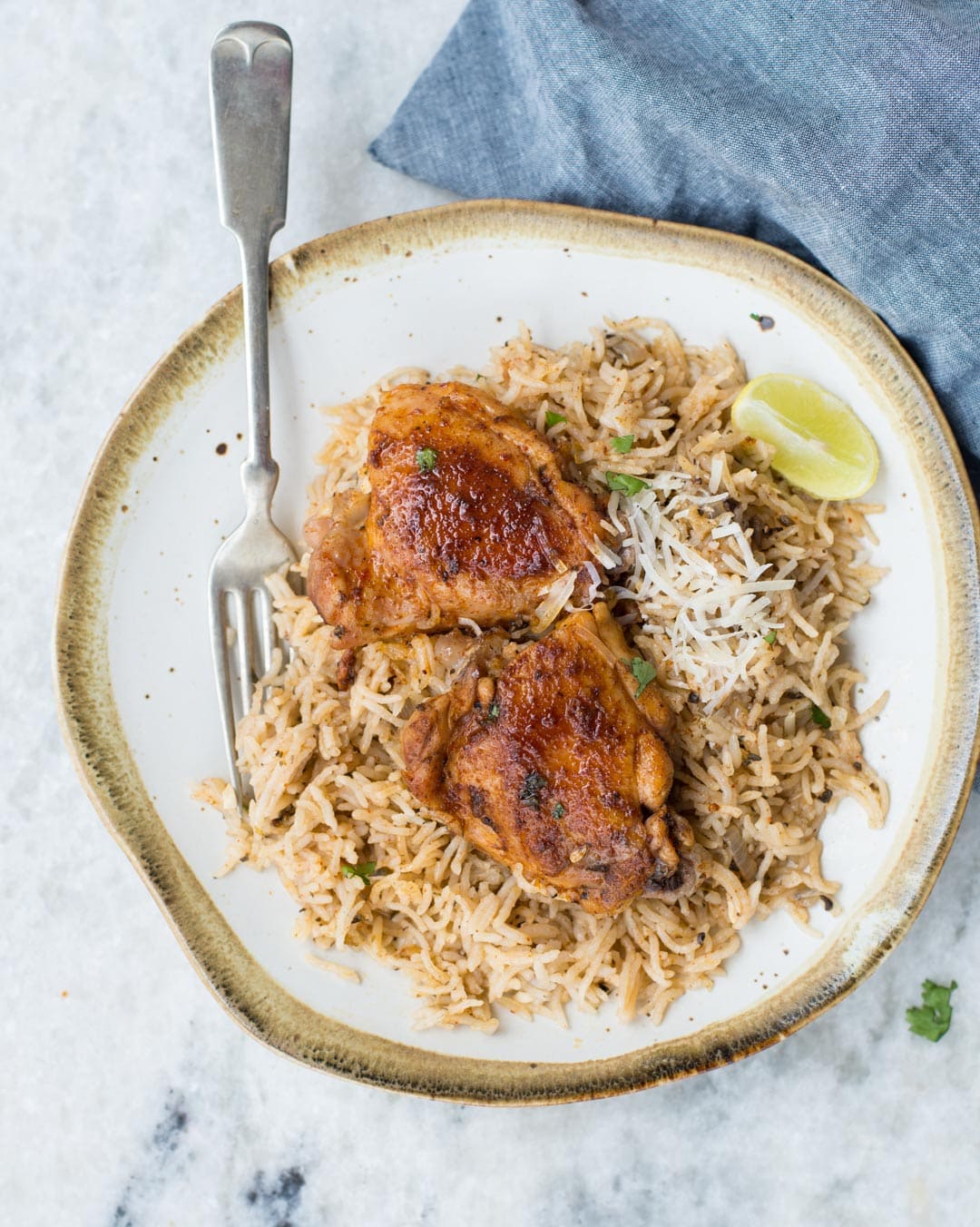 How Long To Cook Rice In The Instant Pot?
Then comes the important part, cooking time. You could use a pre-set option for cooking rice. But I prefer cooking it in manual mode, by setting a timer.
After a lot of trial and error, I settled on 8 mins of high-pressure cooking and 10 minutes of natural pressure release.
While sauteing the instant pot heats up. And because of using soaked rice and warm stock, the overall cooking time reduces significantly. The Instant Pot goes to full high-pressure mode quickly.
Once you set the manual mode on and close the lid, it takes about 4-5 minutes to build pressure. And then the countdown begins. You would see no air coming out of the valves.
After 8 minutes the Instant Pot goes to standby mode. Switch it off and let it release pressure naturally for 10 minutes. Then realise pressure manually, using the back of a spatula.
I know once you open the lid, it is very tempting to scoop out the rice. But if you are not in a hurry you can let it rest for 10 minutes after opening the lid and then using a slotted spoon or fork separate the grain gently. Using a fork or a slotted spoon helps in keeping each grain of rice separately.
Avoiding Burn Notification While Cooking In Instant Pot?
Getting burn notice while cooking on an instant pot is quite annoying, especially while you have a hungry family to feed. I have made this chicken and rice in the instant pot multiple times without any issue.
First of all, every time the pot is giving a burn notice doesn't mean something has burned. It might be an indication that the bottom layer of the pot has some brown bits stuck. So it is very important to deglaze the pot to release any brown patches from the bottom. Like in the above recipe, Stock is added to deglaze the pan.
Another reason for the burn notice could be because of very little liquid in the pot. In the recipe, the amount of stock is enough for the chicken. Also when the chicken thigh gets cooked it releases liquid.
The last reason could be the Inner pot is very hot, while setting it to manual high-pressure mode. In this recipe, first chicken thighs are being sauteed followed by onion and garlic. If you tend to get frequent burn notifications in your IP, then after you saute the chicken thighs, switch off the IP and let it cool down a bit. Then again switch to saute mode and start cooking onion and garlic.
One of the readers has to say
What The Readers Are Saying About This Recipe?
So many have tried making this Chicken and Rice in the Instant Pot. It makes me so happy to read through the feedback.
OTHER INSTANT POT RECIPES YOU MIGHT LIKE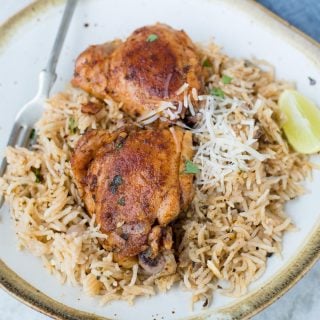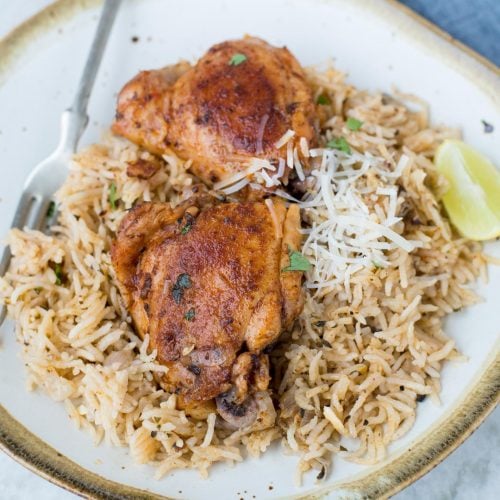 Instant Pot Garlic Herb Chicken and Rice
Instant Pot Chicken and Rice. Easy and delicious Garlic Herb Chicken and rice made in the Instant Pot in 20 minutes. Healthy family-friendly dinner you can make on any day.
Ingredients
1.5 Cup Long Grain Basmati Rice
2 Cup Chicken Stock
1 tbsp Oil
2 tbsp Butter
1 large Onion
1.5 tbsp Garlic Minced
1.5 tbsp Mixed Herb (Oregano,Thyme,Parsley)
½ tspn Chili Powder (adjust as per taste)
1 tbsp Paprika
Salt to taste
Pepper to taste
Grated Parmesan to serve
To Season Chicken
5-6 Chicken Thighs With Bone
½ tspn Chili Powder adjust as per taste
1 tbsp Lemon Juice
1 tspn Salt
½ tspn Pepper
Instructions
First measure rice. Wash it until the water runs clear. Add enough water to soak the rice and keep it aside.  Don't soak rice for more than 15-20 minutes.

Measure the Stock required for cooking rice and keep it warm(to fasten the cooking process).

To the Chicken thighs add salt, pepper, chilli powder, lemon juice. Mix well. Keep aside while you are preparing other ingredients.

Turn on the Instant Pot and put it in Saute Mode.

When the Instant Pot is pre-heated, add Oil.

Add seasoned Chicken Thighs to the pot and sear it 2-3 minutes on each side. Once they look light golden brown and crispy, remove and keep aside.

Add butter to the pot, followed by chopped Onion. Saute until Onion looks soft and translucent.

Add Chopped garlic and cook for another 30 seconds. Add herbs, Paprika, Chilli powder. Mix well.

Drain any extra liquid and add soaked rice.

Gently stir for 2-3 minutes roast rice. (This step is optional, You can directly skip to the next step.)

Pour in warm stock or water. Season it with salt and pepper.

Arrange seared Chicken thighs in a single layer. Add any extra liquid that would have come from Chicken thigh while resting.

Switch Instant Pot to manual mode. Set the timer for 8 mins. And let the Instant Pot do its job.

When the timer is off, let the pressure release naturally for 8-10 minutes. Then release pressure using back of a spoon manually.

Once the pressure is released completely, open the lid and let it rest for another 10 minutes.

Using a slotted spoon or fork separate rice grain gently.

While serving sprinkle some parsley and parmesan cheese.
Notes
INSTANT POT GARLIC HERB CHICKEN AND RICE (STEP BY STEP VIDEO RECIPE)
While seasoning Chicken salt is already added and Stock also has some amount of salt. So adjust salt at the end accordingly.
Adjust the amount of chilli powder as per your taste.
Substitute Stock with a mix of stock and water.
While you Saute, if the Pot gets heated, Off the Instant Pot for 1-2 minutes. The contained heat at the bottom should be enough to do the rest of the work.
To Avoid Burn Notification
To avoid burn notification, make sure you deglaze the inner pot after adding the stock. Once you add the stock,  scrape the bottom of the pot to remove any stocky brown bits from the bottom.
To Make Chicken and Rice in a traditional pressure Cooker on the stovetop
To make Chicken and Rice in the Pressure cooker, increase the amount of water to 3 cups.
The steps would be the same. Once you close the lid, let the pressure build. Reduce flame after one whistle and let it be on low flame for 6-7 minutes. Switch off the flame and let the pressure release naturally.
Nutrition
Serving: 100g | Calories: 602kcal | Carbohydrates: 54g | Protein: 27g | Fat: 29g | Saturated Fat: 8g | Cholesterol: 126mg | Sodium: 389mg | Potassium: 538mg | Fiber: 2g | Sugar: 3g | Vitamin A: 1020IU | Vitamin C: 4.7mg | Calcium: 54mg | Iron: 2.3mg