Rice pudding with raisin flavored with vanilla and Cinnamon is creamy, fragrant, and subtly sweet. A warm bowl of this rice pudding on cold grey nights is the ultimate comfort food.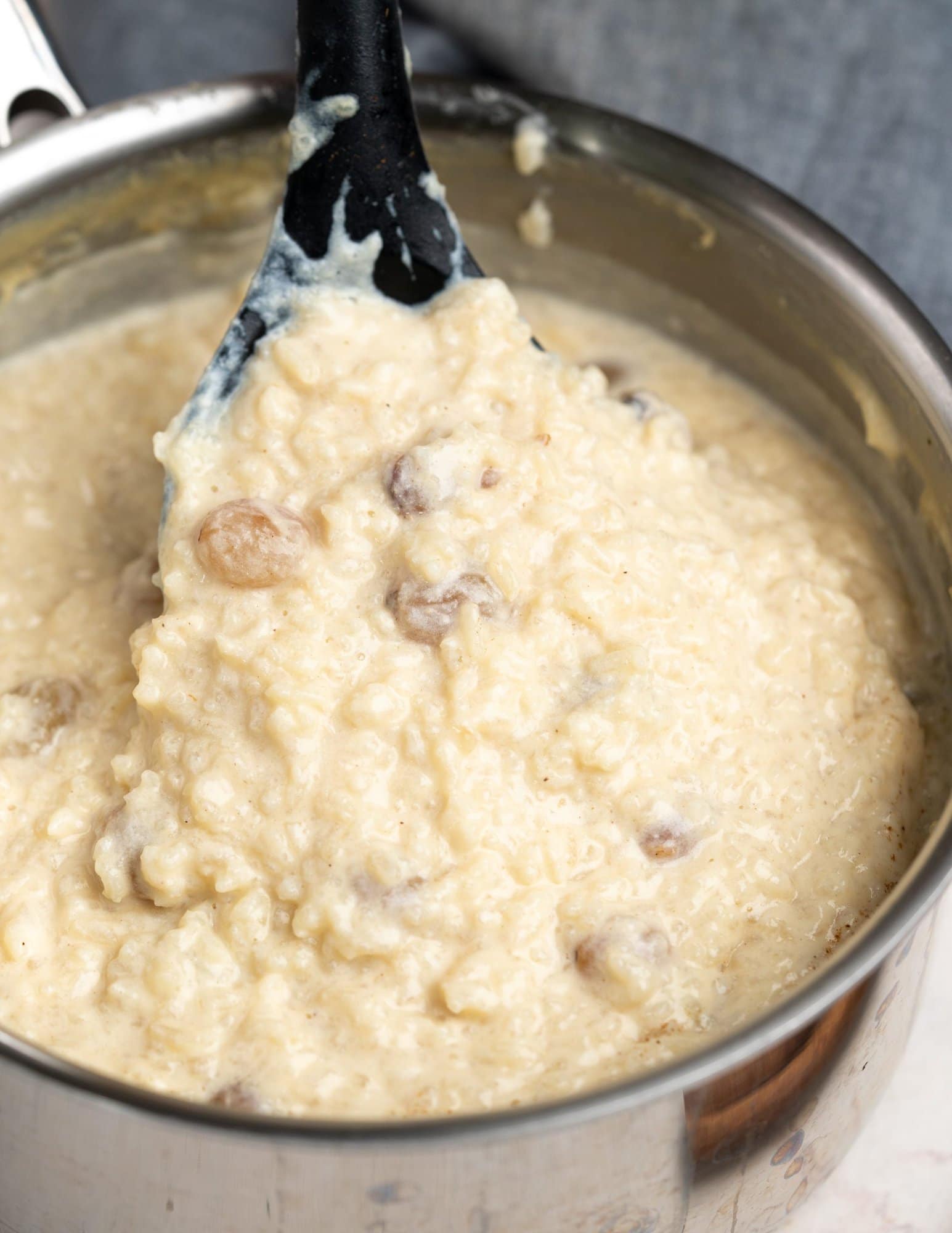 Creamy Rice Pudding
Rice is cooked slowly in milk and then sweetened with sugar. While the rice is cooking the starch released from it helps to make the pudding creamy and thick. The milk also cooks down and adds richness. The pudding is flavored with cinnamon, and vanilla and you also throw in some plump raisins.
Rice pudding is one of the easiest puddings to make. When done right, this is going to be your cozy treat on cold winter days. In fact, this is a dessert that can be enjoyed all around the year, as it can be served warm or cold.
Rice pudding has a lot of variations. Few recipes call for cream or condensed milk or to add an egg to thicken the pudding. The kind of flavoring used also differs. Like Indian rice pudding (kheer) has cardamom and/or Saffron in it. It also has nuts like cashew and almonds as garnish.
I grew up eating the Indian version and it always tops my list of desserts. This old-fashioned rice pudding is not very different other than the flavoring used. I have incorporated a few techniques that my mom uses to make Indian rice pudding. What you have here is a fail-proof, decadent rice pudding recipe.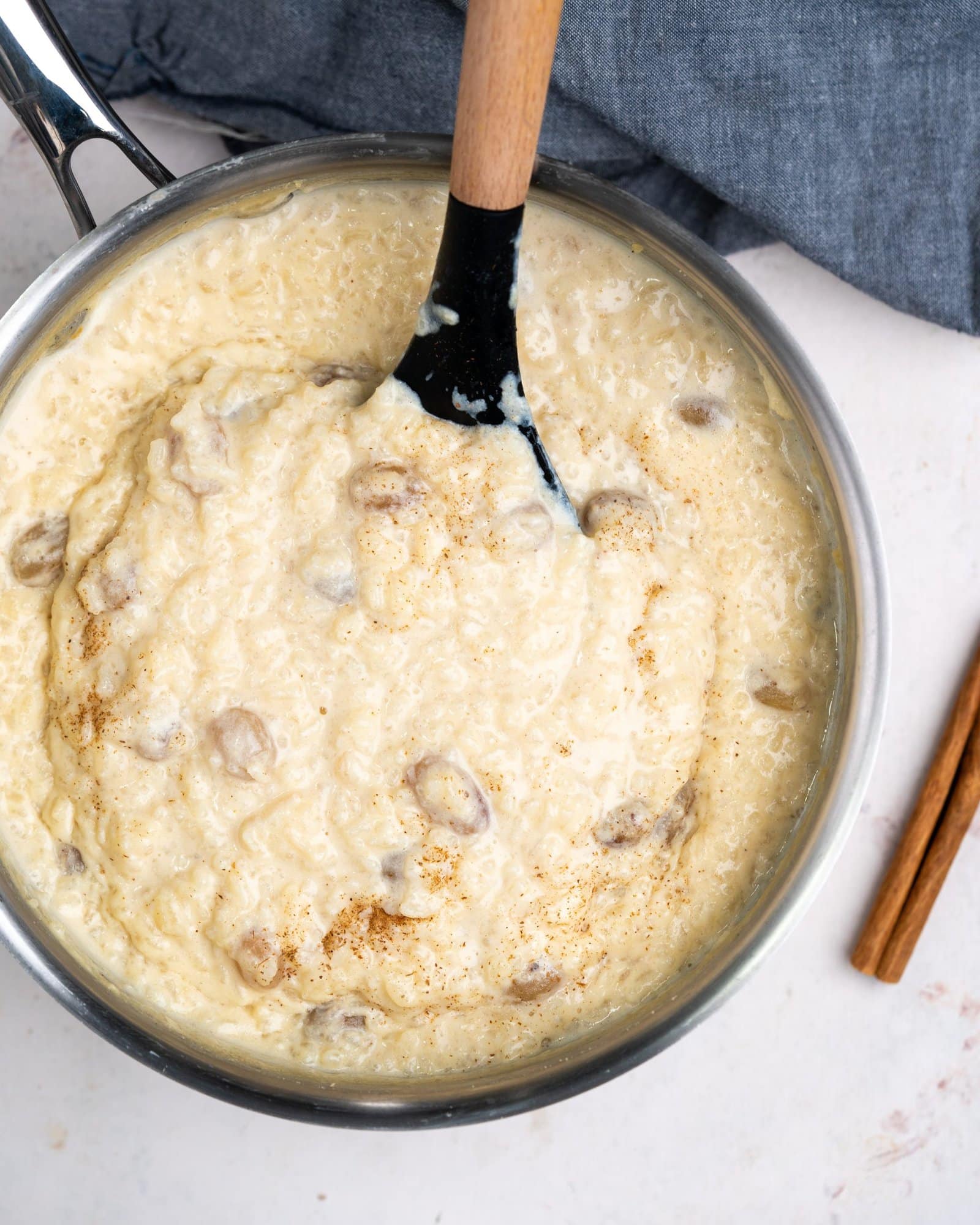 Ingredients for Old fashioned Rice pudding
Rice- Uncooked Medium-grain rice gives the best texture and creaminess. You can also use Jasmine rice. Brown rice once cooked has a very different texture, so it won't work for this recipe. Uncooked rice when cooked in milk, it releases starch which contributes to the creaminess. Therefore cooked rice will not work in this recipe.
Milk- Preferably full-fat milk, as it adds the right amount of richness. Low-fat milk would also work in this recipe. I have not tested this recipe with vegan/nut milk. Coconut milk is a good substitute, but the taste and flavor will be different.
Sugar- Regular white sugar.
Unsalted Butter - To toast the rice. Butter also adds richness and flavor, when added toward the end.
Cinnamon Stick - Instead of adding ground cinnamon, I have used a stick of cinnamon which when cooked along with milk flavors the pudding. Substitute with ground cinnamon.
Vanilla- Complements the rest of the flavors. Use real vanilla extracts.
Raisins(Sultanas) - I love sweet and tart Sultanas. You can skip it.
Salt - Just a pinch, but it is a must in any dessert to balance the sweetness.
How to Make The Best Rice Pudding
There are so many variations of rice pudding recipes on the web. What I am going to share is a simple stovetop Rice pudding recipe with a short ingredient list.
I am also going to share a small trick so that the chance of rice pudding getting stuck at the bottom is minimal. The rice will also be cooked perfectly.
Rinsing Rice - Rinsing rice is optional. If rinsing the rice, then drain it well in a colander.
Toast Sultanas and Rice - Melt butter. Toast raisins for 30 second until it plumps. Add rice and coat well in the butter and cook it for 1-2 minutes. Toasting gives a nice nutty aroma and also the rice holds its shape instead of completely breaking down.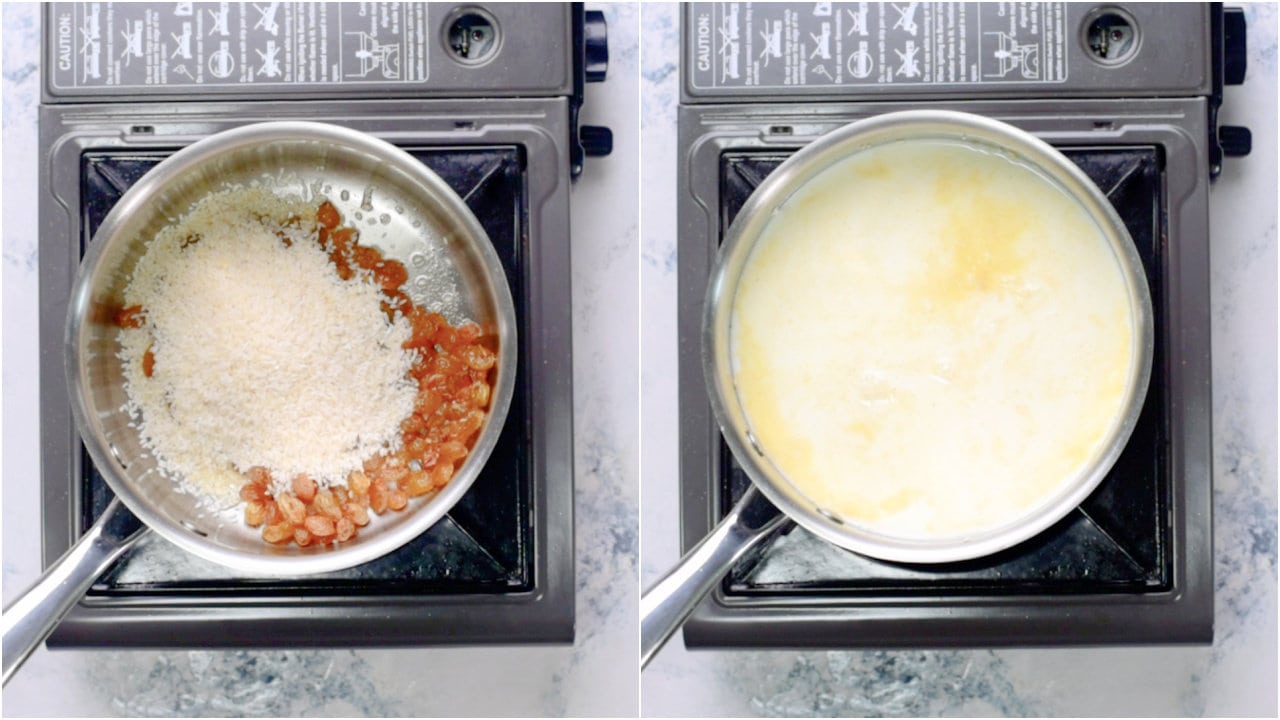 Add milk, cinnamon & vanilla - Add warm milk to the pot. Adding warm milk quickens the cooking process. Throw in the stick of cinnamon and stir in vanilla essence. Once it comes to a low boil, simmer, cover it, and cook for 10 minutes. Stir it once and again cook for 10 minutes.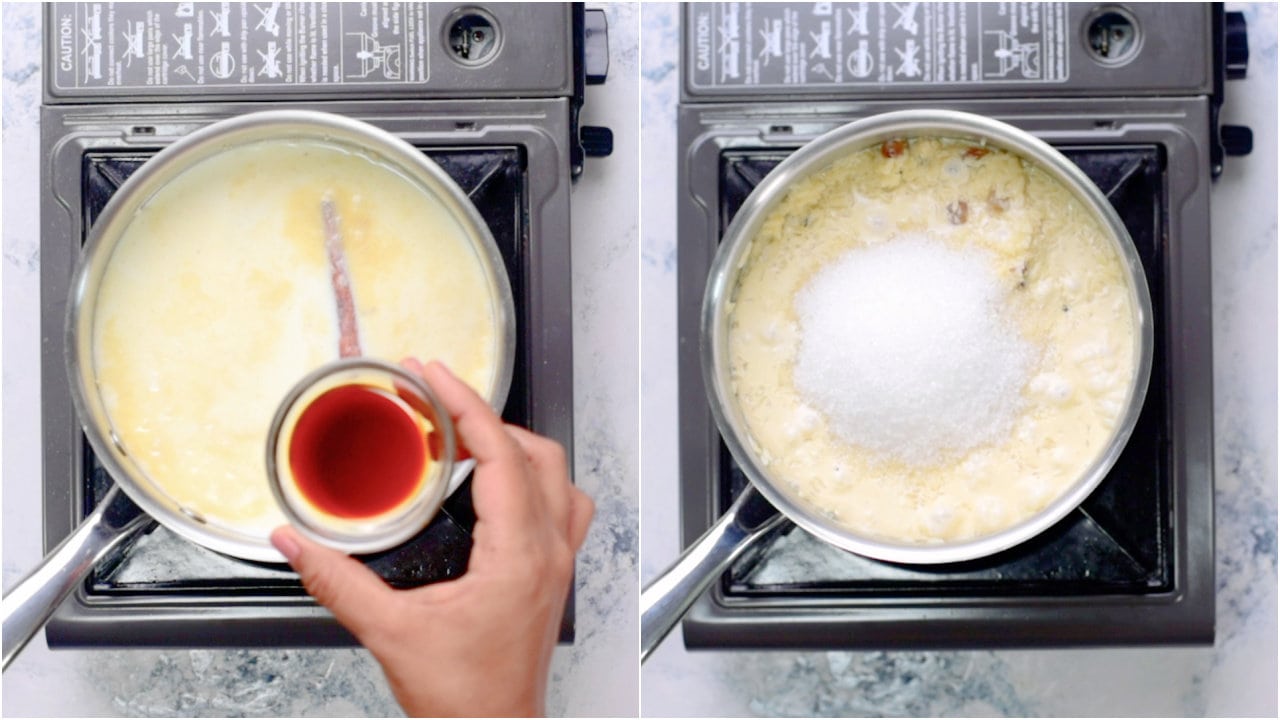 Adding sugar - When the rice is ¾th cooked, add sugar. For the rice to cook evenly, always add sugar towards the end. Also once the sugar is added, the sugar caramelizes, and the chances of the mixture burning increase. So you need to stir it very often.
Can we use Cooked rice instead?
There are other ways to use leftover rice like Herbed Garlic Butter Rice, Mushroom Rice, or Egg Fried Rice but this recipe will not work with cooked rice. The creamy rich consistency of rice pudding comes from the rice being cooked in milk.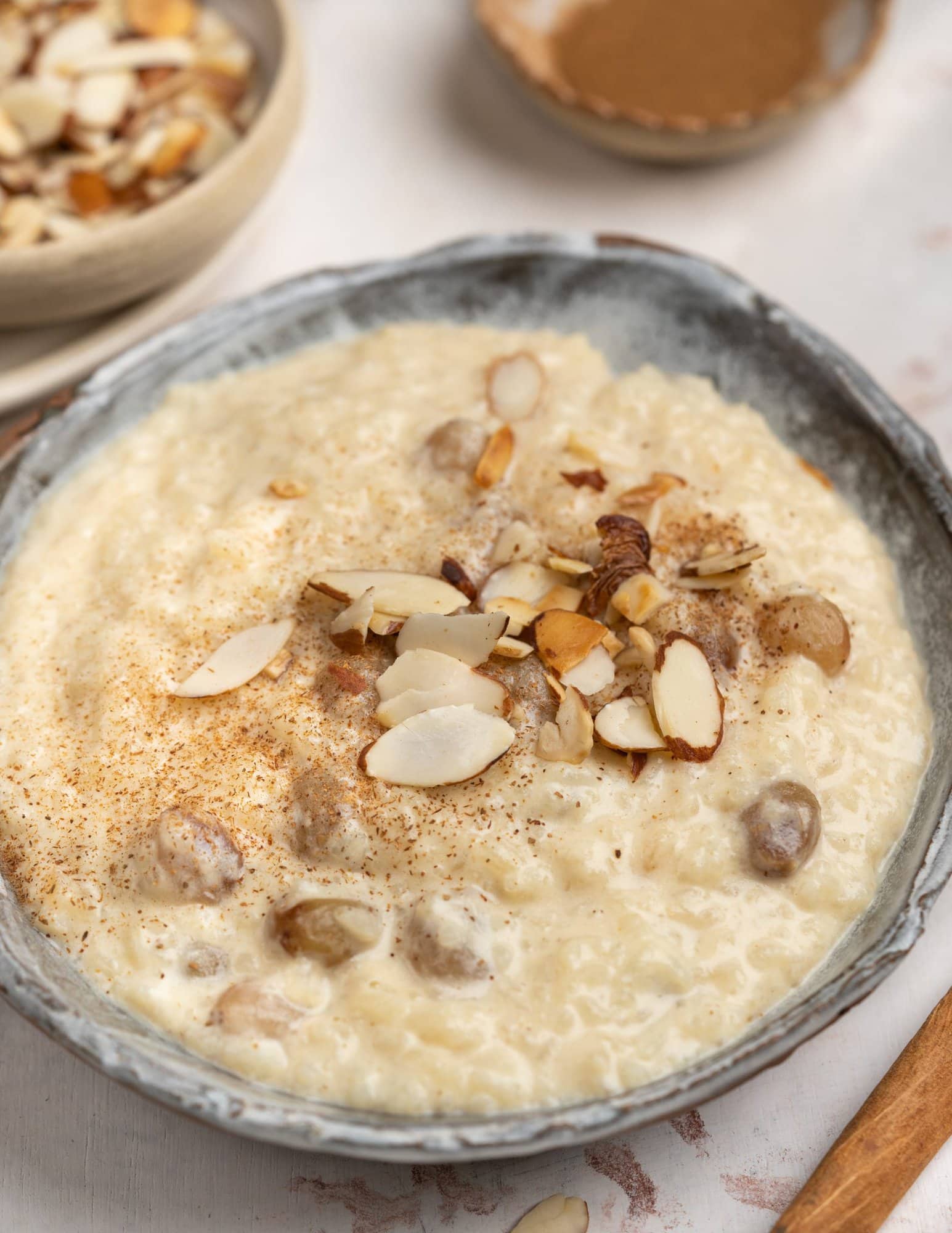 Storage
Leftovers can be stored for up to 4 days in the refrigerator. The pudding might thicken once cold, so while heating adds a few tablespoons of warm milk or water to adjust the consistency.
More cozy dessert Recipe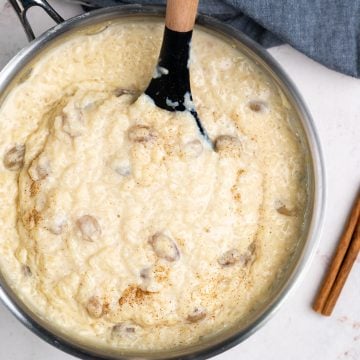 Creamy Rice Pudding
Rice is cooked in milk flavoured with cinnamon and vanilla until creamy. Raisins add a pop of tartness. A cozy dessert that can be eaten for breakfast too.
Print
Pin
Rate
Ingredients
1

cup

Medium Grain Rice

5-6

cups

Milk

⅓

cup

sugar

2

tablespoon

Unsalted Butter

1

Stick of Cinnamon

⅓

Sultana (Raisins)

1

teaspoon

Vanilla extract

pinch

Salt

Ground Cinnamon

to sprinkle on top
Instructions
Melt one tablespoon of butter in a saucepan.

Saute Sultanas on medium heat, until they plump. Add rice and coat with butter. Toss it for about a minute.

Add warm milk to the pan (reserve 1 cup of milk to use later if required) along with a stick of cinnamon and vanilla extract.

Once the above mixture comes to a boil. Reduce the heat, stir it once , cover, and cook on low heat for about 25-30 minutes. Keep stirring in between to prevent the rice from getting settled at the bottom.

At the end of 30 minutes, the rice would have got ¾ cooked. When you press agrain of rice, you should be able to smash it fully except at the center which might still be uncooked.

At this point add sugar, salt to the pan. Stir it one. If required addthe reserved cup of milk to adjust the consistency.

Cook on low heat for another 15 minutes. After adding sugar, there is more chance of the rice getting stuck at the bottom and burn. So keep a close eye and keep stirring it every now and then.

Towards the end, add rest of the butter. Mix and switch off the stove.
Nutrition
Calories:
256
kcal
|
Carbohydrates:
39
g
|
Protein:
7
g
|
Fat:
8
g
|
Saturated Fat:
5
g
|
Polyunsaturated Fat:
0.3
g
|
Monounsaturated Fat:
2
g
|
Trans Fat:
0.1
g
|
Cholesterol:
26
mg
|
Sodium:
59
mg
|
Potassium:
253
mg
|
Fiber:
1
g
|
Sugar:
16
g
|
Vitamin A:
335
IU
|
Vitamin C:
0.001
mg
|
Calcium:
189
mg
|
Iron:
1
mg