Chicken Pasta Salad With Lemon-Herb Dressing
This post may include affiliate links that earn us a small commission.
Chicken pasta salad for summer barbecues, picnics, or a light lunch. Grilled chicken, pasta, and veggies tossed in a refreshing Lemon-Herb Dressing are so delicious.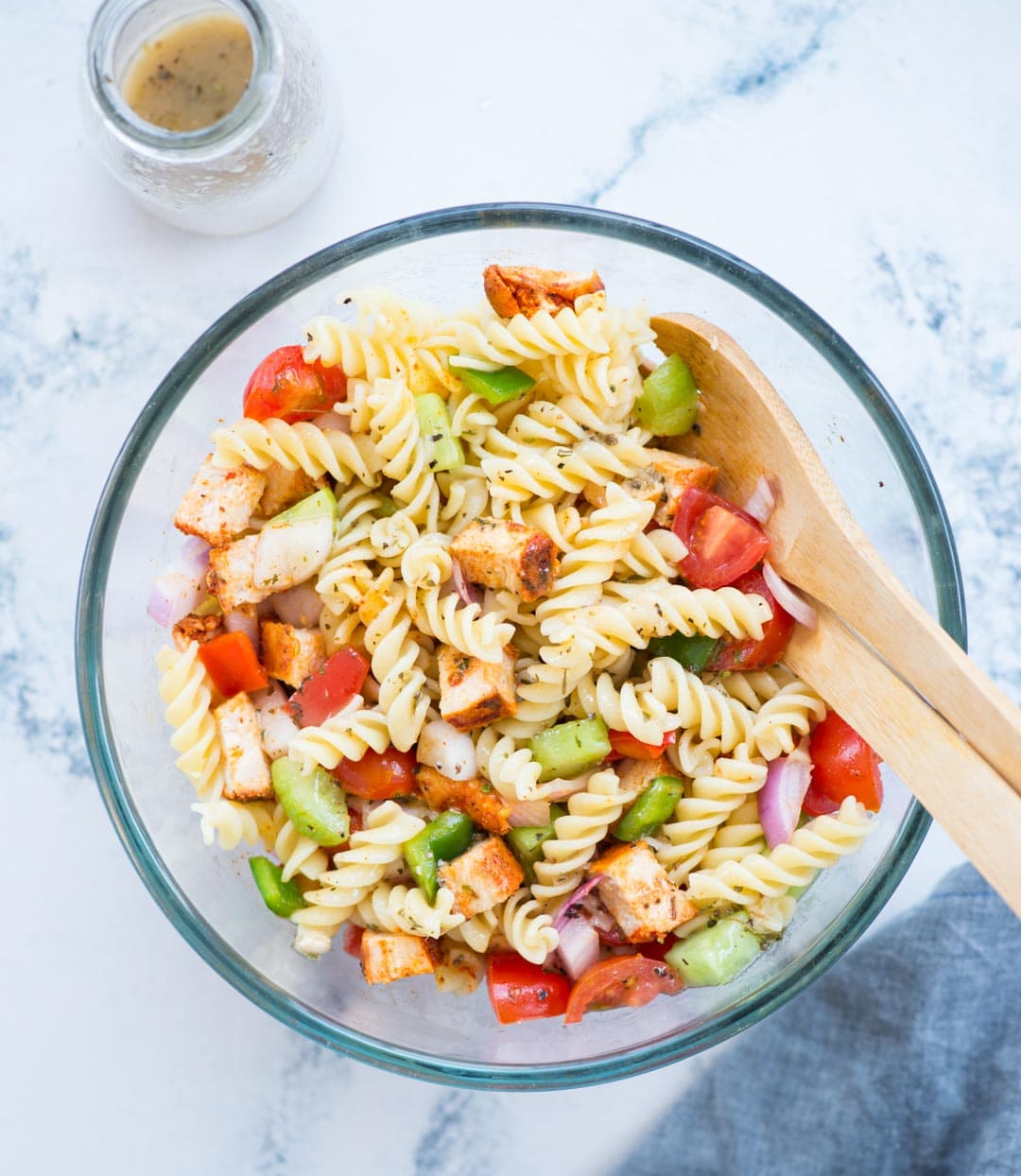 Does Chicken Pasta Salad sound like summer to you? It has grilled chicken, your favorite pasta, fresh crunchy vegetables, and tangy lemon herb dressing with Mediterranean flavors. You need this salad all through the summer. Grilled Chicken instead of some boring flavorless cooked chicken makes this Pasta salad so good. This summer essential salad is one of our favorites.
Flavours In Your Inbox
Subscribe for recipes straight to your inbox
One of the few things I love about summer is you can have chilled stuff right out of the fridge. Ice cream, popsicles, and whatnot. Add this Chicken Pasta Salad to your list as well. Because you can make a big bowl of this salad and refrigerate it. It tastes great when it is chilled.
For the grilled chicken, check out our recipe – Easy Grilled Chicken with Buttermilk Marinade.
Lemon herb dressing
A good dressing is what gives life to a salad. This lemon herb dressing is one of my go-to salad dressing recipes because most of the ingredients are always available. It takes just about 5 mins to make this. Good quality Olive oil, dijon mustard, red wine vinegar, garlic, sugar, pepper, and lemon juice. Put everything in a jar, seal it tightly, and shake vigorously. The oil will start to emulsify and make the mixture creamy.
The lemon juice turns this into an aromatic Mediterranean-flavoured dressing. It also helps balance the bitterness of the kale.
Mustard helps in emulsifying – keeping the water(in lemon juice) and oil molecules together. Dijon mustard has a mellow but well-balanced taste. You can go with whole mustard too.
This lemon dressing is versatile and can be paired with many greens and veggies. I have also shared a simple salad with a similar vinaigrette – White bean salad with lemon vinaigrette.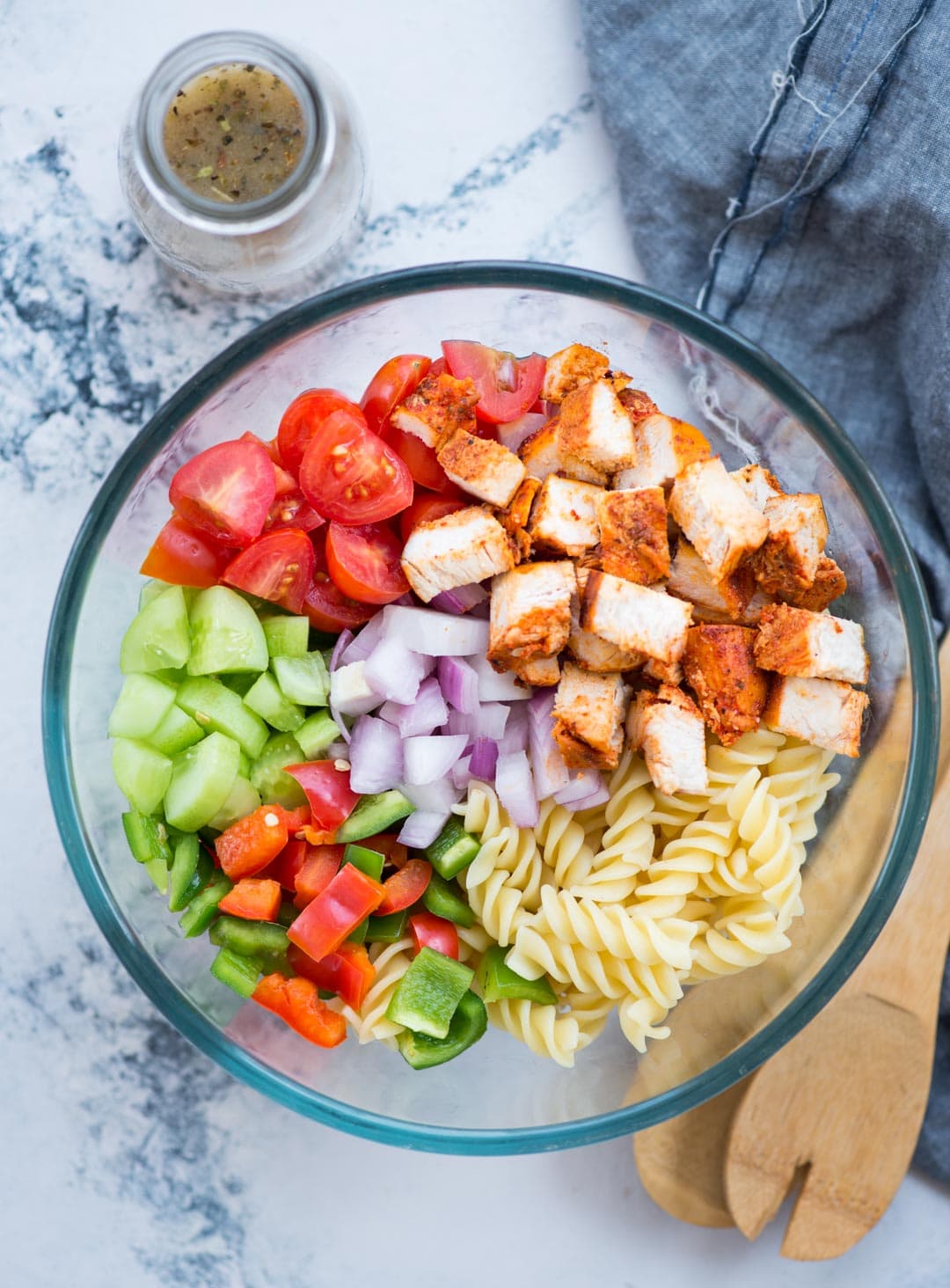 Ingredients
This Salad has tones of texture that come from the different ingredients.
Chicken: I like to use chopped grilled chicken for extra flavor. I have grilled chicken breasts and instructions to do so are detailed in the recipe card. You can also use any leftover cooked chicken or chicken rotisserie instead. Even turkey works well in this recipe.
Pasta: Of course, there will be pasta in a pasta salad. My preference is either fusilli or any short pasta like penne or ziti, as these hold the dressing really well. But again it is up to you and you can substitute it with any kind of pasta of your choice.
Vegetables: Cucumber, onion, tomatoes, and peppers. Cut them into bite-sized pieces. You can also add baby spinach or Arugula.
For the lemon herby vinaigrette
Red wine vinegar – is used in classic vinaigrettes for its sharp taste and a bit of tang.
Lemon juice – adds Mediterranean flavors to the vinaigrette.
Olive oil – no substitute for good quality extra-virgin olive oil. A good olive oil makes a great dressing.
Dijon mustard – acts as an emulsifying agent. It balances the taste profile of the dressing.
Dried oregano – gives that herby and Italian flavor to this dressing. You may choose to add fresh herbs like parsley or basil.
Garlic clove – is the popular aromatic used in a classic vinaigrette.
Sugar – helps balance the sour and pungent tastes.
Salt & pepper – salt helps all the flavors pop out and pepper gives you that little kick. Use as per your tolerance levels.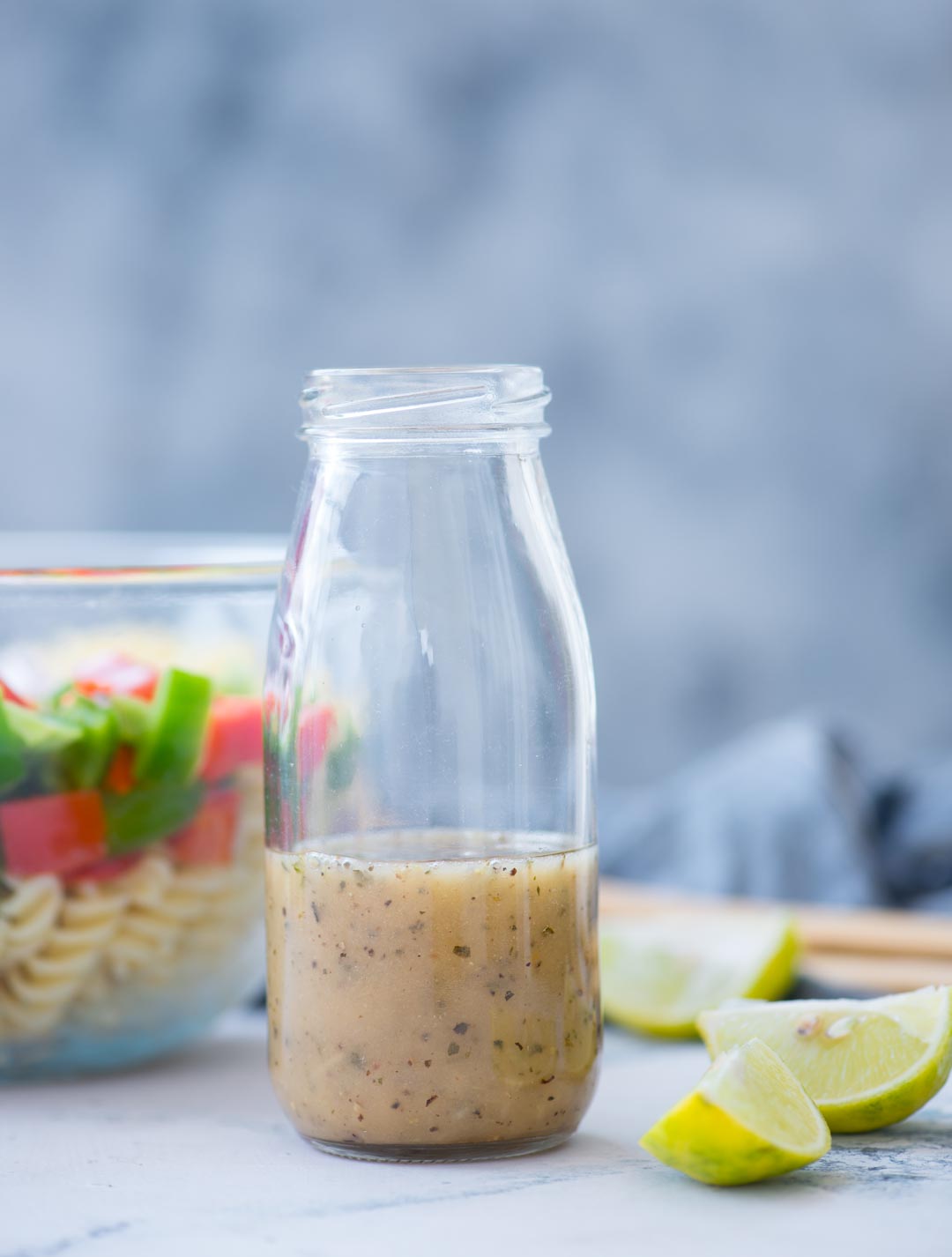 How to make chicken pasta salad
Cook pasta al dante
Cook the pasta in a big saucepan as per the instructions mentioned in the packet. Make sure to add generous amounts of salt to season the pasta. Once you drain the liquid from the pasta, with a strainer, rinse the cooked pasta in cold water. This stops further cooking and prevents it from becoming too soft.
Prep the veggies
Chop the veggies like cucumber, onions, tomatoes, and peppers into bite-sized pieces. I recommend bite-sized so you get some veggies, some pasta, and chicken too in each spoonful.
Prepare the dressing
Arrange all ingredients for the dressing and add them to a jar with a lid. Shake well until they mix and look creamy. With a lidless jar, whisk it well.
Grill chicken
Pound chicken breast with a tenderizer to ensure uniform thickness. Season it with salt, paprika, and garlic powder, and massage the seasoning all around.
On a hot grill pan, cook the breasts for up to 5 minutes on each side. Take off the pan and cover it with foil. Let it rest for 5 minutes. Take the foil off and cut it into chunks.
Assemble
To a large bowl, add the grilled chicken chunks, cooked pasta, and chopped vegetables. Pour the salad dressing all over and toss everything until the see the veggies, pasta, and chicken get coated with the dressing. Repeat with more dressing if needed.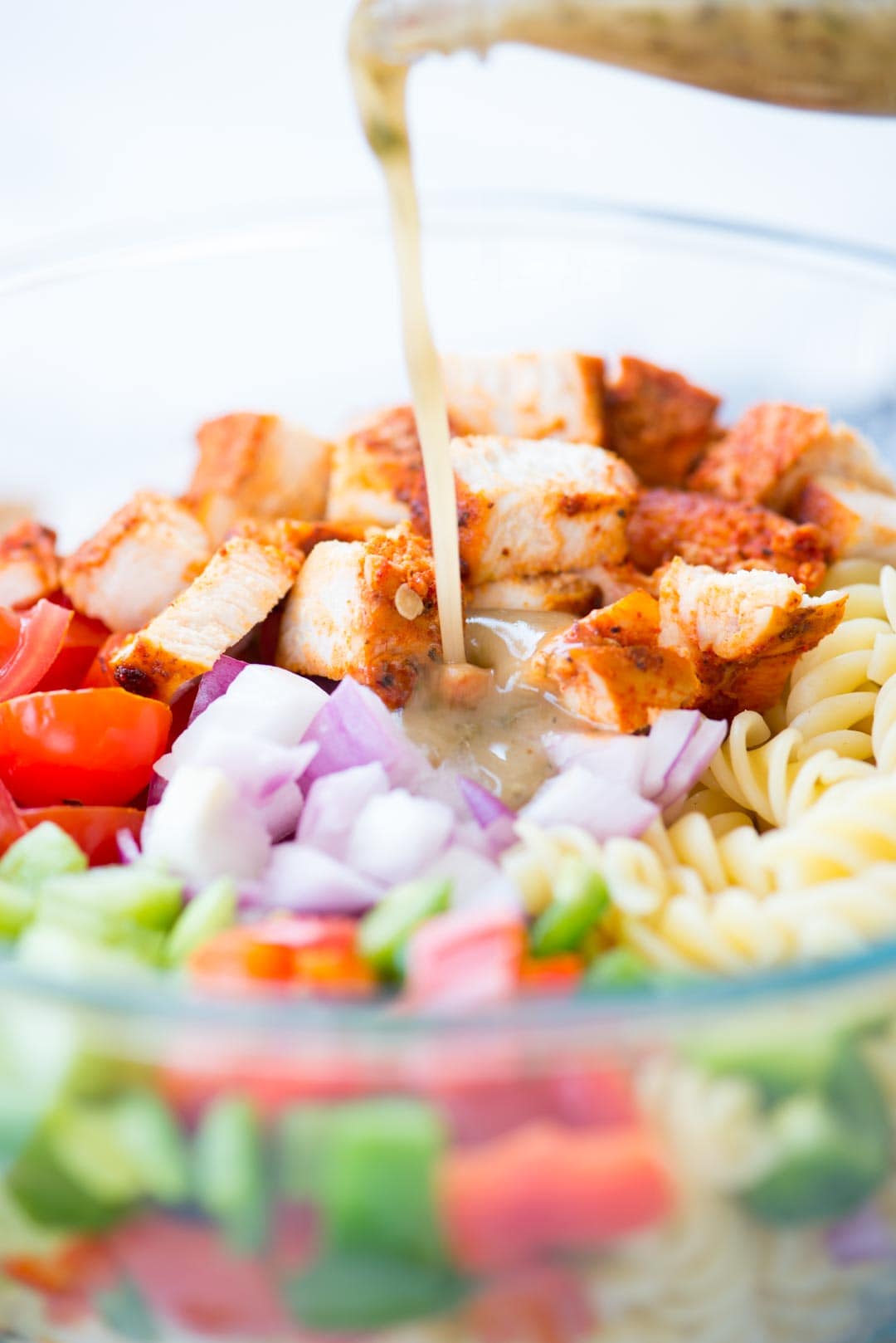 Tips
Check the packet instructions to cook the pasta al dente. It should be firm to the bite.
Rinse the pasta after it is cooked and drain the liquid. Rinsing the pasta in cold water stops further cooking making it softer than you want.
Fresh herbs make a difference.
This is a fantastic way to reuse leftover grilled or rotisserie chicken.
Store
You can make ahead a big batch of the dressing and keep it for up to a week in the refrigerator.
A perfect salad to make for a crowd. Prep the veggies, cook the pasta, and make the dressing ahead. If you are going to serve the salad within a few hours then mix the dressing and incorporates it. But if you are planning to make a day ahead then it is better to mix the dressing before serving.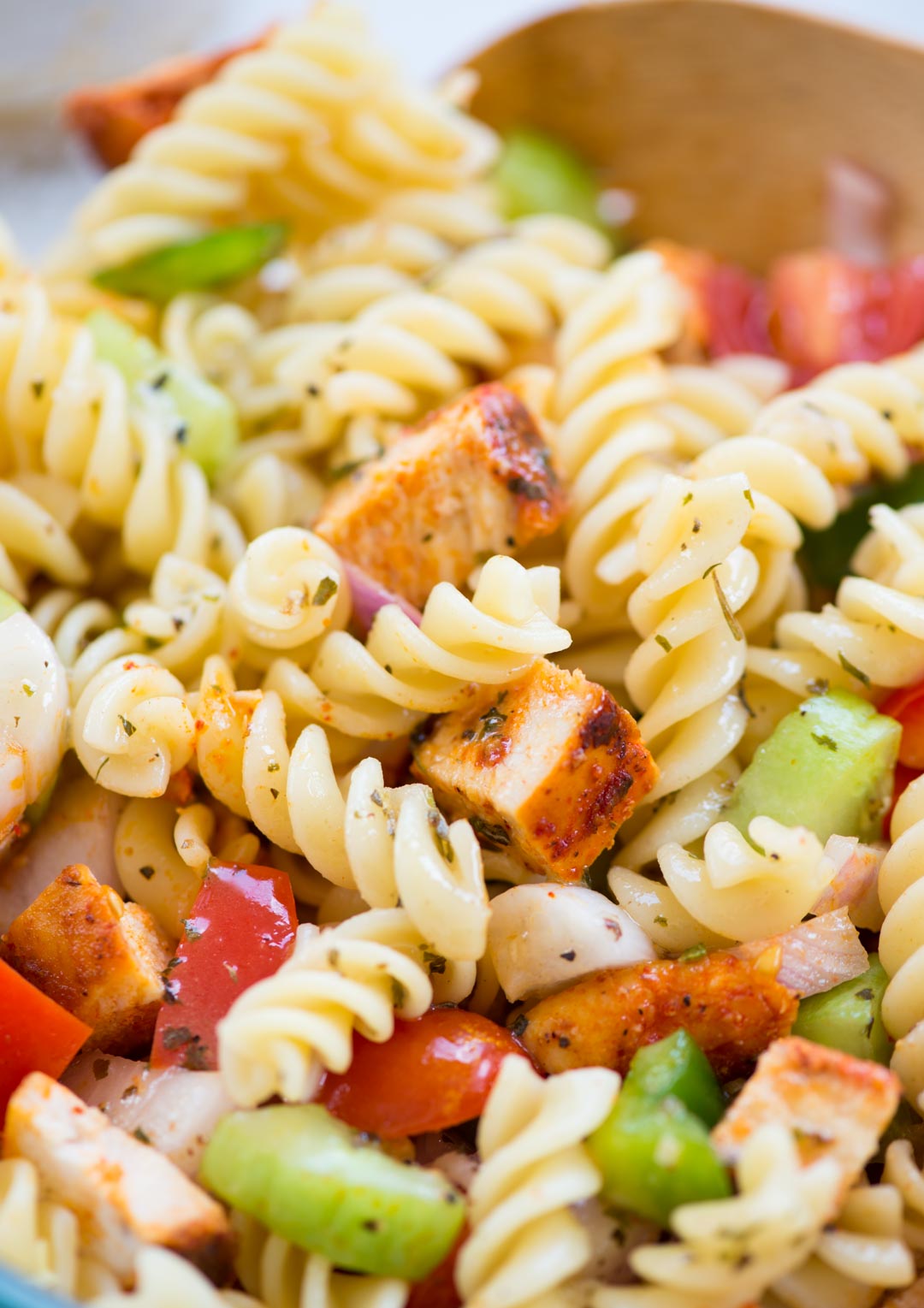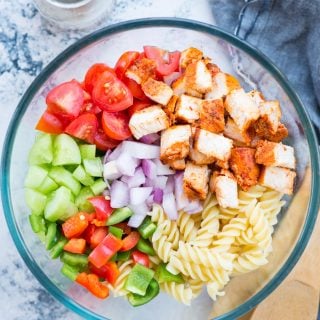 Chicken Pasta Salad
Chicken Pasta Salad for summer barbecues or light lunch. Grilled Chicken, Pasta and veggies tossed in a refreshing Lemon-Herb Dressing is so delicious and filled with goodness.
Ingredients
1.5 cups Pasta
2 Chicken Breast
½ teaspoon garlic Powder
½ teaspoon Paprika
Salt to taste
1 Cucumber
200 grams Cherry Tomatoes
1 large Red Onion
1 Red bell pepper
1 Green Bell Pepper
For Lemon Herb Dressing
½ cup Extra Virgin Olive Oil
2 tablespoon Red wine vinegar
1 tablespoon Lemon Juice
½ teaspoon Dijon Mustard
1 tablespoon Sugar
2 teaspoon Italian Herbs
1 large Garlic Clove Minced
Salt to taste
½ teaspoon Pepper
Instructions
In a jar add all the ingredients mentioned under salad dressing. Close the lid and shake well until everything is mixed well. The dressing should look creamy.

To make grilled chicken, Pound chicken to even thickness using a meat tenderiser. Season it with salt, paprika and garlic powder. Massage well.

Cook seasoned chicken in a grill pan 4-5 minutes each side. Then cover with an aluminium foil and let it rest for 5-6 minutes. Then cut into small chunks.

While chicken is resting, in a big salad bowl add cooked pasta, cucumber, bell peppers, onions, tomatoes.

Add cooked chicken pieces to the bowl. Pour in the salad dressing as per taste and toss everything well.
Nutrition
Serving: 100g | Calories: 515kcal | Carbohydrates: 30g | Protein: 28g | Fat: 30g | Saturated Fat: 4g | Cholesterol: 72mg | Sodium: 151mg | Potassium: 846mg | Fiber: 3g | Sugar: 9g | Vitamin A: 1515IU | Vitamin C: 80.8mg | Calcium: 52mg | Iron: 2.1mg
PIN IT FOR LATER