Slow Cooker Coconut Chicken Curry
This post may include affiliate links that earn us a small commission.
Coconut chicken curry is slow-cooked in sauteed onion, ginger, garlic, spices, and coconut milk until juicy and tender. Perfect to pair with rice or roti/naan.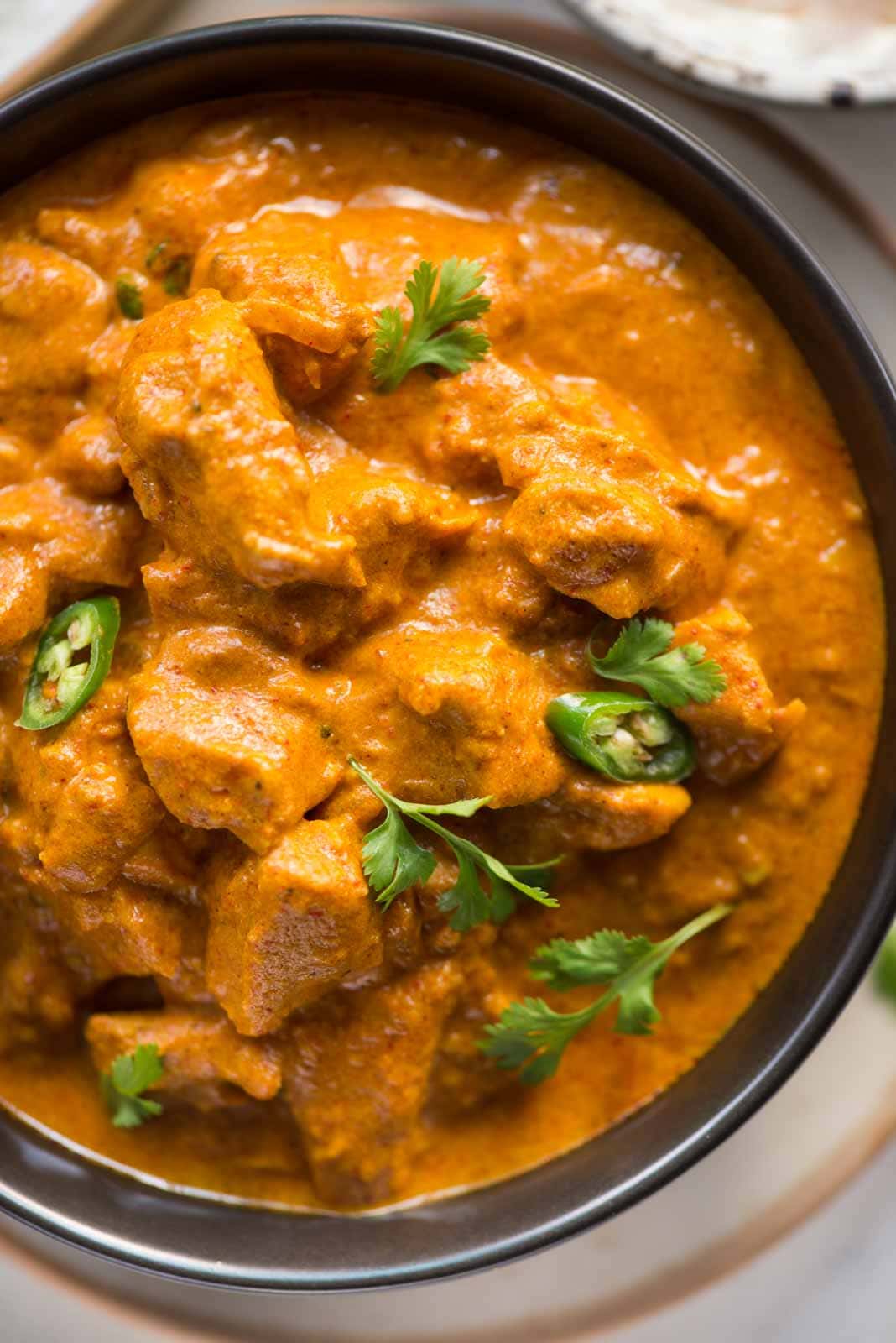 Chicken Coconut Curry is made with Boneless chicken breast sauteed in onion, ginger garlic paste, tomato, spices, and slow-cooked. Adding coconut milk makes the gravy silky smooth, and rich. Slow cooking the chicken ensures the chicken pieces remain Juicy and tender. This recipe is also gluten-free as it does not have diary.
Flavours In Your Inbox
Subscribe for recipes straight to your inbox
Chicken Curry appears very often on our menu. This Chicken Curry dish is one of my go-to recipes. It is not very spicy. The gravy is creamy and rich, with a subtle flavor from coconut milk.
If you ask me to pick rice or naan, I will be slightly biased toward rice. But this curry goes very well with roti/Indian Flatbreads.
Slow cooker chicken curry is may time-taking but flavour yielding Indian coconut chicken Curry recipe made in a slow cooker. You can certainly make this on the stovetop. But I will share a few tips to make the best Indian curry in the slow cooker.
Slow cooker recipes are supposed to be the 'Dump & Forget' cooking method. While this method might work for most recipes but for a delicious Indian curry, you should follow an important step. This involves preparing the aromatic base for the curry – cooking the onion, garlic and ginger with oil to make the 'Bhuna'.
Bhuna gets the most flavor from the aromatics and the rest of the cooking builds on this base. Making the bhuna might seem like extra work, but believe me, it is worth the effort.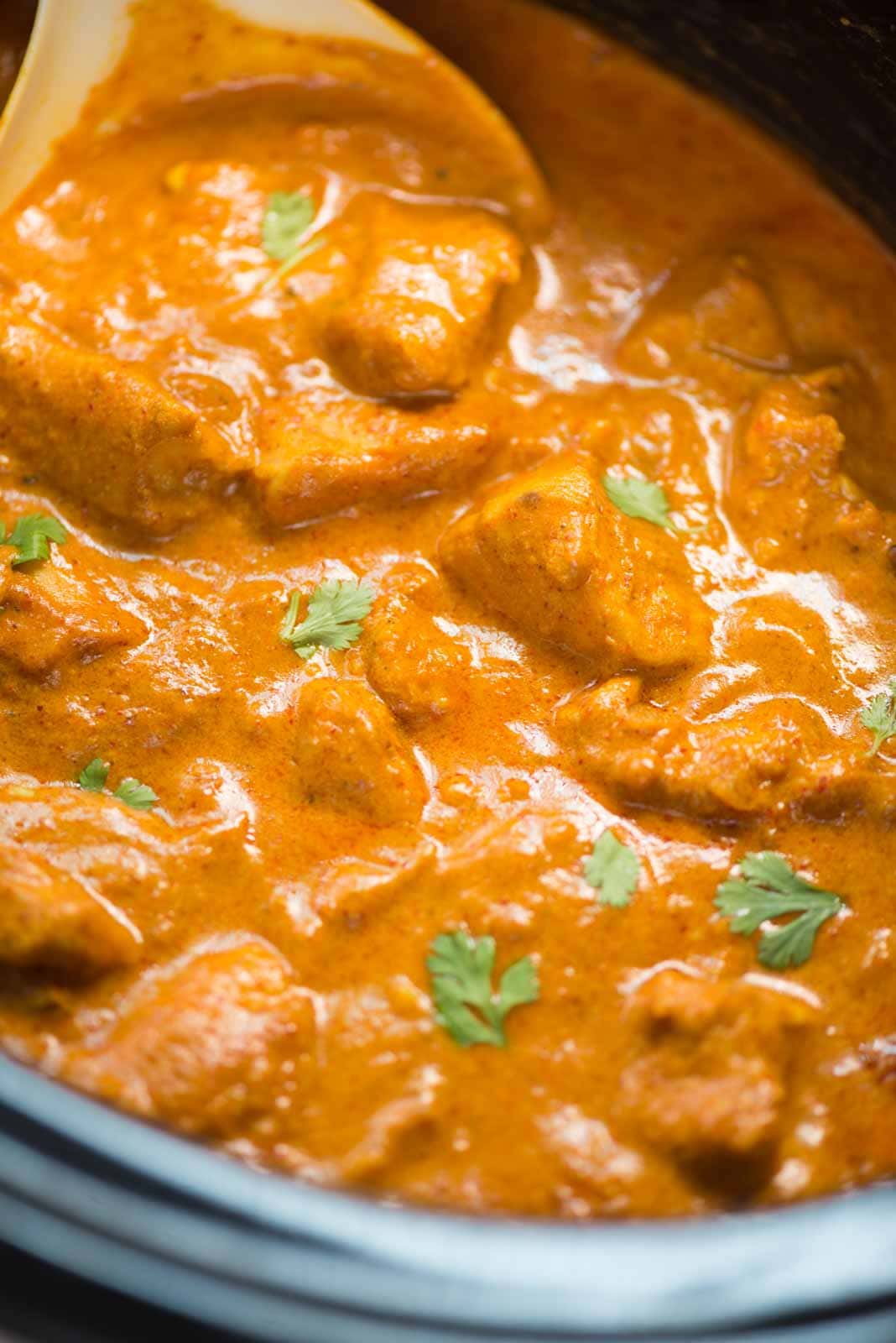 Ingredients
Boneless Chicken – make it with boneless chicken breast or thighs. I have gone with skinless boneless chicken breast as i wanted to make this out of my pantry. This can very well be made with chicken thighs which I had many times. Chicken thighs have more flavor. Cut the chicken into cubes.
Oil – use any neutral oil like regular vegetable oil to saute the aromatics and spices. You can use coconut oil too.
Onion & Garlic – usual aromatics used in indian recipes. Use finely chopped onion and minced garlic.
Grated Ginger – ginger being a root is often sauteed with the aromatics to balance the flavor by giving a slightly hot yet earthy flavor.
Curry Powder (ref note 1) – It is a mix of various spice powders with strong flavors and excellent for making curries.
Tomato paste – helps in forming the base of the gravy and is usually added to sauteed aromatics in Indian curries.
Kashmiri Red chilli powder (ref note 2) – it gives a bright red color to the curry. it is not hot in spite of the looks.
Coconut milk – Use full-fat and canned coconut milk, brought to room temperature. Avoid using cold coconut milk. Shake the can so that the contents mix well. If you use homemade coconut milk, reduce the quantity to half.
Salt to taste
Coriander/cilantro leaves – use chopped cilantro leaves for garnish.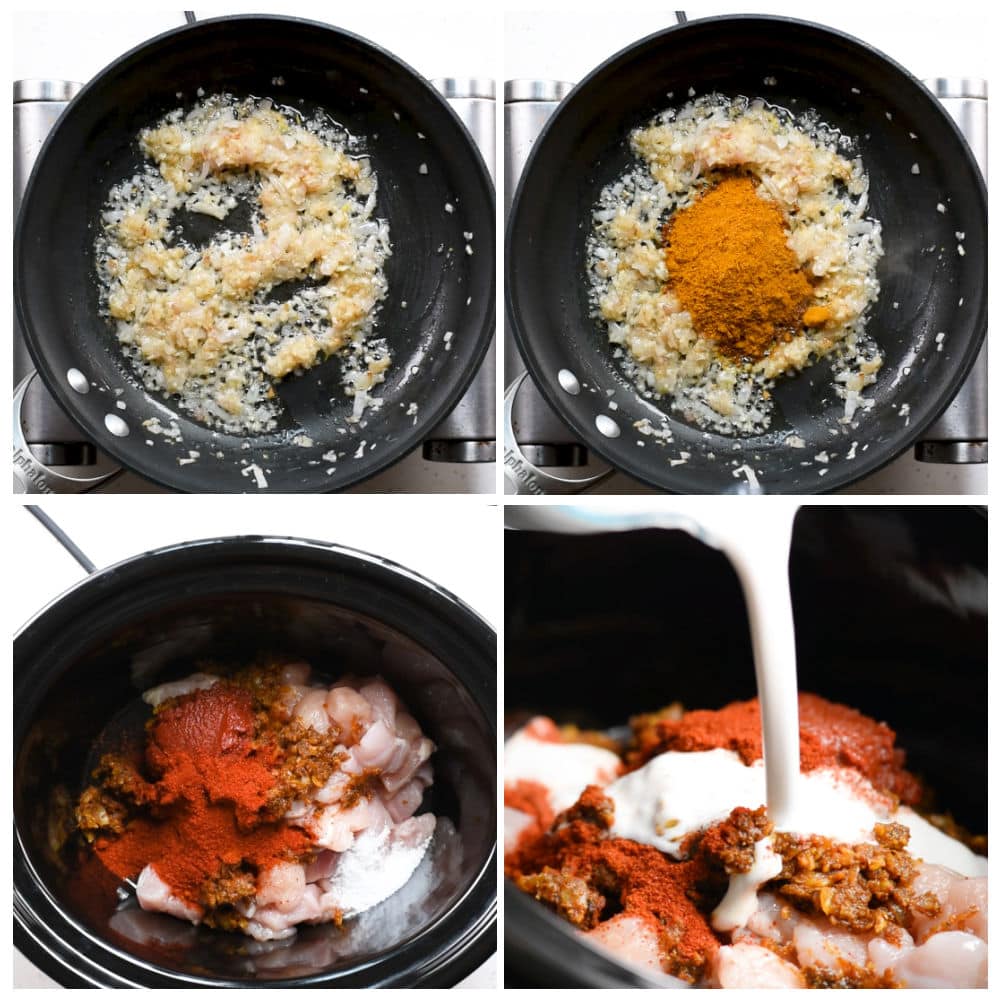 How to make chicken curry
Preparing the coconut chicken curry remains the same if you make it in a crockpot or skillet on stovetop. You make the bhuna (or aromatic base) in a pan before adding it with rest of the ingredients to the slow cooker.
On stovetop you do everything in it. There is not shifting of cooked portions from the pan to anything else. It is adding ingredient one after another when the former is cooked.
Make the Bhuna or aromatic base
These steps remain the same whether you choose slow cooker or stovetop.
Heat oil in a pan on medium flame. Add finely chopped onion and allow it to cook until it becomes soft and transparent. Follow it with minced garlic and ginger. Saute them and cook for a minute until they lose their raw smell.
Add curry powder and saute everything to prevent it from burning. You have prepared the aromatic curry base.
To cook in slow cooker, transfer this to the slow cooker and move on to the next section.
Cook in slow cooker
Add the curry base and the rest of the ingredients – chicken pieces, tomato paste, Kashmiri chilli powder, coconut milk and salt to the slow cooker. Stir it well and set it cook at high for 3 hours or for 5 hours at low.
Or Make in skillet on stovetop
Making Chicken Curry With Coconut on the stovetop is similar to any other chicken curry.
Splash some water on the curry base and then add tomato paste. Saute it for another minute. Once the Onion tomato curry base is cooked, add chicken pieces to the pan. Cook on high for 5 minutes. Then add coconut milk, chilli powder and salt and cook on low covered for 12-15 minutes more.
Tips For Making Curry
Chicken breast or chicken thighs can be used in this curry. I also use bone-in chicken sometimes for more flavor.
Use fresh curry powder for maximum flavor. The quality of the curry powder you use makes a lot of difference. Every curry powder has different ingredients in varied proportions. The one I used had coriander, cumin, fennel, cardamom, cloves, cinnamon, and turmeric powder. It is had a nice strong flavor. You can substitute curry powder with one tablespoon of coriander powder, one teaspoon of cumin, one teaspoon of garam masala, and 1/2 teaspoon of turmeric powder.
Instead of dumping everything directly into the slow cooker, first, we will cook onion, ginger, and garlic in a pan. Once it has cooked, add curry powder to the mixture. By cooking the aromatics in oil, we develop some flavor.
Coconut cream can be a substitute for coconut milk. Note that coconut cream is very concentrated and has high fat. Therefore, it is not a like for like substitute of coconut milk. It has to be diluted with water before added to the curry.
Frequently Asked Questions
Why is my curry so watery?
Your curry can become watery and runny because of a few reasons: Some ingredients could have released water when heated. Especially, Secondly, if you are using products like diary or coconut milk, the proteins in the milk separate from the water. All that extra water makes the curry runny.
Third, check if the diary or coconut milk you have used are as that mentioned in the recipe. If heavy cream or full-fat coconut milk is to be used, do not substitute with low-fat versions. It will make the curry runny and you will have to fix them later.
Fourth, canned coconut milk have thickening agents in it and make it creamy. Homemade coconut milk does not have any thickeners. Therefore, reduce the quantity if using homemade coconut milk.
How to fix runny curry?
There are ways in which you can remedy your watery curry or gravy.
 
One, strain the contents of the curry especially the chicken and heat the strained liquid to reduce it. Add it back to the slow cooker along with the chicken and simmer for more time until you get the desired consistency.
Second, you can make a corn starch slurry and use it to thicken the curry. Mix one part corn starch with two parts water, mix it well and add to the curry. Cook the curry now for another 30 minutes to get the desired thick gravy.
Why does coconut milk separate?
Coconumut milk is made of proteins, coconut oil and water. The proteins act as an emulsifier, binding the oil and water. When exposed to an environment, especially high heat, the proteins release oil and water. this makes the curry watery and the proteins appear as clumps.
it is not just heat which denatures the protein, even cold coconut milk if not mixed well, could separate.
How to fix separated coconut milk?
Cooking curries or gravies with coconut milk on low-heat, as suggested in this recipe, in a slow cooker, helps in keeping it together. We do not boil the curry, providing high heat to the proteins to break and release water.
Also, ensure that you rest the canned coconut milk, taken out from the refrigerator, to allow it to come to room temperature. And mix it well so that the proteins bind with the oil and water. Stirring is important to mix the coconut milk.
You can also stir the curry or gravy if you feel the milk has separated. You may remove the chicken, stir the curry until it appears thick, add the chicken back again and let it simmer for some time.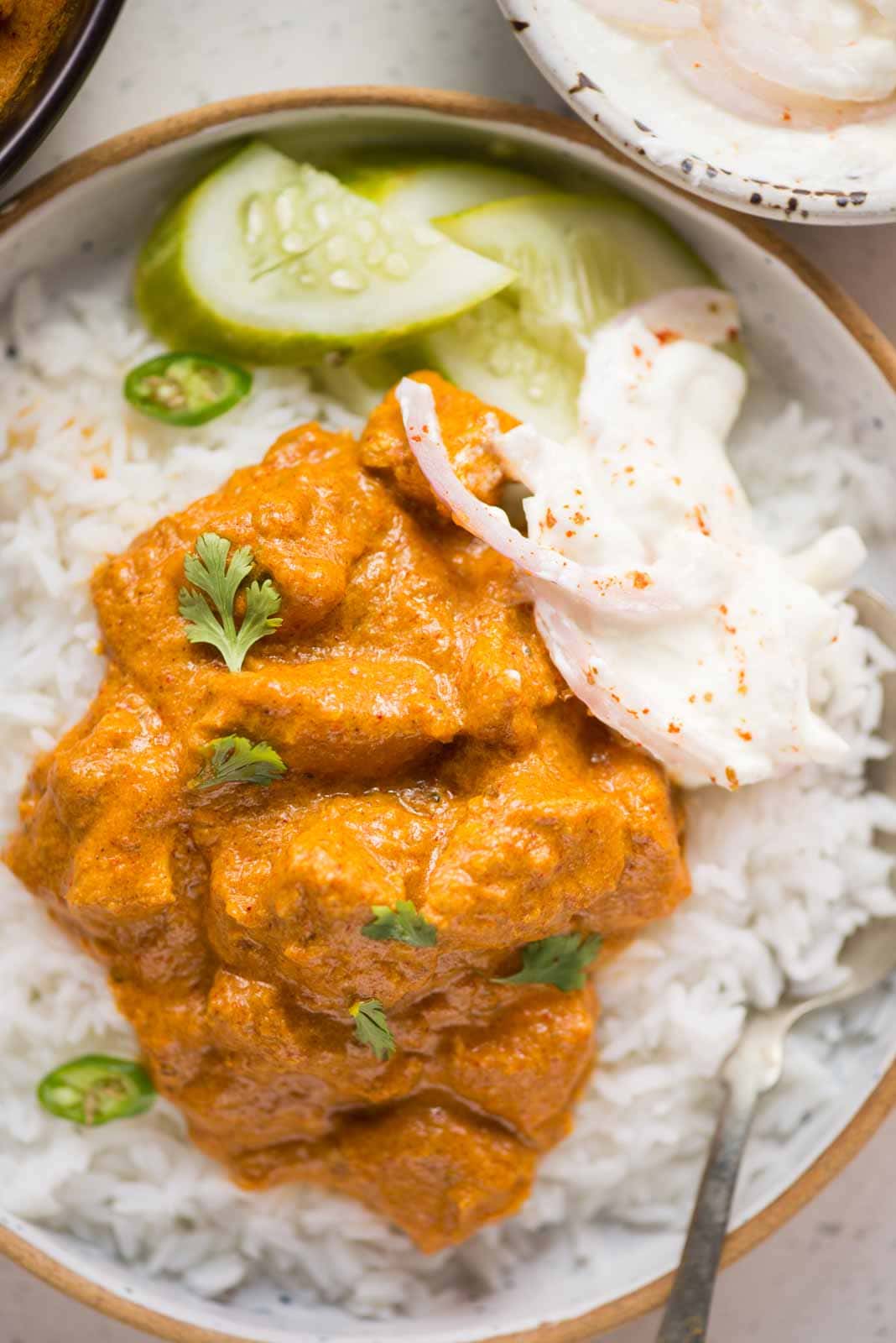 Serve with
This curry can be had with roti (Indian flatbread), plain white or brown rice, Jeera rice, basmati rice, Vegetable pulao, or Paneer pulao.
Related recipes
Here are a few more Indian curries you might like
Creamy Cauliflower Curry With Coconut
One-Pot Chickpea Curry With Potato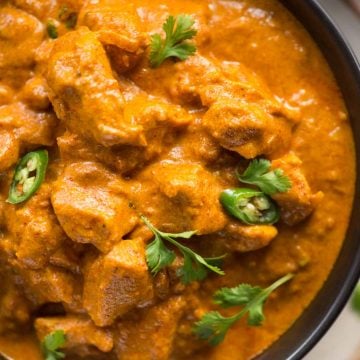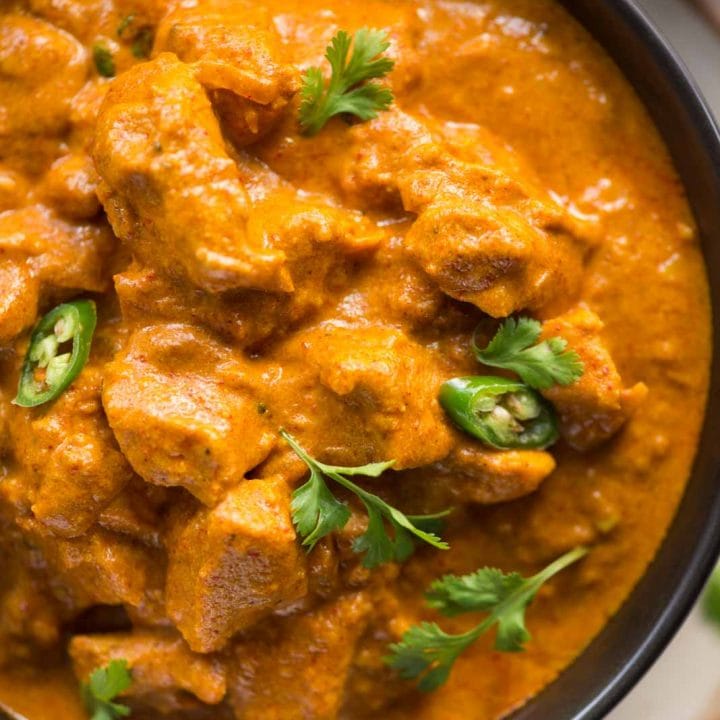 Slow Cooker Coconut Chicken Curry
Slow Cooker Coconut Chicken Curry with amazing flavours is rich and creamy. This Easy Indian Chicken Curry is made with freshly ground spices for the best flavours.
Ingredients
500 grams Boneless Chicken Breast Or chicken thighs
2 tbspn Vegetable Oil
2 Medium Onion Finely chopped
1 tablespoon Garlic Finely minced
½ tablespoon Grated Ginger
2 tablespoon Curry Powder (Ref note 1)
¼ cup Tomato paste
2 tspn Kashmiri Red chilli powder (Ref note 2)
400 ml Coconut milk Use full-fat coconut milk
Salt to taste
Coriander leaves Also known as Cilantro. Use finely chopped.
Instructions
Prepare the curry base in a pan
Start with the curry base. To make the curry base heat oil in a pan.

Add finely chopped Onion to the pan. Cook on medium flame until the onion starts to soften and brown.

Then add minced garlic and ginger. Saute for a minute so that the raw smell of garlic and ginger is gone.

Add curry powder to the pan and saute for 30 seconds until aromatic. Keep stirring to avoid burning.
Add base with rest of ingredients to slow cooker
Add chicken pieces to the crockpot along with the onion-ginger-garlic base (made above), tomato paste, Kashmiri chili powder, salt, and coconut milk.

Mix well and cook on high for 3 hours or on low for 5 hours.

While serving sprinkle fresh coriander.
Notes
The curry powder that I used was a mixture of coriander powder, cumin powder, fennel powder, cardamom powder, cloves, cinnamon, and turmeric powder.  I have seen a few brands of curry powder, that contain only coriander, cumin, fennel, and turmeric powder. In that case, use 1.5 tablespoons of curry powder and 1 teaspoon of garam masala. 
Kashmiri red chili powder is a less spicy chilli powder used in Indian Cuisine for giving deep red color to curries. You can use paprika instead. I also add 1/2 teaspoon chilli powder to the curry because we love it spicy. 
Nutrition
Serving: 100g | Calories: 454kcal | Carbohydrates: 14g | Protein: 30g | Fat: 33g | Saturated Fat: 26g | Cholesterol: 80mg | Sodium: 329mg | Potassium: 975mg | Fiber: 3g | Sugar: 5g | Vitamin A: 317IU | Vitamin C: 12mg | Calcium: 61mg | Iron: 5mg