Cajun Chicken With Vegetable
This post may include affiliate links that earn us a small commission.
Cajun Chicken with vegetables is a flavourful one-skillet meal, with juicy chicken breast and lots of vegetables. Takes only 15 minutes to make and a perfect busy day dinner for the family.
Flavours In Your Inbox
Subscribe for recipes straight to your inbox
Juicy Cajun chicken, tender crispy vegetables tossed in butter, and spicy Cajun Seasoning. One of the simplest chicken dinners you can make which is loaded with protein and fibre. Just a bottle of good Cajun Seasoning will do all the wonder.
I love Cajun seasoning a lot because of its smokey, rustic, and spicy flavour. Works great as a marinade and to lift up a boring dish.
What I love about this Chicken Skillet is it has tons of veggies, comes together in no time, and is packed with flavour.

Ingredients for Cajun Chicken
Let's start with the Cajun Seasoning, which takes the dish to the next level. This smokey, spicy, and flavourful seasoning is a wonderful marinade. In fact, I love to sprinkle these on french fries too.
While it always is convenient to buy a bottle of this seasoning, I love to make my own. Bottled ones are really high on salt. When I make my own I have control over the amount of salt and also other ingredients. Here is my homemade Cajun seasoning recipe.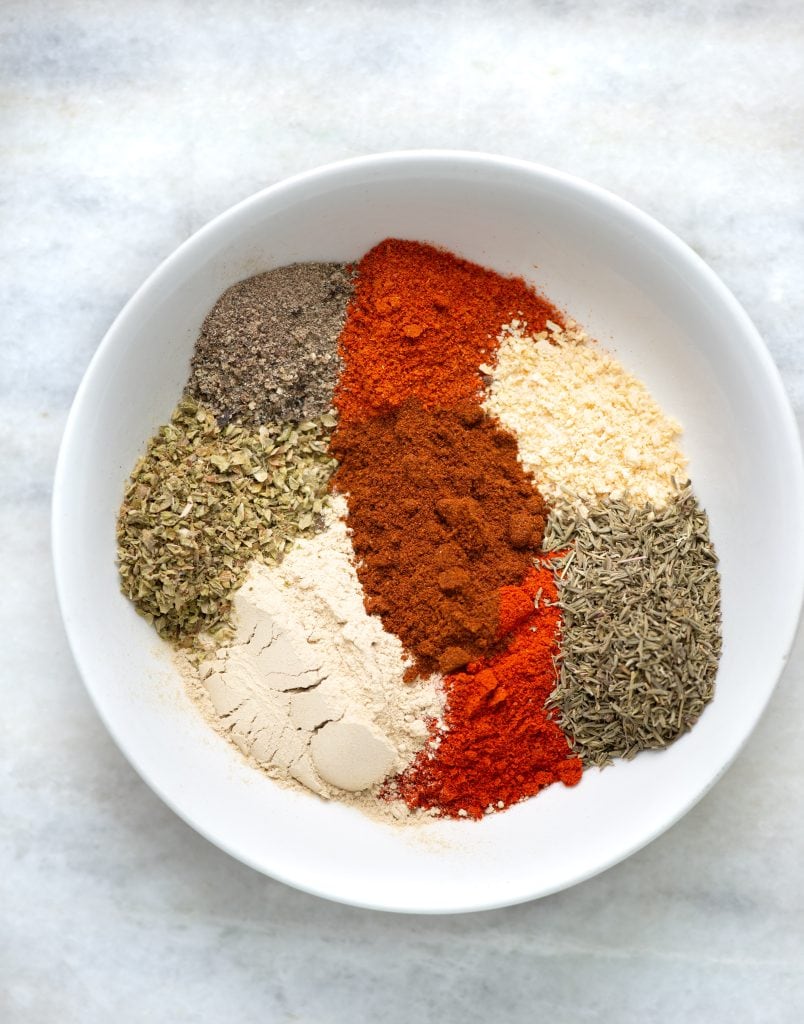 I have used Zucchini, Peppers, here. But you can use other vegetables like mushrooms, Broccoli, etc.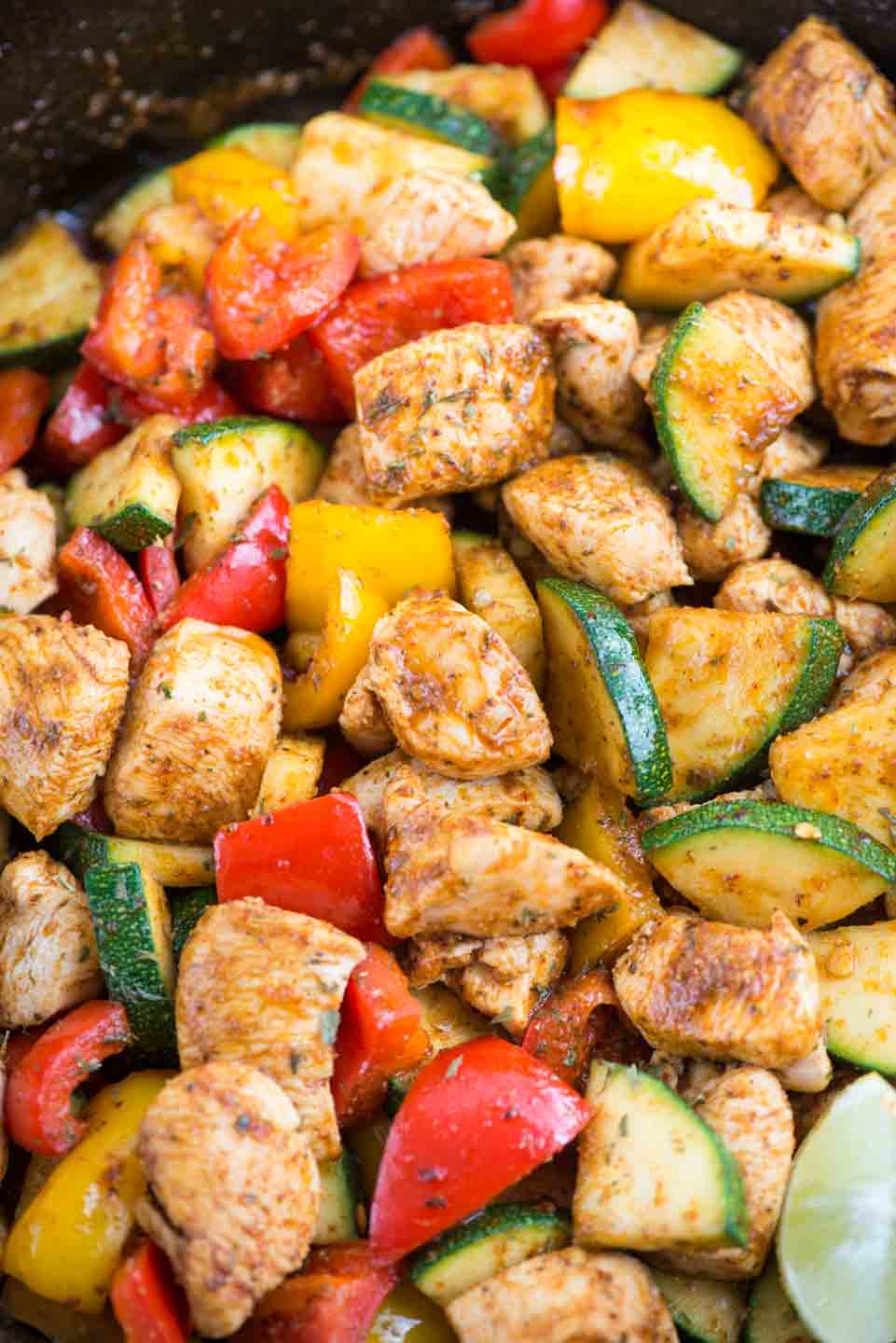 Sometimes I also like to add Onion. Don't cook the veggies very soft and mushy, Cook until it is tender but still has a little crunch to it.
I like to serve this alongside rice. This Cajun Chicken Skillet is low carb and Keto. So if you follow low carb then have it as it is or serve it with Cauliflower rice.
More Cajun Recipes…
More one pan easy dinner recipes…
Creamy Garlic chicken and broccoli
Baked garlic parmesan chicken and potatoes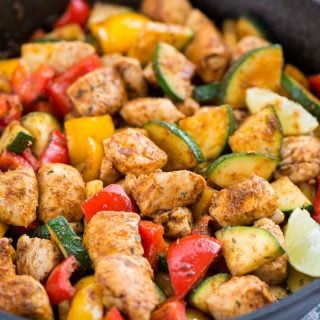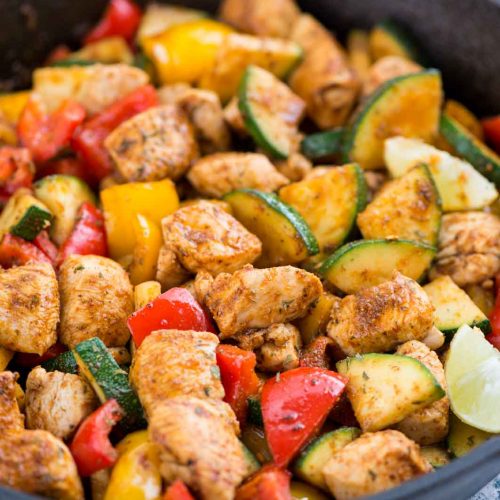 Cajun Chicken Vegetable Skillet
Spicy, flavourful Cajun Chicken along with loads of vegtables is a healthy family-friendly dinner. You need less that 30 minutes(along with preparation) to make this.
Ingredients
500 grams Boneless Chicken Breast cut into small pieces
2 tablespoon Butter
1 medium Zucchini Cut into chunks
1 Red Bell Pepper
1 Yellow Bell Pepper
2.5 tablespoon Cajun Seasoning (ref note 1 & 2)
salt to taste
1 teaspoon Fresh Lemon Juice
Instructions
Melt butter in a skillet.

Add Cajun seasoning to the pan and toss for 10 seconds.

Add Boneless Chicken breast cubes to the pan. Toss everything well and cook for 5 minutes.

Add in the veggies. Mix everything well and cook for another 2-3 minutes.

Season with salt. ( My homemade Cajun seasoning doesn't have salt in it, if using bottled seasoning skip the salt or adjust as per taste).

At the end of the cooking, The chicken should be cooked through and the veggies will still have a crunch to it.

Switch off the stove and drizzle lemon juice. Mix everything well.

Serve alongside rice.
Notes
I use homemade Cajun Seasoning. It is mildly hot and there is no salt in it. If you are using bottled seasoning, you might have to increase or decrease the amount of seasoning depending on how spicy you prefer.
Most of the bottled seasoning has salt in it, so you don't have to add extra salt. 
 Here is my homemade Cajun seasoning recipe, in case you want to give a try. 
Nutrition
Serving: 1g | Calories: 231kcal | Carbohydrates: 8g | Protein: 28g | Fat: 10g | Saturated Fat: 4g | Cholesterol: 95mg | Sodium: 204mg | Potassium: 816mg | Fiber: 3g | Sugar: 3g | Vitamin A: 3456IU | Vitamin C: 103mg | Calcium: 27mg | Iron: 2mg