Instant Pot Cauliflower Soup
This post may include affiliate links that earn us a small commission.
This Healthy Instant Pot Cauliflower Soup is creamy, delicious, and incredibly easy to make. This soup is keto-friendly and low carb and can be made in 20 minutes.
You may also look at some of the other soup recipes – Creamy Pumpkin Soup Recipe, Homemade Tomato Soup, Healthy Spinach Soup Recipe and Tomato White Beans Soup.
Flavours In Your Inbox
Subscribe for recipes straight to your inbox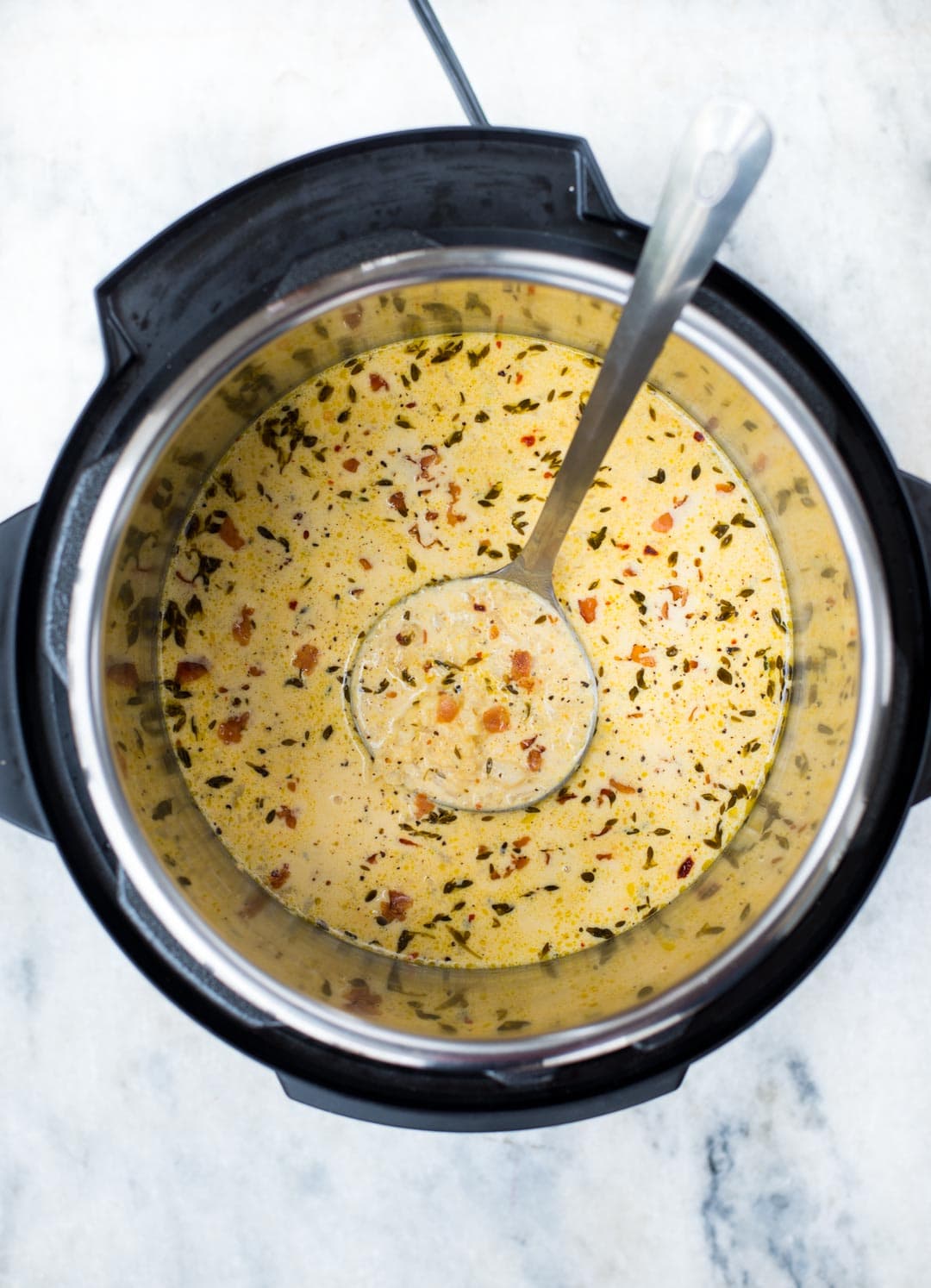 Creamy and Healthy Instant Pot Cauliflower Soup with bacon and Cheese is low carb and Keto. I am labeling this as one of the best Cauliflower recipes to date. When there is bacon in a soup, nothing can go wrong, right? One of my favorite soups because it is rich, creamy yet not loaded with cream or Cheese.
Cauliflower, when cooked, makes the soup naturally creamy. So you can adjust the amount of cream and cheese as per your preference and how rich you want the soup to be.
Another Instant Pot recipe and also a Soup recipe. Honestly, I didn't want to spam you guys with soup recipes one after another. But this soup turned out to be so amazing, that I had to share here without any delay. It is perfectly creamy, thick, and really satisfying.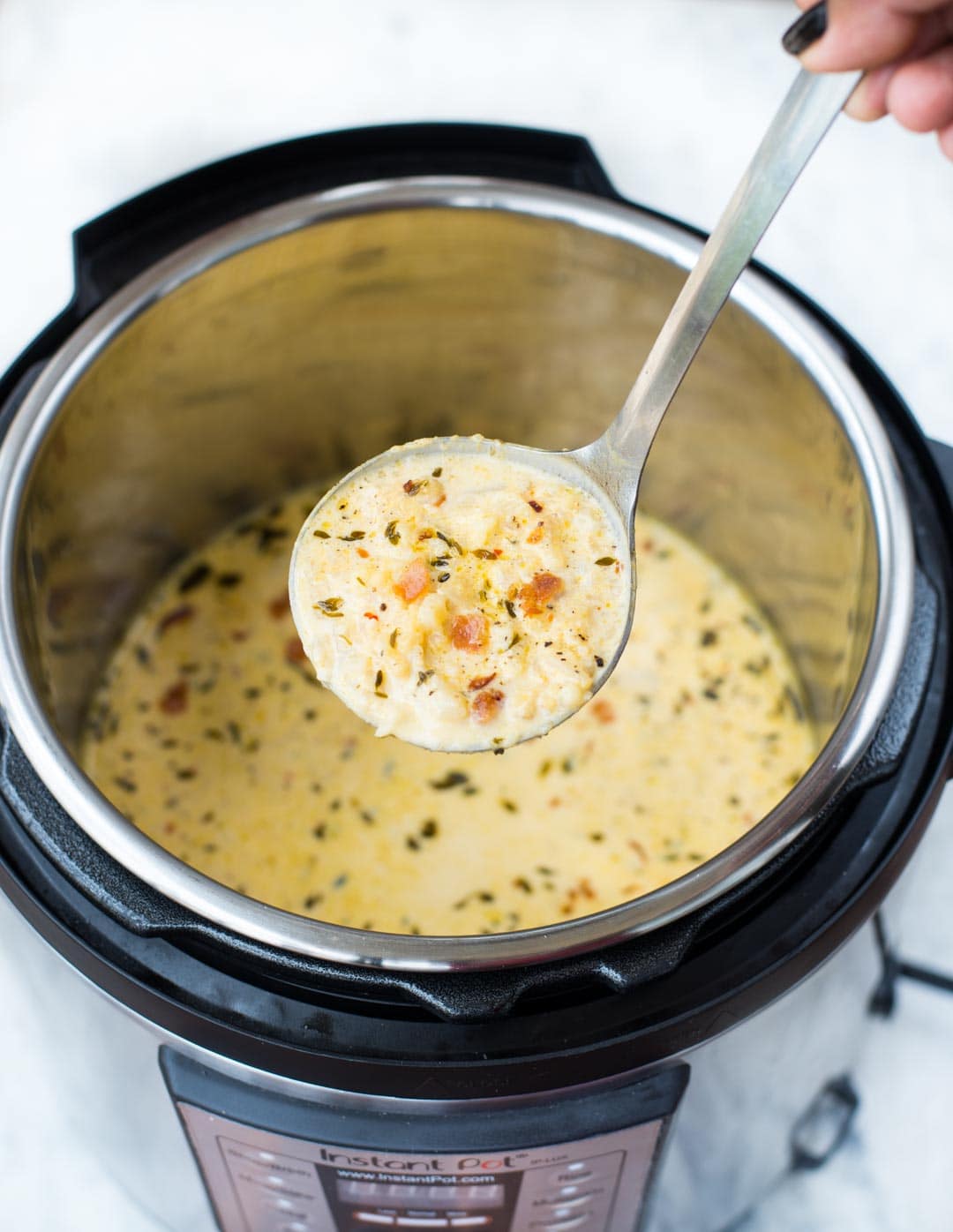 Ingredients
This easy Cauliflower Soup needs a handful of ingredients and is very much customizable as per your taste.
Start with a fresh head of cauliflower, clean, and cut into florets. You could also use frozen cauliflower florets, you can't get hold of fresh cauliflower.
I love to use butter to saute Onion and garlic. You can substitute with Olive oil if you prefer.
Thyme and Bay leaf are the aromatics used. Try adding Parsley or Oregano can also be added. But do not go overboard with herbs.
Then there is Bacon and it makes everything better.
Cream and Cheddar helps to thicken the soup. Here is the best part of this Cauliflower Soup. You can adjust the quantity of cream and cheese in the soup as per your taste or calorie requirement. Cauliflower, when cooked, thickens the soup naturally. So you don't need gallons of cream or cheese to make it thick.
I like to keep little chunks of cauliflowers in the soup rather than a smooth case. Use a hand blender to blend it to a silky smooth consistency.
Healthy Soup
Being low on carb, Cauliflower is quite popular among people who are trying to lose weight. It is also an excellent source of Vitamin C, Vitamin K, Dietary Fiber, and other nutrients.
It is also one of those versatile vegetables, that can be used in many different ways. A popular substitute for starchy food items such as rice, Potato. One of my favorites is this creamy Cauliflower Coconut Curry. If you follow Keto/Low carb, then you must check this delicious Chicken and Cauliflower Rice.
Because Cauliflower makes this soup naturally creamy, you can totally reduce Cream and/or Cheese as per your preference.

Serve with
This soup is so fulfilling that it can be had as a meal by itself. If you are interested to make a complete keto meal, choose some keto friendly bread or proteins like Rosemary Lemon Chicken Thighs, Tandoori Chicken, Parmesan Crusted Chicken, or Chili Garlic Shrimp.
Other Instant Pot Recipes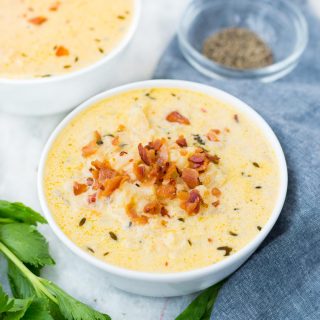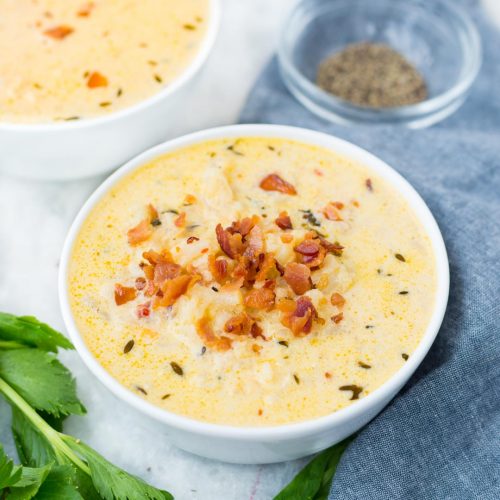 Instant pot Cauliflower Soup ( Step by Step Video at end of the Recipe)
Healthy Cauliflower Soup with bacon is creamy, cheesy with chunks of Cauliflower in it. It is low carb and Keto.
Ingredients
1 Medium Cauliflower
4 strips Bacon
1 tbsp Butter
1 medium Onion chopped
1 tbsp Garlic (minced)
1.5 cups Chicken Stock
1 bay leaf
1 tspn Dried Thyme or Italian seasoning
¼ tspn Chili Flakes
½ cup half and half
1 cup sharp Cheddar Cheese
Salt and pepper to taste
Instructions
Start with browning the bacon. Set Instant Pot to Saute mode. When hot, add bacon pieces. Cook till they are brown and crispy.

Remove bacon from the pot, Keep aside. Get rid of extra bacon fat ( we don't want to overpower the soup with bacon flavor)

Add butter to the pan, followed by chopped onion. 

Saute onion until softened. Stir in minced garlic. Cook for another 30 seconds, until the raw smell, is gone.

Add Cauliflower florets. Fry it for a couple of minutes. 

When little brown spots start to appear, pour in the stock.

Add bay leaf, thyme. Season it with salt and pepper. 

Set Instant Pot to the Manual Mode. Close the lid and let it cook on high for 5 minutes. Then let the pressure release naturally for 10 minutes, followed by a quick release.

When the pressure is completely released, carefully open the lid. Add cream, cheddar cheese, and chili flakes. 

Mix everything and smash a few cauliflower florets with the back of the spatula. Adjust seasoning.

While serving sprinkle crisp bacon and more cheese if required.
Notes
To make on the stovetop
To make the soup on the stovetop, take a heavy bottom soup pot. Cook bacon till crisp. Keep bacon aside. Add butter followed by onion and garlic. Saute till onion has softened and raw garlic smell is gone. Add cauliflower florets and stock. Cover and cook for 10-12 minutes until the cauliflower is soft and tender. The rest of the steps are the same as the instant pot mentioned above.
Nutrition
Serving: 200g | Calories: 366kcal | Carbohydrates: 17g | Protein: 17g | Fat: 26g | Saturated Fat: 13g | Cholesterol: 66mg | Sodium: 578mg | Potassium: 716mg | Fiber: 3g | Sugar: 6g | Vitamin A: 535IU | Vitamin C: 74.3mg | Calcium: 291mg | Iron: 1.8mg